Back to profile
Jessica It's All Good Reviews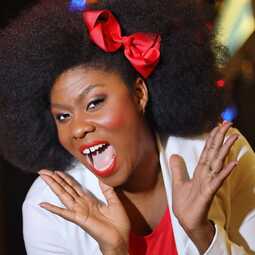 Avg 5.0 | 16 Reviews

Clean Comedian from Atlanta, GA

35 Verified Bookings
Starting at $300 per event
---
16 Reviews for Jessica It's All Good
Corporate Function•Reviewed on September 21, 2021•From Wilmington, DE
We booked Jessica for a corporate virtual, fun event, and she was engaging and interactive with my team. She was able to pull people out of their shells, turn on their cameras and participate. Laughter filled our event, and I've already had other teams request how to get in touch with her to book their own events. She would make a wonderful host and entertainer for any event and truly engage your teams.
Jessica It's All Good:
Mary, Thank you for this wonderful review! It was my pleasure to bring you all some fun while working from home. Might I also add that you had a wonderful crowd. I am also excited to learn that some people came out of their shells during the event! I hope to entertain you again in the future!
Awards Night Party•Reviewed on June 26, 2021•From Lithonia, GA
Jessica was funny and held the attention of our attendees, even in the virtual setting. She honored our requests on subjects and she was on time. The audience thought very highly of her performance
Jessica It's All Good:
Sherry, thank you for this wonderful review! I truly enjoyed entertaining you all and I am very happy that you enjoyed the comedy show!
Event•Reviewed on January 15, 2021•From San Diego, CA
She was amazing at bringing together our large diverse group! Would 100% recommend her for any function and would love to hire her again. Thank you Jessica!!
Jessica It's All Good:
Brianna, The pleasure was all mine! I throughly enjoyed working with you and the NSMH Virtual Conference. Thank you for this outstanding review and I would be honored to work with you all again.
Birthday Party (Adult)•Reviewed on October 12, 2019•From Marietta, GA
Great improv for my 80's/90's party. Everyone enjoyed her!
Church Service•Reviewed on September 6, 2019•From Conyers, GA
Jessica was awesome!!!!! She stuck to the theme, engaged the crowd, and stayed to interact with everyone after her performance. She's very personable. The kids loved her and was asking if she was gonna be there the next day. Her jokes were clean and she didn't embarrass people on the crowd for laughs. It was definitely "AL GOOD". Thanks Jess for blessing us with your talent. I hope to business with her in future for anymore upcoming events that we may have. May God bless her the more.
Fundraiser•Reviewed on February 23, 2019•From Atlanta, GA
My guest and I enjoyed her! She was very down to earth and her material was very relatable which made it even better! She honestly made the night. Not only did she provide entertainment but she was engaging with everyone throughout the entire evening!!! Awesome! Awesome! Awesome!!!
Wedding Reception•Reviewed on September 22, 2018•From Atlanta, GA
Jessica was a FANTASTIC wedding emcee! From our first contact, I was impressed with her thoroughness and professionalism. Our reception wasn't very traditional, but she was on board with our ideas from the get-go and accommodated our plans. We made some schedule tweaks the day before, and she didn't even bat an eye. The day of the wedding, I knew we made the right choice. The sound system at the reception wasn't working correctly, but she stepped in and rescued my Dad when people couldn't hear him during his speech. I was so grateful! She received lots of compliments from our guests, and I am so happy we went with Jessica.
Anniversary Party•Reviewed on July 28, 2018•From Atlanta, GA
There aren't enough words to describe how pleased we were with Jessica's performance at our 10th wedding anniversary celebration. She was very accommodating from the moment we booked her. She paid close attention to our requests and hopes for this family event, and she responded wonderfully! We have a bi-racial family, and Jessica made everyone feel as if she were part of the family. She remembered everyone's names as we played games and did other activities, and she made it a GREAT time for all of us with her comedy. My family and I LOVE her and would book her again in a heartbeat!
Jessica It's All Good:
Carmen, Thank you so much for this amazing review! It was an honor to help you, your husband, and family celebrate such a joyous occasion. I truly enjoyed my time with you all and it would be my pleasure to serve you in laughter again in the future! -Jessica
Graduation Party•Reviewed on July 8, 2018•From Atlanta, GA
Jessica was a joy to work with from the start of the booking process! Jessica has a beautiful personality and stage presence!!! She did an amazing job providing some clean, friendly humor & laughter for our client's graduation celebration! We will definitely be using her services again in the future!!!
Jessica It's All Good:
Tiffany, Thank you for this wonderful review, and thank you for booking me through GigMasters! It was such a pleasure to entertain you and your client! I look forward to working with you again in the future!
Corporate Function•Reviewed on November 17, 2017•From Norcross, GA
Jessica "It's All Good" Williams was amazing! She did an excellent job at our quarterly corporate team event! Her humor was clean (as we requested) and fun...and very relevant to things many of us face on a daily basis! She was also a pleasure to work with! She called me to determine exactly what we were looking for in regards to our event, and she was extremely accommodating to everything that was suggested! We will definitely book Jessica again! She got us all off to the right start for the holiday season!
Birthday Party (Adult)•Reviewed on May 13, 2017•From Macon, GA
School Assembly•Reviewed on March 11, 2017•From Atlanta, GA
Jessica was amazing! Rolled with the punches and the when the sound went out - she kept going!!
Jessica It's All Good:
Thank you for having me Tracy! I really enjoyed being a part of your event and I really appreciate this wonderful feedback!
Celebration•Reviewed on October 1, 2016•From Atlanta, GA
Jessica is an awesome entertainer. She kept the party moving and guests consumed when the caterer fell short. Many of the guests expressed your girl is on point, you hired the right person. Jessica made the crowd laugh and shared wisdom, as well. Yes, she was a CLEAN comedienne. I love not having my ears water during a comedy show. Jessica It's All Good Williams was FANtastic. I will refer and work with her again. Thank you Jessica????
Jessica It's All Good:
Deborah! The pleasure was all mine! You and your guest were absolutely wonderful! I look forward to future endeavors! Thank you again!
Fundraiser•Reviewed on August 27, 2016•From Norcross, GA
Church Service•Reviewed on July 10, 2016•From McDonough, GA
High School Reunion•Reviewed on August 8, 2015•From Atlanta, GA