Back to profile
Angela Riccio Comedian ~Brava Entertainment Reviews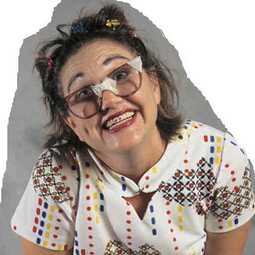 Avg 5.0 | 29 Reviews

Comedian from Chicago, IL

39 Verified Bookings
Starting at $500 per event
---
29 Reviews for Angela Riccio Comedian ~Brava Entertainment
Fundraiser•Reviewed on June 3, 2018•From Saint Charles, IL
Oh my gosh. Angie will have people crying and spitting drinks. Literally. She can read a crowd like a book and she will make your event unforgettable. I never thought I would see two charity organization executives turn red in the face from laughter. Angie will bring the excitement you are looking for.
Birthday Party (Adult)•Reviewed on June 21, 2014•From Goodland, IN
Angela had a crowd of about 60 adults absolutely howling with laughter. It could not have been funnier. The occasion was a 60'th birthday roast. She shocked the birthday boy with how well she was prepared. Just a great show! People are still talking about how funny it was 2 weeks later. It was an overall fun experience that we would love to do again.
Celebration•Reviewed on January 25, 2014•From Saint Joseph, MI
Besides being terribly funny, the great thing about Angela is that she is very flexible in her performance, and she stretches the envelope but never breaks it with her comedy. She communicates well, both pre-event and post event. Although the weather was terrible, she showed up early and stayed late. Two weeks later, most of the attendees are still talking about her performance. And, everyone wants to see my tiara! Nice job, Angie. Oh, and did I forget to say, she is hilarious!
Christmas Party•Reviewed on November 16, 2013•From Chicago, IL
We can not say enough about Angela. Our party was small so I was a little worried that if only a few found her funny it could be awkward. Angela had everyone laughing and interacted with everyone in the room. The evening was a complete success. Even the staff working the party were laughing. I would recommend her highly. Be prepared to laugh!!!
Corporate Function•Reviewed on January 22, 2012•From Glenview, IL
When hunting through various comedians for a staff party, Angela's online recommendations stood out. So, I waited for her bid, although many comedians responded within an hour after posting. She was worth the wait. From the initial phone conversation, it was clear that she was all about MY corporation and MY wishes. The other bids were about THEIR skills & accolades. A fill-in-the-blank sheet w/ questions about staff, one long email, a brief phone call to double check facts & we were done!. Angela's performance was flawless; everyone was in stitches. Stayed for photos, brought gag gifts, was very well versed in my staff's quirks, which she cleverly "attacked".
Birthday Party (Adult)•Reviewed on April 28, 2013•From Romeoville, IL
Where do I start,hired her last minute, thank goodness she was available. She tailored her performance at a moments notice. Even though we were a small group, she hit on so many points,add libbed and hit the mark even stronger. Quick witted!Played it back and we laughed harder. Our family has had some losses and she was what the doctor ordered. The power of laughter, truly heals. My moms 81st Bday, she was still laughing the next day. Still laughing. Trying to make my mom's Bday special and she brought it over the top. Thank you, Thank You Angela! for helping us laugh at ourselves and not take ourselves so seriously. Can't wait to recommend or hire her again!,<3 her!
Birthday Party (Adult)•Reviewed on September 21, 2012•From Wood Dale, IL
Angela was a fantastic performer. She new her material well, which is saying a lot being I sent her like 3 pages of information that she had to figure out what to use in a short 45 minute performance. All of our guests had a great time and complimented Angela for being the min success of the party. We actually couldn't get enough of Angela. We all laughed so hard that our jaws hurt the next day. She really knew how to involve the crowd without making anyone feel uncomfortable. I would definitely recommend Angela and I will also probably hire her again. We had a blast and I am so grateful that I had the idea to google comedian and Angela's name popped up. Thank you!
Corporate Function•Reviewed on January 22, 2011•From Logansport, IN
Angela was very entertaining. She worked the crowd wonderfully and related perfectly with the folks that work at our company. I think whe would do well at ANY event as we have a diverse crowd. One of the guests who is a professional from Indianapolis said she intends to contact Angela about working their HS reunion! Great work, just spicy enough without going over the line. I think she has a good read on the crowd and could ratchet up or down the "spiciness".
Birthday Party (Adult)•Reviewed on October 4, 2009•From Steger, IL
From the moment I made initial contact with Angela I felt very comfortable with hiring over the internet. Her personality is bubbly and sincere so I felt confident in my decision. Her performance absolutely made the party. Everyone was laughing and very hard. Afterwards I had more people asking me where I found her, and saying how much they enjoyed the show. I did not have one negative comment. So for anyone looking to take the ho-hum out of a party or celebration I highly recommed Angela Riccio.
Baby Shower•Reviewed on April 26, 2009•From Schererville, IN
Ms.Angela Riccio was very professional in every way. First of all, she made every effort to personalize the show (bridal shower), so the event was a sort of roast of the bride and groom. She asked me to forward any amusing information about the couple, and she used this information as hysterical material for her performance. The guests are still talking about the hilarious comedienne and are saying this was the most fun shower they've ever attended. I would highly recommend Ms. Riccio to anybody! Her terrific entertainment made the shower a memorable event for the special couple.
Corporate Function•Reviewed on September 24, 2011•From Cedar Lake, IN
Angela did a terrific job of entertaining the employees at our corporate party. After her performance, they were all talking and laughing about things she said and did during her performance, and they were still talking about it when I walked into the office Monday morning. They were telling those employees that couldn't attend the party that they missed a great time, particularly because of Angela. The owner of our company was not only happy about the fact that the employees enjoyed themselves, but he was very pleased that such a comedic talent performed at our party.
Birthday Party (Adult)•Reviewed on October 1, 2011•From Orland Park, IL
Everyone at the party loved Angela Riccio. Many asked how I found her. I said at Gigmasters online. I choose her out of all the ones that I looked at because I liked her mini video clips the best. Anyone one can put together a good resumeon paper, however, seeing someone put their skills to work is the true test. Angela Riccio was Wonderful! She's got lots of talent! Angela made my Father's Surprise 60th Birthday Party everything I could imagine for me and my entire family. Thanks so much Angela!!!! Tanks for the great memories!
Corporate Function•Reviewed on January 29, 2011•From Oak Brook, IL
It was non-stop laughter from the time Angela began mingling, took the stage, and then concluded by leaving us some hilarious parting gifts. I was impressed that she was such a quick-study of the information I gave her about my company and co-workers even though she received some of the details at the last minute. She's not shy AT ALL, very spontaneous, and she's naturally a "people person." Everyone was a fan even employees who went up on stage to be "roasted." They headed to the stage even before she got their full name out. This was my first time hiring a comic and I could not have selected a better or a more original talent than Angela Riccio. 4 STARS
Birthday Party (Adult)•Reviewed on June 22, 2018•From Chicago, IL
She was terrific. I was able to have multiple calls/emails with her before the event. She was well prepared to roast individuals at the dinner and did so with just the right amount of edginess - never going too far. She was a very pleasant person and very easy to work with. We accomplished what we wanted - a surprise birthday party for a 60-yr-old and a very memorable event for a large extended family.
Birthday Party (Adult)•Reviewed on May 4, 2013•From Alsip, IL
Angela Rico performance was outstanding. My guest loved her. She was very funny mingle well with the crowd. I got a lot of compliments all day. My guest wanted to know where I got her from, so you know I gave them Gig masters. I will be using her again and yes she was the life of the party.
Community Event•Reviewed on April 30, 2009•From Monticello, IN
Angela did an outstanding job for us! It was a great night!
Birthday Party (Adult)•Reviewed on November 12, 2011•From Merrillville, IN
Angela was GREAT!!! Everyine is still laughing and asking "How did you ever find her?" I highly reccomend her for an entertainment extravaganza...
Anniversary Party•Reviewed on September 20, 2009•From Berwyn, IL
Angela was awesome,has talent and personality. A big hit at our event!
Birthday Party (Adult)•Reviewed on August 15, 2009•From Frankfort, IL
Angela was very professional, prompt, and put on a great show. I was very happy to have hired her for the entertainment for my party. I received many compliments from my guests. She is a great choice for great entertainment!
Birthday Party (Adult)•Reviewed on April 3, 2009•From Chicago, IL
Angela was a pure delight! All of my guests thought that she was hilarious. They didn't know if she was a real party crasher or the entertainment!
Christmas Party•Reviewed on December 6, 2008•From Monticello, IN
Angela was perfect!!! I would strongly recomend her for any party. We are still talking about her today. Be prepared to laugh and have a great time.
Birthday Party (Adult)•Reviewed on July 16, 2011•From Glenview, IL
Great performance!!! EVERYONE at the party JUST loved her!!! AWESOME JOB, Angie!!!
Corporate Function•Reviewed on December 3, 2012•From Benton Harbor, MI
Angela was great to work with and did an outstanding job for us. Everyone was very pleased and had a great time.
Graduation Party•Reviewed on August 9, 2014•From Oak Park, IL
Our guests loved Angela. She made the party very memorable and fun.
Bridal Shower•Reviewed on November 2, 2014•From Alsip, IL
We were very pleased with Angela's entertainment. It was great to see and hear everyone laughing and having a good time. We all need to laugh and Angela surely provided that for us. She was a wonderful ending to a wonderful shower. As my sister-in-law said, "that was the best shower I ever went to"!!!