Back to profile
Bravo Entertainment Company Reviews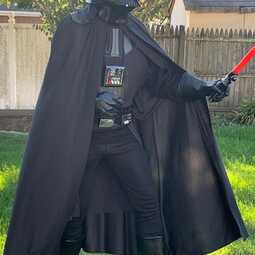 Avg 4.5 | 24 Reviews

Clown from Morrisville, PA

69 Verified Bookings
Starting at $75 per event
---
24 Reviews for Bravo Entertainment Company
Sort:
Birthday Party (Kids)•Reviewed on September 16, 2023•From Hightstown, NJ
I hired Bravo for my sons fourth birthday. The party was a smaller group so I was a bit worried about keeping them entertain. I hired Bravo initially for just face painting, but was provided with so much more. Jim was FANTASTIC! He offered two characters, (which had the kidd in an absolute fascination), did balloon twisting, face painting, games, dancing, and magic tricks. He was so engaging with both kids and parents, seamlessly blended activities, character changes, etc. Jim was also so communicative prior to the party, was prompt, and even showed up as Spider-Man. 10/10 recommend for your party needs! My little guy had a great time, as everybody else did as well.
Birthday Party (Kids)•Reviewed on October 7, 2023•From Philadelphia, PA
Bravo entertainment was well worth the money. Jim was very professional and communicated with me prior to the event. He was on time and even stayed past his time without charging more. Jim was the life of the party. He was great with the kids, making balloons, doing magic tricks, and he also dressed up as Minnie Mouse. Jim took plenty of photos with everyone and did limbo dressed up. I highly recommend Jim and Bravo Entrainment for your future party needs. Thanks again, you were great!! Stephen from Philadelphia.
Community Event•Reviewed on September 22, 2023•From Maple Shade, NJ
We were very happy with and our residents enjoyed the balloon art and face painting. I will definitely keep your information for future events.
Community Event•Reviewed on April 2, 2023•From Manahawkin, NJ
Very professional and easy to work with. The kids loved the Easter Bunny. He even stayed past the agreed upon time to make sure every child got a balloon animal. Definitely recommend this company. Looking forward to working with them again.
Birthday Party (Kids)•Reviewed on August 5, 2023•From West Chester, PA
Bumble Bee was excellent! He was so open to ideas and brought great ones as well. He stayed in character the entire time, got the kids and parents involved in transformer "battles," and even transformed the kids into Auto-bots with balloon art. I'd 100% recommend!!!!!
Birthday Party (Kids)•Reviewed on February 11, 2023•From Marlton, NJ
The Bravo Entertainment Company was awesome. The entertainer really connected with the children. All of the kids whether they were 2 or 8 had a great time. I would highly recommend it!
Birthday Party (Kids)•Reviewed on December 2, 2022•From Philadelphia, PA
Community Event•Reviewed on August 27, 2023•From Basking Ridge, NJ
Excellent. Rob was great and pleasure having him there. Looking forward to next year
Birthday Party (Adult)•Reviewed on January 25, 2020•From Richboro, PA
We booked Bravo Entertainment for a smaller gathering (about 10 people) to celebrate our Mom's 80th birthday. When I put out the bid I mentioned that mom was a big super hero fan, of Spider Man in particular, and that she loves Neil Diamond music. Bravo entertainment volunteered to come as Spider Man, then sing a Neil Diamond song. The idea was very silly in a fun kind of way and I knew our Mom would love it. Bravo reached out to me ahead of time to go over the event. He was on time even though there was a major rain storm in our area that day, was very attentive to details and extremely professional. He went above and beyond. Would definitely recommend>
Birthday Party (Kids)•Reviewed on June 26, 2022•From Langhorne, PA
We hired a Pirate and he did a great job! He was great with the kids, did tattoos, magic tricks, & balloon animals. We're glad we booked him for the party!
Birthday Party (Kids)•Reviewed on April 23, 2022•From Piscataway, NJ
He was awesome, we took his service for two hours and he entertained kids more than two hours, kids enjoyed so much. thank you so very much !!!!
Birthday Party (Kids)•Reviewed on March 22, 2020•From Rahway, NJ
Do to the coronavirus we had to postpone the event. Bravo entertainment issue me a full refund without me requesting. That right there pretty much sums up how professional and accommodating of a business Bravo entertainment is. We will definitely utilize Bravo entertainment in the near future
Birthday Party (Kids)•Reviewed on August 31, 2019•From Brick, NJ
We booked a Spider-Man for a birthday party and couldn't have asked for more. Kids were entertained as well as adults, overall a great experience! Will definitely book again in future. Thanks Spider-Man!
Birthday Party (Kids)•Reviewed on June 2, 2018•From New Hope, PA
Bravo Entertainment was easy to work with. They always got back to me quickly when I had questions during the booking stage. The day of, the entertainer was on-time and did everything we had discussed previously. We had a group of 18 kids, ages ranging from 4-7. He kept them entertained and engaged for 1.5 hours. It made my son's birthday really special.
Christening•Reviewed on March 13, 2016•From Philadelphia, PA
The performer for bravo entertainment was great. We needed to entertain a large group of kids at a baptism reception to keep them from being rowdy. He held their attention for more than an hour with balloons, dancing, stick on tattoos and a few magic tricks. He was very accommodating and came in a colorful outfit but no face paint (clown) as requested. He was very professional in all communications via email and on the phone.
Birthday Party (Kids)•Reviewed on November 3, 2013•From Bridgeton, NJ
The entertainer was more than accommodating. He arrived on time as scheduled. My son's face would explain it all in every picture. As well as all the other children and parents. He stayed for the full amount of time and did everything that was asked of him and more. Worth every penny. And would use the company and recommend them as well. Thank you so much again!
Birthday Party (Kids)•Reviewed on June 30, 2013•From Philadelphia, PA
I'm sorry, I do not remember the gentleman's name from Bravo Entertainment. Everything, from the time I booked the Batman character, to the end of my son's birthday party couldn't have gone more smoothly! Batman was nice, professional and you can tell he really enjoyed working with children....adults too! He was fun and provided non stop entertainment. The children had a blast and the adults had fun too! My son has disabilities and is non verbal, but Batman knew exactly how to engage him. I would definitely call Bravo Entertainment again! Thanks so much!
Birthday Party (Kids)•Reviewed on October 21, 2023•From Whitehouse Station, NJ
Birthday Party (Kids)•Reviewed on December 10, 2022•From Bethlehem, PA
Our son and his friends had a great time. Thank you!
Birthday Party (Kids)•Reviewed on June 15, 2013•From Newark, NJ
I was pleased. Bravo entertainment kept the children entertained from beginning to end.
Birthday Party (Kids)•Reviewed on October 23, 2011•From Morrisville, PA
Picnic•Reviewed on May 1, 2010•From Princeton, NJ
Birthday Party (Kids)•Reviewed on June 1, 2013•From Marlton, NJ
Birthday Party (Kids)•Reviewed on March 2, 2014•From Bear, DE
I cant say a lot but all I will said is the person they send wasn't professional and I didn't like how they treat us .. When you are professional dont matter what kind of ppl are you should do you job and be nice .. I amso disagree with their job :(