Back to profile
Blind Manifest Reviews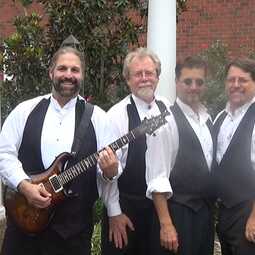 Avg 5.0 | 28 Reviews

Variety Band from Charlotte, NC

49 Verified Bookings
Starting at $1,500 per event
---
28 Reviews for Blind Manifest
Wedding Reception•Reviewed on November 12, 2016•From Hot Springs, VA
I hired Blind manifest for my wedding and it was the one piece I felt like I didn't have to worry about upon hiring them. Extremely professional and approachable. They were able to MC and DJ and even learned a song I had specially requested to play for my groom :) I was very pleased! Everyone enjoyed the band!
Fundraiser•Reviewed on March 28, 2015•From Cornelius, NC
We would just want to thank the band for being so wonderful both pre event and during. They were flexible, communicative, and pleasant to work with the whole time. Brian and crew were amazing!! The music was fun, well done, and the whole place was dancing!
Wedding•Reviewed on October 22, 2016•From Columbia, SC
Blind Manifest was absolutely amazing!! They performed for my wedding ceremony and reception! They got the crowd going immediately and kept them going all night long! People still comment to me how wonderful they thought the band was! Besides incredibly fun and talented, they were also very professional, accommodating, and quick to reply to emails and phone calls! I knew from the very beginning I was in good hands, and they were going to do everything they could to make my day exactly how I envisioned it! I'd absolutely recommend them to anyone looking for great music, good people, and a night people will never stop talking about!! PICTURES TO COME!
Fundraiser•Reviewed on May 21, 2016•From Monroe, NC
We are extremely pleased with having Blind Manifest at our Angel Dance fundraiser. Their performance was perfect! I would not hesitate to recommend them for any event and we hope to work with them again in the future. Thank you Blind Manifest!
Wedding Reception•Reviewed on September 26, 2009•From Newton, NC
These guys were amazing!! They got two families who were strangers to each other up and dancing and laughing and organized them for introductions and....I could go on and on!! And their talent!! They have such a range of musical styles and their vocals and talent as such great musicians....they pleased everyone from the smallest kids to the great-grands. They MADE our event! From our very first contacts with them to the end of the evening, they made it so easy for us and calmed our nerves and.....I could go on and on!! THE BEST!
Wedding•Reviewed on September 28, 2014•From Rock Hill, SC
Other than the fact that they are really freakin awesome and keep the party going alive and accommodate whatever needs you have. There's no complaints here. I love em and would book them again any day.
Wedding Reception•Reviewed on October 10, 2015•From King, NC
There where great tons of fun and played great music Would book them again and again
Private Party•Reviewed on October 4, 2008•From Denver, NC
Awesome. Spectacular. Professional. I guess there are other adjectives that I could use to describe Blind Manifest, but these seem to be the most accurate! I hired them because I liked thier song snippets - and all of the other feedback on here made us feel like we were making a good decision. They read the room perfectly, and offered us just exactly what we were looking for in regards to thier sound and song selection. Oh, and Brian makes a superb Emcee too! We were complimented all night long on how great the band sounded, so I would have no qualms about recommending them to anyone wanting a fun and professional group of guys that know how to entertain!
Wedding Reception•Reviewed on June 9, 2012•From Charlotte, NC
Blind Manifest was great! They were easy to work with, were willing to learn a song for our first dance, and had everyone out on the dance floor. Just what we wanted!
Community Event•Reviewed on December 12, 2009•From Charlotte, NC
I don't think there are enough words to say what this band means to us and our event, the Thunder Road Marathon. We have worked with them for 3 years now and we look forward to having them out again next year!
Wedding•Reviewed on March 28, 2009•From Blacksburg, SC
This band rocks. You cannot find a better band for the money. Book them with confidence. They were so good we had a few people wanting to book them for their events. Brian was very nice and professional. Thank you guys for all your hard work.
Wedding•Reviewed on October 25, 2008•From Charlotte, NC
Blind Manifest was the perfect band for our wedding reception. They were available beforehand for consultations, receptive to special requests and provided several unique touches, which set the perfect tone for us and our guests. We would highly recommend them for weddings and other celebrations. We knew we made the right choice by the number of compliments we received from our family and friends!
Fundraiser•Reviewed on October 11, 2008•From Brevard, NC
An AWESOME evening was had by all 300 people that attended our 10th annual Rotary Dance/Fundraiser. From the very first song of the night the dance floor was filled until the last set was over. You could sense the band and the crowd, ages 30-60+, were feeding off of each others energy. The comment heard over and over again was "Can you go ahead and book them for next year's event". The answer, a resounding YES!! I was definitely a Win,Win situation for all. Everyone enjoyed a fabulous evening of music and dancing and we raised a lot money for our charitable projects. Thanks Brian, Dave, Don, Tad and Tim for helping make our event a huge success. See you next year.
Trade Show•Reviewed on July 26, 2008•From Charlotte, NC
We saw Blind Manifest play for a wedding in April and I knew right away I was going to hire them for my husbands 40th birthyday celebration. There's no way I can convey here just how talented these guys are. Everyone was amazed at the variety of music they played, and how they were able to keep the dance floor filled. How can a band play Bon Jovi AND Marvin Gaye and sound just as convincing doing either? Go figure! My guests were asking about the band all night long. Thanks again guys, you were truly STELLAR!
Private Party•Reviewed on September 27, 2008•From Raleigh, NC
Blind Manifest was GREAT! From the booking process, through planning, song selection and even up to the day of the event, their communication was solid (various emails and phone calls). They were extremely professional and well organized. Most importantly, once our private party started, they sounded terrific! Everyone I spoke with at the party commented on how good they sounded. And to top it all off, they were really cool guys! Would HIGHLY recommend them and look forward to engaging them again soon! Thanks guys for making our celebration so special!! Michael M. Raleigh, NC
Wedding•Reviewed on July 18, 2009•From Wytheville, VA
Blind Manifest was an excellent choice for the wedding reception. They played a variety of songs for all ages and they kept the music going all night. The event was perfect and everyone had a great time. The band members were very professional and talented. I would highly recommend this band for any function. Thanks again!!! DCraig
Fundraiser•Reviewed on May 2, 2008•From Kure Beach, NC
The Blind Manifest show was incredible. As president of the Parrot Head club I was the one who brought them in for our event. Most all in attendance had no idea what to expect from the band. They had the crowd on the dance floor almost immediately and up dancing all night long. The comments I received from members, guests, and the public were all very positive. Many where truly blown away by their sound, variety of music and stage presence. I would highly recommend them to anyone who wants to have a lively event with a professional band who can play a wide variety of music to entertain everyone. Thank you very much for making our charity event a huge success.
Private Party•Reviewed on June 7, 2008•From Cornelius, NC
Everyone kept asking me where we found the band. They were awesome and fun to hang out with. They will be back again for sure!
Wedding•Reviewed on March 13, 2010•From Charlotte, NC
These guys were great, they got the wedding reception started off to a great start and kept the party rolling. I'd book them again in a heartbeat.
Community Event•Reviewed on June 18, 2009•From Mooresville, NC
I ranked the recommended slightly lower, because they are so professional and talented I am concertned that they will be harder and harder to book in the future because they will be very much in demand. This is our first year as a Town of doing these concerts and the crowd wasn't very large. However the group remained professional and entertaining despite this. Worth the cost. A great group. I can only imagine how they would be to a larger audience. My strong recommendation in support of hiring these entertainers. Tom Nixon, Town of Mooresville
Wedding Reception•Reviewed on March 20, 2010•From Charlotte, NC
Everyone had a blast dancing to Blind Manifest. My 83 year old grandmother was even on the dance floor cutting a rug!
Picnic•Reviewed on May 7, 2008•From Charlotte, NC
Wedding Ceremony•Reviewed on August 18, 2011•From Landrum, SC
Wedding Reception•Reviewed on May 30, 2015•From Concord, NC
These guys are great! We hired them for our wedding reception following a recommendation from someone who had done the same and they lived up to their reputation. Very easy to work and plan with, great song selection, and kept the party going strong til the night ended. Would definitely recommend to anyone looking for a great party band for any occasion.
Wedding Reception•Reviewed on September 24, 2016•From Boone, NC
The band was GREAT! So amazing and so much fun!