Back to profile
Groove Factory Reviews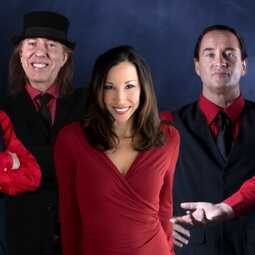 Avg 5.0 | 36 Reviews

Cover Band from San Diego, CA

62 Verified Bookings
Starting at $1,000 per event
---
36 Reviews for Groove Factory
Wedding Reception•Reviewed on March 24, 2018•From Upland, CA
Joe was an absolute pleasure to work with. He is patient, understanding, and overall, an upstanding gentleman. We didn't have the best location for the band or were we throroughly planned but he made it work and it worked well. He was flexible for the night of the event and he and his band did so with a smile. The band mates were also a blast to be around. They were friendly and blended well with the guests. If I have another wedding, I'd book them again. I'm finding myself looking for reasons to book with Joe again. You will not regret booking with these guys.
Corporate Function•Reviewed on December 11, 2015•From Simi Valley, CA
The band delivered! Joe and his band were professional and accommodating. We experienced everything they had to offer - Freeze Frame with their 80's music, and then had fun with their live karaoke, and finally we also were entertained by Groove Factory, which is their all variety music. It was fabulous and our guests really enjoyed the entertainment!
Birthday Party (Adult)•Reviewed on January 24, 2016•From Temecula, CA
Groove Factory did an AMAZING job at our event. They were so accommodating and patient as changes were made throughout the nights timeline. Music was perfect and I can't decide who my favorite singer was. They were all so friendly and lively. Couldn't have had a better night. Thank you to the band for making this an amazing birthday party!
Private Party•Reviewed on November 6, 2015•From San Diego, CA
Groove Factory more than exceeded my expectations! This is the first time I have found a band without using a personal referral and I am glad I chose Groove Factory! I do 100's of events each year in multiple cities and will most certainty be utilizing their services again. Thanks again Joe!
Wedding Reception•Reviewed on December 20, 2014•From San Diego, CA
Groove Factory was amazing! We hired them for our wedding and we had so many guests come up to us after and rave about the band. They did such a great job of getting the crowd up and dancing and they were a big part of why our wedding was such a success! We hadn't seen them play live prior to booking them but it was the best decision we ever made. They were so accommodating to any requests and were always available to answer our questions and for phone calls i would not hesitate to recommend them to any of my friends and I hope my enthusiasm is coming through in this review because they were that good!! Thank you so much for making our night so special!!
Club Event•Reviewed on January 12, 2016•From Temecula, CA
Great band. Awesome musicians. So good we decided to hire them once a week for the live karaoke. Every note is on que Very professional Best band we've ever hired on gig masters.
Wedding Reception•Reviewed on November 9, 2013•From Rancho Mirage, CA
Groove Factory was AMAZING!! They played at our wedding reception and I can't count the number of people who came up to me asking how we found them and raving about how fun they were. They kept everyone of all ages on the dance floor the entire time, playing all the most fun songs from the 80s. We also used the same company for music for our ceremony, cocktail hour and DJ/MC. It was so nice to not have to worry about any of the music, it all turned out better than I could've imagined. I heard over and over "Best Wedding Ever!" - thank you Groove Factory for making our wedding so amazingly fun and so absolutely memorable!! (PS, have them in 80s costumes-so fun!)
Wedding•Reviewed on August 9, 2014•From Palm Springs, CA
This band is AMAZING, both in the music arena and professional business arena. We saw them play at The Grand Del Mar and WOW, what fun! Everyone of all ages was on the dance shakin' booties so we hired them for our wedding at The Parker in Palm Springs. They are very timely and professional, just delightfully easy to work with. We could not have wished for better. They were a showcase of our wedding and we could not have been more impressed.They are flawless and SO MUCH FUN!!! Our guests are still talking about how fun and full of energy the band was. I cannot give enough stars or words to describe Groove Factory, just A CLASS ACT all around!
Corporate Function•Reviewed on December 8, 2012•From San Diego, CA
We hired Groove Factory for our corporate holiday party and they were excellent! High energy from beginning to end and had a good variation of music. They were very professional and sounded great. We highly recommend!
Wedding•Reviewed on October 3, 2009•From San Diego, CA
FANTASTIC! AMAZING! PERFECT! Freeze Frame played at my wedding on October 3rd and they rocked it! They got the party up on their feet the entire time; people danced and sang and had a fabulous time. Mark is very professional, and responds to emails or phone calls immediately. Mark also took on the extra role of being the MC at the wedding and he did a great job. The band learned to play several special requests before the wedding. Two songs that totally impressed me were: "I've had the Time of my Life" (our first dance song) and "Hava Nagila."
Wedding Reception•Reviewed on April 24, 2010•From San Diego, CA
WOW! I don't know how to do Freeze Frame's performance at my wedding justice! THEY ROCKED THE BAY! All of my guests were on the dance floor all night! Mark was INCREDIBLY responsive and accommodating to all requests. They learned a new song for our first dance and were flexible to the changes throughout the evening. They were the talk of the brunch the next morning - especially their Don't Stop Believin' encore! THANKS A MILLION FREEZE FRAME! - K&A
Birthday Party (Adult)•Reviewed on September 19, 2009•From Monrovia, CA
Freeze Frame was spectacular! The band was professional and very talented. My husband's 40th Birthday party was a huge success due in much part to the band. My guests had a fabulous time, they did not stop raving about how great the band was and they danced all night. I would recommend this band to anyone that wants a high energy party that guests will talk about for days to come. Freeze Frame was AWESOME!
Cocktail Party•Reviewed on October 13, 2009•From San Diego, CA
My experience with Freeze Frame was excellent, from booking to planning and through to their high-energy and completely-entertaining performance. My group, which includes people of all ages, loved them.
Christmas Party•Reviewed on December 20, 2008•From San Diego, CA
Freeze Frame hands down the best 80's band I have ever heard and I am picky. These guy's are the most professional band and Mark Seaman is a good businness man. Way to go guys you rock and I hope you guys get more gigs so I can come watch more often. Thanks Tom Craft
Halloween Party•Reviewed on October 25, 2008•From San Clemente, CA
This was a great band to work with and everybody was very talented. YES, I would recommend these guys/ girl and we will have them back next year!!!
Birthday Party (Adult)•Reviewed on July 11, 2009•From Dana Point, CA
Did a great job for my 40th birtday party
Wedding Reception•Reviewed on November 11, 2012•From San Diego, CA
Freeze Frame was unbelievably awesome! We wished we could've had the room longer so they could've played a few more songs. I've been to more than a few weddings and have yet to hear any band as good as they were, and I'm not just saying that because I was the groom. I want to thank Freeze Frame for helping make our wedding so great!
Wedding•Reviewed on September 29, 2012•From San Diego, CA
Freeze Frame was awesome, they really got everyone going and out on the dancefloor! They even let us sing with them, which was really fun. We got tons of compliments on the band. Beyond the music, they did a terrific job of emceeing and keeping up the timeline for the event. The before, during and after communication and professionalism was outstanding. I would highly recommend them for any event or occasion.
Private Party•Reviewed on July 21, 2012•From Redlands, CA
They were awesome!! We will absolutely be using them again in the future!
Birthday Party (Adult)•Reviewed on October 8, 2011•From Carlsbad, CA
The whole band was a pleasure to have at the party. They were on time, professional and rocked the house! We would hire them again and recommend them without reservations for people who are looking for a good time party band.
Wedding•Reviewed on February 25, 2012•From San Diego, CA
Freeze Frame was great from booking the band to end of the night. They learned some songs not on the list for us, and really put on a show.. My family is NOT known for dancing and people did NOT get off the dance floor. They did a great job and interacted with guests LOTS. Many people the next day asked who the band was and said their feet hurt. I would love to have another wedding (same girl of course) just to have an excuse to hire these guys again. Thank you very much Paul and the rest of the freeze frame band. Side note, their lighting, song selection, mix and volume were great. As a musician my self, I grade these guys on a steeper curve. They pass!
Wedding Reception•Reviewed on June 29, 2013•From San Diego, CA
Anniversary Party•Reviewed on October 30, 2015•From Temecula, CA
Totally amazing band they made my night. I would highly recommend this band They are all great singers as well.
Wedding Reception•Reviewed on September 5, 2010•From Ojai, CA
Wedding•Reviewed on April 13, 2018•From Temecula, CA
From our first meeting until the actual performance, the band was nothing but professional. We loved having them perform at our wedding. Many guests could not stop rating about how much fun they had and how good the band was. They kept the seats empty all night long with their great music!