Back to profile
JP and Friends Reviews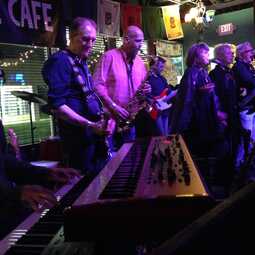 Avg 5.0 | 16 Reviews

Cover Band from Boston, MA

18 Verified Bookings
Starting at $800 per event
---
16 Reviews for JP and Friends
Community Event•Reviewed on October 19, 2021•From Quincy, MA
JP and Friends were awesome! Great communication throughout the planning process, a pleasure to work with & very talented! This event included people of all ages and backgrounds, and they all really enjoyed the band. Highly recommend!
JP and Friends:
It was a pleasure working with Emma - very professional and very responsive. The event went off smoothly and was a big success. Thanks Emma.
Wedding Reception•Reviewed on September 11, 2021•From New Shoreham, RI
JP and Friends put on an incredible show for our wedding reception! My wife and I were looking for a versatile and talented band, while trying to avoid booking a cliched "wedding band" sound. We got everything we wanted and more with Jeff and his group. Motown, funk, classic rock, 80s, and modern hits, they can do it all. The band even accommodated a few family members stepping in for performances! Jeff was diligent and helpful every step of the way. He ensured our party would go off with no issues. Mike was a phenomenal MC, and kept the party going all night. Beyond their talents as incredible musicians, the members of JP and Friends are great people. 10/10.
JP and Friends:
Thanks Collin and Lindsey. What a great night! We also had a blast. Beautiful location - stunning in fact, and wonderful people who were ready to dance from the off! And they appreciate good music. Our kind of crowd.
Wedding Reception•Reviewed on July 2, 2021•From Princeton, MA
Working with Jeff to plan things out could not have been a better experience! Our reception was delayed a year due to covid, and Jeff rolled with the punches right along with us. We were confident going into the evening that it was going to be fun. The event itself wasn't just fun, though, the band killed it. The music consistently kept people dancing, the pacing was ideal, they're not just technically skilled musicians but have the heart and energy that just pours into the night. Their jam of Superstition was a highlight in a night full of highlights. Just incredible. It wouldn't have been our wedding without them, couldn't recommend them higher!
JP and Friends:
Thanks Amanda, it was a pleasure working with you and Jeff. We are thrilled for you both!
Community Event•Reviewed on June 26, 2021•From Middleton, MA
Our event is outdoor community venue, and it was a hot night. JP and friends rocked this event. They sounded great. You know it is a success when you saw people dancing and singing along…while other sitting taking it all in while eating their dinners and not leaving when finished. We received lots of positive comments, people enjoyed it.
JP and Friends:
Thanks Kevin. We enjoyed working with you and playing for the town of Middleton. We all had fun and it is great to be getting back out there post-covid. Hope to see you next year!
Wedding•Reviewed on September 7, 2019•From Framingham, MA
We are so glad we chose JP and Friends for our wedding! From the beginning, Jeff and his band were personable, diligent, and responsive to every request we had. Their music blew people away. We got compliments all night about their performance, and they kept our friends and family dancing until the end. Just wait until you see Jeff and the sax player solo together! Having JP and Friends at your wedding feels more like throwing your own concert than hiring a typical "wedding band." Hiring them allowed us and our guests to experience a night that we'll remember forever! If you want your event to have real music played by real musicians, you won't regret it!
JP and Friends:
Thanks Ryan and Alyssa for hiring us. It is always a pleasure playing for great people and a fun crowd. We all wish you the best in your future life together.
Fundraiser•Reviewed on June 22, 2019•From Saugus, MA
Jeff was an ease to work with, very interested in our event and how the band could help us to be successful. Communication was easy and efficient. The band arrived early at the venue to get acclimated to the location and did a great job of adjusting sound quality for the room. Musically, the band was outstanding. They have a deep song list from which to choose and provided great entertainment for our guests. We had great feedback from attendees and the night was a great success!
JP and Friends:
Thanks Mike - it was a pleasure playing for you and supporting your worthy cause.
New Year's Eve Party•Reviewed on December 31, 2017•From Boston, MA
JP and Friends was incredible! They accommodated our last minute request professionally and executed without flaw. We would highly recommend them! Thank you so much for a great New Year's Eve and we hope to have you all back soon.
JP and Friends:
Thanks Holly - a great venue and fabulous views over Boston. For us a great upscale gig for New Years Eve and all the staff were so helpful and supportive. Thanks again!
Private Party•Reviewed on September 30, 2017•From Concord, MA
Great band and a bunch of great people. I would definitely recommend them!
Corporate Function•Reviewed on September 23, 2017•From Wilton, NH
Great band for a corporate outing. We had around 200 people coming and going throughout the day and the band played a great mix that everyone enjoyed. Would recommend them for any sort of event.
JP and Friends:
Thanks Michael, it was a pleasure playing for your companies. We wish you all the best in the future.
Wedding Reception•Reviewed on August 26, 2017•From Falmouth, MA
We couldn't have had a better experience with JP and Friends! Peter and I are 30 and 28 and had "non-traditional" aspirations for our wedding band. We wanted people to be on the dance floor all night long, but didn't want the cliche wedding songs (ie Bruno Mars). So how do you please a crowd of 180? You hire the pros: Jeff, Mike, Suzanne, Vicki and the others were collectively some of the best musicians we've ever heard live. As a 9-piece band, they brought the sound and skill to keep the dance floor packed all night long. They communicated well, learned a couple new songs, and even brought a record player to play our first song! You will not be disappointed!!
JP and Friends:
Thanks so much! Great wedding, wonderful people who love to dance. A pleasure for us anytime!
Anniversary Party•Reviewed on September 24, 2016•From Concord, MA
Wow...These guys and girls blew us away. They learned my mothers wedding song on very short notice and Jeff was extremely professional with the communication throughout the entire process. Half way through the night, they came into the crowd and laided down an all time sax vs guitar solo battle. The three singers, all very talented in their own right, were able to cover a huge range of music, and make it look easy. I had people coming up to me all night asking where I was able to find such an awesome group of musicians. JP and friends would be perfect for ANY venue or event with their ability to get everyone dancing. I cant recommend them enough!
Wedding•Reviewed on September 4, 2016•From Waltham, MA
We hired JP and Friends to play at our wedding and they were outstanding. Jeff worked with us and the caterer to plan the evening timeline. He asked specific questions about what the band needed to do: "Will there be a first dance by the bride and groom?" Will there be a cake cutting ceremony?" The result was a well organized party. The music was terrific. The band can do a wide range of songs. The three vocalists can do close harmonies and the band can move from loud up-tempo songs to quiet romantic numbers. Every guest complemented the band. They asked us where we found them, and said they were thrilled to dance and enjoy the evening!
Private Party•Reviewed on March 5, 2016•From Acton, MA
Jeff Purchon put on a stellar performance. Top-notch professionals. They went beyond the call and surpassed all expectations. They had the audience captivated (and dancing) for the entire evening. Each band member would shine individually in any musical setting. Together, they were a well-oiled machine. The three singers hit pitch-perfect harmonies throughout the night. Each was a strong soloist and had his or her moment to lead. Both guitarists were as good (better) than I've heard in any regional band. Bass, keyboards, percussion,horn — spot on. Most important, they were clearly having fun. Their energy was infectious. I'll definitely be hiring them again — soon.
Birthday Party (Adult)•Reviewed on December 12, 2015•From Lexington, MA
JP and Friends were amazing. Everyone was on the dance floor! Which to me was the key to a great party. They were extremely accommodating, including visiting the venue ahead of time with practical thoughts of how to make the venue shine. The communicated ahead on all the practicalities. I truly had the time of my life, and a party I will always remember. My sister did a speech and mentioned one song I have always loved. The band then took the initiative to close with that song. Everyone was very touched. I could not have been more delighted. Use them. They are great. Everyone sent me emails afterwards about great the band was. They were!
Birthday Party (Adult)•Reviewed on October 31, 2015•From Portsmouth, NH
What great talent and super nice people. The set list was spot on and everyone had a great time. Super versions of Stevie Wonder as well as Spanish Moon by Little Feat. Very professional from start to finish. If you are looking for a band to play at your next gig ....whatever it might be these guys are the real deal..
Celebration•Reviewed on August 1, 2015•From Harwich Port, MA
We hired JP & Friends to play at a mid-summer lawn party. We could not have been more pleased with their performance. With their core band of bass, drums, guitar, and keyboard, plus three fabulous singers, they covered soul and R&B plus some classic rock, from the Spinners, James Brown, Jimi Hendrix, Bad Finger, Bonnie Raitt, etc, all with compelling, sometimes original arrangements and delivered with a great sense of fun. Their demos on Gig Masters are good, but don't really do their live performance justice. Jeff has a long history with some of Rock's classic greats, and this shows in his great guitar performance and choice of material. The crowd went wild!