Back to profile
The Alison Sharino Band Reviews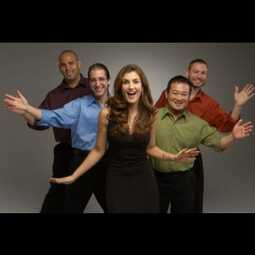 Avg 5.0 | 29 Reviews

Cover Band from San Jose, CA

53 Verified Bookings
Starting at $2,500 per event
---
29 Reviews for The Alison Sharino Band
Fundraiser•Reviewed on September 30, 2017•From Merced, CA
They were over the top awesome. Audience thorough enjoyed them. They were organized and efficient. Great repertoire of songs. Would hire them again in a heartbeat
Wedding Reception•Reviewed on July 9, 2016•From Fresno, CA
The band was absolutely awesome. They played every song I requested, they took special request and kept the party going all night. They beat my expectations and I have had many of my guest ask how I found them because they were so good. I just can not thank the band enough for such a memorable night.
Wedding Reception•Reviewed on April 30, 2016•From San Jose, CA
Alison was personable, professional and a delight to work with. All the guests at our wedding were thrilled with the music and the dance floor was hopping until the very end. Couldn't have been more pleased.
Wedding Reception•Reviewed on October 29, 2016•From Los Altos, CA
Absolutely fantastic. Incredible communication from beginning to end, super classy and well-accomplished musicians, a wide selection of songs all of our guests loved and the ability to turn and speed it up or down depending on the mood of the room and the number of people on the dance floor. Made our wedding a fantastic experience from both our and our guests' perspectives. Highly recommended for any event.
Wedding Reception•Reviewed on January 16, 2016•From Carmel, CA
One word... Amazing! Alison and her band were incredibly professional, well priced, easy/fun to work with, very kind, and of course very talented! The Alison Sharino band emceed at my wedding and they gracefully improvised the order of events when thing were running behind or late. They have a great selection of music and everyone was always on the dance floor dancing and singing along. Again, I would highly recommend this band to anyone that is looking for great entertainment at their party or event! If I have another event coming up, I will totally hire them again!
Anniversary Party•Reviewed on January 19, 2013•From Sunnyvale, CA
FROM MY FIRST CONTACT WITH ALISON TO THE NIGHT OF THE EVENT, ALISON HANDLED EVERYTHING VERY PROFESSIONALLY. MY GUESTS LOVED THIS GROUP, I WOULD RECOMMEND THEM TO ANYONE.
Anniversary Party•Reviewed on August 8, 2015•From Big Sur, CA
The Alison Sharino Band was absolutely, hands down the best cover band I have ever heard! Everyone in the band is extremely talented. Between the five members they can sing just about anything and do an outstanding job at it. We had them perform at our 25th wedding anniversary celebration and everyone and I mean everyone was raving about them! I cannot say enough about this band except that if you have need of a band for your party look no further. This band will not disappoint.
Wedding Reception•Reviewed on June 1, 2013•From Santa Cruz, CA
We booked Alison Sharino for our wedding reception on June 1st 2013 in Santa Cruz, and we could not be more pleased with our experience. Alison was very responsive in communication leading up to the big day. She was also very accommodating as we iterated on the song list. We had Alison play as soloist during cocktail hour, and she sang beautifully. We had the band play as a trio after dinner, and they were awesome. The rendition of our 1st dance song (which they learned for us) was beautiful. They also did a wonderful job keeping the energy level up for our guests during the dancing portion of the evening, with an excellent mix of songs. A++++ experience!
Graduation Party•Reviewed on May 19, 2012•From Atherton, CA
Absolutely fantastic! All my guest were thrilled.
New Year's Eve Party•Reviewed on December 31, 2011•From El Cerrito, CA
We want them back next year, maybe sooner. All feedback from our club members and guests was positive. We were all very pleased.
Wedding Reception•Reviewed on October 15, 2011•From Moss Beach, CA
The Alison Sharino Band was the greatest! We could not have been happier. Our expectations were completely fulfilled and we are still hearing from our guests about the greatness of this band. Alison played solo for our wedding ceremony and then the complete band played for our wedding reception. Alison's voice is simply awesome and the band has incredible talent. They even learned 3 new songs especially for us. I would highly recommend this band for any wedding or event. I gave them 5 stars on every category because they earned it!
Wedding Reception•Reviewed on September 2, 2011•From Calistoga, CA
Alison and the group were absolutely amazing to work with from start to finish. From learning 3 new U2 songs and nailing them perfectly - to Alison even lending one of the guests a dress right before the ceremony. Only disapointment was not having them play longer into the night...
Wedding Ceremony•Reviewed on November 20, 2010•From San Jose, CA
We were extremely pleased with The Alison Sharino Band's professionalism, performance, and flexibility. Though we had a detailed schedule for our wedding, some things were not planned and the band handled it very well. We would recommend them to anyone. They provided a wedding timeline worksheet and were very thorough. They made our special day extra special!
Convention•Reviewed on July 6, 2010•From Monterey, CA
My group of 200 conferees was delighted with the quality and enthusiasm of the Alison Sharino band. I would hire them again without a moment's hesitation.
Birthday Party (Adult)•Reviewed on July 2, 2010•From Woodside, CA
Wedding Reception•Reviewed on June 26, 2010•From Aptos, CA
We absolutely could not have been any happier with the Alison Sharino Band! Alison was an absolute joy to work with! They had everyone of all age groups at our wedding up and dancing. I remember my husband and I standing at the front of the dance floor as people spilled over the dance floor and he said "Just take a minute and look at all the people having fun at our wedding." SO many people said it was one of, if not the best wedding they have ever been to. I give a ton of credit to the amazing band! It seriously brings tears to my eyes because I was so overjoyed with their performance at our wedding!
Wedding•Reviewed on May 29, 2010•From Monterey, CA
I would highly recommend hiring The Alison Sharino Band for your event. Alison did a great job of keeping in contact with me before my wedding and answering any questions I had. All of the band members were very talented and I had compliments from all my guests. They were great at adapting to the audience and catering to requests. They are a great band for all age ranges.
Wedding•Reviewed on October 10, 2009•From Livermore, CA
Working with the Alison Sharino Band was a pleasure. They were professional, accommodating, and really got everyone up and dancing. I would suggest them to anyone.
Wedding•Reviewed on October 3, 2009•From Fresno, CA
We wanted a great party and with The Alison Sharino Band, that's exactly what we got! Everything was running late and the band adapted well with a great mix of energetic tunes mixed with some slower ones. All of the musicians were solid players and the singing was great. Almost a dozen people came up to me over the course of the night and commented on the great band. Working with Alison before the wedding was really easy even with my crazy busy schedule. The band learned a new song that we wanted for our first dance. It was my duty to find a band for the wedding and I got major brownie points from the in-laws after for finding such a great band. The Groom
Wedding Reception•Reviewed on August 22, 2009•From Stockton, CA
675 Characters is definetly not enough space to express how absolutely fabulous the Alison Sharino Band was for our event (wedding) They were everything we had hoped for. Extremely talented, incredidible voices, great personality, tremendous range of music. Oh my gosh we wish the night, the music, the fun could have gone on for several days. We had not seen Alison and her band perform before, and decided to take a chance after looking and listening to her website. It was one of the best decisions we made, We were so happy and so were our guests with their performance, and professionalism, We would hire them again in a heartbeat !!!!
Wedding Reception•Reviewed on June 20, 2009•From Menlo Park, CA
If you want a band that spans all age groups and gets them up and dancing for the whole night-look no further than the Alison Sharino Band! Everyone who came to our wedding is STILL talking about how amazing they were and all my East Coast friends want them to perform at their wedding. They helped us celebrate into the wee hours of the morning and when the crowd begged for a second encore, it was better than the first! While there are many important decisions that go into a wedding day, choosing the Alison Sharino Band was one of the best decisions we made because they truly helped us celebrate the first day of our marriage. Thank you Alison for a memorable evening!
Wedding Reception•Reviewed on June 2, 2012•From Carmel, CA
the Alison Sharino band were awesome. They kept the party moving and all of our guests loved dancing to their music. We would highly recommend them.
Wedding Reception•Reviewed on September 1, 2012•From San Jose, CA
Private Party•Reviewed on May 17, 2013•From San Francisco, CA
AMAZING! The band was rocking, Alison has incredible stage presence and absolutely killed it with the crowd. Thank you for such a successful event!
High School Reunion•Reviewed on October 24, 2015•From Berkeley, CA
Great to work with!!