Back to profile
Gypsy Lane Reviews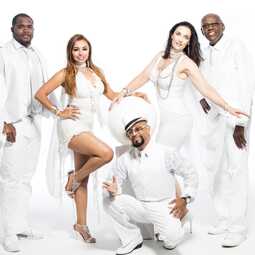 Avg 5.0 | 33 Reviews

Dance Band from Boca Raton, FL

47 Verified Bookings
Starting at $2,000 per event
---
33 Reviews for Gypsy Lane
Sort:
Birthday Party (Adult)•Reviewed on November 2, 2019•From Kissimmee, FL
Could not have Been any more Satisfied!! Karina is the upmost professional and a great communicator. Everything promised, Everything delivered!! All the members of the band are genuine people! "What a Band" I Would Highly recommend "Gypsy Lane"
Wedding Reception•Reviewed on October 8, 2016•From Vero Beach, FL
We had a hurricane in Vero Beach and did not have power. The wedding was cancelled on Wednesday. Prior to that our communication and experience with Karina was phenomenal, she is so kind, understanding and easy to work with. Please advice what we do from here. We have not rescheduled at this time
Birthday Party (Adult)•Reviewed on June 4, 2016•From Vero Beach, FL
Gypsy Lane is amazing. Their song list is vast and varied, and their energy and sound is fantastic. They were also super accommodating of special requests. Gypsy Lane made our party a huge success. Thank you Gypsy Lane!
Wedding Reception•Reviewed on April 30, 2016•From Boca Raton, FL
Gypsylane band is by far the best band I have ever had the pleasure to see and hear. They are energetic, engaging and extremely talented. I especially want to thank Karina for coordinating all the details to ensure my wedding day was the best it could be. I honestly did not want the night to end because the band is THAT AWESOME!!! Thank you for everything. I cant wait to get all the photos and videos from the evening and will surely post on Facebook :)
Corporate Function•Reviewed on January 29, 2016•From Fort Lauderdale, FL
I couldn't have been more pleased with them as a group of outstanding musicians. They were energetic, musically sound and accommodating. Late in the process we switched up our schedule and content and asked them to play small bits for a "late Night Talk Show" set up. They handled the change with flying colors and added so much personalty and energy to the session. Well done and I hope to work with you again in the future.
Birthday Party (Adult)•Reviewed on January 2, 2016•From West Palm Beach, FL
Karina the bandleader was super accommodating in all our requests and she is a great performer.All the band members were great This is the latest update, the band deserves 5 stars on every category.
Wedding•Reviewed on October 3, 2015•From Miami, FL
Amazing, incredible, energetic -- this band is the best!! Karina is so sweet and really cares about what you want to happen at your party. We gave her a guideline of music and asked her just to read the crowd. The guests were dancing the entire night. The variety of music appealed to all ages. We called a couple audibles during the night and they just flowed with it. She made suggestions, we took them and were so glad we did. My wedding planner (who specializes in very high end parties) was so impressed. I have a feeling they're going to be getting a lot of business from her.
Fundraiser•Reviewed on March 19, 2015•From Vero Beach, FL
Everything was perfect. Band was the hit of the evening! Event was fundraiser for special needs and Karina invited one of our advocacy clients (Downs Syndrome) on stage with band to join in. Of course she is a 'ham' and actually is used to performing in public and singing, but there was no way anyone was getting her off of the stage. She was on cloud 9! Everyone said it was the best party of the season. Bravo! Rock on!!!
Wedding•Reviewed on January 24, 2015•From Naples, FL
I can't say enough great things about Gypsy Lane. When planning our wedding, choosing a band was one of our top priorities. We'd never seen Gypsy Lane live, but watched a few of their youtube and website videos. We thought they were awesome from those, but the videos don't do them justice compared to hearing them live. Our entire reception was on the dance floor and they kept the excitement going the whole time. They can play so many new and popular songs as well. Lastly, from the perspective of the bride, Karina was a seasoned pro and took charge the day of. She helped me feel relaxed knowing we were in good hands! Gypsy Lane is highly recommended by this bride!
Wedding•Reviewed on July 26, 2014•From Fort Lauderdale, FL
AMAZING!!!!!! Gypsy Lane was phenomenal. They were professional, talented, and kind. They kept the party going all night and I will definitely recommend them in the future.
Wedding Reception•Reviewed on November 9, 2013•From Jensen Beach, FL
They were awesome! We had guests from all over the world and everybody absolutely loved them! They were accomodating, very flexible and a lot of fun! Karina is very nice! We had some cultural games at the wedding and Karina administrated it very well together with a DJ. I would recommend Gypsy Lane to anybody for any event!
Wedding Reception•Reviewed on October 12, 2013•From Fort Lauderdale, FL
COULD'T HAVE MADE A BETTER CHOICE!!! LOVE IT!!! Gypsy Lane Band were super professionals, did everything we agreed on before. Karina is a sweet heart! She was always in contact with me before and during the wedding to know if everything was the way we expected and liked! They played all the songs we requested, and the DJ covered whatever we wanted and they didn't play, some very specific brazilians songs, that we just gave them the name and they took care of the rest. Bottom of line. We were very happy with our choice and would totally recommend to anyone that wants a non stopping dancing party! All the guests couldn't stop talking about how good it was! ;)
Corporate Function•Reviewed on June 9, 2013•From Miami Beach, FL
Fantastic band. Very professional and organized with the pre planning, very accommodating on show site, amazing talent and energy. They received rave reviews from our group - two thumbs up!!! Thank you making our night an outstanding event!
Corporate Function•Reviewed on June 28, 2013•From Orlando, FL
What a great band! They performed for the closing party for our 100th anniversary sales meeting for 370 guests. I heard "greatest party" and "greatest band" so many times that evening. Gypsy Lane made our event the best we'd ever had. I booked the back-up singers and the horn section and that was well worth the extra money. They were absolutely fantastic and made our event a smashing success. Karina was a pleasure to work with from the minute I booked the band all they through the entire event. They were full of energy and engaged our attendees throughout the evening - both young and "old"! I highly recommend them!!
Wedding•Reviewed on April 20, 2013•From West Palm Beach, FL
They are a 10 in my book Could not have been better I will recommend them to everyone!!! All I can say is WOW!!!
Cocktail Party•Reviewed on March 3, 2013•From Miami Beach, FL
Gypsy Lane did a wonderful job at our cocktail party. They are very talented and professional and can guarantee your attendees will have a wonderful time! They have an extensive repertoire and performed a variety of songs throughout the night keeping it very dynamic, fun and sophisticated at the same time. I absolutely enjoyed working with them and look forward to inviting them on future events. I highly recommend watching their sample videos to get an idea of the quality of this band! -Meeting Planner
Wedding Reception•Reviewed on November 10, 2012•From Fort Myers, FL
Gypsy Lane was amazing. While friends and family came for the wedding, all they could talk about the next day was the band. Not only immensely talented, Gypsy Lane was extremely accommodating to our requests, & even learned a host of our favorite songs just for the evening. They emailed us samples weeks before the wedding so we could hear how they would cover them. A guitarist even died his mohawk pink to match our decor! Gypsy Lane's music was infectious. We could have saved on chair rentals because everyone was on the dancefloor all night (including the avant garde pre-dinner dance party!). Could not recommend this band higher! Book them NOW.
Wedding Reception•Reviewed on October 27, 2012•From Hollywood, FL
Gypsy lane was amazing! They were able to get all my guests dancing from the first song! I got compliments for days about how amazing they were! I could not have asked for a better band. They were the first band we went to see when looking, and fell I'm love with their music and went with our gut and we are so glad we did! Gypsy Lane, thank you for making our wedding one amazing wedding. Tayanna and Brian 10/27/2012
Wedding•Reviewed on October 13, 2012•From Saint Petersburg, FL
Awsome band. They were professional, organized, accomodating and played great music. They worked with the wedding coordinator from the hotel and made sure all the details were taken care of and accomodated our own particular schedule of events. We wanted a band with horns so went with the seven piece band. They were great! If you don't hire these guys for your wedding/event you are missing out. Rig Goss 10/24/12
Anniversary Party•Reviewed on September 22, 2012•From Lakeland, FL
Karina and the band were just so personal and friendly from the first contact phone call months before the event. She was accommodating to any request for music and master of ceromonies. They provided so much excitement for my wife's parents party celebrating 50 years. As the night went on the guests could not stop dancing and swaying their arms. From ages 5-72 all could not help feel gypsy lane's soul and heart thru their instruments. They truley are florida's best and will hire them again for our next event. Thank you Karina and Gypsy lane for making it a huge success for all. Paul and Toni will never forget that night. Justin 9-22-11 Justin and Colleen
Anniversary Party•Reviewed on June 16, 2012•From Miami, FL
This Band is AMAZING!!! They really MADE my party!! If you like to have an unforgettable memory of your event, I would definitely recommend to hire this Band. They are simple THE BEST. Thank you Karina and Gypsy Lane for all your talent and professionalism!!
Wedding Reception•Reviewed on June 3, 2012•From Naples, FL
Perfection! Karina provided excellent communication and exceptional idead to make my wedding the best it could be. I give the band the highest rating possible in every aspect. They reacted to the audience and kept everyone dancing the entire 4 hours.
Festival•Reviewed on April 14, 2012•From Vero Beach, FL
What an amazing group of musicians! Karina and all the guys we very professional and accomodating. They were the perfect fit for our 2012 Hibiscus Festival Street Party. Would reccomend them any time!!!
Fundraiser•Reviewed on February 25, 2012•From Boca Raton, FL
The band exceeded my expectations - which were high to begin with. They read the guests and were able to engage them and get them dancing and everyone was raving about the band. Karina was my main contact and she was a delight to work with and thoroughly professional in every way. I would highly recommend the band as well as use them again in the future.
Event•Reviewed on January 14, 2012•From West Palm Beach, FL
Gypsy Lane is amazing! Karina and the guys were 110% professional. My hope was to hire a band that would keep our party lively and play music that would make the people want to dance. I can sincerely say the dance floor at our party was filled to capacity from the beginning of the party until the end. Their selection of music totally fit the audience and the sound is great. What an incredibly talented group of musicians. I can recommend Gypsy Lane with no reservations. I can't wait to hear them perform again somewhere! Vicki Chouris - Chief Operating Officer - South Florida Fair