Back to profile
Nite-Time Reviews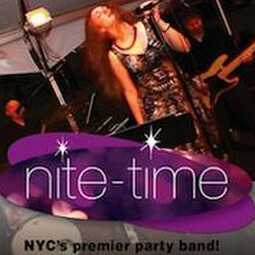 Avg 5.0 | 32 Reviews

Dance Band from Athens, NY

62 Verified Bookings
Starting at $2,500 per event
---
32 Reviews for Nite-Time
Birthday Party (Adult)•Reviewed on January 20, 2018•From Butler, NJ
Nite-Time:
Thanks George. It was a great party!
Labor Day Party•Reviewed on September 4, 2016•From Bronx, NY
I highly recommend this band for your next gig! They played all the latest hits, band was personable and had a great sound! My guest loved them! I definitely plan on using them again! 10 stars!
Nite-Time:
Thanks Christina! It was a really great party and we had fun playing for your guests. Can't wait to see you at the next one! Best, Yves
Wedding•Reviewed on September 17, 2016•From Danbury, CT
So Professional. That's what first caught my attention. This is no backyard band. The team knows how to handle all the aspects of the planning, the set up, the execution, the nervous bride and her mother and they are talented to boot. The vocal was wonderful as was their willingness to accommodate our daughters choice of tunes. In fact, they learned piece which was the couples first dance. After looking at many options, upon speaking with YVES, there was no comparison. Please feel free to contact me directly should you want a more in depth review. Hire with confidence. They will not disappoint you. NO complaints from this family only kudos!!
Nite-Time:
Hi Catherine, Thank you so much for the kind words! It was an honor and a pleasure to perform for your daughter's wedding. Beryl and Rajat were awesome and the party was outstanding. You were a really great dancing crowd! Hope to see you all again soon! Best, Yves
Wedding Reception•Reviewed on August 6, 2016•From New City, NY
Nite Time did an AMAZING job at our wedding. Yves was flexible, easy to talk to, and the band even learned a couple of new songs on our request. Everybody got up on the dance floor and came up to us afterwards raving about the band. Nite Time was much more inexpensive than most other bands that we had looked at, but they did a phenomenal job and I'm sure were much better than bands that were asking for much more. We will never forget our wedding night and how great it was, and Yves and Nite Time were a main reason why. Highly, highly recommended!!!!
Nite-Time:
Thanks Caralyn! It was an honor and a pleasure to play for you and your friends and family and I'm so glad you enjoyed the band. Hope to see you again soon! Best, Yves
Family Reunion•Reviewed on August 22, 2015•From Bayville, NJ
Nite-Time was an excellent choice for our family fun event. We all enjoyed their engaging and entertaining connection with our guests. The dance floor was crowded all night and we asked them to play longer. They were so goid that we are planning to have them join us again!
Wedding•Reviewed on August 17, 2013•From New York City, NY
Nite-time was the cherry on top! It was not hard to recognize the band's talent. They incorporated all of our musical request, with perfect timing. There was not one song, that we did not dance to. Each time we were on the dance floor someone would say "This band is awesome!" or "I love this band!" It was a great feeling to know my guest enjoyed Nite-time as much as we did.
Christmas Party•Reviewed on December 13, 2013•From New York City, NY
Nite-Time was fantastic. Great music and great people.
Fundraiser•Reviewed on March 15, 2013•From New Canaan, CT
Nite-Time was an incredible addition to our event! They were professional, friendly, very talented, and we cannot wait to have them back for next year's event. Thank you Yves and the rest of the band for a great night!
Wedding Ceremony•Reviewed on July 7, 2012•From Waccabuc, NY
I cannot even begin to describe how impressed I (and EVERYONE at my wedding... from young to old ) was with Nite-Time! It was a pleasure from the beginning. Yves really listened to what I wanted and quickly understand my vision. Nite-Time's song list was incredible, and they were also totally open to learning new music. Yet, there wasn't a song I suggested, that they didn't already know! I NEVER expected my wedding to be such a PARTY... and it was! I completely owe that to Nite-Time. Throughout the night guests could not stop talking about our music. Most importantly, Nite-Time catered to the evening, playing each song at just the right moment!
Wedding Reception•Reviewed on August 13, 2011•From Camp Hill, PA
We cannot recommend Nite-Time strongly enough. From a professional perspective, Nite-Time gets high marks. We were always able to make contact, always received a prompt reply, and on the big day, the crew was on time and smoothly integrated with all the other moving parts involved in a wedding reception. From a performance perspective, we (and all the guests) were blown away by how great Nite-Time plays as a group. Featuring highly talented musicians at each position and two spot-on vocalists, our dance floor was jammed all night. The band is THE key to keeping energy high and ensuring a fun party. Nite-Time exceeded all expectations. Book with confidence.
Wedding Ceremony•Reviewed on October 2, 2010•From Norwalk, CT
Working with Nite-Time was a pleasure. Yves was extremely responsive and professional from the first conversation. The band was on time, looked smart and sounded great. They played to the crowd, which had varying tastes, and everyone had a memorable evening. They also were great at accommodating our special requests. I'd be happy to provide more info over the phone. Thanks, Nite-Time! Steph & Adam
Wedding Reception•Reviewed on September 18, 2010•From Tarrytown, NY
There are not enough good things I can say about Nite-Time. They were simply amazing. From the start, my wife and I said we wanted a band that can really rock and one that would make sure all our guests were on the dance floor having the times of their life. That is exactly what we got. Yves and Amy were so great to work with. When we told them we wanted a special song for our first dance (one they didnt play), they made sure to learn for us. At our brunch the next morning, everyone kept telling us how amazing the band was and how great they made our wedding. All the musicians were awesome and Amy has a great voice. I would totally recommend this band to anyone.
Wedding Reception•Reviewed on November 13, 2010•From New York City, NY
Incredible. Don't go anywhere else!
Wedding Reception•Reviewed on November 12, 2010•From New York City, NY
Nite-Time was AMAZING at our wedding! People are still talking about the band. My mom was skeptical about getting a band vs. a DJ for our wedding--she just thought a band was an unnecessary expense. But then the next day, she pulled me aside and said "the band made all the difference". Nite-time was truly fabulous and indulged all of my requests...I would recommend them to everyone I know. THANK YOU!!!
Wedding Reception•Reviewed on October 23, 2010•From Alexandria Bay, NY
When my wife and I found Nite-Time Band on "gig-masters", they were the only band willing to make the trip up to our wedding in Alexandria Bay, NY. Not only were they a pleasure to work with, but I also received many complements from our guests throughout the night and even weeks after the wedding on how outstanding they were. They have a very authentic and energetic sound and we would recommend them to anyone.
Wedding Reception•Reviewed on July 24, 2010•From Brooklyn, NY
Nite-Time played on July 24,2010--the hottest day of the year (100 degrees). Their commitment to us was not at all compromised by the heat. They know how to create a party atmosphere and they kept all our guests entertained and dancing the entire evening. We heard many positive comments about the band from our guests. Yves and Amy are very friendly and easy to work with and all the musicians are of the highest caliber, both professionally and personally. They are a very talented group who play all musical genres well. We would definitely recommend Nite-Time and would gladly hire them again. Thanks, Nite-Time for helping us create some wonderful memories!
Wedding Reception•Reviewed on May 22, 2010•From New York City, NY
Nite-Time played at our wedding in May of 2010. They were remarkably accommodating before and during the event. Initially, we weren't sure if we were going to be able to afford a band, but they worked with our budget. They tailored the songlist to our exact preferences. We had a daytime wedding and were concerned that people would not dance, but Nite-Time did a great job of keeping the crowd engaged. Several of our guests commented on what an incredible job they did, some asking us for their name and contact information so they could book them for future events. They are an incredibly talented, flexible, and professional group and we highly recommend them.
Wedding•Reviewed on April 10, 2010•From Piermont, NY
Nite-Time did a great job at our wedding. They were extremely accommodating to our various song requests before and during the wedding. Even songs that they hadn't played in the past were not a problem for the band. Yves and Amy were both very professional during the process. We are now a few months since the big day and we are still receiving compliments from our guests on the band. We would recommend Nite-Time to any couple looking for the best band in the area.
Corporate Function•Reviewed on December 19, 2009•From Baltimore, MD
We had to reschedule our event at the last minute due to the Blizzard that hit the East Coast. Nite-Time was very accomodating to our new new date. The party was an absolute success with the help of the band. We have employees ranging in age from 23-almost 70 years old. Nite-Time had a vast song list to cater to all ages. Very happy with the band and would highly recommend them to anyone. By the way, they drove 5 hours to play for our party, so don't hesitate to use them if you are out of state.
Wedding•Reviewed on July 25, 2009•From Lagrangeville, NY
We were extremely pleased with Nite-Time's performance at our wedding. Our goal was to have everybody up dancing all night. They were able to accomplish this goal for us. They were very accommodating and helpful. They were able to learn our wedding song along with many others. We highly recommend them.
Birthday Party (Adult)•Reviewed on February 21, 2009•From New York City, NY
Not only did Nite-Time make it easy for me to book them, they made sure that they satisfied all my needs. They were flexible with times, even on the night of the event, and 100% professional. Aside from all these qualities, they were an amazing band. They played all the songs I requested and performed them amazingly well! They didn't have pauses in between the songs, they just made all the songs flow into one another for an hour and a half straight. I have never heard a band that is as good as they are. All the guests, young and old, were astounded by how amazing they were and couldn't stop dancing all night long!
Corporate Function•Reviewed on January 25, 2009•From Stirling, NJ
Nite-Time is a great band! They have so many varieties of music they have concered playing. Great for any occasion. Very professional, friendly, and professional. I would highly recommend Nite-Time.
Wedding•Reviewed on November 15, 2008•From Florham Park, NJ
They are awesome. The place rocked all night long, getting EVERYONE on the dance floor, young and old, dancers and those that don't. The mix of songs was incredible, the talent of the singers and muscians top notch and we felt that the selection of songs were tailored just for us. I will never forgot the last hour of our wedding - it was just so much fun and friends/family shouting "One More Song" at the end. Nite-Time was a huge part of our special day. We are forever thankful we chose Nite-Time. Jennifer & Michael
Fundraiser•Reviewed on December 15, 2007•From New York City, NY
Yves and the band were one of the best groups I have worked with. I am an event planner and it makes my job so much more easy when you work with professionals like these guys.
Wedding•Reviewed on September 8, 2007•From Garrison, NY
They were fantastic! Great playing all night. The song mix was exactly as requested. the transitions were flawless. The crowed danced all night; the floor was packed. They learned Dave Mathew's Crush as a the first dance, and they killed ,even though they may never have a chance to use it again. One of my guests said during the night, "Mr Krieger, I didn't know musicians this good even played weddings."