Back to profile
The River City Hit Squad Reviews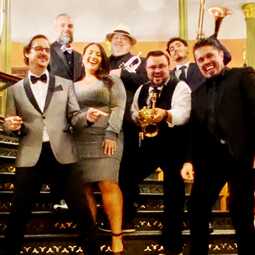 Avg 5.0 | 42 Reviews

Dance Band from New Orleans, LA

76 Verified Bookings
Starting at $2,500 per event
---
42 Reviews for The River City Hit Squad
Sort:
Wedding Reception•Reviewed on February 5, 2022•From New Orleans, LA
The band could not have been better. All of our guests raved about the band. We had some major issues with the venue and I don't think anyone noticed simply because of how outstanding the band was. Ten stars!!!! Seriously, hire them. You won't regret it. So fun, talented, versatile, and easy to work with. The best!!!!
Wedding Reception•Reviewed on November 17, 2018•From Gulfport, MS
River City Hit Squad played at our wedding reception on 11/17/18 and they were incredible. They sounded great, they interacted with the crowd, they got all the kids involved and were singing and dancing with them and even had them up on the stage for a bit. The kids are still talking about it, and so are the adults. Everyone from the young kids to the adults were dancing all night. They even gave us a New Orleans style exit, which my family being from North MS loved as they had never experienced that before. Quick to answer any questions, never had any problems, would 100% book them again if we had to do it over again. Get. This. Band.
Wedding•Reviewed on December 16, 2017•From Baton Rouge, LA
The band was very professional and easy to work with. The atmosphere they created during our wedding reception was fantastic. Our guests were dancing from the very start. They interact with the crowd, and know how to make people have fun. Overall the music was great, the band members were great and our experience was great!
Wedding Reception•Reviewed on May 27, 2017•From Jackson, MS
Wedding Reception•Reviewed on April 22, 2017•From New Orleans, LA
Amazing! Bobby was so easy to work with and accommodated every request we had and he always got back to all our emails very promptly. Our guests had a wonderful time dancing and singing along all night due to their talented band members and their ability to get great crowd participation. So much fun!
Wedding Reception•Reviewed on May 6, 2017•From Alexandria, LA
Wedding•Reviewed on October 22, 2016•From Metairie, LA
These guys were unbelievable. Not only were they talented and got my wedding completely pumping with music - but they are super professional and very responsive with emails. I would definitely recommend them to anyone. They learned all the songs for our first dance, mother groom dance and the father bride dance. They are also good at reading the crowd and telling what song they should play next. Don't worry about picking out a set amount of songs. They ask you for about 15 definite songs you want to hear - they figure out the rest of the setlist. But don't worry - they did an amazing job picking out the right songs. Book these guys!
Corporate Function•Reviewed on May 24, 2016•From New Orleans, LA
Amazing band, fun individuals and a very talented group. We hosted a corporate function with a niche audience and the band catered to everyone. We highly recommend this group for ANY audience.
Wedding Reception•Reviewed on May 14, 2016•From Baton Rouge, LA
Wow! River city hit squad was great! We are so happy to have had them at our wedding! Great energy! Everyone was raving about them! Thank you so much!
Wedding•Reviewed on April 9, 2016•From Braithwaite, LA
Wow! What a great time. River City Hit Squad was a HIT. Great music and fun. They mingled with the crowd and just kept everyone dancing. But not only were they great entertainment the night of the wedding, they were so easy to work with from day one. Very accommodating to our song list, our special songs and whatever we needed to make this night special. Highly recommend. Arrived early and was ready to play immediately following the ceremony. Thanks for a good time. Tammy Kaiser
Wedding Reception•Reviewed on June 12, 2015•From Lafayette, LA
The River City Hit Squad performed for my daughters wedding reception. We were all pleased with the outcome.They were accommodating and prompt and played according to the feedback being received. The dance floor was full until the end of the reception.
Fundraiser•Reviewed on June 20, 2015•From Franklinton, LA
The band was great with the audience and very willing to neet the desires of the crowd. They actually let anyone who wished go up and stage and one little girl went up there and performed with them most of the show (they even played Itsy-bitsy spider at her request!). They are a great band and we look forward to hosting them again!
Wedding•Reviewed on June 6, 2015•From Darrow, LA
Fantastic experience!!!! Band was extremely accommodating for all of our requests!!
Wedding Reception•Reviewed on May 2, 2015•From Natchez, MS
BOOK THIS BAND!!! You will not be disappointed!! My husband and I were hesitant about booking a band from the Internet we had never heard, but after reading all the reviews we decided to go with them. We could not be happier we did! The band had everyone dancing from the moment we got to the reception. They were so interactive with out guest and truly awesome! Everyone kept asking who they were and if they traveled. If your looking for a fun band that will keep everyone on the dance floor look no further! Thanks River City Hit Squad!!!!
Corporate Function•Reviewed on December 13, 2014•From Baton Rouge, LA
Warning!! Do not hire this band unless you are prepared to dance your butt off! I have hired this talented bunch several times and they deliver every time. Not only are they all great singers but they love interacting with the crowd on the dance floor and getting everyone involved in the music. You will miss out BIG TIME if you don't book these guys. The dance floor was packed all night. I book them for my Corporate Christmas parties and they never disappoint. I have to tell you, they are all a bunch of genuine, talented, professional people who put on a fantastic show!!! Get them while you can. You don't want miss them!
Corporate Function•Reviewed on October 9, 2014•From New Orleans, LA
How do you keep a full dance floor all night? Hire The River City Hit Squad! You won't regret it!!
Wedding•Reviewed on March 8, 2014•From New Orleans, LA
Every review that I read about these guys was true. They put on an awesome show and had the dance floor at our wedding reception packed from the first song until the last. I truly feel that the music makes or breaks a wedding reception, and,in this case, it definitely made ours. They're also unbelievably easy to work with. Booked them approximately 1 year in advance and only had to touch base with them a few times in the 2 weeks prior to our wedding. The only negative is that they seemed, at the time of booking, willing to perform any of our special song requests, but when it came time, they were "passively" reluctant to do so. Even so, their set list is really good.
Mardi Gras Party•Reviewed on February 8, 2014•From Biloxi, MS
Band was great we had several compliments! They were very easy to work with and worked well with our stage designer too. Thank you so much!!
Wedding Reception•Reviewed on January 18, 2014•From New Orleans, LA
I could not have been happier with The River City Hit Squad. Bobby was very helpful throughout the planning and suggesting first dance songs. They more than made our wedding special. Everyone danced the night away! The thing that I was most pleased with was the entire band lead our second line from our ceremony at St. Mary's to our reception at the Bourbon Orleans Hotel.
Christmas Party•Reviewed on December 14, 2013•From Baton Rouge, LA
The River City Hit Squad wowed all our guests. 4 out of the 6 band members sing so they only needed to take one break during the whole night where as other bands take 3 or 4 breaks. They showed up on time, were professional through the whole show and worked the crowd. The dance floor was packed for every song!! We are definatley booking them for next year!!!
Wedding Reception•Reviewed on November 16, 2013•From Kinder, LA
Booking RCHS was the BEST INVESTMENT OF OUR WEDDING! I took a leap of faith and booked this group without hearing them live before. On my wedding day, THEY. DELIVERED. We had an awesome reception that was fueled by their contagious enthusiasm and interaction with the crowd. If only I could upload photos.. Several of our guests sang or danced with the band members throughout the night!! It was such a blast! RCHS does a great job of keeping the party alive by playing a vast mix of songs depending on the age and vibe of the crowd. This band rocks my socks off and my husband and I plan to go them again soon!! A great group of talented musicians; a dream to work with!
Wedding Reception•Reviewed on November 30, 2013•From Baton Rouge, LA
There aren't enough ways I can compliment this band! They took every opportunity to make my daughter's ceremony and reception the best! They learned new music for her procession, fulfilling her vision of that cherished walk down the aisle. When we didn't know what music to choose for things, they stepped in and filled those gaps perfectly. When we had the send off for the bride and groom, nearly every guest was still there--I think everyone was having way too much fun on the dance floor to go home! I know I was! Because of the diversity amongst the members of the band, they can play a huge variety of music with great authenticity. Best best best band ever!
Wedding Reception•Reviewed on August 31, 2013•From Richland, MS
We couldn't have asked for a better experience. They went out of there way to accommodate our every request. They sounded amazing too! A+
Christmas Party•Reviewed on December 7, 2013•From Marksville, LA
Great band for our company Christmas party! Played a variety of good party/ dance music. Everyone loved them!
Event•Reviewed on November 8, 2013•From Covington, LA
The performance was fantastic, however, there was confusion on the start time of performance, and some members of the group were seated and dining when the time had elapsed for their performance to begin. Also, one of our backdrops was damaged being moved by members of the group and can no longer be of use to us. Everyone loved the music and quality of the performance, there were just some glitches getting to that point.