Back to profile
The Partyman Reviews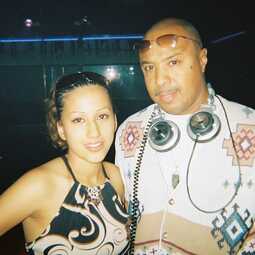 Avg 5.0 | 112 Reviews

DJ from Spencer, OK

248 Verified Bookings
Starting at $325 per event
---
112 Reviews for The Partyman
Celebration•Reviewed on July 31, 2022•From Oklahoma City, OK
Valentine's Day Party•Reviewed on February 15, 2013•From Oklahoma City, OK
Partyman once again was excellent. The dance was for developmental disability individuals. He knows how to interact with the individuals and is able to get everyone comfortable and interested in participating in the dance. He has been our DJ for several years and I would not consider using anyone else. I have and will recommend him to anyone needing a DJ because he is the best! Rhonda B
Birthday Party (Adult)•Reviewed on February 17, 2012•From Lawton, OK
The Partyman (AKA Anthony) was a true professional. He asked lots of questions about my vision for my husband's 50th birthday bash. Anthony engaged all of the party guests and by the end of the night, knew almost everyone by name. He had instant chemistry with the kids and many of the adults, which made it feel as if he was a member of our extended family. Our only hitch was that the owner of the venue was not very pleasant, but that's when I got to see Anthony's professionalism. He showed me what he was able to do, despite the limits set by the owner. It was a night to remember! I will definitely recommend The Partyman for future events!
Birthday Party (Adult)•Reviewed on January 26, 2013•From Eufaula, OK
Partyman did an astounding job of delivering all of our expectations and then some for our party!,it was so much fun,he was professional and his talent & hard work was greatly appreciated by all! Lake Eufaula will look foward to Partyman's next event, IT WAS PERFECT! Partyman Rocked Eufaula! Thank YOU!!!
Sweet 16 Party•Reviewed on September 3, 2011•From Stratford, OK
Awesome experience with the Partyman....loved his interaction with everyone....at every age level. Would highly recommend the Partyman.
The Partyman:
THANKS FRED..
Christmas Party•Reviewed on December 8, 2012•From Oklahoma City, OK
We're a repeat customer and Anthony AKA Partyman was a big hit at another work party event for us. He played a great variety of music and had us all laughing as he had the crowd engaged in funny little dance skits. Thank you Anthony for the great music and making a fun and lively atmosphere for our Holiday Party. If you're looking for a DJ you do not need to look any further because Partyman is the best in the business.
The Partyman:
Once again the Partyman gave an awesome performance. He is the best DJ, At th best price."HANDS DOWN!!!"
Event•Reviewed on June 11, 2011•From Glenpool, OK
This was by far the best service I have experienced with a DJ. He was well prepared and very accommodating to last minute changes. He did exceptionally well with the children on up to the older generation at our family reunion. He was able to entertain everyone and brought life to the party. He was also very professional and gave our programming special attention. I would recommend him to anyone for any event!
Halloween Party•Reviewed on October 26, 2012•From Oklahoma City, OK
Anthony is an amazing entertainer. We have used him for several years and wouldn't think of using anyone else!
Community Event•Reviewed on May 14, 2011•From Oklahoma City, OK
All I can Say Is WOW!!! Great Songs, Really set the tone for the event.
Christmas Party•Reviewed on December 9, 2011•From Norman, OK
This DJ is awesome, he really knows how to get the crowd to move! The party guests really enjoyed his show and I wouldn't hesitate to hire him again. He's very courteous and a pleasure to do business with. I can't wait until next year's Christmas party!
Wedding•Reviewed on June 23, 2012•From Muskogee, OK
The Partyman was great! He calls you once a day to check on you and asks for any updates to the music, he is available for any request, he was so much fun and knew how to get our crowd excited to dance (we had ages 1-80 having an absolute blast). The Partyman is so respectful and fun; at one point our 1 yr old slipped out the door (outside event) to go dance with the Partyman and the Partyman took our 1 yr old back inside to make sure no one was missing him. We have absolutely no complaints! This guy is so affordable and fun!! My whole family and I want to book him again!
Wedding Reception•Reviewed on May 1, 2010•From Oklahoma City, OK
The Partyman kept our party going.....everyone there had a BLAST!!!! I have already recommended him for a friends reception in June and she was at ours and was very impressed. I would highly recommend him to anyone, he asked us what we wanted and thats just what we got plus more.....HE WAS AWESOME!!!!!
Wedding Reception•Reviewed on August 11, 2012•From Norman, OK
We had a unique wedding that needed specifica Indian music. I sent him the music and he was very accommodating and extremely easy to work with. He took the time to convert and clean up each track to make the sound quality perfect. Then, during the wedding, he mixed in American music perfectly to get the crowd involved. He even stepped away from the DJ booth multiple times & came to the dance floor to dance with kids. He's a great guy and everyone had lots of fun. Couldn't ask for a better DJ.
Wedding Ceremony•Reviewed on August 26, 2011•From Oklahoma City, OK
Partyman did a great job. He made the night a success. We would definitely recommend him to others and use for any other event our family would have!
Wedding•Reviewed on December 15, 2012•From Oklahoma City, OK
Our wedding went very smoothly. Our crowd took a while to warm up but The Partyman got things going and got everyone on the dance floor. We had alot of fun thanks to him.
Halloween Party•Reviewed on October 30, 2009•From Oklahoma City, OK
The Partyman we have used several times and he is so good with our population of mentally challenged people. He is very patient and understanding and they love him because he knows most of them by name. Heinteracts with them on each dance and gets them so excited. He is great and I would recommend him to anyone that required about him. We will be using him again in the future.
Private Party•Reviewed on April 29, 2012•From Oklahoma City, OK
The Partyman turned the event into a real party. He has an abundance of energy and excitement that he brings to the party making it fun for everyone. A true professional. Great job by the Partyman....Thank you
Community Event•Reviewed on September 17, 2011•From Edmond, OK
Partyman was awesome, I would recommend him to everyone out there who wants to bring fun and good music to their party! He has great music for any party.....He can make both young and old join the party,, Thank You PARTYMAN !!! AA/Isabel MGR
Wedding Reception•Reviewed on May 19, 2012•From Guthrie, OK
I really enjoyed Them partyman. He kept everyone going. I wasnt sure what to play so I left it up to him. I am so glad I did...cause he rocked it. Ty so much Anthony for popping them wedding with your dj skills.
Prom•Reviewed on April 24, 2010•From Weatherford, OK
Our school and guests were completely satisfied and amazed at how well The Partyman performed as a DJ. His light show was awesome and the students and their dates had an unforgettably great time! I would recommend him for any event you have, big or small.
Anniversary Party•Reviewed on September 1, 2012•From Cheyenne, OK
he was great
Wedding Reception•Reviewed on August 20, 2011•From Norman, OK
Anthony was very professional and great to work with. He got involved and interacted with the guests. He also got out on the dance floor and taught some of the more challenged dancers some great moves. We had a song list and he played what we wanted him to and he made changes as I requested. We would, and have recommend him to any and all of our friends and would book him again in a heart beat. He was great.
Celebration•Reviewed on January 5, 2013•From Tulsa, OK
My computer won't allow me to do the numerical rating! SO! The Party Man MADE our celebration!!! I had some off the wall specific songs I wanted and he made sure to incorporate all of them into the evening. He went over the song-list with me to make sure he had a feel for what I wanted before the event. He kept the beat lively all evening and really got everyone involved. Every party is going to have its lulls. Anthony made sure they didn't last too long. This is the 3rd time I have had the Party Man as our MC and I have already recommended him to my daughter for her wedding reception. Anthony ROCKS and puts his heart into making my parties the best they can be!
Concert•Reviewed on December 10, 2011•From Stroud, OK
He was excellent!!!.. There are no other DJ's that I will go to as long as he is in business!!!.. This is the 2nd time we hired him and I am more impressed than I was the 1st time.. I will hire him again on future parties :)
Private Party•Reviewed on December 18, 2010•From Tulsa, OK
This was our second experience with The Party Man and we were just as happy as we were the first time. He got the room up and moving....even got some who would not normally have gotten up to join in the fun. We are completely satisfied and will hire him again!