Back to profile
DJ Byron Hall of BigDogHouse Promotions Reviews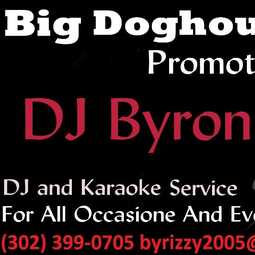 Avg 5.0 | 68 Reviews

DJ from Dover, DE

104 Verified Bookings
Starting at $300 per event
---
68 Reviews for DJ Byron Hall of BigDogHouse Promotions
Sort:
Community Event•Reviewed on November 21, 2023•From Vineland, NJ
Byron has an excellent voice and is very accomodating.
Wedding•Reviewed on September 2, 2023•From Smyrna, DE
Dj Byron was very professional, punctual, went above and beyond for any personal requests for our daughters wedding. He made everything perfect for our baby girls special day. Can't thank you enough DJ Byron. We will definitely recommend and would absolutely use his services again . Thank you
Family Reunion•Reviewed on July 20, 2023•From Ocean City, MD
Man, honestly I don't know where to start. I hired Byron for a family reunion a few weeks ago and I can't say enough about the experience. Byron played a wide range of music that spoke to multiple generations and yet every generation young and elder enjoyed every song played, not an easy task. Byron showed up an hour and a half before the requested time to set up and check in with me to make sure everything went smooth. We had a few telephone meeting to talk about what type of music I wanted and he took it from there. Everyone was dancing all night long. I would highly recommend hiring Byron for your function you will not be disappointed.
Wedding Reception•Reviewed on May 28, 2023•From Ocean City, MD
DJ. Bryon was simply AMAZING! He really kept the party going and was truly attentive. My family is even looking into hiring him for our family reunion. We absolutely loved him.
Wedding Reception•Reviewed on June 10, 2023•From Prince Frederick, MD
This guy goes above and beyond. He showed up early and was able to accommodate some last minute requests. Very professional and hard working DJ!
Birthday Party (Adult)•Reviewed on February 25, 2023•From Wilmington, DE
DJ Byron provided the most professional and quality services that I have seen in the DEEJAY business, DJ Byron was prompt, friendly, entertaining, courteous and fun, DJ Byron was so engaging that he had several of my shy family members to perform Karaoke in front of the part attendees.
Wedding Reception•Reviewed on January 1, 2023•From Atlantic City, NJ
Byron made our wedding an incredible event! He was fun, personable and encouraged everyone's participation. I would recommend go. For any event. The next event my new bride and I have, Byron will be the first call we make! Great communication for planning and exactly what every party needs.
DJ Byron Hall of BigDogHouse Promotions:
Thanks for this great review looking forward to working with you and Julie again
Celebration•Reviewed on November 11, 2022•From Cape May Court House, NJ
The entire crowd enjoyed the night
Election Day Party•Reviewed on November 8, 2022•From Cheswold, DE
DJ/KJ Byron Hall was Terrific!! Very professional and accommodating during his show. I would recommend his services to anyone!
Wedding Reception•Reviewed on September 23, 2022•From Ocean City, MD
Fantastic DJ! Very well prepared and did a fantastic job.
Celebration•Reviewed on September 24, 2022•From Washington, DC
We had a great time! Byron DJ'd for our wedding after party and people danced so long we had to extend our time. Great time!
Birthday Party (Adult)•Reviewed on September 10, 2022•From Philadelphia, PA
Byron was on time and listened to the host request of music. He was engaged and kept the party going. Karaoke setup was great for group and solo. Extensive genre of music from pop, r&b, jazz, disco and country. Age ranged from 16-75.
Community Event•Reviewed on September 16, 2022•From Frankford, DE
DJ Byron is AWESOME! He got the party started and kept everyone on the floor all night. He is very professional. He was accommodating to the crowd by intermingling karaoke into the party. Our guest are already asking when can we have him back again! Thanks DJ Byron!
Wedding Reception•Reviewed on August 21, 2022•From Rock Hall, MD
Bryon was amazing. He arrived early for setup, he was very professional and played all of our music for our wedding. We would recommend him for any event.
Birthday Party (Adult)•Reviewed on July 30, 2022•From Arlington, VA
What a wonderful time Cameron and Byron supported for our party --if you ever thought merely having a playlist was a good substitute, you have not met Byron. He not only consolidated 10 hours of music into great samples and remixes of favorite songs, but he got the crowd into karaoke, managed the queue, and provided unforgettable entertainment. Highly recommend you book Byron and Cameron for your next party -- a wonderful add to any celebration!
Club Event•Reviewed on July 8, 2022•From Beach Haven, NJ
Byron helped run an amazing karaoke event at our yacht club this weekend. They arrived well in advance of the start time and were both professional and accomodating with details and setup. Easy going and confidence inspiring from the time of booking. Once the event began, they absolutely killed it - both taking turns singing and helping loosen up the crowd and make an inviting environment for everyone to sing and get involved. 90 minutes in, they had a crowd of people running for microphones to sing, with a packed dancefloor and a waitlist to sing next. Don't hesitate - these guys know how to make your event a fantastic occasion. We are already planning next year's.
Birthday Party (Adult)•Reviewed on June 4, 2022•From Greenwood, DE
He was hear early and played the music we wanted to hear. We was very satisfied. Thank you
Wedding Reception•Reviewed on March 26, 2022•From Chincoteague Island, VA
DJ Byron Hall did my wedding. He was supposed to only do karaoke for the reception with another dj doing the main songs. The other dj went to the wrong location and Dj Byron was ready to go. With very little prep time he pulled up the songs we needed for entrances and did a wonderful job. He was a godsend.
Event•Reviewed on March 24, 2018•From Hunt Valley, MD
Byron's communication prior the event was outstanding. He then did a great job at our event, a Father - Daughter middle school dance at a country club. Recommend.
DJ Byron Hall of BigDogHouse Promotions:
Thanks again for allowing me to entertain you and your guest
Birthday Party (Adult)•Reviewed on November 23, 2019•From White Hall, MD
His communications were professional and he was so easy to work with. He showed up to the event well before it was scheduled to start. He was fully setup and ready to start before the first guest arrived. He helped to get all the guests engaged; encouraging everyone to dance, sing, and make requests. We had dogs and he was great with them which was much appreciated. The music was going and he played for the entire time and probably a bit more. He wrapped up and left the place in perfect condition. Thanks for an amazing night Byron. I am sure we will be seeing you again at some point.
Wedding Reception•Reviewed on October 12, 2019•From Wilmington, DE
Byron went above and beyond to make our wedding day special. He reached out on many occassions prior to the wedding amd even met with us to go over the play list. We had a tricky entrance sequence with the music that I was a bit nervous that it woukd flow as planned, but Byron nailed it. Our guest stayed on the dance floor and enjoyed the variety of music. We can't thank you enough Byron!
Anniversary Party•Reviewed on September 22, 2019•From Easton, MD
Byron: I was a little nervous hiring a stranger off the internet. But after speaking with you I felt reassured. Just like you said, you arrived 2 hours early for my anniversary party. You did a wonderful job, stuck to my playlist and tried to help improve my Karaoke song!!! (Lol) Several of my guest requested your contact information, which I gladly provided. Thank you for an awesome job! If you are looking for a DJ, look no further, contact Byron. He is professional, honest and reasonably priced. I will hire him again in the future. Saundra
Celebration•Reviewed on August 30, 2019•From Newark, DE
DDJ Bryon Hall was awesome! He arrived 2 hours early to setup, and he played all the songs I had on my playlist. The guest enjoyed Karaoke, and we were on the dance floor the entire night. I received many phone calls requesting his contact information from my guests who have upcoming events.
Community Event•Reviewed on August 25, 2019•From Lewes, DE
Wonderful DJ! Provided a great experience for our residents! We had a blast!
Community Event•Reviewed on August 24, 2019•From Downingtown, PA
DJ Bryon was outstanding. Very friendly, pleasant, and professional. He showed up much earlier then needed to make sure he had everything prepared. It was a honor to have him at our event and I will be using him again in the future. Thank you!