Back to profile
Unlimited Engagements Reviews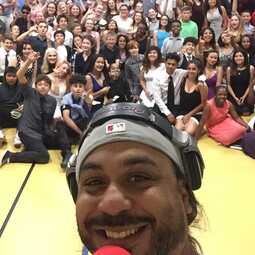 Avg 5.0 | 30 Reviews

DJ from Capitol Heights, MD

59 Verified Bookings
Starting at $200 per event
---
30 Reviews for Unlimited Engagements
Birthday Party (Kids)•Reviewed on September 3, 2016•From Waldorf, MD
I hired him for my daughters Sweet Sixteen and he was AWESOME! He had the music my daughter requested and even hosted a Lip Sync battle for her! He made the announcements (so I didn't have to) and had all the kids and adults on the dance floor! He was reasonably priced and on time So I WOULD DEFINITELY RECOMMEND HIM FOR ANY PARTY! Thanks Again!
Unlimited Engagements :
Thank you so much !
Sweet 16 Party•Reviewed on November 12, 2016•From Waldorf, MD
My daughter and I were very pleased with DJ Lickashot. He was very accomodating, my daughter had some very difficult music requests and he found a way to accommodate her. He was very professional and prompt. Communication was good and he worked well with the artist I had perform. Overall he made my daughters Sweet 16 a success and one her and her friends will be talking about for a long time. Thank you so much.
Private Party•Reviewed on June 8, 2016•From Hyattsville, MD
Albert was awesome. The group (8th graders) had an amazing time. Thank you for all of your hard work. I will definitely use you again.
Birthday Party (Kids)•Reviewed on September 17, 2016•From Greenbelt, MD
I hired DJ LickaShot for my daughter's 13th birthday party. It was a great party or as the kids said, the party was "lit." He was spot on with the music - no explicit lyrics - very engaging with the kids. He included lighting which really made the room look like a night club and the kids loved it! He was responsive, on time, and professional. Would highly recommend him!!!
Wedding•Reviewed on August 20, 2016•From Mitchellville, MD
DJ LickAshot was awesome. We asked a lot of him for our Afro-Caribbean wedding and he delivered. He played both Nigerian and West Indian hits while making it seamless. He was also happy to MC for my wedding at the last minute due to a cancellation of the original MC. Overall, great experience and would/will use him again for other events. Thanks a million Sir.
Unlimited Engagements :
Thank you for the great feedback ! It was a pleasure making your wedding reception a success!
Birthday Party (Adult)•Reviewed on September 10, 2016•From Laurel, MD
He was truly AMAZING!!!! Great mix of old school and new school and secular and gospel, which is what I requested. Whenever someone requested a song it was played immediately. His light show was amazing and added a nice flair.
Unlimited Engagements :
Thank you for the great review !
Private Party•Reviewed on January 30, 2016•From Woodbridge, VA
As a Dj myself it's really hard to release control of the tables to anyone! I was impressed with his professionalism, equipment, crowd engagement abilities and transitions between genres to keep the crowd on the dance floor. I will definitely book him again in the near future!! If you are looking for a Dj he is your man!!!
Birthday Party (Adult)•Reviewed on May 3, 2014•From Beltsville, MD
My husband likes old school music and he was in heaven with the songs that were played. We had fun on the dance floor as well. Services were personable and professional. We were very pleased. Thanks for helping make my husbands' party a success.
Family Reunion•Reviewed on August 1, 2015•From Alexandria, VA
I contracted Mr. Albert Spell "DJ LickAshot" for our 25th Family Reunion. Mr. Spell was fantastic! He arrived 45 minutes prior, set up, and awaited our arrival. He was extremely accommodating to my guests and very professional from beginning to the end of our Reunion engagement. It was a pleasure Mr. Spell and I will certainly use your service again! Recommend highly!
Celebration•Reviewed on June 25, 2016•From Capitol Heights, MD
Unlimited Engagements was the best dj alive. He was very engaged with the guest and very active with us guest. I'm going to use him again for my son birthday. I would recommend him to all my friends and family. I will be getting married next year and this will be my dj. He really good and active and would have your party jumping like no tomorrow I truly want to say thank you so much for everything you have done for us far as dj imma use u again. You going to have to be my private dj my only dj I would use for my parties
Birthday Party (Adult)•Reviewed on July 23, 2016•From Greenbelt, MD
Very responsive to playing special requests and changing up the songs if the vibe wasn't right. Very professional and kept the party hopping. We had a great time!
Unlimited Engagements :
Thank you !!
Birthday Party (Kids)•Reviewed on April 21, 2012•From Crofton, MD
It was a real pleasure to have a true professional at our event. He arrived early and from the moment he arrive until he left he was accomodating, engaged and totally on top of mood of the party. I would highly reccomend his services to anyone.
Birthday Party (Adult)•Reviewed on June 18, 2011•From Washington, DC
Can you say FUNNNNN!I had found my DJ on gigmasters with only 3 weeks prior to my party.I had immediately received a response from Masters of the Universe. What an incredible surprise! AKA" DJ LickAshot" was FABOULOUS,and made my life easy as the host!!! I had submitted a long list of songs to him a few days from the party. He not only played all of my most requested songs,he also took many requests from my guests and he had all of their favorite songs too which I truly appreciated! The party floor was crowed! He was 100% professional and also very easy to work with and courteous! We had a great time. I would highly recommend him to others people.
Family Reunion•Reviewed on August 5, 2011•From Virginia Beach, VA
He was above and beyond my expectations. Will request this Dj in the future.
Wedding Reception•Reviewed on July 1, 2011•From Chevy Chase, MD
DJ Lickashot dropped the beats at our wedding. He took requests, and was so good that more than one of our friends asked about the music. Highly recommended.
Review by Mrs, Beverly H.
Birthday Party (Adult)•Reviewed on April 9, 2011•From Kensington, MD
Albert Spell of mlickashot was superb. Many asked for and received his card so they could contact him if they had a need or heard of someone who needed a DJ. They said they would highly recommend him.
Birthday Party (Kids)•Reviewed on June 24, 2016•From Waldorf, MD
Albert Spell was very professional, arrived early and played all the hottest music. He is a definite rehire for all my future events!
Birthday Party (Kids)•Reviewed on May 21, 2016•From Beltsville, MD
The DJ was excellent! He made sure that everyone was pleased, kids and adults! Highly, highly, highly recommended! I will contact him for future events.
Birthday Party (Adult)•Reviewed on June 11, 2011•From Bowie, MD
Master of the DJ Universe ~ Made our party rock right-out-of-this world. He had the crowd of all ages jumping the entire time. Since I'm the president of my HOA I'm announcing him in our neighborhood news letter this month and plan to use his services again.
Fraternity Function•Reviewed on April 20, 2013•From Arlington, VA
Good DJ for the price. He had cool transitions. He was sometimes hard to contact, but he was very prompt and took all our requests. He'd often play slower songs when that wasn't the vibe of our function, but a great guy nevertheless.
Graduation Party•Reviewed on May 28, 2011•From Severn, MD
I thought DJ Lickashot was very friendly and professional. My son and his friends had a great time at his graduation and the DJ was the best part of the party. I give him 5 stars and will hire him again. Julie Yates
Wedding Ceremony•Reviewed on September 4, 2011•From Elkridge, MD
Very impressed although I wish I could have gotten my mother daughter dance that I requested...
Wedding Reception•Reviewed on June 2, 2012•From Millersville, MD
Birthday Party (Adult)•Reviewed on February 20, 2016•From Washington, DC
This was a karaoke affair and the karaoke machine did not work. My guest had to use their cell phones for lyrics. Also I prepared a song list and dj only had 6 songs out of 40 songs. Not what I dreamed for. Should have gotten refund. Will get family dj next time. Thought I was booking professional service. The light show and sound system was great. DJ drank more cocktails than my guest. Didn't hire him to drink. Only to play music.
Unlimited Engagements :
First, I'd like to apologize for my karaoke machine not working. That was something I was unaware of and could control. Machines break. As far as your song list, I played every song you requested verbally. You and your guest kept requesting songs, so I was not able to play all the songs you wrote down on your playlist, although when I could, I did. I ended up downloading $30 worth of songs on iTunes to accommodate you and your guest. Which I totally regret doing since this review. As far as drinks... I only had 3. I'm not a heavy drinker at all so that is a complete lie that I drank more than your guest. Your events don't need DJs. Just ppl with a karaoke machine. GL
Christmas Party•Reviewed on December 8, 2012•From Annapolis, MD