Back to profile
JAM Sound Entertainment Reviews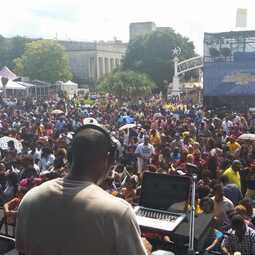 Avg 5.0 | 78 Reviews

DJ from Dallas, TX

181 Verified Bookings
Starting at $550 per event
---
78 Reviews for JAM Sound Entertainment
Birthday Party (Adult)•Reviewed on October 5, 2019•From Flower Mound, TX
Vaughn was very easy to work with for my birthday party. He answered all my questions before hiring him as a DJ. One deciding factor was his flexibility to accomodate any needs, such as having a license for the facility. Vaughn is a very nice person and made the whole birthday party experience a wonderful night. All of my guests mentioned what a great DJ. Everyone really appreciated that he played the music at a perfect volume and never too loud. He even took special requests. Thanks Vaughn
JAM Sound Entertainment:
Thank You again Bob, I had a great time and glad to hear everyone else did as well!!
Birthday Party (Adult)•Reviewed on October 9, 2021•From Lewisville, TX
I hired Vaughn for an adults birthday party. He was on time, professional, and extremely likable. I would hire him again. The whole process from start to finish was easy.
JAM Sound Entertainment:
Thank you soo much Kris, it was my pleasure to help Phil celebrate his Birthday.
Event•Reviewed on November 16, 2019•From Forney, TX
Double V was incredible all around. He showed up on time, played an excellent list of songs for 7+ hours straight and all around we couldn't say enough great things about him if we tried. If you're thinking of booking him don't hesitate. You'll be 100% beyond satisfied. 5 stars all around.
JAM Sound Entertainment:
Thank you soo much for the kind words Brian. You, Josh, Momma Carney and your entire staff were excellent and a pleasure to meet and work with. I had a great time and can't wait until next time.
Wedding•Reviewed on September 23, 2017•From Dallas, TX
All of our guests had a great time and DJ double V was the catalyst to all of it! Thanks for being a part of our day and helping us make it worth remembering for more than our "special day!" Nothing but love from us to you!
JAM Sound Entertainment:
It was my pleasure being your DJ, I had a great time to you, Lisa and all of your guest.
Corporate Function•Reviewed on December 3, 2014•From Dallas, TX
I booked JAM Sound Entertainment for a cooperate company party & couldn't have been more pleased with my choice. Jarvis is extremely professional, showed up early, played amazing music that got people out of their seats, & was overall an amazing DJ. He took request from guest, & even played past his scheduled time to make sure their songs were heard. I would highly recommend JAM Sound Entertainment for any type of event, wedding, cooperate event, party etc. Jarvis is a highly engaged DJ & by far knows what he is doing. Several of my employees even inquired about his services for personal events. I would re-book Jarvis for events both personally and professionally.
Wedding Reception•Reviewed on November 14, 2014•From Corinth, TX
Simply amazing! DJ Gumbo made our wedding day special and our guests haven't stopped with the compliments. 10's across the board in my book and would definitely recommend to others! "Reception of the year!!!!"
Birthday Party (Adult)•Reviewed on April 11, 2015•From Dallas, TX
Very pleased with JAM Sound. Music selection was awesome and well tailored to cocktail hour/eating/socializing and then the party/dancing times in the event. I would absolutely use them again!!
Wedding Reception•Reviewed on November 8, 2014•From McKinney, TX
I have been to many events that Jarvis from JAM has DJ'd and always had a great time, so he was a natural choice to DJ our wedding reception. Jarvis was completely professional in all of our interactions and had multiple phone call/email discussions to make sure we had everything planned how we wanted. During the reception there were a few hiccups but Jarvis was able to easily accommodate our needs and keep the party going. Many people commented on what a great time they had, and Jarvis was a big part of that. I will definitely use him again for events, and highly recommend Jarvis and JAM Sound Entertainment.
Birthday Party (Adult)•Reviewed on November 27, 2013•From Dallas, TX
DJ Gumbo was so accommodating to our requests at my sister's surprise party. With a Roaring Twenties theme, and on multiple levels at the Perot Museum, he played the perfect music for the evening and transitioned each step of the night so well. I would highly recommend him to anyone needing a DJ, and I would certainly want him to DJ my next party.
Birthday Party (Adult)•Reviewed on November 10, 2012•From Dallas, TX
DJ Rizz is SPECTACULAR! The best DJ ever. He handled request timely. He stayed in contact with me to make sure that I had everything I needed. He was sooo helpful throughout the entire process. Very professional and he worked well with my guest entertainers. I would hire him for all of my events! Thank you DJ Rizz aka Jarvis!
Halloween Party•Reviewed on October 26, 2014•From Plano, TX
I would highly recommend . Our party would not have been as fun with out the musical selections of JAM Sound Entertainment
Corporate Function•Reviewed on July 21, 2013•From Frisco, TX
We had DJ Gumbo out for our corporate event this past weekend. He ran the DJ and emcee functions for our brand fashion show and was great. He was able to adjust on the fly when the models got out of order and the patrons never missed a beat. Later that evening he also DJ'd our industry party. He warmed up the crowd working with Michael Prince and as a team they rocked the house. A great mix of dance music for the dance floor and mixing. Very professional, highly personable, and great to work with. Would recommend for any corporate event, wedding, big or small.
Wine Tasting Party•Reviewed on February 22, 2014•From Murphy, TX
Jarvis was awesome. Super friendly, a complete professional - and most importantly really good at his job!
Grand Opening•Reviewed on October 12, 2013•From Fort Worth, TX
Had a great experience with JAM Sound! Very professional and fun. They arrived on time and played a variety of music that kept the party pumping. Even with the rain (ours was an outdoor event) they quickly adapted and the music never stopped. Highly recommended!
Wedding Reception•Reviewed on October 13, 2013•From Hurst, TX
We had a great experience with DJ Gumbo and he truly made our wedding reception awesome. He was on time and went above and beyond in terms of making sure that all our requests were honored. He did such a great job my limo driver even asked for his name so that he could use him for his next event. Overall great job! Thanks again!
Graduation Party•Reviewed on May 11, 2013•From Fort Worth, TX
Jarvis was a professional DJ he stayed in contact with me through e-mail and phone. He was on time to set up his equipment and got involved with the guests which a PLUS and he played exactly what we asked to play and he definitly shows that he loves what he does. My guests were very impressed and loved him as a DJ and as a person. I would recommend him to anyone who looks for a DJ and in the future I look forward to work with him again. Anyone reading this BOOK HIM!!!!! Thanks Jarvis. Keep up the GREAT work(-:
Wedding Reception•Reviewed on April 6, 2013•From Dallas, TX
DJ Gumbo was incredible to work with and made our wedding reception the best party we could've imagined! He maintained the exact vibe we wanted throughout dinner, and then kept the dancefloor packed during the reception. All the songs I'd requested were played and timed perfectly within the evening. He is also very nice and personable. Our flower girl fell down and next thing you know, he had put her behind his turntables and gave her headphones to be deejay for a while. Great personal service and attention to our party. I would recommend him, and use him again, in a heartbeat!
Wedding Reception•Reviewed on April 6, 2013•From Dallas, TX
DJ Gumbo was the ultimate professional. Not only was his selection of music excellent, he assisted with making sure things with smoothly the entire night! We will definitely be hiring Jam Sound Entertainment again!!!
Wedding Reception•Reviewed on July 20, 2013•From Dallas, TX
Julian Madison was our DJ and he was great to work with from the first day we met him all the way through the Wedding Reception. He was so easy to work with, very responsive and did a wonderful job of MC'ing the party and keeping the music just right for the moment. He was very organized, but flexible to our requests. Julian has an extensive song collection and everyone had a great time dancing throughout the evening. Lots of compliments from the guests on the music and the DJ. He couldn't have been nicer and we would hire him again in a heartbeat! Nancy T.
Wedding Reception•Reviewed on March 16, 2013•From Arlington, TX
DJ Gumbo did an awesome job! My husband and I knew from our first consultation that we were in good hands. He was very professional and a lot of fun. All of our guests enjoyed him as well!
Birthday Party (Adult)•Reviewed on May 13, 2013•From Dallas, TX
DJ GUMBO WAS TERRIFIC! HE KEPT EVERYONE DANCING AND WAS VERY ACCOMMODATING ON OUR REQUESTS. I'VE HAD SEVERAL PEOPLE SAY THEY WOULD LIKE TO HIRE HIM SOMETIME IN THE FUTURE. I'LL BE HAPPY TO REFER HIM! THANKS, CHAR SUTHERLIN
Sweet 16 Party•Reviewed on May 20, 2011•From Dallas, TX
DJ Rizz was extremely professional. He stayed in touch from the time we booked him until an hour before the party. He was prompt, attentive, and did everything he said he would do. Once he arrived at the venue, I felt that he knew exactly what he was doing. He didn't ask five million questions, he just set up. I appreciated that because I very busy preparing for the party. Everyone is still talking about the party! His music selection was superb. In fact, he even had some "oldies" on his playlist to appeal to a broad spectrum of party attendies. There is no doubt that I will call him for our next party! Christina and Kenneth Garrett
School Assembly•Reviewed on May 18, 2012•From Prosper, TX
Curtis did a great job with song selection. The kids really enjoyed the music. He also allowed me to interrupt every 20-30 minutes so we could give away door prizes. He was great.
Wedding•Reviewed on April 13, 2013•From Irving, TX
DJ Gumbo was amazing!! We met with literally half a dozen old, middle aged guys that appeared to be nothing but glorified playlist coordinators. Finally we met DJ Gumbo & not only was he way more talented, but he was HALF the price! All of our other wedding vendors were driving us NUTS & screwing up last minute. We actually got so swamped that we barely gave DJ Gumbo any instructions at all, & he still crushed it. This included our first dance that we had a mix of several songs. We just sent him the times we wanted, didn't even get to practice to his version, & it was perfect! Lookin for another reason to have a DJed event in Dallas. Seriously you cannot go wrong.
Sweet 16 Party•Reviewed on February 8, 2013•From Plano, TX
DJ Gumbo (Julian) performed at my daughter's sweet 16 and he was wonderful. He let my daughter interrupt to make announcements multiple times, played the songs she had requested, and even took requests from her friends. He made her birthday one she will always remember.