Back to profile
Lenny Z Trio Instrument & Vocal JazzStandards + DJ Reviews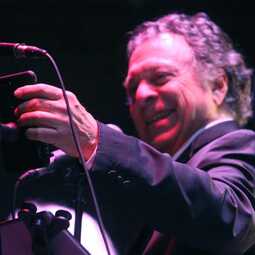 Avg 4.5 | 22 Reviews

Jazz Band from Southbridge, MA

35 Verified Bookings
Starting at $300 per event
---
22 Reviews for Lenny Z Trio Instrument & Vocal JazzStandards + DJ
Christening•Reviewed on July 17, 2022•From Winchester, MA
Lenny was fantastic! Throughout the entire planning process he was very responsive. He provided the perfect music for our event, would absolutely hire again!
Lenny Z Trio Instrument & Vocal JazzStandards + DJ:
Hi Anne, What a wonderful event you created to celebrate this special day for your new little son, Harrison & family & friends! Thank you for selecting us to provide the music! Best wishes to you, your husband, and baby boy, Lenny & Bill & Janusz
Memorial Service•Reviewed on June 25, 2022•From Brookline, MA
Lenny was accommodating from the start. He worked with me to put together a set list and was willing to learn songs that I wanted to include. He was even okay with some last minute changes and selections. He and his trio (Bill and Brian) were all extremely talented and professional. They improvised beautifully in order to engage the guests and make our celebration special. I would highly recommend them for any occasion!
Birthday Party (Adult)•Reviewed on October 8, 2016•From Croydon, NH
We could not have done better. Lenny is such a likeable guy and also has a great voice. He played the music and songs we requested and included others that he knew would go over well. He and his assistant kept the volume and music, suitable for each part of our celebration. We received many compliments from our guests on our choice of DJ. I would recommend Lenny (DJ Dance and Live Cocktail/Dinner Music) to anyone.
Lenny Z Trio Instrument & Vocal JazzStandards + DJ:
Hi Valerie and Leon, It was a joy to bring music to your gathering of friends and family! I loved singing and DJ-ing for this special birthday. Your daughter's and son's toasts to their father were wonderful and moving. What a fun loving & dancing group you all are! As the evening reached it's end Tamisha & I were so touched to see the whole group gather into a circle and move so lovingly to Auld Langs Syne. What a beautiful tradition. Our best to you all for many more years of love and happiness! Lenny
Corporate Function•Reviewed on September 6, 2018•From Boston, MA
Lenny is great to work with; I have had Lenny as our DJ for our customer corporate event 2 years in a row. It is nice that he can sing and DJ. He has a lovely voice and is a wonderful entertainer. As a DJ he was great and took requests. Customers were coming to our booth the next day saying what a great time they had at our event. Thank you Lenny!
Birthday Party (Adult)•Reviewed on March 18, 2018•From Greenfield, MA
Lenny was very personable and extremely entertaining! He is flexible and can entertain a group of 10 or 1000. Beautiful voice and very versatile. Definitely recommend him for any occasion!!! Thank you so much Lenny!
Wedding Reception•Reviewed on August 13, 2016•From Atkinson, NH
Thank you Lenny and crew for yesterday... You made our wedding day even more special with the fun background music and special requests including the cake cutting song. There were so many great moments but all age groups and teenagers enjoyed the variety of music and getting the guests involved! You were great to work with ahead of time too.. Very responsive!
Lenny Z Trio Instrument & Vocal JazzStandards + DJ:
Hi Wendy & Bob, What a great experience it was to provide the Live and DJ music for your fun reception! It was such high spirited fun when you and the girls all hit the dance floor! Please thank Jeanette for cueing me on just the right moment to play Girls Just Want to Have Fun. And... wow... you weren't kidding when you said that your group is a lively bunch! It was such a pleasure working with you and sharing in your celebration of love & commitment! I hope we get to party with you & your friends & family again! On behalf of Bill Shontz, Zack Danziger, and myself.... Best Wishes for a Wonderful Life together! Lenny ((( <3 )))
Anniversary Party•Reviewed on September 10, 2017•From New London, CT
Lenny Zarcone came to our rescue when another DJ cancelled out of our gig just 3 weeks before. Needless to say, everything happens for a reason! Lenny was very accommodating, great communication, very professional. I like that he was present without taking away from our event. Lenny was very easy to work with. He arrived in plenty of time to set up and followed our song list. We really appreciated the soft music he played during the dinner, making conversation doable. Thank you Lenny Zarcone for making our 50th Anniversary a most memorable event!
Wedding•Reviewed on October 26, 2013•From Bedford, NH
We were very happy to have Lenny as our DJ. He did a fantastic job and read the crowd very well. Lenny even sang a few Sinatra songs during our dinner and first dance, and he sounded just like Frank Sinatra himself. Lenny went above and beyond. One cute moment of the night was when Lenny sang twinkle twinkle little star, to a crying child which calmed them down and the crying ceased. Lenny was also very pleasant to work with leading up to the wedding when discussing music and ideas. I would recommend Lenny to anyone!
Wedding Reception•Reviewed on September 1, 2013•From Boston, MA
We hired Lenny as our DJ for the reception, live music for the cocktail party on our wedding. He was very accommodating as he also provided microphone and audio system during the ceremony. Lenny worked well with our Master of Ceremonies. The primary reason we chose Lenny is because his jazzy music style. We watched his performance on youtube and we love it. Our guests loved Lenny: his music, the interactions with them and his strong desire to entertain. We had some unclarity on the contract but we squared things out eventually. After all Lenny has the desire to make things happen and expand his business in long term.
Wedding•Reviewed on June 21, 2014•From Worcester, MA
Lenny was a great DJ and brought a lot of fun to our event. Great price and has great singing talent. He took a lot of requests from family and friends. He created a fun atmosphere for my wedding including dance music and lounge music during dinner and cocktail hour.
Birthday Party (Adult)•Reviewed on September 12, 2015•From Portsmouth, NH
Lenny was great ! prior to the event,, made sure all special requests were covered. Showed up on time ..set up quickly .. has a good voice .Quiet ,easy dinner music made for a nice atmosphere during the serving of dinner .. afterwards .. lively music and special requests ,got even the young ones up dancing . I would highly recommend Lenny . Friendly and personable ., He complimented the whole days event .
Birthday Party (Adult)•Reviewed on October 14, 2017•From Schenectady, NY
Lenny performed for my Mom's 90th birthday party. She said it was the most wonderful party she ever had! Not only did Lenny do a great job at the party, but he was very quick to respond to my questions leading up to the event which made the planning go very smoothly.
Corporate Function•Reviewed on September 27, 2017•From Boston, MA
Lenny did an fantastic job with our corporate event. He has a great voice and it was nice to have both a talented singer and DJ. When it came time for him to DJ; he got on the dance floor to encourage our guest to dance. He was fun and pleasant to work with; I recommend hiring Lenny for a successful event. THANK YOU LENNY. :)
Wedding•Reviewed on April 26, 2014•From Glens Falls, NY
Great voice and came through with everything he promised
Community Event•Reviewed on September 16, 2017•From Manchester, CT
Birthday Party (Adult)•Reviewed on September 30, 2017•From Sudbury, MA
Community Event•Reviewed on March 10, 2018•From Bloomfield, CT
I hired Lenny to DJ a Children's Health Fair sponsored by my company. Lenny is extremely professional and responsive via phone/email. I appreciated his willingness to work within the flow of our event. There was one minor music snafu, where Lenny's assistant played a song with a little profanity. However, Lenny assured me that he would address the situation and promptly apologized. I would recommend Lenny for major corporate events. Our event easily had over 500 attendees and Lenny set the mood excellently with music that entertained children/adults alike.
Celebration•Reviewed on July 20, 2018•From Boston, MA
Lenny was very kind and accommodating. Our guests had a lot of fun and enjoyed the event.
Prom•Reviewed on May 19, 2018•From Whitingham, VT
Lenny Z was very cooperative with handling our song requests. We made a playlist and shared it with him. Overall the night was well with his DJing.
Lenny Z Trio Instrument & Vocal JazzStandards + DJ:
Hi Olivia, The dance floor was full the whole night. Students were having a great time. What expectations did you have that weren't fulfilled. In the playlist you created, there were 93 songs. In four hours, 60 are the most that could be played. Were there some songs you were disappointed to not hear? We didn't miss a single song request during the prom. We were awarded, "Best of 2017" following a long list of 5 star ratings from clients of all ages. What would you have liked to see happen in order to bring the rating up to, 5 Star like the others ? What was missing? Your feedback will be greatly appreciated. Sincerely, Lenny
Wedding Reception•Reviewed on June 29, 2019•From Dover, NH
Lenny was such a wonderful DJ for our wedding reception! Thank you so much Lenny!!!!
Retirement Party•Reviewed on March 16, 2019•From Boston, MA
We hired Lenny for our Executive Director's retirement party. The event had around 300 guests ranging in age, and notable politicians in attendance. Lenny was very accommodating and attentive leading up to the event making sure the music and general atmosphere of the party were exactly what we wanted. He played a variety of songs and did a bit of singing. He even gave the mic to the Executive Director to perform a song. This event was a few weeks ago and I am still receiving compliments on the fantastic job Lenny did. We were so happy with Lenny's work we asked him to come to our yearly convention.
Wedding Reception•Reviewed on September 22, 2018•From Catskill, NY
DISASTER -3 days before wedding Lenny admitted to not looking at info sheets/playlists he recommended I make. Showed up late, unprepared & mispronounced bridal party names. Almost introduced MOH & BM as us. 1st dance played wrong 3 times. My sister downloaded 1st dance song & gave it to Lenny. Didn's announce father/daughter dance until requested to do so by Mother of Bride. Messed up mother/son dance. Speakers squawked, countless long pauses in middle of dancing, no mixing, no flow. Upset our guests. Didn't know times we hired him for with lame and accusatory excuses. Sent whole wedding outline off course. A night full embarassment & missed memories.
Lenny Z Trio Instrument & Vocal JazzStandards + DJ:
Dear Linda, My heart goes out to Shannon & James and their friends and family for their disappointment following the errors I am responsible for during the reception. As I took numerous requests to increase the volume (even as I was at the 1200 watt full capacity) ... one of the two speakers blew out and was destroyed. That is what caused the loud buzzing for a period. From that point on only one speaker was operational. I was problem solving through much of the night and matters got progressively worse as I was being badgered and harassed by several guests who were being belligerent and appeared to have too much to drink. Finally a heartfelt apology to you. Lenny