Back to profile
James Kruk Number One in Southern California Reviews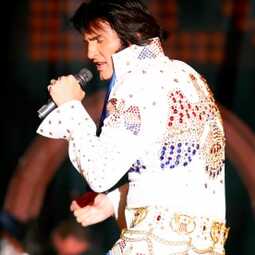 Avg 5.0 | 35 Reviews

Elvis Impersonator from Redondo Beach, CA

62 Verified Bookings
Starting at $400 per event
---
35 Reviews for James Kruk Number One in Southern California
Birthday Party (Adult)•Reviewed on January 16, 2022•From Van Nuys, CA
James was so amazing. Professional, personable and super talented! Our birthday girl, who is the biggest Elvis fan, was floored! Best day ever! I highly recommend James!!
Christmas Party•Reviewed on December 17, 2021•From Mira Loma, CA
James Kruk aka "Elvis" was just awesome! He's the closest thing to Elvis and was a terrific performer. Our group was surely impressed. A pro's pro and great personality. I highly recommend him and can't wait to have him perform for us again!
Community Event•Reviewed on December 4, 2021•From Woodland Hills, CA
James was excellent and very professional. James worked well with my staff and was enjoyed be there audience. He was there in a difficult situation and for that we are grateful.
Celebration•Reviewed on December 27, 2009•From Simi Valley, CA
Engagemnt Party: The energy in the house was incredible and King Kruk knows how to work his audience, especially the ladies! He had them laughing, smiling and clapping, from 7 months to 80+YO. The way King Kruk shows up as a DJ and sets up his equipment is golden. Our daughter started asking what was going on, we told her Karaoke and she was horrified. She began to leave but we insisted she stay for a few minutes, King Kruk started his intro music from a remote area and when he entered it was "priceless" I don't think my daughter or her fiance stopped grining. HIGHLY Recommended, Very Professional and Personable. Thank you King Kruk, from your fans in Simi Valley.
Birthday Party (Adult)•Reviewed on April 17, 2010•From Escondido, CA
James was very accomadating prior to his appearance. Besides being a talented entertainer he was a really nice person to work with. He definitely held the crowd's attention and worked with the direction the birthday girl lead him, adapting to the crowd and their responses. I would not hesistate to hire him again. He really made the party!
Wedding Reception•Reviewed on October 9, 2009•From Vista, CA
King Kruk made our party special! He was perfect and we appreciate him so much. Thank you for making Amanda and Chris' wedding party here memorable. You were the perfect choice for this event.
Birthday Party (Kids)•Reviewed on August 2, 2009•From Northridge, CA
King Kruk was GREAT. He performed for a pre-teen party plus adults and seniors. He really connected with everyone. He gave a great performance and he was really funny too. He's *great* with kids and had a good sense of humor about things (e.g., a 150 lb dog wandering on stage, or a 3 year old who stood 2 feet from him totally enthralled). He showed the kids how to dance like Elvis and how to make the trademark Elvis facial expression (crooked smile). Everyone had fun. I would highly recommend him for any event - he really exceeded our expectations.
Church Service•Reviewed on May 16, 2009•From San Clemente, CA
Our experience was FANTASTIC!!! He was so accommodating and GOOD!!! Everyone LOVED him!! And I can't wait to use him again!! I couldn't be happier with what we got from King Kruk.. Thank you for a wonderful evening!!! He was the nicest guy!!
Birthday Party (Adult)•Reviewed on June 27, 2009•From Escondido, CA
What a BLAST my Mother had on her Birthday to have Elvis sing to her!! King Kruk is...good looking, great fun, great voice, entertaining and we would recommend him to everyone. In fact, he may be seeing us again at the next party!! THANKS 'so' Much!!
Anniversary Party•Reviewed on October 24, 2021•From San Diego, CA
Excellent. Exceeded my expectations. So much fun . Everyone in attendance loved his performance. Highly, Highly recommend.
Birthday Party (Adult)•Reviewed on October 23, 2021•From Huntington Beach, CA
Elvis could not have been any more realistic. The birthday girl was in complete bliss. The show was absolutely perfect and realistic. I could not have asked for a more perfect performance. We will be doing more business with Elvis soon.
Community Event•Reviewed on September 23, 2021•From Sherman Oaks, CA
Having Elvis (James) at our event was the best thing we could have done. He made our event, a true experience and I even had someone tell me they felt 15 again. Can't wait to hire him again.
James Kruk Number One in Southern California:
Love your facility you treated me with such kindness. It was a joy to see those beautiful eyes glimmer like they were 15 again as you said!
Birthday Party (Adult)•Reviewed on October 2, 2021•From Peoria, AZ
Birthday Party (Adult)•Reviewed on September 5, 2021•From Rancho Santa Fe, CA
WOW is all I can say! James seriously killed it as Elvis. He epitomizes his look, sound and style as well as embodies his whole essence. He was the absolute hit of our 1950's themed birthday party for our parents! There is absolutely no need to look any further if you want to hire an Elvis impersonator who can sing and entertain like The King himself.
James Kruk Number One in Southern California:
I cannot thank you enough for having me Much love to all especially Joyce and George!
Birthday Party (Adult)•Reviewed on August 7, 2021•From Santa Barbara, CA
James was an absolute delight. Easy to coordinate with, super accommodating, and an AMAZING voice. He made our surprise 70th birthday for my mom so special and really really FUN. I can't recommend James enough if you are looking for Elvis to join your next event - they should be your only choice.
Birthday Party (Adult)•Reviewed on July 24, 2021•From San Diego, CA
James was amazing at my mother-in-law's birthday party. She is a huge Elvis fan and was so enamored with James! He made her feel so special. The show was fantastic - everyone was so impressed with his talent and really liked his humor! Lots of smiles and laughter. Top notch entertainment! 100% recommend! He such a nice and genuine person too. Thank you James!
James Kruk Number One in Southern California:
Thank you so much! It was a joy to spend some time with your family. And thank you to Mark and the guys who tirelessly helped locate my flying ring! I am so happy to have it back!
Birthday Party (Adult)•Reviewed on June 12, 2021•From Riverside, CA
James was a pleasure to deal with! He is kind on the business side and his performance blew us away! Not only can he sing, but he is funny! He was a great surprise for my mom. We would love to have him again for another event!
James Kruk Number One in Southern California:
It was indeed a pleasure to perform for your beautiful family. You also made a perfect plan to get me inside and set up my sound system without blowing the surprise. Everyone was gracious and welcoming, thank you for choosing my Elvis Tribute. Be well!
Birthday Party (Adult)•Reviewed on April 24, 2021•From Lakewood, CA
James was great from the minute I reached out to him. He communicated well and helped me plan out the party for my moms big birthday. He showed up on time and put on an amazing show. I loved how he interacted with my mom and other party guests and added a bit of humor into the show. His voice was impressive and sang some great songs I had forgot to request. My mom was so happy she said without him there it would have just been another party. Thanks for making great memories for us to remember forever! Many of the party guests got cards and are planning on booking him for future events. Highly recommend if you want to bring your event to the next level. Thanks!
Birthday Party (Adult)•Reviewed on September 25, 2019•From Huntington Beach, CA
James was very courteous and professional in every manner. I had some last minute changes to our agenda and he was absolutely accommodating. His performance was genuine and I would and will recommend him .
Club Event•Reviewed on February 2, 2019•From Marina del Rey, CA
He was probably the best act out yacht club has ever had in recent years and we book performers on a weekly basis. Nothing but rave reviews from all who attended! We will definitely want him back in the future!
Birthday Party (Adult)•Reviewed on January 19, 2019•From Hesperia, CA
What a special night we had celebrating my dad's 85th birthday with our special guest Elvis Tribute James Kirk! He was professional, prompt and so engaging with all of our family and friends! James was so easy to work with and really personalized the show for us. I would HIGHLY recommend having James at your events. He's the best! James, the birthday boy was so happy to see you again since he last saw you in the army! Thank you again for being part of our special celebration!
Fundraiser•Reviewed on January 26, 2019•From Santa Ana, CA
James Kruk as Elvis, was excellent. James was kind, easy to work with and offered a fantastic performance. I was thrilled with the end result and the audience loved him. Could not be happier. Thank you.
Club Event•Reviewed on October 31, 2018•From Downey, CA
Birthday Party (Adult)•Reviewed on July 14, 2018•From Walnut, CA
James provided a fantastic show for our 80 guests. His stylized rendition of The King at his best were impressive and entertaining. Our Mom was very pleased as were we. Thank you James for TCB !
Birthday Party (Adult)•Reviewed on December 2, 2017•From Bakersfield, CA
Our friends & family loved the show! He interacted with the guests & they had a great time. It was the perfect surprise for my husband's 50th -50's theme party! Thanks for traveling to Bakersfield.