Back to profile
Kenton Weaver Voice Impressionist Reviews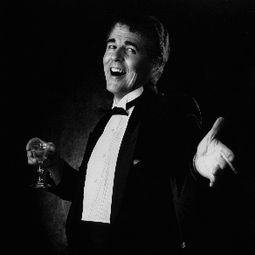 Avg 5.0 | 22 Reviews

Frank Sinatra Tribute Act from Las Vegas, NV

43 Verified Bookings
Starting at $300 per event
---
22 Reviews for Kenton Weaver Voice Impressionist
Birthday Party (Adult)•Reviewed on April 29, 2017•From Fresno, CA
Kenton was absolutely incredible. A real showman, did a great show, personalized the experience, and was funny too! Can't say enough about how amazing his voice is and his impressions are bang on! Don't hesitate. Hire Kenton! He was absolutely worth it!
Kenton Weaver Voice Impressionist:
Farrell--Truly enjoyed performing for you and Sam and all your neat friends and family. It was a fine party for a beautiful couple!
Wedding Ceremony•Reviewed on October 21, 2016•From Las Vegas, NV
Kenton was so much fun, our wedding guests really enjoyed him. He let my husband sing with him...beautiful! Ceremony was short and sweet. If you are looking for someone to impersonate Dean Martin I highly recommend Kenton, doesn't look a lot like him but definitely sounds like him. Very professional and fun.Thanks to GigMasters I was able to plan our destination wedding with great entertainment ??????
Kenton Weaver Voice Impressionist:
Barbara and Joe--It was such fun performing for your wedding. You are a great couple and I enjoyed interacting with all your friends from Wisconsin--Here's wishing you a great life together. Your friend, Kenton
Birthday Party (Adult)•Reviewed on September 27, 2014•From Hesperia, CA
Kenton Weaver is an absolute awesome entertainer! His services were very accommodating from the scheduling of the event , the price and even some change of plans on our end. He amazed our family and our guests with his performance . I even had some of our guests taking pictures with him at the end of the event . He sounded so similar to the original entertainers, interacted and involved the guests. We received such a positive feedback not only from our guests but the staff at the venue. Kenton and his booking agent -Anna truely made the planning of the event stress free , our event memorable and we will forever be grateful to them!
Birthday Party (Adult)•Reviewed on June 20, 2012•From Peoria, AZ
Wow! What a show! Thank you Kenton! You made our event!
Bar Mitzvah•Reviewed on December 10, 2011•From Los Angeles, CA
Kenton was the coolest cat ever!!! He brought Frank & Dean back to life and brought back memories to my family.Kenton is a great guy and we had so much fun with him.I even managed to sneak in a song with him!!! He is also very affordable which is a plus!!! "I feel sorry for people who don't drink because when they wake up in the morning that's the best there gonna feel all day"-Dean Martin,Kenton Weaver THANK YOU!!
Birthday Party (Adult)•Reviewed on June 13, 2006•From Las Vegas, NV
Our group was more than pleased with the performance of Kenton Weaver. Within the appropriated time, Kenton covered decades of music. We were in ah how he was able to switch from one artist to the next over and again changing styles and singing ranges from a deep base to high pitched notes without an effort. It was fun to revisit the past and reminisce over those fond memories through his songs. His impressions are right on, not overdone, and easily recognizable. We were so taken by his talent that we requested a song from way back that had so much meaning to the guest of honor and to our pleasant surprise he sang it accapello to perfection. I would certainly recommend Kenton Weaver for any event. With his wide selection of music and his ability to engage the audience he made our event one to remember for a very long time.
Birthday Party (Adult)•Reviewed on February 21, 2010•From Hollywood, CA
Kenton's performance was perfect for my father's 70th birthday party. Everyone (from kids to people in their 80s) enjoyed his performance. He was even able to accommodate some special requests of my father's favorite songs. I would definitely recommend Kenton to anyone looking for a singing impressionist.
Awards Night Party•Reviewed on January 31, 2009•From Jackson, WY
Great performance, Bill Clinton is hilarious! Jeff Foxworthy was great too. Neil Diamond, Elvis and Willie Nelson are a must see.
Corporate Function•Reviewed on February 2, 2007•From Las Vegas, NV
We had a great event with Kenton! He and his agent were very professional and helpful - a great team! We enjoyed working with them and my company was very happy with the experience. 25 impressions in 25 minutes, pretty impressive! I know that the guests wanted to see more, but we just couldn't fit it all in. Kenton even took pictures with our attendees and everyone loved them. A great night, with a talented performer.
Dinner Dance•Reviewed on July 11, 2014•From Las Vegas, NV
Both Kenton & Anna were wonderful to work with! Anna provided dj service during our dinner and for our ceremonies and Kenton wowed the crowd with his spot-on impressions of Vegas icons! They arrived when they said they would, didn't need any set up assistance, provided a great show for the 600+ members in attendance, and were great fun to work with. I'd highly recommend them for any event of this type!!
Christmas Party•Reviewed on December 18, 2015•From Phoenix, AZ
Kenton was fantastic at our holiday party. He performed a great 90 minute set including a selection of Christmas songs. Despite some chilly weather that had guests darting inside to get warm and then returning to watch him perform, he was professional and charming throughout.
Wedding•Reviewed on June 10, 2006•From Brooklyn, NY
Kenton was just FANTASTIC!!! Excellent singer and performer! Although his demo material was great, in person it was even better. Our guests thought there was not just one star, but several stars entertaining us. Add to that a well-spoken and appropriate MC he made our reception even that much more special. Very unassuming and easy to work with. We would HIGHLY recommend him for such an occasion that demands the highest quality in all aspects.
New Year's Eve Party•Reviewed on December 31, 2009•From Huntington Beach, CA
They were really good with communicating with us and making sure everything was in order for our event. Everyone loved his voice and he did impressions of many different people. The dance floor was busy all night! I was also told that some people took his card so that they could perform at some of their events.
Christmas Party•Reviewed on December 13, 2008•From Las Vegas, NV
Everything went great. Kenton Weavers staff pre-screened the hall for the best performance, they showed up on time and put on a very good show. Thanks again for making our Xmas party a success
New Year's Eve Party•Reviewed on December 31, 2010•From Glendale, AZ
put on a very good show, everyone seemed to enjoy it...
Christmas Party•Reviewed on December 6, 2008•From Woodland, CA
Birthday Party (Adult)•Reviewed on March 2, 2019•From Phoenix, AZ
Kenton did a great job and even went further by adding extra impressions (after asking permission of course). Everyone was pleased with and greatly enjoyed Kenton.
Kenton Weaver Voice Impressionist:
Jeff--Thanks for the review. Your mom is a doll.
Birthday Party (Adult)•Reviewed on October 8, 2016•From Las Vegas, NV
He stayed away without former notice. I had to contact him and were told, that he went about his business!
Kenton Weaver Voice Impressionist:
Client stated from the outset that he would only communicate by email. He stated he would inform me of suite # at Bellagio the day before the performance. I received no notice the day before and emailed him about this. I got a return email in Scandinavian language which seemed to say he could not respond to anything until Oct. 19. The gig was on the 9th of Oct. I waited until 2 hours before performance time on the 10th and then went about my other business. I have never had a client so reluctant and late with communication. If this is how he conducts business I would never wish to be involved with his company.
Private Party•Reviewed on October 23, 2021•From Santa Rosa, CA
He was a fantastic performer did a great job I'd hire him again for sure everybody enjoyed him very very much
Kenton Weaver Voice Impressionist:
Ray--Wow! What a great crowd in Santa Rosa. Look forward to doing it again next year. Thanks for everything.
Fundraiser•Reviewed on October 15, 2021•From Las Vegas, NV
Kenton was a consummate professional. His voice is unbelievable and you could tell that he is pro. So impressed!
Kenton Weaver Voice Impressionist:
Melissa, This is Anna - manager for Kenton Weaver. Thank you so much for the review. I am so happy that you liked him to the mex. He is very talented. Just wanted to acknowledge the review myself from management as well as I am sure Kenton sent a response. Anna McDonough, CPA, J.D.
Birthday Party (Adult)•Reviewed on February 8, 2020•From Las Vegas, NV
Kenton arrived on time and ready to give us a show. He surpasses ALL of our expectations and our family hand a wonderful time, especially my mother. I want to thank you for helping us connect with Kenton, who we highly recommend if you are seeking entertainer that knows the classics! Thank you for make my Mother's 70th special in Las Vegas!
Kenton Weaver Voice Impressionist:
Michael--I had a great time performing for your Mom and friends. Their sing-alongs and festive mood was contagious. I always enjoy performing but I will remember this as one of my favorite gigs!
Banquet•Reviewed on December 10, 2019•From Las Vegas, NV
Kenton was very good. He did a great job of entertaining our group. I strongly recommend.