Back to profile
Brickman Entertainment Reviews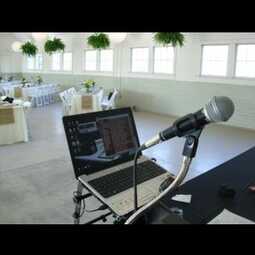 Avg 4.5 | 42 Reviews

Mobile DJ from Charleston, SC

84 Verified Bookings
Starting at $350 per event
---
42 Reviews for Brickman Entertainment
Birthday Party (Adult)•Reviewed on April 25, 2014•From Charleston, SC
Wedding Reception•Reviewed on April 4, 2014•From Awendaw, SC
Les was a great DJ. He was professional and also very fun. He calmed my nerves and I knew he would Handel everything perfectly, I would absolutely recommend him to anyone I know. He made our wedding day super fun and memorable.
Wedding•Reviewed on August 10, 2013•From Sumter, SC
Thanks so much for everything!! It turned out perfectly!!!
Wedding•Reviewed on May 25, 2013•From Savannah, GA
From the moment I spoke with him on the phone, I knew this was our guy. He was accommodating, flexible and understood exactly what I wanted. We had a karaoke wedding reception which was awesome. The song selection list was huge! And if he didn't have it, he was able to get it. Also, he took some pictures at the ceremony and put them up on the projection screen for us. A very special, nice touch. We used him from ceremony, through cocktail hour and for the reception. His price to do the whole shebang was better than most DJs prices for just the reception. Thanks for helping to make our day special!!
Wedding Reception•Reviewed on June 1, 2013•From Moncks Corner, SC
He is great! Down to earth, easy to talk to! Gets back to you in a timely fashion. Highly reccommended!!!
Corporate Function•Reviewed on November 29, 2012•From Charleston, SC
Great Job...great event...would recommend them to anyone and use them again!
Anniversary Party•Reviewed on November 16, 2013•From Charleston, SC
Provided exactly what we asked for. Very professional
Wedding Ceremony•Reviewed on August 3, 2013•From Mount Pleasant, SC
Amazing! He made our night everything we wanted it to be!!!
Celebration•Reviewed on May 14, 2011•From Florence, SC
I was very pleased with Brickman Entertainment! The DJ was very accomadating and went out of his way to make our celebration personalized. He kept in touch prior to and the day of the event and was very dependable. I will definitely recommend Brickman and use them again! Thanks so much!
Banquet•Reviewed on July 16, 2010•From Myrtle Beach, SC
The Boswell Family had a wonderful time at its 24th biennial reunion banquet. The "after party" fun is being passed around via Facebook. We thoroughly enjoyed ourselves. Leslie did a wonderful job providing the types of music that were requested and then some. Folks are still talking about how much they enjoyed our event. You can never be too sure what you will end up with when securing a need using the internet. Gigmasters.com, Inc. was the site to go to and I will consult it in the future if the need presents itself. Brickman Entertainment is the way to go. Thank you so much for your time, talent and cooperation.
Wedding Reception•Reviewed on October 9, 2011•From Martinez, GA
Affordable, able to work with my on short notice. Did a nice job helping facilitate flow of the reception. Thanks!
Sweet 16 Party•Reviewed on December 11, 2010•From Hanahan, SC
Professional, detailed, enthusiastic, outstanding...are just a few words to describe our experience. I would recommend Brickman Entertainment to everyone. My daughter had a fabulous Sweet 16 Party. Thank you so much!!!!!
Wedding Reception•Reviewed on December 4, 2010•From Port Wentworth, GA
My organist did not show up for the wedding until about an hour after the ceremony. Leslie went to work right away when he heard the news and was ready to perform what I wanted when it came time for the wedding to begin. My family and I were very grateful. At the reception, he was able to roll with the punches of special requests and changes in the line-up. Everyone had fun and I appreciate the hard work and professionalism of Brickman Entertainment. I highly recommend using this company. The price is very reasonable and they are willing to do what it takes to make the client happy.
Wedding Reception•Reviewed on September 25, 2010•From Hilton Head Island, SC
My daughter had a small beach wedding and outdoor reception for about 40 people. We highly recomend Brickman Entertainment! They did a great job. Played exactly the kind of music the kids wanted and they were extremely great to work with. The price was great too! We are so glad we chose them! It was also neat to see the pictures they took of the reception and posted on their site.
New Year's Eve Party•Reviewed on December 31, 2010•From Statesboro, GA
Brickman Entertainment played for our New Year's Eve party and were amazing. The music was exactly what we wanted and had previously talked about. Also the karaoke was amazing. If you're having a party, having the ability to have your guest's karaoke to virtually any song they can think of is a blast. I cannot recommend Brickman Entertainment enough. They are simply the best at what they do. Thanks for the memories guys!
Wedding Reception•Reviewed on July 17, 2010•From Summerville, SC
Brickman Entertainment did a great job! They found a lot of the songs that we wanted and did an excellent job.
Wedding Reception•Reviewed on July 30, 2011•From Moncks Corner, SC
Brickman Entertainment did a great job for our wedding reception! They had a great music selection, were prepared ahead of schedule, and was very flexible. I highly recommend Brickman Entertainment.
Wedding Reception•Reviewed on July 23, 2011•From Asheville, NC
Brickman Entertainment was very professional and directed our wedding perfectly according to our timeline. We were very pleased with their flexibility and talent. Our DJ was very courteous and knew how to keep people on the dance floor. Made our night everyone will remember.
Community Event•Reviewed on May 20, 2011•From Charleston, SC
DJ Brickman is a true professional. This was an outdoor community event for 700 people. It was hot, crowded and mostly kids. He was consistently positive and ready to please. He kept our kiddies grooving and the organizers happy. What more can you ask for?
Sweet 16 Party•Reviewed on November 6, 2010•From Hanahan, SC
My mom hired Brickman Entertainmentfor my sweet 16 party, an he was awesome! I just want to thank them for doing such a awesome job at my party the blacklighting was amazing,all my friends are still talking about how off the chain it was ,an how much fun they had.as of now my party has been named the best party of year!!!:)I like the pics you guys took of my party they are great!!! If anyone is looking for a great DJ for a party, Brickman entertainment is the way to go!!! Thanks again, PRESLEY ROUTHIER :)
Brickman Entertainment:
Thank you so much Presley for choosing to go with us. We are so glad that you an your friends had a great time, an thanks for the comment about us being off the chain (hahah)!! your party was alot of fun!!! thanks again, (Brickman Entertainment).
Birthday Party (Kids)•Reviewed on October 17, 2010•From Charleston, SC
I hired brickman entertainment for my daughters 7th bday,she said it was the best birthday party ever, an that she loved that he let them do karaoke! he played all the songs that the children requested an some of the adults songs too.the kids an the adults were no stop dancing an singing all afternoon.we were told by our friends,an family that they really like(brickman entertainment) an that they were great, they were very interactive with everyone.I highly recommend brickman entertainment to anyone that is having a childrens party,an I will use them again in the future. thanks again for the wonderful day that you provided for my daughter. sincerely kenna burt :)
Birthday Party (Kids)•Reviewed on October 1, 2011•From Summerville, SC
My daughter had the time of her life. Her friends said she throws the best parties ever and we owe it all to Brcikman Entertainment. They made the party so smooth and easy. This was the party of the year for Gregg Middle School and it was all due to the entertainment! My daughter had friends texting her all night about how great her parties are and they hope she has another one soon!
Family Reunion•Reviewed on July 4, 2012•From Dillon, SC
The performance was excellent. The DJ showed up on time had all the recent music and was very professional. It felt like he was part of the family during our annual family reunion. We wanted to book him for additional time, this is how much we enjoyed his presence.
Wedding Reception•Reviewed on October 6, 2012•From Charleston, SC
Really enjoyed Brickman Entertainment, Lester did a wonderful job, everything went smooth and exactly according to plan. Couldn't of asked for anything more.
Wedding Reception•Reviewed on May 12, 2012•From Mount Pleasant, SC
Brickman entertainment did our wedding reception and did a awesome job!would recommend everyone to use them due to great service and very reasonable!