Back to profile
Faces By Paris Reviews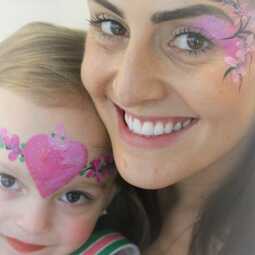 Avg 5.0 | 52 Reviews

Face Painter from Middletown, NY

115 Verified Bookings
Starting at $125 per hour
---
52 Reviews for Faces By Paris
Corporate Function•Reviewed on July 28, 2022•From Skytop, PA
Used for a corporate event, children's dinner very talented and professional. Wish I had added an extra hour to have her go over to the adults dinner!
Faces By Paris:
Thank you! Pleasure meeting you and the kids
Christmas Party•Reviewed on December 18, 2021•From Goshen, NY
She is so amazing..the kids and adults had a wonderful time.
Birthday Party (Kids)•Reviewed on November 20, 2021•From Orangeburg, NY
she was a hit with the kids!
Celebration•Reviewed on April 28, 2012•From New York City, NY
I received so many compliments on Teri for her face paintings. Her work was beyond what I expected. She is a true artist. The kids loved her work, they were so excited to see her walk through the door. Even her presence was fun. I will definitely use her again. I have given out her name to many of my friends and family that were asking about where I got her from. Thank you so much for this talented artist. I loved her work! She is worth every penny and more!
Birthday Party (Kids)•Reviewed on December 13, 2015•From Mendham, NJ
Teri was on time, professional and all the kids enjoyed her beautiful face art and balloons. It was the perfect addition to a one year old birthday party - keeping the bigger kids busy! Thank you Teri.
Wedding Cocktail Hour•Reviewed on July 6, 2013•From Woodstock, NY
Paris was absolutely wonderful! I highly recommend her. Beautiful designs - a very talented artist! Paris face painted for a few hours at our Woodstock NY wedding. The theme was Flower Children & Lumberjacks and Paris had the children and adults looking gorgeous. She was prompt, professional, accommodating and a pleasure to work with. Thanks Paris.
Birthday Party (Adult)•Reviewed on January 17, 2015•From Middletown, NY
I would definitely use her again.
Birthday Party (Kids)•Reviewed on April 24, 2010•From Carteret, NJ
My twins had a wonderful time on their birthday. Faces by Paris was very professional and talented. It showed on the faces of all the kids. In addition, there was nothing the artist could not paint. The balloon figures were not only a treat for the kids but also the adults. The cost was worth the two hours the adults could enjoy themselves. One advice to future parents booking, they arrive early to set up so that it doesn't take away from your booking time. A definite PLUS!!!! Thanks for making our twins birthday extra special.
Review by Sister Barbara M.
Anniversary Party•Reviewed on July 12, 2014•From Germantown, NY
We couldn't have been more pleased, Teri's face painting was absolutely beautiful. The children and adults had a great time, I was so amazed how fast she did the face painting and how beautifully they turned out. The children had a great time, this was a grown up event so she really kept the children occupied. I would recommend her to anyone who was having a party and needed a face painter and balloon twister. Thank you so much. Sister Barbara
Picnic•Reviewed on August 31, 2013•From Florida, NY
Wonderfully upbeat and enthusiastic about her craft and creative to no end . It was our pleasure to have faces of Paris at our event and we were very pleased by her work . We thank her immensely and look forward to future events with her .
Birthday Party (Kids)•Reviewed on June 5, 2011•From White Plains, NY
Teri from Faces By Paris was outstanding! I was nervous finding someone randomly online but Teri was extremely professional, responsive, timely and her talent was remarkable. She was the highlight of our party for the kids and another friend from the party already plans to book her for her own party. I strongly recommend her.
Birthday Party (Kids)•Reviewed on September 12, 2009•From Purling, NY
Ms. Paris was punctual and perky! We had a big party - about 65 kids, and she was definitely the hit! Parents kept asking me where I found her. The face painting she did was absolutely amazing - she was fast and they were beautiful (for the girls) and artistic (for the boys - there was at least one batman and skeletor running around). I am so glad I hired her and would do so again in a second!! Thank you for making my son's first birthday party a huge success!
Birthday Party (Adult)•Reviewed on June 9, 2013•From Queens, NY
Paris was everything I hoped for. She was fabulous with our children even though some of them were a little scared to have their faces painted she showed outstanding patience.Paris never seemed to get flustered when some of the children were picking up her tools of the trade. Shee calmly askeed them to behave. I would recomend Paris to all. Paris also arrved early to set up and was ready to go ahead of time. Thanks Paris
Birthday Party (Kids)•Reviewed on April 15, 2011•From Otisville, NY
It was the first time that I ever hired a face painter and I'm happy tosay that I'm happy I hired Teri Paris for the job. I will be hiring her for future events to come again and I highly recommend her to my friends as well. She is excellent with the kids and she has a beautiful talent.
Birthday Party (Kids)•Reviewed on February 27, 2010•From Port Jervis, NY
Teri did an awesome job! All of the girls had a great time and they looked beautiful!! I would definitely recommend her to anyone. Thank you, Loreen Michelitch
Luau Party•Reviewed on August 29, 2012•From Monroe, NY
The children loved getting their faces painted and Terri was able to get 50 children's faces painted in 3 hours which was great. Terri was flexible and did help us out by staying longer to make sure all our children were happy. Great Job!
Birthday Party (Kids)•Reviewed on September 10, 2011•From Port Jervis, NY
Teri was great! She showed up early and was so wonderful with the kids. She is very talented as a facepainter. We went to Sesame Place and paid 15 a child for facepainting and hers was just as good if not better.Everyone was amazed by her work. We would highly recommend her to everyone.
Birthday Party (Kids)•Reviewed on January 30, 2010•From Ellenville, NY
Faces by Paris made my daughter's 1st Birthday party a success. Every one enjoyed her and her work was amazing. She was very friendly with the children and adults. She was a big hit at our party. We Loved her and would recommend her to every one!!!
Birthday Party (Kids)•Reviewed on November 14, 2009•From Spotswood, NJ
Teri was incredible! She arrived on time, and she stayed until all of the children were accomodated. Before leaving, she walked around the room to be sure she didn't miss anyone! She was extremely accomodating...even re-painting a child's face as she was about to walk out the door! She was very friendly,patient, and outgoing, and was great with the kids! The face painting came out amazing! I would definetly use her again!
Luau Party•Reviewed on August 8, 2009•From Stony Point, NY
My husband and I throw a LUAU party every summer and decided to get entertainment this year for the kids. We do not have children so this was a first for me. I have never hired entertainment before so I had nothing to compare to. However, Teri was the first to contact me when i posted my party info. She was acomodating to my needs and times. She brought along a craft related to theme of my party. Overall, the kids had a great time and we were pleased. I had approx 20 kids and everyone who wanted face painting/body art was able to go home with something. She even made the kids ballon animals at the end. It was a great day and Terri was awesome!
Corporate Function•Reviewed on August 7, 2009•From Albany, NY
Faces by Paris was perfect for our company summer picnic. Her full face designs had the kids so excited to get their faces done up. For those who were more timid, she did wonderful smaller designs on their cheeks. The kids, and parents, really seemed to enjoy her work and creativity!
Birthday Party (Kids)•Reviewed on June 27, 2009•From Mount Vernon, NY
I was very pleased with this performer. The children had a blast having their faces painted. She had everything for all ages and gender. I would recommend this performer to a friend. She also had reasonable prices. All together it turned out to be a wonderful day thanks to Faces by Paris.
Celebration•Reviewed on May 8, 2010•From New Windsor, NY
Birthday Party (Kids)•Reviewed on April 10, 2010•From West Point, NY
Birthday Party (Kids)•Reviewed on August 7, 2010•From Fairview, NJ
One word-WONDERFUL! The children loved her and even the adults loved her!! My 65-Year-old aunt got her face painted.... Would definitely recommend and will hopefully call Faces by Paris Again. Thank you so much Teri for being patient and so accommodating!! She was there early and started working right away! I told her next time we'll hire her for 3 hours :)