Back to profile
De Luna Reviews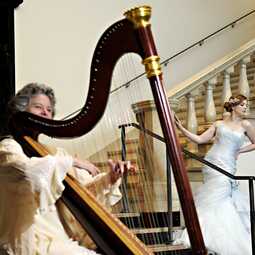 Avg 5.0 | 34 Reviews

Harpist from Hooksett, NH

63 Verified Bookings
Starting at $275 per event
---
34 Reviews for De Luna
Wedding Ceremony•Reviewed on September 21, 2013•From Medway, MA
De Luna is simply wonderful. Brilliant. She's a lovely woman, and a formidable talent. Her artistry lavished bountiful accents on our celebration and was just the right touch to make a wondrous event that much more magical. De Luna's music drenched our day in a rich patina that thrust the magnitude of our shared vows up to the heavens and beyond. It was simply decadent and sumptuous, and I love that I chose her. De Luna was careful to take my personal interests and opinions into account and she was there to do what she does best. Thank you, De Luna! Reed Truman Hix and Raymond E. Nault-Hix
Wedding•Reviewed on October 5, 2014•From Windham, NH
I cannot give enough praise about De Luna! She was personable, enthusiastic, professional, helpful and most of all very talented. She made the entire process of planning our wedding magical. My partner and I had a Sunday Brunch wedding event at an English Tudor style venue built around the turn of the century. De Luna's music filled the ceremony and reception rooms with wonderful tunes creating a truly spectacular mood. We have received nothing but rave reviews on her talent!! She will always be highly recommended by us! Thank you De Luna for your passion and love that you share!
Wedding Ceremony•Reviewed on July 3, 2011•From Sandown, NH
De Luna played at our wedding ceremony. She was very pleasant and easy to work with. We loved her music and our guests very much enjoyed listening to the sounds of the harp. Highly recommended.
Festival•Reviewed on June 5, 2011•From Andover, MA
DeLuna is an amazing person that absolutley made our Childrens Garden celebration magical and fun. She went beyond any expectations that we had and put her heart into everything. The children loved the instuments that she and her students brought to share. Many guests approached me to see where I found such a talented person. The church received a call from a grandmother this morning to say that yesterday was the most unique and memorable experience that she had with her grandson and she is sure he will think of the day always. I would highly recommend DeLuna. Nancy Simili and the West Parish Garden Cemetery Board.
Coffee Shop Event•Reviewed on February 17, 2011•From Needham, MA
De Luna came and played a coffee house event for us and was absolutely great. She was able to play music that was relevant to our audience. We also had a bit of trouble with our space and De Luna was very accommodating and able to work with us in that regard. She is a talented musician and her playing was an extremely positive experience in our community.
Bridal Shower•Reviewed on October 20, 2013•From Billerica, MA
My family, friends & Bridal Shower guests thoroughly enjoyed De Luna's presence & performance. She was a delight to work with. I highly recommend her. :D
Bar Mitzvah•Reviewed on January 14, 2012•From Boston, MA
De Luna was lovely. She even went beyond what we expected by staying later to entertain the younger children in our group. She allowed them to play some of her instruments which delighted them and their parents.
Wedding Ceremony•Reviewed on June 9, 2012•From Falmouth, ME
I would choose De Luna for any special event you have in your life. She was absolutley amazing. Her music was beautiful and made the day that much more special. I hope to hear her play again soon.
Wedding Ceremony•Reviewed on January 29, 2011•From Wilmington, VT
De Luna was extremely courteous, professional and an absolute joy, she made our day so memorable and our guests enjoyed listening to her play. We highly recommend hiring her for your special day or event.
Mother's Day Party•Reviewed on May 2, 2009•From Nashua, NH
Having De Luna play at our function was fantastic. She has a wonderful and warm personality, very professional and her music was just the perfect type for our Tea Luncheon. I would hire her again and will recommend her to anyone wanting a Harpist. Also, she did not try and sell cd's at the function, I appreciated that she was there to be just our entertainment. I will also tell people about Gig Master which was very simple and quick, giving me many choices. Thank you to Gig Master and De Luna for a wonderful day. Gary Pitts, Project Assistant. Senior Activity Center in Nashua.
Wedding Ceremony•Reviewed on October 2, 2010•From Jaffrey, NH
DeLuna was wonderful to work with and her music made my daughter's wedding very special.
Wedding Ceremony•Reviewed on September 11, 2010•From Portsmouth, NH
We couldn't have been happier with DeLuna and her talents. She helped make our wedding ceremony something we will remember forever! She was great to deal with, extremely friendly, and prefessional. I would recommend her to anyone who wants to make their event special. Thanks DeLuna! B and L
Celebration•Reviewed on April 20, 2010•From Lynnfield, MA
exceptional
Funeral•Reviewed on October 17, 2009•From Brentwood, NH
De Luna was just wonderful! She is a lovely, gracious woman, who played beautifully, and was so caring and kind to the guests at our Memorial Service. We couldn't have been happier, and would be thrilled to recommend her to others.
Wedding Ceremony•Reviewed on August 8, 2009•From Hopkinton, NH
We found De Luna to be a very important part of our ceremony, not only as a performer but she was a great help in the set up of the ceremony. Would highly recommend her!
Wedding•Reviewed on July 18, 2009•From Boylston, MA
I'm so happy that we went with DeLuna. She is an amazingly talented performer, extremely professional and very gracious. There was nothing lacking in our experience with her and I would hire her again in a heartbeat.
Wedding•Reviewed on August 24, 2008•From Sanford, ME
Wedding•Reviewed on August 18, 2007•From Concord, NH
Unfortunately for me my wife did all the work with De Luna. I thought she was extremely talented and a very sincere person. I only had a chance to meet with her briefly but I did listen to her play and she is phenomenal. We have had several people comment about how well she played and they thought it was a wonderful way to add to our special day. I would highly recommend her to anyone!!!
Wedding•Reviewed on July 7, 2007•From Raynham, MA
Wedding Ceremony•Reviewed on October 6, 2014•From Chittenden, VT
DeLuna was very professional from when we first contracted her until the wedding day. Very interested in us and what we wanted. She plays beautifully and I would recommend her to anyone!
Wedding Ceremony•Reviewed on April 12, 2014•From York, ME
Wonderful artist, everyone loved her.
Wedding Reception•Reviewed on December 26, 2015•From Boston, MA
You did a fantastic job. Received many complements thank you again for everything! Happy new year!
Wedding•Reviewed on July 17, 2015•From Rindge, NH
De Luna helped make my day magical! She played beautifully and I would highly recommend her.
Wedding Ceremony•Reviewed on July 10, 2015•From Meredith, NH
De Luna was a wonderful addition to our wedding. She was talented, professional and added an extra sparkle to our wedding ceremony. We would highly recommend her to anyone looking for a reasonably priced live music addition for their event.
Anniversary Party•Reviewed on June 10, 2016•From Brockton, MA
De Luna was more than an hour late and had difficulty finding the venue. It was stressful waiting for her, I wanted her set up and playing as everyone entered.
De Luna:
I have never been late to a gig before this one, yes I was late getting started by 5 minutes- not an hour. The traffic held me up more than an hour. I usually like to get to a gig about an hour early, and had told the client that I would try to do that, and called to let her know that I was stuck in traffic. Fortunately I was able to start playing 1 minute before the featured guest and her guests came in the room. I was not able to be there the hour early. When I was closer to the venue but my GPS told me I had arrived, the place was no where to be seen, so I called again, they misunderstood me and sent me in the wrong direction. As it is I was so grateful to ge