Back to profile
Gregg Parker/Acoustic Guitarist/Singer Reviews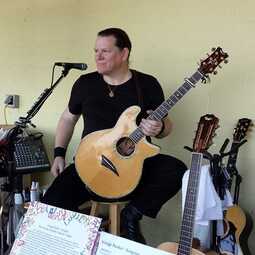 Avg 5.0 | 248 Reviews

Singer Guitarist from Princeton, NJ

360 Verified Bookings
Starting at $325 per event
---
248 Reviews for Gregg Parker/Acoustic Guitarist/Singer
Graduation Party•Reviewed on June 3, 2017•From Riverton, NJ
Greg was amazing! Everyone at our party loved his music. He has a great voice and played three straight hours!! His voice is amazing and I would recommend him to anyone who was looking for a guitarist!! Greg has talent and you are lucky if you get to book him!!
Private Party•Reviewed on May 6, 2017•From Sewell, NJ
Gregg is fantastic. I can't recommend him more highly. He's friendly, professional, talented, dedicated to making sure the event is successful. He's great at reading the crowd and tailoring his set to get the best crowd response. I would not hesitate to hire him again.
Private Party•Reviewed on November 27, 2016•From Bridgeton, NJ
Arrived on time, handled himself and his equipment well, spoke cleanly, professionally and agreeably, met all our requests, and demonstrated an incredibly broad repertoire. Couldn't have expected more.
Thanksgiving Celebration•Reviewed on November 24, 2016•From New York City, NY
Gregg reached out to me 3-4 days after he submitted a quote and I had not responded. Gregg has a tremendous song list, is a very versatile singer and guitarist. He is also charismatic and a true professional who clearly has a good time while performing. Our Thanksgiving celebration was significantly enhanced by having Gregg perform for us. I would definitely consider Gregg for our next function. Thank you!!
Bar Mitzvah•Reviewed on November 5, 2016•From Hillsborough, NJ
Delightful performer and man. Friendly and approachable. Great singer and guitarist. Would certainly recommend him to friends.
Community Event•Reviewed on October 8, 2016•From Dennisville, NJ
Lousy, rainy night and Gregg was everything we could have hoped for. He was OUTSTANDING, and I continued to get compliments all night long! What was turning into a dreary and wet Outdoor Event was brightened just by the presence of Gregg and his professionalism as well as accommodating attitude on playing anything and everything. If you are looking for someone who has the Entire package, then Gregg is what you need! Definitely will be bringing him back under better conditions next time. Thanks Gregg for a great performance!!
Wedding Ceremony•Reviewed on September 10, 2016•From Bensalem, PA
Gregg's professional demeanor and his singing and guitar ability are outstanding. So, if your looking for an entertainer who will bring his "A" game to your affair............... TAP TWICE THEN STAND ON YOUR BRAKES. We and our wedding guest couldn't be more pleased with Gregg. In particular his 12 string guitar and of course, his knowledge of the songs and artists that he loves. His clock management, as to how long he plays ( none stop), is seriously skewed. But don't tell him I told you. I would give Gregg more stars but 10 stars are not available to me. Thank you Gregg, Paul and Diana
Birthday Party (Adult)•Reviewed on August 20, 2016•From Jamison, PA
Gregg is absolutely amaaaaazing!!! Extremely talented, fun, professional, what more can I say? EVERYONE at the party remarked how awesome he is ! He didn't even take a break once. Engaged the crowd. Just an amaaaazing ,wonderful experience. Can't wait to have another party so he can come :) THANK YOU GREGG!!! We will be seeing you again !!!
Birthday Party (Adult)•Reviewed on June 18, 2016•From Point Pleasant Beach, NJ
One of the best entertainers ever. If your having a party this is your man!! We really enjoyed Gregg and he is professional and the crowd raved over and over about how great he was.
Private Party•Reviewed on October 9, 2016•From Onancock, VA
Due to extreme weather forecasted we had to change the dates of our outdoor party. When I contacted Gregg, he was very accommodating and understanding and we agreed on a backup date. He's so easy going and a pleasure to work with.
Private Party•Reviewed on June 11, 2016•From Hightstown, NJ
Gregg did a great job. Prompt, professional and gregarious, he had a large set that many enjoyed requesting. Highly recommended.
Anniversary Party•Reviewed on May 21, 2016•From Medford, NJ
Gregg is amazing. He played my wedding cocktail hour several years go and between both events, everyone who heard him wanted to know his name and how I found him. He is really flexible with what you want, such as music choice and setup. He was willing to stay for any number of extra hours since he didn't have another gig after, which was the BEST. He started as a beautiful backdrop to an Anniversary party, then when everyone left he basically gave a private concert to 6 of us. He is a really nice guy too and so easy to work and coordinate with. I very highly recommend him for any event, from casual to formal. Last and most importantly, he is amazingly talented.
Birthday Party (Adult)•Reviewed on April 29, 2016•From West Orange, NJ
Just hired Gregg for my husbands 60th b day party...Gregg made the party,,hands down!! The process from beginning to end went flawlessly. I felt his good energy from his initial response and my instincts were right. He played for hours and knew when to take a break..when to keep going..when to change it up..he read the crowd like a pro...He asked me to choose songs from his list and he played all of them...just a true professional and a lovely person with great energy. I will absolutely hire him again..looking at my summer now to plan a party that he will hopefully be a part of...I look forward to many more years of including Gregg in my family events!!!
Wedding•Reviewed on October 24, 2015•From Trenton, NJ
Gregg provided his services to us for my brother's wedding. It was an intimate Filipino wedding, very disorganized but fun and spontaneous. He was very flexible with changing up the whole song list to accommodate our requests. He even allowed our guests to borrow his equipment and sing with him on stage. Gregg sings from the heart. As soon as he started singing the song for the couple's first dance, the bride cried and several guests also. He takes the music and the lyrics of the song by heart and shares it with the audience. He is just phenomenal. I will definitely ask his services again in the future and recommend him to friends.
High School Reunion•Reviewed on October 17, 2015•From Morristown, NJ
If you want your party to be a success you have to consider hiring Gregg. He is supremely talented, very professional and truly made our reunion special. Without prompting Gregg performed almost twice as long as he was booked for and worked the room as a master. Virtually everyone who attended commented on what a fine entertainer Gregg truly is. We give Gregg our highest recommendation.
Private Party•Reviewed on October 3, 2015•From Huntingdon Valley, PA
Gregg was amazing -- he was so engaging and interactive with all the guests . His song sets were spot on and he did indeed make my party a success . I would definitely ask him to come back for another event
Fundraiser•Reviewed on September 26, 2015•From Westfield, NJ
Gregg was fantastic - very professional and amazing performer. Highly recommend him!
Wedding•Reviewed on September 19, 2015•From Montville, NJ
Gregg Parker was amazing! He was not only reliable and professional throughout the whole planning process but he was truly a wonderful artist. He went above and beyond and learned a special song that I requested for my son's wedding. I will definitely book him at my next event!!!!
Private Party•Reviewed on July 11, 2015•From Beach Haven, NJ
Gregg Parker made our party. He has a unique voice and is beyond talented. He took all of our requests and was so professional. We can't wait to use Gregg again next year. Look no further- Gregg is the real deal. We were so lucky to secure Gregg. We can't wait for next year!
Birthday Party (Adult)•Reviewed on November 2, 2013•From Sicklerville, NJ
Gregg is an excellent entertainer. I have used Gregg at all of my parties and my guests are always amazed at his range and his endurance.
Anniversary Party•Reviewed on July 10, 2015•From Bradley Beach, NJ
Gregg was fantastic!! He was professional, never took a break, always smiling, and played beautifully! I would totally recommend his talented self to anyone for a party!!! Great job Gregg and thank you again:)??
Birthday Party (Adult)•Reviewed on May 30, 2015•From Montclair, NJ
Excellent ! He never even took a break! All of our guests commented how great he was upon their departure and he was very kind and accommodating. Very nice guy too.
Birthday Party (Adult)•Reviewed on January 17, 2015•From Freehold, NJ
Gregg Parker was so great to deal with. All I did was give him an idea of what I was looking for and he knew immediately his course of action. He played the perfect song for when my dad walked into his surprise party and I never told him that it was his favorite song! My guests were dancing and loving him. He never once checked the time and never took a single break! He was amazing! Gregg's performance made the whole party. I can't wait to have him again!
Birthday Party (Adult)•Reviewed on October 25, 2014•From Scotch Plains, NJ
AWESOME! Greg made my 40th bday party really special. He is top talent and a really good guy. He was very easy to work with and clearly loves making people happy. I can't wait for an excuse to hire him again.
Wedding•Reviewed on October 11, 2014•From Stroudsburg, PA
Gregg performed at my son Tim and his bride Noel's wedding today and I can't even begin to thank him for the wonderful music and singing he provided. He was so accommodating and I asked him to just use his own judgement on the song choices and they were perfect!!! I was able to just sit back and enjoy myself. He started playing for us at 2:30 for the ceremony and continued straight through until 8pm, he never took a break! I had so many compliments from our guests, and also from the staff at the Stroudsmoor Inn. Gregg, thank you so much!!! You were fantastic!!! Cathy and Roger