Back to profile
Emilia Pepen, Pepen Studios Reviews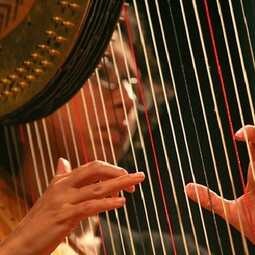 Avg 5.0 | 30 Reviews

Harpist from Cape Neddick, ME

61 Verified Bookings
Starting at $350 per event
---
30 Reviews for Emilia Pepen, Pepen Studios
Family Reunion•Reviewed on May 1, 2022•From Marblehead, MA
Valentine's Day Party•Reviewed on February 12, 2022•From Scarborough, ME
Emilia was great! She was communicative, early to set up and professional. Her music was appropriate for our venue with some contemporary music that our guests loved. We wold love to have her play again!
Event•Reviewed on October 17, 2021•From Topsham, ME
It was a very pleasant event and made for a most enjoyable afternoon.
Birthday Party (Adult)•Reviewed on October 10, 2021•From Greene, ME
Emilia was wonderful, arrived early, talented, perfect for the event!
Wedding Cocktail Hour•Reviewed on July 3, 2021•From Rye, NH
We couldn't have been happier! Emilia was a pleasure to deal with and made our cocktail reception wonderful!
Wedding Ceremony•Reviewed on October 12, 2019•From Portland, ME
Emilia's music was a great part of our wedding ceremony!
Private Party•Reviewed on April 18, 2019•From Newton, MA
Amelia was fabulous at communicating and accommodating requests. She even showed us how the harp pedals worked and her personality shined through the whole time. Highly recommend her
Concert•Reviewed on March 15, 2019•From Boston, MA
I can't attest to Emilia's performing talent as we hired her for a harp rental for an orchestra we were managing while on their Concert Performance Tour. I can however, attest to how Emilia is professional, flexible, kind, and just extremely easy to work. She responds to emails quickly and arrived on-time for each hire date. Her harp equipment is very trustworthy and in excellent condition and she is definitely our new go-to for any harp rental needs that we may require in the future in the Boston, MA area. She was truly a great find!
Wedding•Reviewed on October 27, 2018•From Sanford, ME
She was wonderful!
Wedding Ceremony•Reviewed on September 2, 2018•From Whitefield, NH
Emilia was perfect the music was magical it was such a beautiful addition to the wedding day .Well worth it I can't thank her enough
Wedding Ceremony•Reviewed on July 27, 2018•From York Beach, ME
Emilia was fantastic to work with! She was so accommodating with special requests for songs during our wedding ceremony and she really took the time to get every detail she needed for the ceremony. Her harp and playing is beautiful and she showed up to our venue with plenty of time and worked with our DJ to make sure she could be heard. I would recommend her to anyone looking for a harpist for the wedding.
Wedding Ceremony•Reviewed on June 16, 2018•From South Portland, ME
Having Emilia as a part of our special day made it that much better! She accommodated my million requests and even agreed to play while my sister sang. The coolest part is that my sister is attending the same school Emilia studied at! As the bride you do not really get to enjoy the music of cocktail hour and the ceremony music but the few songs I did get to hear were all my favorites and they were just beautiful! My new husband told me she added a special touch to our day and was so good! Everyone enjoyed her presence! Thanks again!
Wedding•Reviewed on June 2, 2018•From Old Town, ME
Absolutely wonderful!!! She was on point and everyone was very impressed by her. ??
Wedding Ceremony•Reviewed on June 3, 2018•From Camden, ME
Emilia was great. She responded to my emails extremely fast, even my last minute ones! The music was beautiful and was loud enough for everyone to hear.
Cocktail Party•Reviewed on April 28, 2018•From Boston, MA
Terrific all around. Reliabe, flexible and wonderfully talented. We thank her for helping to make our event so lovely.
Celebration•Reviewed on March 25, 2018•From Farmington, ME
Emelia is amazing! She is incredibly talented and has an amazing range of songs. She played Celtic music for my best friends bridal shower and spun in some cover songs which were incredibly done. She is very responsive and accommodating. I would highly recommend her anytime! Thank you Emelia!
Church Service•Reviewed on December 24, 2017•From Stoneham, MA
Emilia was a delight to work with in every way. I hope to work with her again in the future. Susan Larson
Wedding Ceremony•Reviewed on September 4, 2017•From Rye, NH
Emilia was so professional and super easy to work with. I hired her to play harp for the first part of my wedding ceremony as well as my cocktail hour which were in different locations. She showed up early, had everything under control, was so thoughtful and asked me all the questions to provide us the best possible service. Besides all that she also played lovely music that we all enjoyed. She also was so fair in her pricing and patient with all my requests. I would differently recommend her and hire here again.
Wedding Ceremony•Reviewed on October 7, 2017•From Boston, MA
Event•Reviewed on October 21, 2017•From Shirley, MA
Thank you Emilia you made my mom Remerbence lunch so special, The music you played on the Harp was so beautiful Thank you
Wedding•Reviewed on September 30, 2017•From York, ME
She did a wonderful job. Being the bride I was not able to experience her performance for a long time but she received great feedback from my guests. Thank you,
Mother's Day Party•Reviewed on May 14, 2017•From Manchester, NH
Absolutely amazing,. Have already hired her for a repeat performance! Love, Love, Love Emilia. She is outstanding!
Funeral•Reviewed on March 27, 2017•From Hampton, NH
I contracted Emilia to enhance a funeral service I recently conducted on behalf of a close friend. The willingness to adapt tp my circumstances and the requests of the deceased's families requests. I would most definitely endorse and recommend Emilia Pepen and Pepen Studios to family, friends and parishioners. Fr.Kevin M.McGrade PhD. Hampton, New Hampshire
Wedding Ceremony•Reviewed on February 11, 2017•From Brownfield, ME
After a long and frustrating search for a harpist for my February wedding, I finally found Emilia through GigMasters. Emilia was so easy to work with and made me happy that I had continued my search for a harpist. She was very professional and helped me find the perfect music for my wedding. The entire process was seamless from beginning to end. My guests truly enjoyed her music, you can say she was the "icing on the cake" at our wedding. I highly recommend her to anyone interested in adding that special touch to their event. I only hope I can find another occasion to hire / listen to her. Extremely satisfied.....Trisha Blake
Holiday Party•Reviewed on December 5, 2016•From Rumford, ME
Emilia was extremely pleasant, professional and accommodating. Highly recommend!