Back to profile
Elizabeth Webb, Harpist Reviews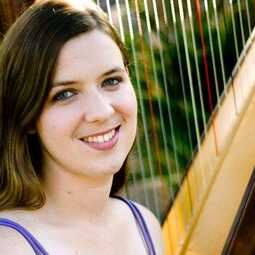 Avg 5.0 | 29 Reviews

Harpist from Tucson, AZ

49 Verified Bookings
Starting at $250 per event
---
29 Reviews for Elizabeth Webb, Harpist
Wedding Ceremony•Reviewed on February 22, 2019•From Conroe, TX
We hired Elizabeth for our wedding ceremony and she did a great job. Everyone said the harpist was a lovely touch to our ceremony. My only regret is that I wish I got to hear her playing longer! As the bride I really only got to hear her playing while walking down the isle, and mainly the guests get to enjoy the music, but she did a great job! I would definitely hire her again.
Christmas Party•Reviewed on December 11, 2018•From Houston, TX
Elizabeth is incredible, she is so graceful, her music added a great touch for the event, and make it so memorable. Everyone at the party loves it. Thank you, Elizabeth for playing some Chinese music as well...
Valentine's Day Party•Reviewed on February 14, 2019•From Corpus Christi, TX
Elizabeth was amazing! She made my Valentines dinner absolutely perfect.. Highly recommend her.
Elizabeth Webb, Harpist:
Thank you Chris, it was an absolute pleasure surprising your wife and playing for both of you. I look forward to playing for you again in a couple months.
Wedding Ceremony•Reviewed on February 3, 2018•From Houston, TX
Elizabeth was an absolute amazing addition to our wedding! From the initial consultation, to the final product, I am so thrilled that we chose her to play harp for our ceremony. Elizabeth was so incredibly professional and even learned a song I requested her to play for our processional, just for our wedding. That to me, is going above and beyond to deliver an amazing customer experience. As a bride, I couldn't be happier with her service. Our guests, many of whom had never been in the presence of a live harpist, were beyond ecstatic to have that experience. Elizabeth is a phenomenal choice if you're in need of a kind, talented musician for your special day!
Wedding Ceremony•Reviewed on October 20, 2018•From Conroe, TX
Elizabeth Webb was an absolute pleasure to work with. She is very talented and played the Harp beautifully, and was very accommodating with some last minute changes. Elizabeth arrived on time and was relaxed and prepared which made it less stressful for the wedding party. We would recommend her to anyone wanting to add special entertainment to their event. A++
Celebration•Reviewed on January 27, 2018•From Galveston, TX
Elizabeth provided outstanding music at my mother's celebration of life event. She is a professional and very easy to work with. I can highly recommend her services. Thank you Elizabeth for adding so much elegance.
Private Party•Reviewed on April 7, 2018•From Houston, TX
Elizabeth was absolutely professional and wonderful at our event. She was easy to work with and she was communicative. We had no issues and she was very accommodating to our requests. We would definitely recommend her!
Wedding Ceremony•Reviewed on February 11, 2017•From Houston, TX
Can't say enough wonderful things! Elizabeth made our daughter's wedding magical! Absolutely magical! Thank you Elizabeth!
Memorial Service•Reviewed on May 19, 2017•From Houston, TX
Elizabeth is a very talented harpist and was extremely professional. We wouldn't hesitate to not only recommend but to also use her service in the future.
Wedding Ceremony•Reviewed on May 27, 2017•From Groves, TX
Elizabeth was the perfect!! She is very talented and met all of our request!
Community Event•Reviewed on September 14, 2017•From Pearland, TX
Where to begin!? I am an Activity Director at a Senior Living complex, and each month we have themed celebrations. This months theme was the Renaissance, and Elizabeth WAS perfect for the event. Between songs she spoke a little about the Renaissance and that Era - my residents and I loved it! I will find a reason to get her back here to play, she was the cherry on top to my event! Thank you so much and see ya soon! :)
Wedding Ceremony•Reviewed on April 8, 2017•From Port Aransas, TX
She was completely professional and open to whatever custom event music you desire. We had a beach wedding and it was completely windy, but there she was, with her large, beautiful harp on a platform and she was wearing a beautiful gossamer dress that complemented the wedding colors. The music was gorgeous. I never heard harp music in person before, and everyone at the wedding enjoyed it. The guests were excited about the harp player and the music she played was absolutely beautiful. I felt so bad I couldn't introduce myself and she was prompt about arriving and about leaving. She is talented and lovely. Thank you so much for performing at the wedding...in the wind!
Fundraiser•Reviewed on July 8, 2016•From Houston, TX
Elizabeth was fantastic for our Charity Fundraising Private Dinner, we are planning on holding more and will definitely be booking Elizabeth again
Funeral•Reviewed on February 22, 2014•From El Paso, TX
Elizabeth came in from Tucson to El Paso to perform at my mother's memorial service. She was AMAZING!! Everyone raved at what a beautiful job she did! She is professional, considerate, thoughtful, talented and a joy to work with!
Grand Opening•Reviewed on May 12, 2011•From Mesa, AZ
From her dress to her music, Elizabeth's presence at our event added the perfect level of elegance to our VIP Event. She arrived promptly and handled her performance with complete efficiency, professionalism and grace.
Wedding Reception•Reviewed on November 23, 2013•From Mesa, AZ
Elizabeth was so pleasant to have at our wedding ceremony and reception. She came prepared, played some great music and everyone was complimenting her on how good her music was. I was sad to see her go!
Mother's Day Party•Reviewed on May 13, 2018•From Houston, TX
Fantastic!!!!!!!!!!!!!!!!!!!!!!!!!!!!!!
Corporate Function•Reviewed on October 15, 2015•From Phoenix, AZ
It was wonderful to have Elizabeth play the harp at our corporate event --- she was fantastic. I highly recommend her services.
Funeral•Reviewed on October 28, 2016•From Houston, TX
Corporate Function•Reviewed on October 27, 2012•From Phoenix, AZ
Fundraiser•Reviewed on October 25, 2011•From Phoenix, AZ
Birthday Party (Adult)•Reviewed on October 27, 2018•From Conroe, TX
Wedding Ceremony•Reviewed on January 12, 2020•From Katy, TX
She played beautifully. We were very pleased. Everyone loved her music. Would recommend her to others.
Christening•Reviewed on July 13, 2019•From Spring, TX
Elizabeth did a fantastic job. I requested that she play a specific song for our event. She took the initiative to learn the song and performed it marvelously when the time came. Very well done.
Baby Shower•Reviewed on June 15, 2019•From Sugar Land, TX
Elizabeth was wonderful! She arrived extra early to set up and was always quick to respond to email prior to the event to ensure we had everything ready. She even asked the colors of attire for the Baby Shower and wore a beautiful pink gown. She made the occasion beautiful and memorable!