Back to profile
Mahana Dance Company Reviews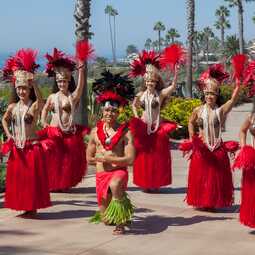 Avg 5.0 | 39 Reviews

Hula Dancer from Long Beach, CA

71 Verified Bookings
Starting at $200 per event
---
39 Reviews for Mahana Dance Company
Birthday Party (Adult)•Reviewed on May 12, 2012•From Brea, CA
Professional, talented, engaging, and topnotch. It was like going to a dinner show. Loved learning about the dances, regalia, and cultural significance of the dances. Audience interaction was outstanding. It takes alot to do a one women show and next time look forward to choosing the package you suggested. She is assertive and knows her artistic abilities and her dedication to her art and cultural heritage shows. All ages were amazed from 5 to 75. Hope she felt welcome at our home. Keep up the good work not many people get to view the arts in such an engaging way. Thank you for a wonderful 50 birthday party for my husband and guests. Monica Stites, Brea
Birthday Party (Adult)•Reviewed on August 18, 2012•From Burbank, CA
I am so happy I found this group.They were just amazing. All my guests asked how I found them.One couple just did a luau with work last month and said my luau was so much better! The girls -fabulous! Richard with the fire sword well OMG! The Fire Poi Ball is a must to add to a package! If I had a bigger yard and more money I would hire a bigger group! I never thought I would have such an amazing show for my birthday and to think I just googled Polynesian Dancers. The videos of their talent really sold me. I kept going back to their site after checking others for comparison. No comparison at all. Thank You,Thank You!! I will highly recommend them and use them again!
Rehearsal Dinner•Reviewed on July 20, 2012•From Buena Park, CA
MAHANA Polynesian Entertainment exceeded my expectations. The girls arrived prior to scheduled and preformed beautifully. The were interacted well with the audience who ranged from 2 years of age to 95. The audience participation was wonderful. I would highly recommend them to anyone looking to bring some lively entertainment to their family party.
Wedding Reception•Reviewed on July 14, 2012•From Garden Grove, CA
The two performers were great! They were friendly, fun, and beautiful. Their performance made the audience energetic. They were definitely the life of the party! Thanks for the show! Hope to see you guys again.
Birthday Party (Adult)•Reviewed on June 22, 2012•From Irvine, CA
with their costumes,music and their dance they made us feel we're in hawaii or tahiti; and they made the party lively with their audience participation; truly a wonderful experience....will have no hesitation recommending them
Luau Party•Reviewed on August 23, 2012•From Rancho Palos Verdes, CA
I work for a senior living community and our residents, their families and guests absolutely loved the singers, music, and dancers! These guys and gals are extremely talented and very friendly. They had audience participation and took pictures with our guests afterwards. I look forward to when we can have them back at the community next year!
Birthday Party (Adult)•Reviewed on June 2, 2012•From North Hollywood, CA
The show added a LOT to our party. Thanks to Sunny and the fire dance the party ended on a very high note.
Graduation Party•Reviewed on May 19, 2012•From Los Angeles, CA
we all had so much fun having Mahana Polynesian Entertainment at our party. They were awesome! They really brought our party to life with the crowd participation. I felt like I was back in Hawaii at a Luau... They were that great. Thanks again Sunny!
Private Party•Reviewed on June 6, 2012•From San Clemente, CA
They were on time, professional, and interacted well with the kids.
Birthday Party (Adult)•Reviewed on April 21, 2012•From Lynwood, CA
The dancers were FANTASTIC!! The ladies were beautiful and interacted well with the audience. The boys wished they were men and the men wished they were teens again! Lol. And ladies the fire guy was equally exciting to watch. The performers drew the croud in and made everyone participate in the show. You either got up and danced with the dancers, or you laughed so hard watching everyone try to keep up. It was so much fun. You get way more than you would expect!! Sunny is a pro and worked with me to accommodate my budget. I felt comfortable with her from the start. I am so glad I went with Manhana Entertainment!!!!! Thanks Sunny. Mahalo until the next time!
Birthday Party (Adult)•Reviewed on September 10, 2011•From Rancho Cucamonga, CA
Execellent!!! The dancers were amazing they engaged the crowd throughout the performance. All of my guest were blown away with the entertainment that they provided. I will 100% use Mahana Dancers again. Charlene
Graduation Party•Reviewed on May 28, 2011•From Rancho Cucamonga, CA
The girls arrived on time. They were friendly, beautiful, and professional. I would hire them again.
Birthday Party (Adult)•Reviewed on May 21, 2011•From Simi Valley, CA
The performance was amazing. The dancers were beautiful. They had great interaction with the audience. I would definitely use them again, and highly recommend them.
Birthday Party (Adult)•Reviewed on May 14, 2011•From Walnut, CA
MAHANA Entertainment was wonderful! Thy added such great energy to my party and everyone just loved them! My husband, the birthday celebrant, said that they definitely reminded him of Hawaii. They were extremely professional and adjusted with my requests. They were also very friendly with my guests when taking pictures. I highly recommend them and their services. I am so glad that I picked them to perform at my event!
Club Event•Reviewed on March 12, 2011•From West Covina, CA
Was a great show.Got the crowd involved.Would love to have them again.Dancers were all very good.
Birthday Party (Adult)•Reviewed on February 12, 2011•From Palmdale, CA
I would highly hire them again they were awsome. My whole party enjoyed them they connected with everyone in the party. Everyone one in the Mahana dancers were soooo friendly and had my whole party laughing. Thank them so much for giving my husband the best party ever and he will never forget his 50th bithday. Thanks to them.
Celebration•Reviewed on August 27, 2010•From Los Angeles, CA
They were off the charts!, the folks at Virgin Atlantic were so impressed, they asked for their cards so they could have them greet other VIP guests for a special arrival. They waited, without a complaint, or a wimper for nearly 3 hours when the flight was delayed, we were thrilled, our VIP clients were blown away, and the crowd that gathered to watch all had smiles on their faces!!!!
Birthday Party (Adult)•Reviewed on August 14, 2010•From Victorville, CA
The Mahana Entertainment was just great, It was the highlight of the party. I would recommend them to anyone and I will most likely use them again. We have Luaus every year so I will be calling them. Thanks
Luau Party•Reviewed on August 14, 2010•From Santa Clarita, CA
All of my guest were very impressed with the beauty and skill of the dancers. They brought their own small sound system that worked off batteries so they had a minimal setup and breakdown.
Private Party•Reviewed on July 31, 2010•From Newport Beach, CA
I hired MAHANA for our work event. We had to cater to attorneys. We had two live Hawaiian musicians, a DJ, but MAHANA were the ones to really get the party going. Everyone enjoyed the perfomance and how they got the audience to participate. The audience even took pictures with them after the show. Very professional, but best of all, all beautiful girls.
Luau Party•Reviewed on July 24, 2010•From Long Beach, CA
Mahana performed at my daughter's 5th birthday party. They were great. Kids and parents enjoyed the performance. Everyone walked out of the party saying it was the best party of the summer.
Birthday Party (Adult)•Reviewed on July 10, 2010•From Whittier, CA
All the dancers were great, but Sunny the lead dancer had numerous comments from my guest because she had an awesome dance with some some balls that changed colors while dancing. The Male fire dancer was the awesome my guest were all extremely excited to see dancers at the luau party. I recommend sunny and her crew of dancers.
Birthday Party (Adult)•Reviewed on July 24, 2010•From Santa Clarita, CA
Everyone really enjoyed their performance and how they got people to participate. Their personalities were great and I liked how they were always smiling and friendly. They connected with the audience. I had never hired dancers like this before but was pleased in every way. Very entertaining and they performed a nice variety of dances. They were pretty, attractive and worn colorful outfits. One big reason I picked them was the contact for Mahana (Sunny) was very responsive and easy to work which was important to me. I hired them for my dad's 99th birthday and would hire them again for his 100th.
Birthday Party (Adult)•Reviewed on August 14, 2010•From Santa Clarita, CA
The girls were awesome. It really completed the party. All the guests had a great time and really liked the girls. They put on a wonderful show. Thank you!
Family Reunion•Reviewed on July 14, 2012•From Duarte, CA
I'm a dancer myself so I have a bit of a critical eye. The two dancers were cute and they were professional. I was satisfied with performance, but it was the audience interaction and the cute personality that one dancer expressed that really sold me. It was kinda annoying that I had to stop and play the music through out the show, but the costumes and overall show was really cute.