Back to profile
Ralph Elizondo, Houston Elvis, Gigmasters #1 Texas Reviews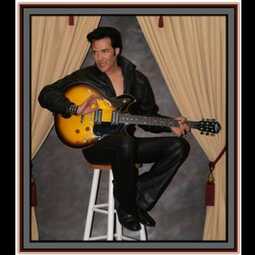 Avg 5.0 | 318 Reviews

Elvis Impersonator from Houston, TX

483 Verified Bookings
Starting at $300 per event
---
318 Reviews for Ralph Elizondo, Houston Elvis, Gigmasters #1 Texas
Sort:
Community Event•Reviewed on September 22, 2023•From Sugar Land, TX
Everyone had a great time! Ralph was very engaging with the residents.
Anniversary Party•Reviewed on March 25, 2023•From McAllen, TX
It was perfect, @ very entertaining, thank you so lucky? Will have to have him again very aoon
Birthday Party (Adult)•Reviewed on March 4, 2023•From Conroe, TX
Ralph was a great Elvis. He did a great job working the crowd and getting everyone involved.
Private Party•Reviewed on January 13, 2023•From Sugar Land, TX
Ralph Elizondo was excellent snd I highly recommend him! He's the best Elvis impersonator we've seen!
Christmas Party•Reviewed on December 9, 2022•From Austin, TX
A Huge shout out to Ralph. He was amazing! Ralph (Houston Elvis) was on point and exceed our expectations. He was very engaged with the guests. Everyone loved him and has raved about his performance. Hope to hire Ralph again in the future. Thank you!
Birthday Party (Adult)•Reviewed on October 29, 2022•From Oklahoma City, OK
Ralph was so much fun! He arrived early and made a surprise entrance for the birthday girl! Everyone loved him!
Community Event•Reviewed on December 31, 2021•From Houston, TX
I love that he was punctual and worked the crowd very well. I would utilize his services again! He was everything that I expected and more. The proof in the pudding was the reaction received by all guests in attendance. Elvis (Ralph) went out of his way to give attention to everyone and allowing everyone the opportunity to take photos with him. My only regret was not booking him for more time. Rest assured, we will hire him again and look no further than him when it comes to an all time Elvis performance.
Birthday Party (Adult)•Reviewed on July 23, 2022•From Jacksonville, TX
Ralph Elizondo was an great Elvis impersonator! He made my grandmother's 80th birthday unforgettable. She danced for the entire 2 hours. Ralph worked the crowd and was very interactive. I hope to have him back someday!
Retirement Party•Reviewed on June 28, 2018•From Bellaire, TX
If I could give Ralph 10s in every category, I would! Not only does he channel Elvis amazingly through his talent, he is a tireless professional who aims to please. Our event was a retirement party for a beloved 83-year-old city worker who worships Elvis. Ralph sang to her, danced with her, spoke about her, gave her a teddy bear — really made her feel special while we all were having a blast listening to & watching him. He reached out ahead of time and accommodated every request, dealt with an unusually small setting graciously, & gave us all a night to remember. My 10-year-old can't stop talking about dancing with him! If you're looking for Elvis, Ralph is your man!
Birthday Party (Kids)•Reviewed on December 18, 2022•From Sugar Land, TX
Ralph did a wonderful job performing for our 5 year olds birthday party. He was very interactive and had everyone up and dancing during the show. His costume was fantastic! We had a blast! Thank you :)
Birthday Party (Adult)•Reviewed on February 21, 2015•From San Antonio, TX
Ralph is a professional entertainer. He also showed up early for setup and was very well prepared. He performed the songs we requested and many more. He had a playlist of songs for us to play on his equipment for background music prior to the performance. His costumes are fantastic as well as the guitars, accessories, and perfomance gifts. I had a group of 80 to 90 people for my party. My wife and I have been Elvis fans since we were kids and Ralph really hit the mark both for us and our guests. The venue asked for his cards to recommend to their clients. I would certainly rate this entertainer a 10 if possible.
Birthday Party (Adult)•Reviewed on May 29, 2022•From League City, TX
The entire connection was very professional; from the time we discussed the birthday surprise and how we would bring him out to the Elvis walk-up music, to the entertainment he planned for the birthday party. He was great and everyone loved his performance. We all enjoyed seeing Elvis again! Thank you, thank you very much!
Celebration•Reviewed on July 16, 2022•From Houston, TX
Ralph did a fabulous performance, and the crowd really enjoyed the show.
Birthday Party (Adult)•Reviewed on February 10, 2018•From Crosby, TX
My siblings and I hired Ralph for our Dad's 80th birthday party....we are all HUGE Elvis fans, especially our Dad....Ralph was AWESOME...his personality and talent made our Dad's party a smashing success...he engaged all the crowd and did not make any of the shy ones in the crowd feel uncomfortable....this was a surprise for our Dad and Ralph came in and we all joined with him in singing "Happy Birthday" and then he went into his show....many of us got to dance with him as he sang ...I would highly recommend him to anyone looking for a special way to celebrate any special occasion....he sounds, moves and entertains like the King himself...VERY happy with Ralph...
Private Party•Reviewed on June 24, 2022•From Houston, TX
Ralph was so great and personable! He really completed our ELVIS movie premiere party and made all of the guests excited for our event! Thanks Ralph!!
Birthday Party (Adult)•Reviewed on June 25, 2022•From Houston, TX
Ralph is charming, a great performer and singer. He had on a beautiful white Elvis costume which we love. He dances so well he made our event so entertaining and a success. Thank you very much. we hope to have him at our future events!
Birthday Party (Adult)•Reviewed on May 27, 2017•From Houston, TX
AWESOME, My sweet husband hired him for me for my surprise 60th birthday because I love ELVIS I don't really know where he got the idea from but found out later that it had been being planned since around the middle of March and I was the only one in the dark about it, If anyone is an ELVIS FAN please contact him , he is awesome in his showmanship and just such a nice guy, he really catered to me the whole night and all our guests raved about him and the experience , one of the couples wants to hire him for their 50th wedding anniversary. I AM REALLY SURPRISED HE IS NOT BOOKED SOLID ALWAYS. Want to THANK HIM AGAIN FOR MY MAGICAL NIGHT. Thanks Ralph and Elvis !!!
Birthday Party (Adult)•Reviewed on March 16, 2018•From Spring, TX
We have seen a lot of Elvis impersonators on the Vegas strip, and Ralph Elizondo was by far the best we have ever seen. Everything from the look all the way down to the performance was top notch. I will recommend him to anyone how is looking for a great performer.
Birthday Party (Adult)•Reviewed on August 24, 2019•From Houston, TX
Ralph was AMAZING! His show was the highlight of the evening. Everyone loved it! Booking him couldn't have been easier. He was in constant contact with me about every little detail. Ralph wanted to make sure he delivered exactly what I wanted & he did! He arrived early and waited until I was ready for him to make his surprise entrance. He serenaded and danced with the birthday girl. Then he danced with her friends. He really made the evening special. If you are looking for a fabulous Elvis show, Ralph is the man!
Birthday Party (Adult)•Reviewed on September 30, 2017•From Cuero, TX
Ralph was exceptional in every way... from the first contact with him until he left venue after his fantastic performance....kind, engaging, talented...a very talented individual who obviously adored Elvis & honors him with a very audience-engaging performance that pays a huge tribute to the King!! Best compliment we can give is someone @ our small venue birthday party commented to us... "whatever you paid for this gentleman's performance was Not enough!!!" Thank you so much Ralph for an incredible, memory-making afternoon!
Birthday Party (Adult)•Reviewed on May 6, 2022•From Conroe, TX
Elvis was a big hit at my Husband's 70th Birthday Party last night!!! Great performance and props!!! He was so much fun and was very patient with all of my "picky" requests!!! Thanks Elvis and The Bash!!!
Birthday Party (Adult)•Reviewed on January 22, 2022•From Baytown, TX
Ralph, Houston Elvis, was amazing!! Since the booking, he was very attentive to our needs and called to communicate details and went over and beyond to match with our party theme and played all our favorite songs. As the party date got closer he kept us posted with confirming the details and the day of the party he arrived on time with plenty of time for set up. His costumes are so awesome and his performance was excellent and overall awesome, he would interact with the crowd. All my guests were happy and they loved him as well. Ralph as Houston Elvis was very entertaining and I highly recommend him for any of your events, you will not be disappointed, he is superb!
Birthday Party (Adult)•Reviewed on April 21, 2012•From Schertz, TX
Ralph Elizondo, was a hit at my husband's birthday party! My husband is a devout Elvis fan, and anyone who does not meet his "Elvis" standards recieves extreme criticism from him. All my husband has done since the party is talk about Ralph and his performance praising him immensely. All the guests ranted about him and made the comment to me,"You sure know how to throw a party. Elvis was great!" Even our young grandchildren thought he was "the bomb!" Ralph was a professional in every way from being punctual, friendly, and providing the best show possible. He even handed out a couple of teddy bears. We would definitely recommend Ralph for any occassion!
Birthday Party (Adult)•Reviewed on April 2, 2022•From Huffman, TX
We decided on an elvis impersonator for my mom's surprise 60th birthday party and it was the best decision! My mom and all of the guests enjoyed it. He was timely, friendly and put on an awesome show! Definitely recommend!!
Birthday Party (Kids)•Reviewed on April 6, 2019•From Austin, TX
Amazing!!!! I can't really say enough! Ralph was kind, entertaining, professional, and right on target. My daughter was in awe and couldn't say enough about him and she sleeps with the teddy bear he gave her every single night. It was so nice to see a new generation fall in love with Elvis. My daughter is a big fan and there are now more Elvis fans in the world! I would definitely hire Ralph again!