Back to profile
Excyte Entertainment Reviews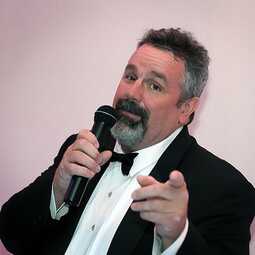 Avg 4.5 | 24 Reviews

Karaoke DJ from Lansdale, PA

52 Verified Bookings
Starting at $200 per event
---
24 Reviews for Excyte Entertainment
Private Party•Reviewed on June 29, 2019•From Watchung, NJ
Excyte and Dan were great. He totally understood the needs as he took time to go over the various song lists that the event would require. For this party, we asked that he be more low key, and he was fine with that. He updated his equipment and song library based on the party needs. During the party, he read the crowd well and made adjustments accordingly. He did not have or let an ego get int he way of the party running well. I would hire Dan again.
Excyte Entertainment:
Thanks Alkesh! It was a fun time and lots of good Singers, We didn't let the rain effect our efforts!!
Christmas Party•Reviewed on December 7, 2019•From Oxford, PA
Dan and Dan did an awesome job for our company Christmas party! Even helped with the games we had planned! Thank you!
Excyte Entertainment:
Thank you Kelley !! Fun group of people you work with !
Anniversary Party•Reviewed on May 5, 2019•From Franconia, PA
Dan was great! We booked him three days before our Party and everything was perfect,He even sang a song for my Parents which they really Enjoyed, We will definitely be hiring him again !!
Birthday Party (Adult)•Reviewed on April 27, 2019•From Garnet Valley, PA
Dan was great! He played all of my requests with the perfect timing. He was very accommodating to my guests with the karaoke. Nothing is more important to me at a party than the music and Dan helped to make my birthday bash a great success!
Excyte Entertainment:
Thanks Ann It was a fun time , you and your guests were awesome behind the microphone, please keep us in mind for your future events!!
Private Party•Reviewed on December 15, 2018•From Blue Ball, PA
Dan was great- we had the best time at our karaoke party!
Excyte Entertainment:
Kelsey Thanks it was a very good time !!
Wedding Reception•Reviewed on August 25, 2018•From Hawley, PA
Dan went above and beyond for my daughters wedding! We booked him 5 days prior to the wedding as I original DJ went MIA, he immediately went into overdrive putting together ceremony/reception music, showed up at 10am the day of the wedding to set up and gave us a perfect day with the music my daughter wanted! We can't Thank Dan enough for all that he did to put our fears to rest and giving us a great day and fun party!!!
Excyte Entertainment:
Thank you !! This Event was a challenge and all the hard work from everyone paid off !! Great people and great party ! Please keep our contact info for any future consideration .
Wedding•Reviewed on June 30, 2017•From Limerick, PA
Dan did a wonderful job! He was extremely flexible and adaptable when we went out of order for our timeline of events. Played all of our requested songs and even got people up for karaoke. Overall a great party and a great guy!
Birthday Party (Adult)•Reviewed on May 14, 2016•From Quakertown, PA
I recommend dan to anyone hosting a party. He arrived in plenty of time for setup and everyone at the party loved the music he played!
Holiday Party•Reviewed on December 21, 2015•From Conshohocken, PA
Dan was absolutely great -- our event had a very high "degree of difficulty" and we would never have been able to pull it off without his help. He was accommodating of a short-notice booking, last-minute changes, AND a challenging venue, and he did it without breaking a sweat! I would recommend his services to anyone.
Community Event•Reviewed on October 17, 2015•From Bethpage, NY
Dan was very early for the event and took care of all of our requests. The music was great throughout the entire event and he was extremely easy to work with. I would definitely recommend and will be using him again at future events of mine.
Birthday Party (Adult)•Reviewed on August 19, 2017•From Blue Bell, PA
Celebration•Reviewed on June 20, 2015•From Hastings on Hudson, NY
He was great!
Excyte Entertainment:
Thanks , It was an Excyting and fun night , With lots of good singers!!
Birthday Party (Adult)•Reviewed on March 31, 2018•From Havertown, PA
Graduation Party•Reviewed on July 18, 2015•From Lehighton, PA
Very Professional and accommodating and I would definitely hire him again.
Anniversary Party•Reviewed on April 29, 2017•From Princeton, NJ
Punctual and fulfilled exactly what they promised, Excyte Entertainment is a vendor I would use again for any celebration and would recommend them to others. All of our guests had a great time dancing, and the guests who wanted to do karaoke were quickly accommodated.
Birthday Party (Adult)•Reviewed on March 4, 2016•From Princeton, NJ
Great job Dan! You were very punctual, worked with all of the event staff and people in setting up and everyone had a great time. I would highly recommend and he will be my "go-to" guy in the future.
Wedding•Reviewed on June 24, 2016•From King of Prussia, PA
We had a very exotic collection of music to play and Dan managed to find all of it. There was a little hiccup with names during the announcements but overall he did a great job and the dance floor saw plenty of action.
Celebration•Reviewed on August 19, 2018•From Atlantic City, NJ
WOW !! I enjoyied the absolute best surprise karaoke birthday party ever in this private suite, Golden Nugget AC. Thanks to Dano and Excyte Entertainment this was truly a FIVE STAR event.
Excyte Entertainment:
I'm glad your Surprise party worked out !
Corporate Function•Reviewed on January 16, 2018•From Philadelphia, PA
I wish they would have had cordless microphone, but I guess I should have asked about that before we booked them. They could have showed a little more excitement to be there
Excyte Entertainment:
Brooke When We spoke Your main concern was 3-4 Microphones for Singers , No Mention of a wireless Microphone if needed We Surely would of Accommodated your needs, We are willing to offer you a 10% discount on next booking if booked in next 12 months , Thank you for your patronage and please be sure to mention Wireless Microphone
Graduation Party•Reviewed on June 2, 2018•From Wallingford, PA
Dan did an awesome job considering the day was humid and rainy. Although a lot of the music was not the latest hits and also didn't really interactive with our guests.
Excyte Entertainment:
The weather definitely put a damper on your event,as far as music selections We were given a list of songs (mostly elicit)which lasted 1 hour 30 minutes for a 5 hour event which all were played along with top 40 pop and we took requests from your guests.It also didn't help any that the power went out 3-4 times during your Event. Thanks for your patronage
Wedding•Reviewed on September 21, 2018•From Perkiomenville, PA
Wasn't happy with Guest requests not being played and even mine, as I paid him for my sons wedding on 09/21. It also took him 2 hrs after his shift ended at 11:00 Pm to pack up and leave. all guests were well gone by then and all were going to bed at 1:00 am. Sorry and I don't approve of him asking for a beer "for the Road" when he left. Thank goodness my niece didn't give him one and gave him water. I really expected more and was disappointed as the ratings/reviews seemed so high Honestly thought, he was pleasant and nice to talk to but I expected little more for the $900 I paid..
Excyte Entertainment:
Michelle We were asked by the brides step father not to play rap music as for any other requests there were many played if yours was missed you should have asked . The DJ Didn't see you anywhere after Mother/Son dance to ask you about the rap requests .We also played til 11:25 at no extra charge so it wasn't two hour wrap up, up a steep wet n slippery hill . After the hard work of loading up that hill the DJ was asked if he'd like anything to drink and since he drank water all night he asked if he could have a beer, For five and a half hours DJ including Ceremony and reception with customized music list and over $2,000 in lighting the price was very reasonable.
Birthday Party (Kids)•Reviewed on November 12, 2017•From Newtown, PA
The dj showed up late, was very apologetic but didn't get music started for nearly 40 minutes after guests arrived. He was not interactive AT ALL with the guests. Did not play games as we discussed. When he was speaking into the microphone, you could barely hear or understand him. He at one point left the stage to use the bathroom and the music had just stopped playing in the middle of the party. Luckily, he was mainly hired to entertain the kids and they didn't seem to mind. I could have done a better job with a playlist on my iPhone. Very disappointed.
Excyte Entertainment:
Heather S., I am very surprised and somewhat confused to hear of your disappointment. I regret that you did not voice your concerns during the event. Any disappointment would most certainly have been addressed and resolved on the spot. Although you provided no music list prior to the party your guests did appear to be enjoying Brendan's first birthday party and made no individual requests for their favorite songs or artists.Thank you for your patronage and thank you too for the generous gratuity which you provided immediately after the birthday party.
Private Party•Reviewed on February 22, 2020•From Souderton, PA
We were satisfied with Dan and will hire him again. But we would like him to arrive and set up earlier and stay later next time. We will pay him for the extra time.
Birthday Party (Adult)•Reviewed on July 24, 2021•From Philadelphia, PA
GREAT is about the best way to sum EXCYTE ENTERTAINMENT. Very professional, very nice equipment, on time, very helpful even reminded me to get the cake out as i got wrapped up in the party, music selection was outstanding and even played later as our guests were mingling around and he was getting his stuff together. Having an affair was always a pain with EXCYTE I am looking forward to my next one. Thanks Dan