Back to profile
DJ Hector Reviews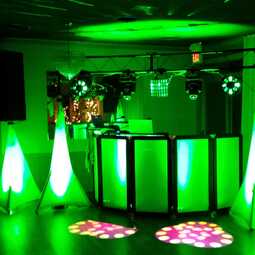 Avg 4.5 | 27 Reviews

Latin DJ from Fayetteville, NC

39 Verified Bookings
Starting at $475 per event
---
27 Reviews for DJ Hector
Wedding Reception•Reviewed on September 2, 2017•From Richmond, VA
Best DJ!!! Dj hector communicated with us right away after booking him. He was very prompt and professional. Would definitely highly recommend him to anyone. 10/10 service
Quinceañera•Reviewed on July 22, 2017•From Liberty, NC
Would not recommend to anyone. No one was pleased with the music selection everything was a mess. He ruined the setup we had and did not want to put the lights up. He did not follow the instructions as they were given. Ignored the host of the party and we had to get a guest to give the announcements for him. He was very punctual but that was it. We would of been better of hiring a local DJ than him.
DJ Hector:
Parents, family & guests were great and danced all night (got videos to prove), instructions were followed but her lack of organization was visible from the start, after noticing situation her friend volunteered to help. When things go wrong it's easier to point the finger at the DJ after you had him set up in a corner behind your guests so the cake could be seen, then after 2 hours of set-up and not till after some family members began arguing with one another I was allowed to re do setup with dance floor lights were it should have been in the first place. She will not dance to her own song request, her dad told me not to honor her request if she was not dancing.
Quinceañera•Reviewed on July 8, 2017•From Andrews, NC
Birthday Party (Adult)•Reviewed on June 11, 2017•From Morristown, TN
DJ Hector was very professional and punctual in his job performance. I was glad that he was able to perform at my daughter's party. He played most of the songs that my daughter requested. Most of my friends and family that came to my daughter's party were amazed at the great job that he had done. I would strongly recommend him to anyone without a doubt. I would definitely hire him back for another event in the near future. For those who are weary about hiring a DJ for your event not to worry he is the one for your party event. Thanks, DJ Hector from Vicente Betancourt in Morristown, TN
Wedding Reception•Reviewed on June 17, 2017•From Greensboro, NC
Dj hector was great , he did an awesome job kept the party going , I had great time at my wedding , I would definitely hire him again and recommend him !
Wedding Reception•Reviewed on June 3, 2017•From Durham, NC
Pros: Very communicative, always answers texts & e-mails, accommodating of requests up to the day of the wedding. Good mixes of music. Cons: Many guests complained he copped an attitude when they would request songs. When I went to say thank you to Hector, he started ranting about how my dad cussed him out (not my dad's style but even if it were true I would have preferred he tell me later not at my wedding) and then he argued with my mom and ended half an hour earlier than agreed. He basically ruined the end of my evening by ranting to me about my own father. Very unprofessional. Would have preferred he contacted me later on not make me feel bad at my wedding.
DJ Hector:
Bride's dad made song request, song was played, he danced with his wife, 10 mins. later he came over finger pointing, shouting obscenities claiming his song was not played. Music volume was turned up so he could not be heard by guest. While explaining to her, mom interrupted in the same manner. She definitely would not have believed me a day after. We gave her a free hour she had ask for (remember). Now she claims she got 1/2 hour short? Not until all guest had departed, lights had been turned on & catering began clearing tables that we seized music. Some song request did not fit the occasion, kids present (most were honored). Clients should control guest behavior.
Sweet 16 Party•Reviewed on January 28, 2017•From Elizabeth City, NC
I have to say that having DJ Hector in my party was the best decision I made, thanks to him all of us enjoyed dancing to the end I know I did lol. I recommend DJ Hector for future events; he knows all about Latin music, all the good music that we like, Salsa, Bachata, Merengue, Reggeton, Cumbia, Rock Hip Hop, R&B etc.. You name it. ?????
Event•Reviewed on December 10, 2016•From Cary, NC
Awesome DJ! We would hire him again in a minute. A total professional that kept our fairly small group engaged for the entire evening.
Wedding•Reviewed on November 26, 2016•From Elizabethtown, NC
Wedding Reception•Reviewed on November 12, 2016•From Chattanooga, TN
DJ Hector was great. He completely understood what kind of reception we wanted. Combining two different cultures can be challenging, but he did a perfect job. I could not have asked for a better DJ for my wedding reception. I received many compliments and would definitely book him again for any other events.
Wedding Reception•Reviewed on November 5, 2016•From Wilmington, NC
We hired dj Hector 2 weeks before our wedding and he did an outstanding job with our event program and all the songs we requested even though he didn't have much time to prepare.He's very affordable. Overall we were very happy with the great job he performed and his professionalism. We highly recommend him to anybody looking for dj services.
Wedding•Reviewed on October 1, 2016•From Atlantic Beach, SC
DJ Hector was awesome he was on time and play great music and he was great
Wedding•Reviewed on September 24, 2016•From Garner, NC
DJ Hector was great! Showed up early with plenty of time to get everything setup. He played everything as requested. I would definitely recommend him and use him again.
Wedding Reception•Reviewed on September 3, 2016•From Garner, NC
We were more than pleased with everything! Dj Hector did everything we asked for! Would recommend them in a heart beat!
Wedding Reception•Reviewed on September 9, 2016•From Conyers, GA
My wife and I loved DJ Hector. He was amazing. The second we booked him he was always in communication with us and would respond very quickly to any questions we had. We had so many family and friends tell us that the music was amazing. Even the photographer we booked said he was the best DJ she'd seen out of all of the weddings she has done. He kept people dancing the entire time. He was also very flexible with us during the reception. I recommend DJ Hector to everyone. You won't be disappointed. If I could give DJ Hector a 10 out 10 I would give him an 11. Loved his music and his professionalism.
Wedding Reception•Reviewed on July 29, 2016•From Inman, SC
DJ HECTOR Is the best DJ we ever meant.He goes above and beyond his job.We rate him a 5.he will do everything in his power to keep everyone happy.DJ Hector has many different types of music for everyone .DJ HECTOR Is also bilingual what is what my daughters wedding needed .we are hispanic but my daughters husbands family is american.We already love him so much like our family.we highly recommend him to everyone and anyone.
Wedding•Reviewed on July 24, 2016•From Wrightsville Beach, NC
Amazing he played every song we requested. He was on time and most of all very friendly. He made my Wedding day unforgettable
Review by Jose Antonio C.
Wedding Reception•Reviewed on June 17, 2016•From Fayetteville, NC
DJ Hector-La Alternative DJ is Top of the line. I wish I can give him a 10 but the is not extended. Job well done. Outstanding performance, on time, very professional in the interactions with my guess and always on top of his game. Hector went from DJ to help us with the schedule and very professional and true friend. God bless Hector. I will contact Hector for next event. Thanks. Jose
Wedding•Reviewed on May 28, 2016•From Dothan, AL
Excelent Dj . certainly we return to hire their services . Thank you for traveling so far away to attend our wedding.
Wedding•Reviewed on May 7, 2016•From Charlotte, NC
I truly don't know where to start. He arrived late to set up and expected/demanded reception place to help him unload & set up, that after making several calls to my family members I gave him as contact in case of emergency. Once we arrived to the reception, he ruined our first dance by playing the wrong song over and over. Then played the wrong father and daughter song.He had diferent encounters with the manager and kept complaining to my brothers about how he wasnt given a timeline/songs,which I personally did & received his confitmation 3 weeks prior. He has been banned from the place we had our reception. I want to prevent this nightmare from happening to others.
DJ Hector:
Our record of "very satisfied" customers speaks for the service we provide. We arrived 3 hours ahead of time. Wrong song was not played over and over, entrance song was re-played briefly so everyone could be seated. Bride decided on the spot to have their first dance before blessing, toast or dinner, 10 sec's lapsed when I realize their intension and switched to first dance. This was "experience" saving the day. There was a schedule of events without "timeline". The father/daughter song was the one requested. Delay due to assistant manager showing location to a other client, I was told to wait 'til she was finished; location hosting several events at the same time.
Wedding•Reviewed on May 14, 2016•From Dunn, NC
DJ Hector was absolutely unbelievably talented! He arrived at the exact time he said he would. He had our ceremony music lined up the way we wanted. Our reception music was a mix of everything for our diverse cultures. He announced everything perfectly! We will highly recommend DJ Hector to anyone we know that will be in need of a DJ. We will also hire him again when we have another big event!
Cinco De Mayo Party•Reviewed on May 5, 2016•From Rocky Mount, NC
DJ Hector was AWESOME!! Music was great, perfect clear sound, has a very great system!! Lights were cool and everyone had a blast. We will definitely be booking him again soon!!
Wedding Reception•Reviewed on April 16, 2016•From Ocean Isle Beach, NC
Loved Hector , he was on time and very professional . He accommodated absolutely everything we wanted for our special songs. He had our entire family dancing all night long to salsa, merengue, cumbias, requeton. He made our wedding day very special . We will certainly be hiring him for future events in Atlanta .
Wedding•Reviewed on November 20, 2015•From Jamestown, NC
DJ Hector was phenomenal! He worked with us so well and played a great mix of music that always kept people on the dance floor! Absolutely loved him!
Retirement Party•Reviewed on November 7, 2015•From Fayetteville, NC
DJ Hector gets a 5 stars with my review. From the process of hiring until after the event he did outstanding. He ensured to satisfy us and the people attended the event. He was hired for a 30 people party and for a small party he entertained the crowd at all times. Varity of music was great. He pleased us with top 10 song selected by us playing it during the night. Priced was very good compared to others. DJ Hector, Thank you for your service. You did an AWSOME JOB!!!! I will recomend him anytime and will hire him again in a heart beat.