Back to profile
Sinjon Smith Reviews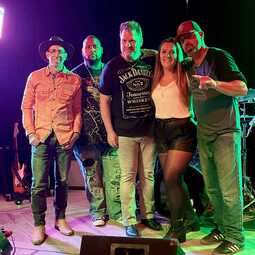 Avg 5.0 | 64 Reviews

Pop Band from Clawson, MI

105 Verified Bookings
Starting at $600 per event
---
64 Reviews for Sinjon Smith
Christmas Party•Reviewed on December 2, 2022•From Birmingham, MI
We had an amazing time at our company holiday party with Sinjon Smith! They play music that appeals to all crowds, they can play any genre of music and their openness to requests was great. We even had someone at our company singing with them! I highly recommend Sinjon Smith. They did an amazing job keeping our group entertained during holiday party! Thank you!
Festival•Reviewed on August 19, 2022•From Dewitt, MI
Our festival crowd loved them!
Community Event•Reviewed on August 26, 2022•From Romulus, MI
The City of Romulus loved having Sinjon Smith! They are very talented and entertaining for everyone of all ages! We received such great feedback from the residents and they got to enjoy an encore! Overall, they were professional and we would highly recommend!
Private Party•Reviewed on June 11, 2022•From Brighton, MI
We hired Sinjon Smith for our daughter's graduation party and they were awesome! They had everyone dancing and raving about how much fun they had, both old and young. Chris was great to work with and very responsive. We had lots of friends and family asking for their info to hire them for their events. Thanks for making it a special night Sinjon Smith!!
Wedding Reception•Reviewed on July 1, 2017•From Utica, MI
When I set out to find a band for my wedding, my goal was to find an affordable, local group that could keep people on the dancefloor and have our evening run smoothly. Sinjon Smith did this and SO MUCH MORE. From day one, the band was communicating with me and willing to do whatever it took to make our day special. Whether it was learning some new songs, perfecting an arcane tune for our first dance, or facilitating a surprise performance by me and my bride, they made it happen. There is not a better deal on a wedding band in the Detroit area. If I could give more than 5 stars, I would!
Graduation Party•Reviewed on June 26, 2015•From Burt, MI
Loved, loved, loved this band!! I chose them from off of gigmasters and only had a few sample songs of which to base my decision. Wow did I get lucky! This group was excellent! Had so many people mention how great they were and wanted to know where they were from, throughout the event. Someone even said, "They must have cost a fortune for as great as what they are"! They did not cost a fortune and they were well worth every penny we paid. They kept our group dancing from the beginning to the end. Highly recommend them and will have them back again if I am ever in need of another band.
Wedding Reception•Reviewed on July 2, 2016•From Somerset Center, MI
We hired Sinjon Smith to play at our daughter's wedding reception. Throughout the evening, people kept coming up to us saying things like..."This band is AWESOME!!!", "We're having so much fun!!!". A number of people told us that it was the best wedding they had ever been to...Sinjon Smith contributed greatly to that sentiment! Would definitely hire them again...in fact we have two more daughters who probably will have Sinjon Smith play at their weddings!! They were accommodating and talented and we all had fun dancing all night!! I highly recommend that you hire this band.
Club Event•Reviewed on September 20, 2014•From Keego Harbor, MI
Everyone LOVED the band. They played outside under an awning and our patio dance floor was packed. The music made you want to get up and dance. It started to rain and we held umbrellas and kept right on dancing. They did sound much like the original artists and so many songs. The age group was 23-75 all dancing together!! Quality was excellent and we would hire them again. Thanks Sinjon for a Super party!!
Community Event•Reviewed on June 30, 2013•From Madison Heights, MI
Sinjon Smith was great for our Pre-4th of July Festival. They communicated all the way up to the event so that I was comfortable in knowing that they knew what they were doing. Due to an errant click on the site they thought we wanted all country music. When they showed up before the event and told me they had a great country set lined up, I threw a curve at them and said we wanted some of everything. Fortunately they are such a versed band that they were able to throw in handfuls of songs to please everyone in the crowd. They are the first band in the 28 year history of our festival to have people pack in front of the stage. Couldn't have asked for more!!
Wedding Reception•Reviewed on May 17, 2014•From Detroit, MI
I love this band! Love these people. The most nicest, sweetest people to work with. Punctual, professional, do what we asked. Honest, care, concern, respect, easy to reach, very compromise, sincere, very friendly . If you are looking for an affordable but professional with high quality of music, songs and technology, they are the best band you can find in Michigan.
Holiday Party•Reviewed on December 7, 2013•From Plymouth, MI
WOW! Sinjon Smith was AWESOME! If you are looking for a band that has it all look no further. We hired Sinjon Smith for our 2013 Holiday Party and loved them. The great feedback we received from our team members was overwhelming. Everyone was impressed with their talent and phenomenal mix of music. Their ability to read their audience is simply incredible. They had everyone on the dance floor and kept the room very entertained. I would highly recommend this band for any event and would hire them again! Also they were very accommodating and just great to work with!
Birthday Party (Adult)•Reviewed on November 9, 2013•From Utica, MI
Sinjon Smith was amazing! They were the perfect addition to our party. They were incredibly easy to work with, very laid back and accommodating and most importantly, very talented. They played a great variety of songs and I would highly recommend them to anyone!!
Wedding Reception•Reviewed on July 27, 2013•From Lexington, MI
What a great band!!! We hired Sinjon Smith to play at our Wedding. Everyone commented on how great the music was. The band was extremely professional, prompt, and very accommodating. They learned our Wedding song and played it perfectly. We had such a great time and the dance floor was never empty. I highly recommend anyone looking for a band for any function to give them serious consideration. I had multiple guests from the wedding take contact information to book the band for future events. The reception was so successful that we have already been told we need to have an anniversary party every year and have Sinjon Smith play. Couldn't have asked for a better band.
Halloween Party•Reviewed on October 18, 2012•From Ann Arbor, MI
Our club really enjoyed Sinjon Smith. They played a great variety of music and kept us all dancing.
Birthday Party (Adult)•Reviewed on August 11, 2012•From Bloomfield Hills, MI
We want to thank you for your great performance at our house for my 50th birthday party. We could not be happier with your show and all our guests loved you. Awesome!
Private Party•Reviewed on June 16, 2012•From Clarkston, MI
Great Band with great sound. They were professional yet FUN and very accomodating. We were very satisfied and can't wait to have them at our home again. I wouldn't hesitate to book them.
Birthday Party (Adult)•Reviewed on May 19, 2012•From Pontiac, MI
I booked Sinjon Smith for my wife's surprise birthday party. I booked them without ever hearing them live. I heard their clips on line and I red the feedback from others who had booked them. It turned out to be a great decision. They were very professional. We spoke in advance and they were easy to communicate with and they were on time and set up to go on the day of the event. Most importantly they sounded great! They put together a terrific set list that kept everyone dancing. They were also very friendly and their energy and the quality of their playing helped make the party a success. I would highly recommend them to anyone considering booking them.
Wedding Reception•Reviewed on April 21, 2012•From Toledo, OH
We had to delay our daughter's wedding date due to immigration issues by 10 weeks. The delay cost us our original band we had 'auditioned' twice in perosn and absolutely loved. My wife and I frantically 'reviewed' many bands via gigmasters. After listening and reading reviews, we reached out to SinJon Smith. They assurfed us we would be pleased, so we took a chance and booked them without actually seeing or listeninng in person. They were right. Everyone loved them, and I mean everyone. Very talented and professional -- dressed appropriately for the wedding and played the right mix. We did not miss our planned band and I would hire SinJon Smith again.
Wedding Reception•Reviewed on September 17, 2011•From Indianapolis, IN
Restricted here by 675 characters. Write me anytime, mojo53@woh.rr.com, for real feedback. I can't say enough about band and the people in it. Hired them strictly from the demo tracks on Gigmasters. They were, cooperative, patient (with me and all my emails), accomodating, fun and on top of that, excellent muscians. They rocked the house at my daughter's wedding reception. You couldn't ask for a better group of musicians to coordinate all the musical and non-musical activities of a reception. They had the dance floor packed most of the night even into the late hours. I have never seen that with a DJ. DO NOT hesitate for one second to hire them for your event.
Festival•Reviewed on August 20, 2011•From Howell, MI
Sinjon Smith arrived on time. The audience enjoyed the performance, in spit of the rainstorm that blew through the tent. Many people came up to them later to discuss hiring them for other events. Their set up and tear down was quick and efficient. All in all, perfessional and talented musician. Can't wait to hire them again.
Birthday Party (Adult)•Reviewed on July 16, 2011•From Milford, MI
Sinjon Smith really made our event one to remember I would highly recommend them to anyone who is looking for a very talented band.
Graduation Party•Reviewed on June 25, 2011•From Commerce Township, MI
Simjon Smith did an amazing job and we cannot wait to book them afain!!!! (:
Wedding Reception•Reviewed on August 28, 2010•From Plymouth, MI
Sinjon Smith did an AWESOME job. We had a diverse crowd at our wedding and EVERYONE loved them. The dance floor was packed the whole night and they closed the place down. They were also very affordable in comparison to most of the wedding bands out there that I found. We would hire them again in a heartbeat and plan to see them live around town as often as we can! Thanks Sinjon Smith!!!
Wedding Reception•Reviewed on July 25, 2010•From Ann Arbor, MI
They were wonderful and I appreciate your service so that I COULD FIND THEM.
Wedding•Reviewed on July 10, 2010•From Ann Arbor, MI
Sinjon Smith was just what we were looking for in a wedding band and they exceeded our expectations! Thanks Chris and Diane foe everything, especially for keeping the dance floor hopping all night!