Back to profile
Ken the Magician & Jazzy Jen Reviews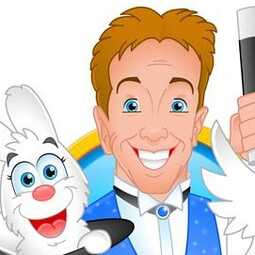 Avg 5.0 | 51 Reviews

Magician from Egg Harbor City, NJ

73 Verified Bookings
Starting at $150 per event
---
51 Reviews for Ken the Magician & Jazzy Jen
Birthday Party (Kids)•Reviewed on January 22, 2012•From Egg Harbor Township, NJ
We had a great experience with Ken. He responded to my initial request and any e-mails that followed in a very timely manner. He was very prompt and ready to start the show when he said he would be ready. He interacted wonderfully with the kids. He was very funny and his magic act was great. I was told by one of the children that it was the best birthday party ever! I would definitely recommend Ken for a child's birthday party.
Birthday Party (Kids)•Reviewed on March 27, 2010•From Toms River, NJ
We had about 30 children attend the party - every child, and parent was amazed with Ken and his show. I can't tell you how many people asked me "where did you find this guy" and how great the show was. It fantastic!!!! We loved Ken and will be using him again. Thanks Ken for the most terrific time and show!!!!!!!!!!!!!!!!
Birthday Party (Kids)•Reviewed on December 11, 2011•From Pennington, NJ
Look no further, Ken is fantastic! His magic show was GREAT! I hired him for my daughter's 5th birthday/holiday party so there was a big mix of kids ages 1-10. Ken was able to entertain everyone for a full 45 minutes and they all had smiles. He has live doves and a bunny in his show and my daughter just LOVED that he incorporated her in the show and let her hold the bunny and carry him around for all her friends to pet. Also, I booked with him pretty last minute and he was very understanding and professional to do business with. I would highly recommend him.
Birthday Party (Kids)•Reviewed on March 20, 2010•From Egg Harbor Township, NJ
Ken was fantastic! None of the children were left out during his act. The birthday boys (3 and 13 years old) felt very special, Ken did a great job making them feel that way. All the kids were mesmerized & he keep them intrigued for the whole hour. Which also gave the adults a little feel time to enjoy their selves while also enjoying the show. The doves & rabbit were great, very well trained & friendly. The kids also loved the interacting with them. Great show!!! Ken held to all our expectations & more!!! I also love that he sent a tips for your party planning list to help w/ some of the planning details. Thanks for making our party special!
Birthday Party (Kids)•Reviewed on October 8, 2011•From Garnet Valley, PA
Ken Northridge was wonderful A great magician for kids and parents alike. SO many people at my party want to use him for future parties. It was a great show. Thanks Ken!!!
Birthday Party (Kids)•Reviewed on February 21, 2010•From Vineland, NJ
My sons 3rd Birthday party was a hit thanks to Ken. He did a wonderfull job. The kids and the adults enjoyed themselves. Thanks again Ken!!!
Birthday Party (Kids)•Reviewed on August 7, 2011•From Farmingdale, NJ
This company was excellent! She was extremely early to set up and was absolutely wonderful with the children. They loved her and we enjoyed her taking part in our son's first birthday party. we will definitely use this company again!
Birthday Party (Kids)•Reviewed on September 13, 2009•From Bryn Mawr, PA
He was fabulous....accommodating, totally professional but warm and related well to the kids....made the birthday girl feel VERY special, which is what its all about...and had great props and live animals in his show. I would hire him again in a minute!
Birthday Party (Adult)•Reviewed on October 9, 2011•From Philadelphia, PA
did an excellent job providing a great entertaining show for everyone, thanks again.
Private Party•Reviewed on May 2, 2009•From Plymouth Meeting, PA
Ken put on a great show, everyone really enjoyed him, kids and adults!!! Ken also got right back to me with any questions I had. My son had a great time and will remember ken and his Communion party for a long time.I would highly recommend Ken and would give him a 10 out of 5!! THANKS Ken for making our party special.
Birthday Party (Adult)•Reviewed on February 28, 2009•From Newark, DE
Ken was absolutely amazing! This was a party for my 4-yr-old and he was completely mesmerized by Ken. Not only did Ken entertain with his magic tricks, we also appreciate the thoughtful lessons that went with them. The kids felt so very special to be part of the show, especially the birthday boy. My son can't stop talking about Ken and neither can I! We're still trying to figure out how he pulled that rope through his stomach! Throughout the whole process, Ken was extremely accomodating and very professional. I highly recommend Ken. He is very good with the children, and once you meet him, you know you're in for a great ride!
Birthday Party (Kids)•Reviewed on August 1, 2009•From Galloway, NJ
Private Party•Reviewed on May 21, 2008•From Marmora, NJ
Ken did an excellent show for us. We have a Cub Scout Pack with about 65 active boys and he held their attention for 45 minutes. He actively involved volunteers from the audience. Ken's show had a positive message as well. The kids loved the live animal part of the show. "Glory" the mind reading bird was a special hit. We would definitely have Ken come back and would highly recommend him to others. In fact, our Cub Scout District Executive was present and he is considering booking Ken for our week of day camp this summer. What a great night!
Convention•Reviewed on June 6, 2009•From Wildwood, NJ
I THOUGHT HE WAS GREAT AND SO DID EVERYONE ELSE. PHIL
Birthday Party (Kids)•Reviewed on July 4, 2009•From Burlington, NJ
Jen our face painter was were professional and she was a real pleasure with the many children she worked with. I would hire them again and would highly recommend them for this service to others as well as I would hire them to try their other services. Thank you.
Birthday Party (Kids)•Reviewed on January 22, 2011•From Longport, NJ
Ken did a fantastic job! The children and adults were laughing out loud! Everyone had a great time!
Celebration•Reviewed on October 16, 2010•From Claymont, DE
We hired Ken for a Homecoming event. He was very professional and entertaining. I would certainly recommend him to anyone looking for a Magician.
Birthday Party (Kids)•Reviewed on June 5, 2010•From Villas, NJ
What a fantastic job and price. We were so pleased with Jens' work. She showed up just as she said she would,on time with a warm smile. Jens' art work was beautiful. All are guest loved it. She was so kind and paitient with all the children. She even did the adults,lol. One of the little girls at our party smeared her face all up...Jen had no problem giving her another. We have 3 children and will def. be using them again(face painting and magic show). Thanks for making it an incredible day. We look forward to having you at our next party and prob. some of our friends parties too. Thank you again ;)
Birthday Party (Kids)•Reviewed on May 15, 2010•From Cape May Court House, NJ
Ken was so easy to work with in planning my grandson's birthday party. Then managed to keep 15 six year olds mesmerized for 45 minutes. My grandson said it was his best birthday ever. That about sums it up!!!
Christening•Reviewed on April 10, 2010•From Philadelphia, PA
I had Ken come to our son's baptism celebration. He not only met my expectations but exceeded it by miles. The entire program was enjoyed by the whole crowd. I had the option of hiring a local magician but I am glad I choose Ken. I would definitely recommend Ken for your next celebration.
Birthday Party (Kids)•Reviewed on May 21, 2011•From Freehold, NJ
I am so thrilled I found them on Gigmasters!!! Jenn was our face painter and balloon shaper, her work was absolutely amazing!! Her painting skills were incredible! If you need Ken Northridge's services, do not hesitate- book!!!!!! Thank you so much for making my party wonderful!! My Best, Nikki
Birthday Party (Kids)•Reviewed on January 16, 2011•From Warwick, PA
Ken and his wife came to our home for our son's birthday party. They arrived early and were such nice people. The kids adored Ken and the parents enjoyed him as well. His personality along with the crazy things kids say were completely hysterical. He was a total professional and our guests were impressed with him. Jen also did an awesome job face painting. Every kid there wanted to get their face done. It was an overall great experience and we will be having them back again.
Birthday Party (Kids)•Reviewed on April 3, 2011•From Toms River, NJ
Friendly, great prices, great with the kids!! Great talent we had fun!!
Birthday Party (Kids)•Reviewed on May 11, 2008•From Southampton, PA
It was a lot of fun. Kids enjoyed the show. I would only recommend to do more tricks with animals involved. Otherwise, everything was great. Thank you
Celebration•Reviewed on August 19, 2008•From Atlantic City, NJ