Back to profile
Kane Magic Entertainment - Kendal Kane Reviews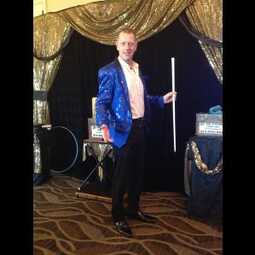 Avg 5.0 | 36 Reviews

Magician from Plano, TX

82 Verified Bookings
Starting at $125 per event
---
36 Reviews for Kane Magic Entertainment - Kendal Kane
Birthday Party (Kids)•Reviewed on October 24, 2013•From Irving, TX
It was a superb experience from the time I talked to Mr. Kane to book the event over the phone to the time he left the event place. And most especially both my family (especially my son whose having the birthday) and my guests loved and enjoyed his show, his music is a plus! And last but not the least, he took his time until we were ready for most of my guests presence before he started the show, we didn't feel rushed but rather its all about our event that matters, and that's a 5 star rating. Thank you Kane Magic Entertainment and gigmaster!
Birthday Party (Kids)•Reviewed on December 5, 2010•From Frisco, TX
My girls' birthday party was quite a success thanks to Kendal Kane! My girls and their friends have not stopped talking about it! He did a great job entertaining all of the kids (ages 3-7) and the adults. We had approximately 40 kids so it was no small task. Everyone loved that he included the kids and adults in his acts. The kids also loved the music throughout the show - it was like having a DJ at the party too! We would definitely recommend Kendal for your event - you won't be disappointed!
Celebration•Reviewed on May 27, 2010•From Frisco, TX
I hired Kendal to entertain at our annual Older Americans Celebration here at the Frisco Senior Center. The seniors really loved his performance and have asked that I schedule him again in the future. He is very talented and knows how to get the crowd involved, winning them over like a true professional. He also was very accommodating, despite some scheduling issues on our part, etc. I definitely would recommend Kendal Kane to others looking for unique entertainment for their venue. Thank you, Kendal!
Christmas Party•Reviewed on December 10, 2011•From Oklahoma City, OK
I enjoyed planning our event with Kendall. He was most accomodating and planned a very good show for our group. He performed close up magic to small groups and tableside which our employees really liked. He had them smiling and bewildered at his slight of hand. He then put on a quality show after dinner. It was just what I was looking for.
Birthday Party (Kids)•Reviewed on July 17, 2010•From Plano, TX
We had Mr.Kane perform at our Son's 3rd Birthday party. The magic tricks, interaction with kids & adults, funny jokes , music were all just great. The party's fun quotient just went lot higher by the performance. He spoke well and was very professional throughout the stay. The show has something for every age group which made it a total entertainment. The peformance lasted full 1 hr and we are glad it was that long!! Thank You Mr.Kane for helping us make our son's Birthday memorable !!!
Birthday Party (Kids)•Reviewed on November 20, 2011•From Allen, TX
The smile on my daughter's face says everything about how the show went! Thank you Kendal for making her day very special she will never forget it and I really think a new magician was made.
Birthday Party (Kids)•Reviewed on March 7, 2010•From Temple, TX
Kendall Kane was awesome! All my family and friends enjoyed every minute. I especially enjoyed that he allowed our family and friends to participate in his majic tricks. We were all impressed with the entire program. I would definitely recommend him to my friends and family.
Convention•Reviewed on March 23, 2010•From Arlington, TX
Kendall was amazing! We had a booth at a conference and not only did he draw people to our booth but was quick to learn what type of buisness we are and began sharing that with our clients. He incorportated our company into every act he did! Overall the best money we spent on the conference!
Birthday Party (Kids)•Reviewed on April 17, 2010•From Cedar Hill, TX
We had a great experience with his show. Both kids and adults were enjoyed his performance very much. Kendle made sure that the birthday boy was very involved in the whole show but he also allowed for several kids to assist him and even some adults. My family and I thank you for being a part of such a 'magical' event in my sons life. Ms. Vargas - Cedar Hill TX
Birthday Party (Kids)•Reviewed on July 4, 2010•From Lewisville, TX
The show was amazing! He accepted our request and waited until all the guests arrive to start the show. Kids enjoyed it and saw even many adults participation. We'll be definitely calling him for our future parties.
Community Event•Reviewed on May 8, 2010•From Paris, TX
Kendal Kane and his magic were great! The children and adults alike enjoyed his shows! His background music was great too! Sounded like magic! I would highly recommend him to anyone! Jan Jordan
Birthday Party (Kids)•Reviewed on June 19, 2010•From Garland, TX
Very Very good entertainer... The kids had so much fun, as well as the adults... Would definetely recommend to others!
Birthday Party (Kids)•Reviewed on July 12, 2010•From Dallas, TX
Kendal was bilingual which was a huge plus...Everyone really enjoyed the unique "magic to music" show including grown ups. HIGHLY RECOMMENDED!!!!
Birthday Party (Kids)•Reviewed on March 14, 2010•From Rockwall, TX
Birthday Party (Adult)•Reviewed on July 24, 2010•From McKinney, TX
thank you sooooooooooo much we called him last min. and he camr through thank you thank you
Birthday Party (Kids)•Reviewed on July 31, 2010•From Fort Worth, TX
We had a party of special need kids and they were in awe and had a great time. The participation from them was awesome and he did not appear to be scared of their appearance at all. It was amazing. And we do plan to use him again in the future and pass out cards to our friends. Thanks once again.
Birthday Party (Kids)•Reviewed on September 11, 2010•From Wylie, TX
We loved Kendal!! My daughter and her 20 friends loved the show!!
Birthday Party (Kids)•Reviewed on September 18, 2010•From Heath, TX
Community Event•Reviewed on October 2, 2010•From Frisco, TX
Mr. Kane was extremely accomondating and encouraging! His sense of humor reached all ages. The children loved their participation in the event. He came well in advance to set up and started right on time. He was very friendy and personable. I'd hear the block party guests constantly saying things throughout his performace like "How did he do that?". Mr. Kane is a top notch performer whose priorities are in the right place. He is definitely family oriented. His professionalism and showmanship was of the highest standards. We'd definitely call on Mr. Kane again for future events!
Dinner Dance•Reviewed on October 17, 2010•From Grapevine, TX
It was exciting to have a magician at our client event! Kendal was a pleasure to work with and was very accommodating. Our clients really enjoyed his "slight-of-hand" tricks.
Birthday Party (Kids)•Reviewed on December 4, 2010•From Fairview, TX
Christmas Party•Reviewed on December 10, 2010•From Waxahachie, TX
The children loved it. It was great family entertainment.
Banquet•Reviewed on March 26, 2011•From Hale Center, TX
he was great hope we can do more things in time to come
Birthday Party (Kids)•Reviewed on September 25, 2011•From Colleyville, TX
Birthday Party (Kids)•Reviewed on December 3, 2011•From Dallas, TX
Kendal Kane had a good overall show at my kid's bday party which kept all the kids hooked and their parents relieved :). A lot of my guests showed up late but Kendal was able to accomodate and start the show late - Thanks again for that ! The experience was thoroughly professional with he present at the venue ahead of time and finishing his prep work early. The show was good for kids and parents who wanted to be involved. Thanks Kendal Kane for making our party great !