Back to profile
The Magic Of Joe Ferranti Reviews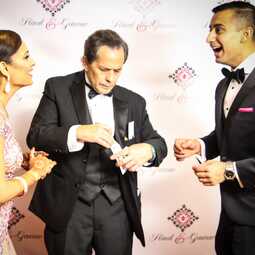 Avg 5.0 | 43 Reviews

Magician from Wilmington, MA

71 Verified Bookings
Starting at $250 per event
---
43 Reviews for The Magic Of Joe Ferranti
Birthday Party (Adult)•Reviewed on December 30, 2017•From Nashua, NH
If your lookingbfkr the perfect way to take your party to the next level, look no further. Joe was awesome. He was professional, funny and most importantly an amazing magician. Joe started off with special trick for the man of honor. He then worked the room amazing each guest as he went table to table. Joe communicated with me before the event to make sure everything went smoothly, he showed up on time, dressed professionally, and made sure to thank me before leaving. Great tricks, great jokes great guy. Thank you Joe! You made my friends 40th bday party one to remember!
The Magic Of Joe Ferranti:
What an enthusiastic crowd...the key to a successful performance. Thanks to all in attendance.
Wedding Reception•Reviewed on November 28, 2015•From Woburn, MA
One of the most talented, nicest and punctual vendors we had at our wedding. Joe was fantastic at the cocktail hour of our wedding reception. Our guests were absolutely floored by his magic, which was coupled by a great, clean sense of humor. We 100% recommend Joe's services. Please do not hesitate to email with any questions.
Birthday Party (Adult)•Reviewed on September 25, 2015•From Brookline, MA
Joe was terrific. He created custom tricks for our father at his birthday event, then entertained a large group of sharp. savvy magic-loving adults. He was well suited to working within the cocktail and dinner environment of the event, and was prompt, pleasant, fun, entertaining, and terrific. Very pleased and highly recommended.
Event•Reviewed on May 16, 2015•From Lincoln, RI
Joe was awesome, simply stated. He kept everyone entertained and amazed with his card magic and sense of stylistic humor. He was so good, that guests who were at my event 2 weeks ago came up to me yesterday and said : "Scott, your parties are always great, but you outdid yourself this year by bringing in the Magic of Joe Ferranti...that guy was fantastic !" I wouldn't hesitate in a NY second to bring Joe back for another event as he was professional, funny, amazing, creative and engaging with the crowd! Had 6 stars been an option to grade Joe, he would have earned them! His talent is the perfect piece to the puzzle for any party event that you may be planning!
Club Event•Reviewed on March 12, 2014•From Boston, MA
Joe was a fantastic addition to our event. He mingled for 3 hours with over 250 guests at a black-tie gala and kept everyone entertained. We had so many people ask for his card or contact information, really the star of the show. Very professional and courteous, great communication before the event, and extremely conscientious and punctual. He was even doing impromptu magic for the catering staff during the event setup, which they loved and set the perfect mood for the evening. Will definitely use again, and highly recommend.
Christmas Party•Reviewed on January 13, 2013•From Worcester, MA
This guy was something else. He kept in contact throughout the entire planing of the event. We are an exclusive country club who works hard durring the holiday season and get to have a party of our own when all is said and done. He was very professional and accomodating of any changes within a moments notice. He is a very personable and humble guy who takes the utmost pride in his craft. He provided an air of enthusiasm that grew on everyone in the roomand had people chasing after him to not miss anything. His sleight of hand is immaculate and he was absolutley right about the pats on my back after his spectacular mix and mingle session. Tatnuck Country Club
Corporate Function•Reviewed on December 4, 2015•From Tewksbury, MA
Joe arrived early, stayed late, and kept our guests entertained the whole time. They are still talking about trying to figure out how he did some of the magic he wowed them with! I also had several folks come up to me after the event and ask for his contact info. Joe was very professional, very polite, and a great entertainment addition to any party!
Private Party•Reviewed on June 20, 2015•From Malden, MA
Joe truly is very professional. We had a situation that delayed the performance. His only goal was to make sure that I was stress free and totally relaxed. He could start a little later with NO problem. I had a small yard pary with 5 men in their 60's at a table. There eyes studied his ever move. Clapping in aww of his magic, laughing and really enjoying the mystery of "How did he do that?We watch his every move.. They all stated that they would definitely hire him. A big success. I highly recommend Joe Farranti.
Christmas Party•Reviewed on December 16, 2011•From Concord, NH
The magic of Joe Ferranit was outstanding and what really made this event was Joe's great personality and approach.......You will not be dissappointed if you hire Joe Ferraniti!
Bar Mitzvah•Reviewed on February 6, 2016•From Salem, NH
I found Mr Ferranti to be a lovely gentleman! He was eager to please and stayed way later than arranged and tried to refuse extra payment but I jammed it in his pocket. I had this Birthday (not Bah Mitzvah) party planned for some time for 75 people and the week before we lost my father in law to a long illness. I felt Joe should be aware coming in the door and he really went the extra mile to make my in laws laugh, especially my mother in law. It really was a magical evening!
Birthday Party (Adult)•Reviewed on October 27, 2012•From Beverly, MA
Joe assisted in mingling guests who didn't know one another with ease and a touch of magic. Some of the guests followed Joe work his magic around the party to see more of his card tricks. I would recommend Joe to my friends who are looking for someone who will help make their guests laugh, smile and enjoy themselves even more!
Fundraiser•Reviewed on June 3, 2017•From Nashua, NH
Joe was a true professional, everyone was talking about him! Definitely working with him again!
Club Event•Reviewed on November 1, 2014•From Portsmouth, NH
Joe was there on time, he was professional, likeable and very intertaining. The crowd liked him. So, he is a crowd pleaser. Thank you GigMasters for making it easy to find him. Mario
Birthday Party (Adult)•Reviewed on May 17, 2014•From Winthrop, MA
Mr. Ferranti really made my best friend's birthday unique, fun and really special. I would certainly recommend him to anyone.
Birthday Party (Adult)•Reviewed on March 18, 2017•From Winchester, MA
Joe was the perfect icing on the cake for my mom's 70th birthday party! We wanted something beyond a traditional cocktail party, and Joe didn't disappoint. He entertained small groups of guests, mingling with small groups and leaving everyone happily bewildered. The video he provided after makes for a great keepsake! His professionalism, communication, and followup were excellent. We highly recommend him, and look forward to working with him again!
Club Event•Reviewed on April 14, 2013•From Woburn, MA
We were very pleased with Joe Ferranti and the magic he performed for our group. He arrived early, was prepared, and was very accommodating for our location & group of people. He performed in a friendly, professional manner & everyone enjoyed his show. Thank you for all your help. Maryann Dellinger
Birthday Party (Adult)•Reviewed on March 23, 2013•From Winchendon, MA
Great experience. Will recommend to friends!
Retirement Party•Reviewed on May 18, 2013•From Norwood, MA
Joe arrived early for the event and was sure he spoke with us to determine what type of entertainment we were looking for - he delivered his performance perfectly - our guests really enjoyed talking with Joe and watching his magic. Would recommend!
Birthday Party (Kids)•Reviewed on March 10, 2012•From Danville, NH
Joe was excellent! He arrived early to set up and stayed past the time he was scheduled for. He made sure to capture the interest of all the kids which was no easy task because their ages ranged from 6-15. The kids had a blast and he made my daughter's birthday very special. I would definitely recommend Joe to anyone looking for a magician for their party.
New Year's Eve Party•Reviewed on December 31, 2014•From Needham, MA
Joe was personable and talented.
Event•Reviewed on January 18, 2014•From Andover, MA
Joe was very accommodating to our requests of roaming and stage performances. We are a boarding high school so it was pretty cool for the kids to have an outside performer come to campus. Our only critique was that some of tricks were very slow to develop. Our students, very much young adolescents with short attention spans, had negative feedback saying tricks 'took forever', or that they didn't get his jokes and one liners.
Picnic•Reviewed on May 9, 2015•From Andover, MA
Our group enjoyed Joe immenskey. He is so good and left us all scratching our heads in amazment at how he preformed his magic tricks I will you him again. Thank you Joe for a wonderful day Diane
Holiday Party•Reviewed on December 17, 2016•From Portsmouth, NH
Joe was a pleasure to have at our holiday party. He showed us a ton of cool card tricks, had a great sense of humor, and dealt with our shenanigans wonderfully.
Trade Show•Reviewed on July 15, 2016•From Boston, MA
We hired Joseph to perform on the exhibit floor of our convention. He was a pleasure to work with from start to finish, and offered a very personalized experience for our attendees. Everyone had a great time. I would highly recommend working with him!
Wedding Reception•Reviewed on March 26, 2016•From Norwood, MA
He was amazing at my wedding. My guests loved him and his tricks. He came early and left late. He did a trick for me and my husband and I was amazed!