Back to profile
John Baragone Reviews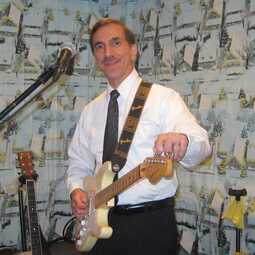 Avg 5.0 | 26 Reviews

Pop Singer from Bloomfield, NJ

37 Verified Bookings
Starting at $150 per event
---
26 Reviews for John Baragone
Wedding•Reviewed on June 21, 2008•From Riverhead, NY
not only was planning and communicating with john was an absolute pleasure, we absolutely could not have been more thrilled with his work at our wedding cocktail hour! we will definitely be recommending him and using him again sometime in the future. thanks!!
Birthday Party (Adult)•Reviewed on June 10, 2011•From Montville, NJ
Don't let John's profile pic fool you, he can rock it! 50 guests in our backyard on a Friday night, my father-in-law island style b-day & he impressed every one. He fit right in with the attire he had. Great guitarist, Great voice. Very cordial, interactive, and humorous at times & all around pleasure to have. Many asked for his card afterward & even neighbors who weren't at the party commented on how much they enjoyed the music. When we looked for a musician our only concern was John's profile picture, we thought he was maybe more of a formal event only guy, but like I already said, that couldn't be further from the truth. HE ROCKS. WILL DEFINITELY HIRE HIM AGAIN
Birthday Party (Adult)•Reviewed on June 15, 2008•From Bayside, NY
John is a great musician with great songs he will do what ever it takes to get to the event and liven up the place with his amazing guitar riffs and great selection of songs.
Restaurant Event•Reviewed on November 23, 2007•From Freehold, NJ
John arrived early to set up and started even before the scheduled time. Everyone loved him, he is a very talented musician and also has a great voice. He can sing just about anything always sounding great. We already booked him again. I would highly reccommend him.
Birthday Party (Adult)•Reviewed on September 8, 2007•From Colts Neck, NJ
John was not just great. He was fantastic. I'll have him back again for my next party. He has a nice personality and has a lot of talent. John turned an ordinary party into a great one. Thanks John. P.S. I'm not related to John. I booked him solely from the internet a few days before the party.
Wedding•Reviewed on June 30, 2007•From Marlton, NJ
Extremely personable and friendly, John is such a nice guy. We would hire him for ANY event. Wonderful guy!
Restaurant Event•Reviewed on February 24, 2007•From Jim Thorpe, PA
John worked excellant for my group. He had the right mix of songs and was very accomodating for all requests from my patrons. I would recommend him and hope to have him back soon.
Private Party•Reviewed on June 24, 2006•From Glen Rock, NJ
John was the hit of the party! All of our guests commented on how talented he was. He was very personable and and even let some of the partyers sing with him! It was a great night and we'll be sure to hire John again same time next year!
Birthday Party (Adult)•Reviewed on June 16, 2006•From Branford, CT
John was great, beside being very talented he was very accomodating and personable, I would recommend him to anyone, Thanks
Birthday Party (Adult)•Reviewed on June 8, 2008•From Asbury Park, NJ
John was very professional and yet his kindness and sincerity were clearly evident as he performed. He was patient with the youngsters and charming to our older guests, which helped make our party a success. We would definitely have John entertain at our next affair. He has a nice way of including everyone and he has a good selection of music for all ages.
Baby Shower•Reviewed on May 2, 2009•From Colts Neck, NJ
John was PHENOMENAL at a shower/brunch for 150 people. His voice and arrangement were wonderful, he knew how to judge the tone of the affair.People asked me where I found him --he was so good. And, he was just a kind, nice man. very professional and reliable, emailed me and called me to confirm all beforehand. Definitely recommend him highly
Birthday Party (Adult)•Reviewed on July 5, 2008•From Bayonne, NJ
John made our party glow. My friends were delighted with his show and everybody was asking how to hire him. My friends were dancing and even singing with him. John contact me as soon as I booked him and a week before the event. He was punctual and courteous. It couldn't be better. I hope my husband hires him for my birthday! LOL.. Thank you John...... you are awesome!!!
Meeting•Reviewed on November 6, 2015•From Livingston, NJ
John is a very talented musician and singer. He delighted the audience with his wonderful performance at the AARP meeting on November 6th. John chose songs by familiar artists so our members were singing along. Some even danced. John 's pleasant personality makes for a likeable performer. He certainly pleased this crowd. I highly recommend John and hope to have him back with us in the future.
Birthday Party (Adult)•Reviewed on September 12, 2015•From Pittstown, NJ
John was awesome !! We hired him for a housewarming party. We had about 70 people. Everyone had a great time singing and dancing. I would HIGHLY recommend using him !!!
Birthday Party (Adult)•Reviewed on March 17, 2013•From Middletown, NJ
John was a pleasure to work with. He was very accomodating and willing to go the extra mile in order to make my event perfect. He got the party guest involved even allowing the kids to grab an instrument or two to accompany him with a song selection. My guest were complimentary towards him because the music and his singing was not overly loud or soft which allowed them to enjoy the music while at the same time being able to converse with the other guest at the table. It was a perfect blend. John is a very nice person as well as professional. I would highly recommend him and wouldn't hesitate to use him again in the future.
Cocktail Party•Reviewed on September 22, 2012•From Glen Ridge, NJ
John did a great job with the playlist. The crowd loved his music! He was also accommodating by putting one speaker outside and adding extra time at the end. I would definitely hire him again!
Birthday Party (Adult)•Reviewed on August 5, 2012•From Warren, NJ
John is a very talented performer...great voice and guitar player. He received many complients from the guests at the party...John really got the crowd up on the dance floor.
Christmas Party•Reviewed on December 16, 2011•From Staten Island, NY
John Baragone was great! Not only is he very talented, he is very accommodating (not an easy task with the crowd who attended the event) and a genuine nice guy! His talents are very disversified. He sings and plays the guitar very well and if you are interested in Karaoke, it's not a problem. We took advantage of all of John's talents and the result was a great time for all. Not only would I hire him again, I would recommend him to anyone! The price was great and a good time was had by all.
Celebration•Reviewed on November 22, 2011•From Mountainside, NJ
John was fun, funny nice personalble with a great singing voice and good back up music. He was perfect for the venue especially because there was NOT much room to fit a tradtional band or group. He really was a ONE MAN BAND! Thank you GigMasters and John. jadis
Picnic•Reviewed on July 23, 2010•From Somerville, NJ
Wonderful performer and willing to please.. Wonderful picnis because of him
Private Party•Reviewed on September 12, 2009•From Hackettstown, NJ
John was very accommodating due to weather conditions!! Not many would have continued playing under these conditions. John, thank you again for helping to make our engagement party such a success, Peter
Graduation Party•Reviewed on June 20, 2009•From Matawan, NJ
Thank you John for entertaining our guests in our twins' graduation party. They had a great time listening to your songs and even dancing while you were performing. Your songs catered not only with adults but also with the teens as well. Your karaoke is a plus. EVERYBODY ENJOYED THE PARTY! Thanks again John for making the twins' party a memorable one. Take care and Goodluck to your future gigs. Shirley
Birthday Party (Adult)•Reviewed on June 9, 2019•From West Orange, NJ
Very accommodating to requests, perfect for our guests of all ages!
Birthday Party (Adult)•Reviewed on June 15, 2018•From Wyckoff, NJ
John was awesome. The whole group was singing along with him and enjoying every minute. He really connected with the audience and is super talented. We all had a great night. Can't wait to hire him again!
Holiday Party•Reviewed on December 13, 2017•From Raritan, NJ
John was great !!!