Back to profile
Glenn Kramer Reviews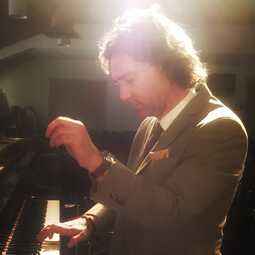 Avg 5.0 | 39 Reviews

Pianist from Beverly Hills, CA

75 Verified Bookings
Starting at $100 per hour
---
39 Reviews for Glenn Kramer
Wedding Ceremony•Reviewed on June 22, 2019•From San Diego, CA
We were so happy with Glenn! He played for our wedding ceremony and everything was perfect! Thank you so so much!
Glenn Kramer:
Kasie, I'm so grateful for the 5-star rating, that was so kind of you!!! I always enjoy performing for weddings and yours was especially beautiful! You were so great to work with! Congratulations again and thank you for allowing me the privilege of performing music for your special day! Warm regards, Glenn
Wedding Reception•Reviewed on May 4, 2019•From San Diego, CA
Great musician ! Will hire again
Glenn Kramer:
Dear Juliette, It was a pleasure to entertain at the piano for the wedding last weekend, thank you very much for the positive feedback, it was a joy working for you and being part of this important day!
Private Party•Reviewed on December 15, 2018•From Chula Vista, CA
Glenn Kramer was very talented, and an absolute delight to work with. He played what ever we wanted, and had a great mix of contemporary and Christmas music for our Christmas Party. We did some sing alongs, which he could definitely handle. 5 stars all the way around.
Birthday Party (Adult)•Reviewed on March 3, 2018•From Escondido, CA
I will summarize our experience with Glenn by simply saying he was as punctual, as he was professional, personable, and talented. We were very pleased with the range of pieces he performed and his ability ability to engage/involve our party guests. We would not only recommend Glenn to others, but we will very likely request his services again! Highly recommended!
Glenn Kramer:
Dear Justin, I'm am so dearly grateful for your positive review of my performance. Thank you again for inviting me to take part in this special birthday for your wife's 34rd birthday celebration. I enjoyed all the requests I received, and everyone was so nice and welcoming for me. Please stay in touch, my personal email is gk@glennkramer.com Have a wonderful week ahead. Warm regards, Glenn
Birthday Party (Adult)•Reviewed on July 29, 2017•From San Juan Capistrano, CA
Glenn is terrific. I had him play for my 80th. and now my 85th. and if God willing I live to 90 I will have him play again. Robert Hilton
Birthday Party (Adult)•Reviewed on January 28, 2017•From San Diego, CA
I hired Glenn for an intimate 80th birthday party. He was a consummate professional. Glenn is an amazing pianist - so talented - he plays a wide range of music. Everyone loved him and his playing made the party very special. He was gracious and warm with our guests who had requests. I recommend him to anyone looking for a pianist.
Event•Reviewed on January 15, 2017•From Poway, CA
I wanted someone to play piano while my party (25-30 guests) ate dinner and then lead a sing-along afterwards. Glenn arrived promptly, was personable, and took requests while he played during dinner. Everyone was impressed with his skill-- both his accomplished playing and his light touch that allowed for conversation. During the sing-along, he again took requests. He also made suggestions of songs we might know and like to sing. His repertoire was extensive and he played everything we wanted to sing beautifully. My only quibble was that he is not an accompanist, so he occasionally played ahead as we struggled for lyrics. All my guests were wow-ed.
Glenn Kramer:
hi Barbara! Thank you again so much for inviting me to perform for your party, and I was so pleased with the feedback that you left for me. I am very grateful to have had this opportunity to share my enjoyment of music with you, your friends, and family. Please keep me in mind again anytime you'd like piano for your parties. I love doing the sing-along, so hopefully we can do more of that in the future! Have a wonderful rest of the week!! Warmest regards, Glenn
Celebration•Reviewed on October 29, 2016•From San Diego, CA
Glenn Kramer was great to communicate and work with. He was so accommodating! He even asked what we would prefer him to wear. We gave him special songs in advanced but he said we could make requests during the event too. The song choices were endless and he played beautifully! Thank you!
Birthday Party (Adult)•Reviewed on August 26, 2016•From San Diego, CA
Glenn is fantastic! So charming and so accommodating and most of all a real talent with the ability to appeal to all tastes! Thanks Glenn for making my brother's birthday so special! Claudette
Celebration•Reviewed on June 11, 2016•From Menifee, CA
We hired Glen for our son graduation party, he conducted him self very professionally,he was very friendly and accommodating. We were very happy and satisfied with the service he provided for us... i would recommend him to our friends and family and use his service in the future.
Glenn Kramer:
Thank you so much for your wonderful rating of my performance, Margie, I sincerely appreciate it! I was delighted to perform for such an important event, and your friends and family were all sincere. I enjoy playing requests, and I received several great ones! Please keep me in mind again if you ever need another pianist. Your piano was a breeze to perform on! Warmest regards, Glenn Kramer
Wedding Ceremony•Reviewed on April 25, 2015•From El Cajon, CA
My goodness, Glenn was a fabulous part of our son Troy & his girl Megan's wedding. I have never heard my baby grand piano sound so wonderful. All the guests commented on how special the music was and how they loved his selections. I'm so glad we had him play the piano and not an electric keyboard as our DJ suggested. We had the DJ mike the piano and the sound was clear and beautiful for both the front yard reception and the back yard wedding. Thank you so much for being part of their special day - we highly recommend you to ALL!
New Year's Eve Party•Reviewed on December 31, 2014•From San Diego, CA
Glenn emailed me in advance with what he intended to wear, what time he would arrive and asked for any special requests. He was so prepared and professional. Our party was a combination of New Year's Eve and my son's 30th birthday. We had guests ranging from 21 to 60. Glenn has an amazing song book organized by year, genre, artist, any thing you can think of. It made it so easy for my guests to find something they liked. He took requests all night and was so accommodating, even with our marginal singing. I was impressed with the sheer quantity of pieces he knew, even playing some that were not in list of thousands! I would hire Glenn Kramer again and plan to.
Thanksgiving Celebration•Reviewed on November 27, 2014•From Costa Mesa, CA
Wonderful experience. Would hire Glenn for any future event. Very accommodating.
Country Club Event•Reviewed on November 2, 2014•From Rancho Santa Fe, CA
I booked Glenn for one of my clients of Rancho Santa Fe Flowers & Gifts and he WAS A HIT! Great follow-up and listened to my needs. He was on TOP of it and my client was over the moon having him play during their dinner time. Even had him stay longer as they were having so much fun!
Wedding Reception•Reviewed on February 8, 2014•From La Jolla, CA
Glenn did such an AMAZING job playing the piano on our wedding reception! He is a very talented and gifted musician! I highly recommend Glenn!
Holiday Party•Reviewed on December 10, 2013•From San Diego, CA
For the second time, we are delighted with the music provided by Glenn Kramer for our holiday party in December, 2013. We would most definitely hire Mr. Kramer for a THIRD time! Do not hesitate to book this talented, personable entertainer!
Birthday Party (Adult)•Reviewed on January 19, 2014•From Chula Vista, CA
Fantastic. Glenn was on time. He played the genre we requested and was very entertaining. Would happily hire Glenn again for our next event.
Wedding Reception•Reviewed on November 8, 2013•From Yorba Linda, CA
If you're looking for a pianist, you can stop your search now and hire Glenn Kramer. We hired Glenn for our wedding reception and we could not be happier. Yes, he plays beautifully and his range of songs is incredible. And yes, his rate is very competitive. What really sets Glenn apart is his professionalism and his focus on the client. From the very beginning, Glenn was one of the few people we hired who really made my wife and me feel special and that they were honored to play at our wedding. Any bride and groom (or host and hostess) will agree that that feeling makes a world of difference on your important day. Can't wait to hire him again for a future event!
Wedding Cocktail Hour•Reviewed on October 26, 2013•From San Diego, CA
Glenn was absolutely the best! He was so professional and very communicative. He made my wedding cocktail hour amazing! He had my best interest at heart. He even called me to ask me if a suit or tux would be best for my wedding. I thought that was extremely considerate since it was a formal occasion. I would recommend Glenn to everyone!
Club Event•Reviewed on June 25, 2013•From San Diego, CA
Mr. Kramer completely fulfilled our needs for entertainment at our recent evening dinner celebration. He was easy to contact and helpful in planning the event, arrived early, was courteous and over all a very, very pleasant person. He seemed to truly enjoy playing for our event! His talent at the piano is astonishing and we would hire him again in a flash. We strongly recommend Mr. Kramer to anyone seeking a professional pianist! San Diego Downtown Lions Club
Birthday Party (Adult)•Reviewed on February 9, 2013•From San Diego, CA
Glenn was the perfect choice for our birthday Cabaret Party. He clearly put a lot of thought and effort into the spirit of the event. He has a vast and appropriate repertoire. Our guests raved about him. Some even danced. Several asked for his contact info. His lively, easy playing style suited our party so well and his personal charm added to its success. I was impressed with how conscientious he was about communicating with me before the party regarding every little detail. He's a gem and we will be booking him again, no question.
Celebration•Reviewed on December 29, 2012•From San Diego, CA
Glenn provided music for our Blessing and Commitment Ceremony in December at St. Paul's Cathedral. He met with us before the event to discuss the timing, song selections and even the best placement for the piano! Nothing was too much trouble for him and he went out of his way to ensure that our day would be special. At our request, Glenn quickly learned a new song that has special meaning to us and played it beautifully as we entered the reception hall. We received many compliments from our guests regarding Glenn's artistry, versatility and professionalism. We highly recommend Glenn and look forward to hearing him play again. Richard Lee and Antonio Pena Ruvalcaba
Corporate Function•Reviewed on January 5, 2013•From San Diego, CA
Glen was the perfect compliment to my client's corporate event. He played upbeat pieces with a smile on his face. I received many compliments on his behalf and we look forward to working with him again. Thanks Glen! Liz Beck Liz Beck Events (dot) com
Club Event•Reviewed on October 3, 2012•From La Quinta, CA
WOnderful addition to our night
Wedding Cocktail Hour•Reviewed on September 22, 2012•From San Diego, CA
We hired Glenn to perform at our wedding on 9/22/12 and were absolutely thrilled with both his performance and professionalism. Leading up to the event Glenn maintained regular contact confirming the details of the event including arrival time, dress code, preferred playlist request, etc. Glenn was absolutely on point in all of these areas!! On the performance side, Glenn is clearly a master of his craft. His current playlist is something like 160 pages and his range is huge! In addition to the playlist, Glenn demonstrated his versatility by accepting any requests from our guests. We really enjoyed having Glenn play our wedding and highly recommend him!