Back to profile
Key Elegance Reviews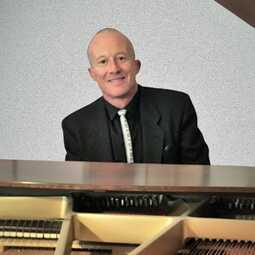 Avg 5.0 | 44 Reviews

Pianist from Lexington, NC

97 Verified Bookings
Starting at $200 per event
---
44 Reviews for Key Elegance
Private Party•Reviewed on December 17, 2022•From Sparta, NC
Steve was perfect for our holiday event; everyone in attendance loved his selection of songs and his presence turned what would have been an ordinary event into an extraordinary time for all!
Wedding Cocktail Hour•Reviewed on November 3, 2018•From Charlotte, NC
Phenomenal ! Hope to have Steve Shoaf pianist for other events in future . Couldn't have been more perfect for our setting . Super polite and accommodating , could not have asked for better .
Wedding Reception•Reviewed on September 15, 2018•From Winston Salem, NC
Steve was the perfect musician to have for our wedding reception dinner. He did a great job of "reading the room" and playing appropriate music and was very kind to play our guests' song requests. Very professional and talented! Highly recommend!
Holiday Party•Reviewed on December 16, 2017•From Charlotte, NC
Steve was amazing. Everyone at the party loved his playing. I will definitely book him again.
Private Party•Reviewed on August 25, 2017•From Elon, NC
It was a pleasure working with Steve. Everyone enjoyed the music. He was there on time and was very professional.
Wedding Reception•Reviewed on April 30, 2017•From Winston Salem, NC
ONE WORD- AMAZING!!! We had Steve play at the Graylyn Estate for our wedding reception and also during our cocktail hour. When the ceremony was over and we came in Steve had picked up right where the music left off!! It was brilliant and we got SO MANY compliments. I LOVED his selection of music, it was SO PERFECT!! It was kind of a last minute decision and I had some switch ups with Steve on the times but he was very flexible and accommodating and we couldn't of been happier with our choice. THANK YOU STEVE FOR THE INCREDIBLE MOOD-SET IN THE ENTIRE ROOM EVERYONE THOROUGHLY ENJOYED IT!!!
Wedding Ceremony•Reviewed on August 6, 2016•From Charlotte, NC
I hired Steve to accompany a vocalist for my wedding ceremony at the Charlotte City Club. Since the vocalist was a personal friend of mine traveling into Charlotte for the wedding, Steve was not able to rehearse with her until the day of the wedding. He was very responsive throughout the planning process, he was flexible and able to work around our schedule the day of the wedding to rehearse with her, he was skillful playing the music and able to improvise where needed, and his rates are very fair. The vocalist had excellent things to say about working with him and I agree. I would highly recommend booking Steve!
Birthday Party (Adult)•Reviewed on March 6, 2016•From Matthews, NC
We had a small Birthday party for my 90 year old husband and we all enjoyed the music that Steve Shoaf played.Steve added to the event in a positive way. Would invite him to another event. Barbara
Rehearsal Dinner•Reviewed on June 19, 2015•From Greensboro, NC
What a nice touch Steve added to our son's rehearsal dinner! Awesome talent and very easy to work with. He was punctual, professional, and our guests loved hearing him play the piano during our cocktail hour and dinner. I could not have been more pleased and would not hesitate to book Steve again for another event. Highly recommend!
Private Party•Reviewed on May 29, 2015•From Mooresville, NC
Steve did an excellent job! I would recommend his service.
Wedding Ceremony•Reviewed on April 4, 2015•From Gold Hill, NC
We were extremely pleased with Steve's performance at our daughter's wedding at Gold Hill. We highly recommend him!
Wedding•Reviewed on December 27, 2014•From Charlotte, NC
Steve was outstanding and I am so happy we selected him for our wedding. He delivered exactly what we were looking for with very little direction. The night wouldn't have been the same if he wasn't there playing. He added so much enjoyment to the evening.
Christmas Party•Reviewed on December 11, 2014•From Salisbury, NC
Steve is extremely talented and easy to work with.
Review by Erin Elizabeth S.
Wedding Ceremony•Reviewed on July 24, 2010•From Gold Hill, NC
Steve's talent and presence at our wedding made it even more spectacular than we could have ever imagined! He was accommodating with the selections, communicated clearly with us as we planned in the months prior to the event, and made such a perfect addition to our ceremony and reception. I cannot tell you how many of our guest commented on Steve's performance and how unbelievably talented he was. Thank you, Steve, for not only your contribution musically, but also your kindness and flexibility! We HIGHYLY, HIGHLY, HIGHLY recommend Steve Shoaf for any event you may be considering! With warmest regards, Erin and Rick Harbaugh
Anniversary Party•Reviewed on March 19, 2011•From Asheville, NC
Steve added so much value to our party. He played for 2 hours at my parents anniversary party, and was very happy to add in "special songs" that were meaningful to my parents. Two things that made Steve stand out - he added his professional experience to help me craft the "perfect evening" for my parents, and that helped a lot. In addition, he took requests and went so far as to look up a song on his iphone so he could hear it, then play it for us. And he was flawless! Excellent vendor, and I'd hire him again in a heartbeat!
Community Event•Reviewed on September 23, 2011•From Monroe, NC
Steve was phenomenal - particularly given that there was a mix-up in dates and was still able to perform at our business event. Additionally, he went out of his way to make sure he arrived on time at a venue that was a fair distance away. His performance was wonderful, fitting in perfectly with the ambiance our organization wanted to capture for a gathering of local business leaders. Our guests truly enjoyed his music and many compliments were paid to him as to how beautifully he played. I would not hesitate in the slightest to hire Steve again - extremely professional, prompt in contact regarding the event and a wonderful pianist!!!!
Wedding Reception•Reviewed on January 1, 2011•From Asheville, NC
Words can't describe the talent of Steve Shoaf! We very were honored to have him play at our wedding reception in Asheville. He was more than accommodating when it came to traveling to our venue and taking into account our special requests. He set the perfect mood for dinner and also for dancing that followed. I would recommend Steve Shoaf if you want a wonderful musician!!
Wedding•Reviewed on October 17, 2009•From Raleigh, NC
Steve Shoaf saved our wedding! The pianist we had hired a year before the wedding was unable to play and gave us very little notice. Steve was kind enough to step in just a few weeks prior to our date...he knew all the ceremony music even though they were not "traditional" songs. He played thru our cocktail hour as well as dinner and everyone commented on how wonderful his playing was. His music set a wonderfully romantic, elegant background for our affair. We will certainly recommend him to others! Many Thanks, Jason and Kristin Neal
Wedding Ceremony•Reviewed on November 17, 2012•From Cornelius, NC
Steve was a key part in making our wedding day truly complete. His talent, professionalism, and flexibility was incredible. His huge variety of music made it very easy to select songs for our wedding and cocktail hour. His quick responses with emails and familiarity with The Peninsula Yacht Club eased my mind during the planning phases. Steve added an element of class and talent that helped to set the tone for our perfect wedding day. I would definitely recommend Steve to anyone who needs a professional, experienced, talented pianist at their event!
Wedding Cocktail Hour•Reviewed on December 14, 2012•From Cleveland, NC
Steve helped create a perfect ambiance at our wedding - both for the ceremony and after party! Reasonably priced, and very professional. Thanks, Steve!
Birthday Party (Adult)•Reviewed on November 21, 2009•From Winston Salem, NC
Steve was extremely accomodating to every request. He was very pleasant, professional and very talented. His performance added that "special touch" to a night that was very special for all who attended. I appreciate the ease of working with him and through Gigmasters. If the needed arises for a musical performer and/or the Gigmaster services, I will be sure to start my search at gigmasters.com. Thanks again! Nicole Hernandez
Wedding•Reviewed on March 14, 2015•From Charlotte, NC
Very professional. Steve learned the music we requested for our wedding and brought his own equipment. Would definitely recommend!
Graduation Party•Reviewed on August 7, 2010•From Matthews, NC
Very pleased with Steve's performance. I would highly recommend him to friends and family. I would certainly use him for any future parties or events. Dr Monique Hudson-Charles-Pierre
Corporate Function•Reviewed on October 19, 2007•From Charlotte, NC
Steve was just the person we were looking for to perform at our event. In the past for this function at our Annual Meeting we have hired a band. Steve's talents added the finishing touch to this year's event. We will definitely request him again and also recommend him to others! -Richard Skinner Director, Annual Meeting North Carolina Medical Society
Corporate Function•Reviewed on November 30, 2006•From Charlotte, NC
Steve a punctual, friendly, professional, and unobtrusive to our event. He added significantly to the ambiance and I am very pleased that we chose him.