Back to profile
RSVP Reviews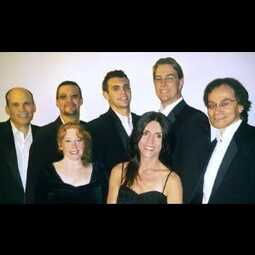 Avg 5.0 | 110 Reviews

Dance Band from Pound Ridge, NY

195 Verified Bookings
Starting at $500 per event
---
110 Reviews for RSVP
Birthday Party (Adult)•Reviewed on November 18, 2022•From Port Chester, NY
We were celebrating my 50th birthday. Everything for the whole party was planned by my wife - my contribution was choosing the music that I listen to and a band that plays the same. And we were so glad we chose RSVP. They were fantastic. The worked with me in developed the playlist and added a few songs that were not on their usual list. The guests enjoyed the songs and RSVP set the mood for the guests to be on the dance floor. Just the right kind of music for most of the guests who were in the 50s club. Highly recommend them.
Birthday Party (Adult)•Reviewed on October 1, 2022•From Glen Cove, NY
Tremendous group and extremely professional. All the guests were impressed.
Birthday Party (Adult)•Reviewed on September 24, 2022•From Redding, CT
Honestly, I could not recommend this band more highly. They are as talented as they are friendly, as professional as they are approachable. Every single person at the party commented on their high level of play, the variety of songs they played, and their great personalities. I wish I had found them for my wedding!
Wedding Reception•Reviewed on September 9, 2022•From Ossining, NY
The band was just awesome for our wedding reception, they sounded perfect! All of our guests had fun all night dancing, singing along and just partying. They even let me play drums on a couple songs. They really helped making our wedding night something everyone will never forget. If you need a wedding band I would definitely call RSVP for the job!!
Birthday Party (Adult)•Reviewed on August 20, 2022•From Newington, CT
The band was excellent. They were nice and professional and helped make our party a memorable experience. I would highly recommend.
Birthday Party (Adult)•Reviewed on May 29, 2022•From Stamford, CT
Birthday Party (Adult)•Reviewed on August 28, 2021•From Manhattan, NY
Hire this band! Brilliant performers, superb music and outstanding professionalism! They made our party a rocking success. All our guests (an international crowd) loved their music and singing. They have a very wide repertoire and can really get the party going. The band was hands-down the highlight of the party.
Birthday Party (Adult)•Reviewed on August 13, 2021•From Stamford, CT
RSVP was amazing, their sound was perfect! They engaged the crowd and everyone raved about them ??
Birthday Party (Adult)•Reviewed on June 12, 2021•From West Hartford, CT
This band is a must have for any function!! Fantastic experience. Very accommodating. Friends and family are raving about the quality of the performance.
Wedding Reception•Reviewed on June 20, 2021•From Riverhead, NY
They were totally amazing and surprisingly affordable. You can't go wrong.
Wedding Reception•Reviewed on October 3, 2020•From Pearl River, NY
They were fantastic! They played at my wedding and I got so many compliments on my band. They took all my requests and were very organized. Suggestion to anyone looking to book these guys....GET THE HORNS. They elevated the music so wonderfully.
Birthday Party (Adult)•Reviewed on July 6, 2021•From Madison, CT
Very talented, friendly and enthusiastic. Will certainly be recommending to friends and family!!
Wedding Reception•Reviewed on September 14, 2019•From Morristown, NJ
They were AWESOME!! We used them for a wedding reception, they were professional, talented and played what we wanted. They met with us beforehand to make sure they knew what we wanted. On top of it all, they were reasonably priced!
Retirement Party•Reviewed on June 29, 2019•From Middletown, CT
RSVP played for my Retirement Party on 6/29/2019. All I can see is what a tremendous group. Very talented musicians and a dynamite lead Singer. Wow, their performance blew the crowd away. Non stop dancing, and a group that was very personable and a joy to deal with. This is NOT your average Wedding band, I highly recommend them for any function were you want quality music and non stop dancing. By the way, I am booking them for June 2020, as we promised our friends we would bring the Band Back. George P Middletown CT
Wedding Reception•Reviewed on June 8, 2019•From Centerport, NY
The BEST!! We are so happy we chose RSVP for our wedding. They kept the night running smoothly and had a dance party going the entire time. They were so much fun and they had a more diverse song selection than you're typical wedding band.
Wedding•Reviewed on May 4, 2019•From Cortlandt Manor, NY
We hired RSVP for our wedding ceremony and reception on May 4, 2019. They were absolutely amazing and made our wedding music better than we ever could have dreamed. Joe was very easy to work with throughout the entire process. We were also blown away by the range of songs they offer and that they were able to learn several songs that have special meanings to us. They had all our guests on the dance floor all night long and still have our guests talking about how great the band was. We would highly recommend RSVP for any occasion. We cannot thank them enough!
Birthday Party (Adult)•Reviewed on April 27, 2019•From New York City, NY
Amazing band, stellar performance and true professionals. I couldn't recommend them more!
Wedding•Reviewed on June 2, 2018•From Poughkeepsie, NY
RSVP was nothing short of amazing! They were so easy to work with throughout the entire process and on the day of, they were professional and self-sufficient. They had no issues with our requests for pieces we wanted played or ones from their list which we did not. Their performance was above and beyond what we were expecting. Everyone at the wedding thoroughly enjoyed them (and still talks about how amazing they were) and filled the dance floor all night long. If you're looking for a band that will put your wedding above everyone you've ever been to, look no further than RSVP. Professional, affordable, fun, easy-going, memorable and a blast to work with.
Birthday Party (Adult)•Reviewed on November 24, 2018•From Katonah, NY
RSVP were such a fabulous, talented, accommodating, energetic and fun band!! Everyone at our multigenerational surprise birthday party were blown away by them, and many asked for contact info. RSVP got the dancing going then kept people out there for hours - they truly seemed to be happy watching everyone have so much fun, and even played through a break. At the end everyone begged them for one more song, which they were happy to play. Thank you so much, RSVP, for making our dance party a huge success!!
Birthday Party (Adult)•Reviewed on October 6, 2018•From Butler, NJ
Great, talented group of musicians and vocalists with a wide range of music, Something for everyone.
Anniversary Party•Reviewed on August 18, 2018•From Centerport, NY
They were fantastic!!!! The band and lead singer were wonderful. Our guests and my family had a wonderful time. Thank you for making this a wonderful event!!!!! I puked give this band my highest recommendation!!!!!
Private Party•Reviewed on September 13, 2018•From Long Pond, PA
Absolutely fantastic! RSVP gave us an awesome, fun performance from start to finish. Our guests raved for days about how much they enjoyed this super talented band.
Anniversary Party•Reviewed on September 8, 2018•From White Plains, NY
We wanted to create a party atmosphere and RSVP really made the place come alive. Their musicianship is incredibly good and the vocals, superb. We couldn't have been more pleased. Everyone complemented the band and the music and we were able to choose so many songs we liked from their extensive list. We would definitely hire RSVP again and would highly recommend them.
Birthday Party (Adult)•Reviewed on July 21, 2018•From Fairfield, CT
Loved the band they were awesome and everyone at my 50th party had a great time! Would hire them again for sure!
Prom•Reviewed on May 17, 2018•From Wallingford, CT
A wonderful group......listened to our requests and the residents truly loved them!!!!