Back to profile
Kris Kringle Reviews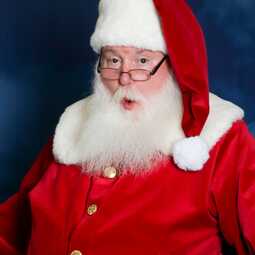 Avg 5.0 | 40 Reviews

Santa Claus from Ridgefield Park, NJ

117 Verified Bookings
Starting at $275 per event
---
40 Reviews for Kris Kringle
Birthday Party (Kids)•Reviewed on December 21, 2013•From New Providence, NJ
Great experience with Kris Kringle. He showed up early, was well prepared and the kids (11) ranging in age from 10yrs to 4 mths all had a great time. Would highly recommend him to anyone!!
Private Party•Reviewed on December 14, 2013•From Clark, NJ
Kris was absolutely delightful. He was very accommodating: he posed for many, many pictures; he ran the roulette wheel for me, which everyone loved; he passed out all the gifts , even though everyone was scattered around the hall, and he was very very patient with all those, including myself, who had done a little too much celebrating. I would highly recommend he and your company in the future. It was especially appreciated that he had driven in, even due to the bad weather, even though 52 of my guests could understandably not attend. So, in closing please accept my sincere appreciation for a wonderful overall experience.
Christmas Party•Reviewed on December 8, 2013•From Ridgewood, NJ
Indeed, Kris Kringle is the Real Santa! Absolutely wonderful to work with! Just Perfect! Charming and delightful he had the children (and adults) enamored! Best Santa ever!
Awards Night Party•Reviewed on November 2, 2013•From Totowa, NJ
everything thing was perfect. Could not ask for more.
Private Party•Reviewed on October 29, 2013•From New York City, NY
A pleasure to work with!
Event•Reviewed on September 27, 2013•From Montclair, NJ
Kris Kringle was an excellent communicator before the event, a great model who took directions well and looked great despite heat wave; he was a hit with staff, production crew, and the public; and was all-around perfect for the job. A great photo shoot! Highly recommend!
Private Party•Reviewed on December 18, 2012•From New York City, NY
We had a wonderful experience with the real Kris Kringle. Expert in character and appearance, easy to work with, and willing to take it an extra step beyond expectations. I would highly recommend.
Celebration•Reviewed on December 24, 2012•From New York City, NY
Kris Kringle made our Christmas spectacular! He was extremely professional, accommodating and overall entertaining. Looks just like the real Santa Claus. I would recommend him to anyone looking to hire a Santa, he's the best ! Kris was so believable, even the adults were on line to take a picture with him.
Christmas Party•Reviewed on December 21, 2012•From Cresskill, NJ
Kris Kringle was fantastic. Very professional from beginning to end and never broke out of character. he truly had a way wtih the children and adults at the party and i am looking forward to having him at the same party next year. the kids really were amazed and believe it!
High School Reunion•Reviewed on December 1, 2012•From Staten Island, NY
Christmas Party•Reviewed on December 1, 2012•From Brewster, NY
Proffesional, believable, generous. A good time was had by the kids and the adults.
Christmas Party•Reviewed on December 24, 2011•From Parsippany, NJ
Kris was perfect! A GREAT Santa who was very thoughtful in terms of what things he could do to make my daughters experience more special and convincing. All of our guests were entertained and asked where we got Kris. You should have seen my daughters face when he pulled her letter out of his pocket!! He helped restore a little girl's faltering belief in Santa Claus!I would recommend him without reservation, but not for My Time, next Christmas Eve!!!
Restaurant Event•Reviewed on December 17, 2011•From Hoboken, NJ
He was a little late but it wasnt a big deal and we stayed on the phone while he found the restaurant. Very authentic and everyone was happy!
Christmas Party•Reviewed on December 1, 2011•From Woodcliff Lake, NJ
We were delighted to have found the real Santa Claus for our event! Mr. Kringle was a pleasure to work with and he has great humor, wit, and charm. He made each child feel special and handled every situation with ease. Thanks again Kris, we hope you can come again next year!
Christmas Party•Reviewed on December 24, 2010•From Wyckoff, NJ
The children were thrilled with the magic tricks. His Manner of talking with them had them spellbound. He IS the real Santa. He gave each one special time. My daughter wants him to babysit. Sounds like a new gig for gigmasters. Wonderful experience