Back to profile
Gordon Michaels-Nat King Cole, Blues, Soul & More Reviews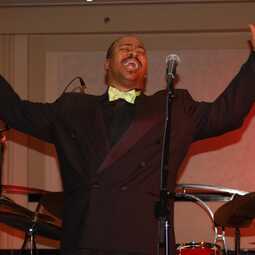 Avg 5.0 | 25 Reviews

Variety Singer from Boston, MA

28 Verified Bookings
Starting at $350 per event
---
25 Reviews for Gordon Michaels-Nat King Cole, Blues, Soul & More
Club Event•Reviewed on January 6, 2022•From Mashpee, MA
Gordon sings anything from jazz to country to broadway! He was a breath of fresh air after our club did not meet for over a year. This was a repeat performance for us. Gordon never disappoints!
Wedding•Reviewed on October 16, 2021•From Manchester, MA
Gordon worked with me on our wedding ceremony and reception music and learned to sing a hymn and another song as part of the way he accommodates the client. He has a spectacular voice and entertaining manner. I had so many guests comment on how talented he is and where did I find him? (The Bash). I highly recommend Gordon as someone who can really make your event special! Thank you Gordon
Wedding Ceremony•Reviewed on November 14, 2020•From Farmington, NH
Very professional and friendly! Awesome to work with! He learnt the songs I requested and sung beautifully.
Gordon Michaels-Nat King Cole, Blues, Soul & More:
Thank you so much it was a pleasure to be a part of your special day. God Bless you both. Gordon
Community Event•Reviewed on March 2, 2020•From Boston, MA
Gordon was AMAZING. We hired him for a Memory Cafe (large group of Seniors) who specifically wanted to hear hymns, soul music and Motown. He did an amazing job giving this audience what they asked for- he had people singing, dancing and laughing!
Club Event•Reviewed on January 7, 2020•From Mashpee, MA
Gordon delivers and then some!!!!!! Great variety of music and an ending that left a large crowd standing!!! HIs pianist is also fabulous!!! Very personable and professional and left us wanting more. He left us wanting more! Definitely will hire again!!!!
Funeral•Reviewed on November 21, 2019•From Boston, MA
Gordon blessed my grandmother's funeral with his lovely voice. I believe everyone commented on how I picked the perfect vocalist. His voice is very strong and for the ocassion. His ability to show up within a 24 hours notice and sing a requested song and deliver one that was so beautiful showed his true talent, experrise, and skill. He was professional, presentable, and showed up on time. On behalf of me and my family, we thank you. Deidre Pritchett
Gordon Michaels-Nat King Cole, Blues, Soul & More:
OMG what a wonderful blessing of a review to wake up to this morning. Thank you and your family so much for making me apart of such a very special moment for all of you. May God Bless and keep all of you safe from harm. Again so sorry for the loss of what seem to be a great woman. My Mom is also from Alabama and i was born there. Gordon
Corporate Function•Reviewed on June 13, 2019•From Andover, MA
Gordon Michaels was a consummate professional and his performance was fantastic. He brought so much energy to the event and our attendees (aprox. 150) commented on how much they loved Gordon. He is very accommodating and pleasant to work with. On time, communication before event, during and after was awesome. I would definitely book Gordon again.
Nursing Home Event•Reviewed on March 19, 2019•From Belmont, MA
Gordon provided an amazing performance for our residents and their families!! His music could be heard throughout the building and all the staff came to me after, complementing his voice! Gordon kept all of our residents awake and engaged! Beautiful selection!! Overall, an excellent performance!! Would highly recommend!!
Wedding Ceremony•Reviewed on June 23, 2018•From Westerly, RI
Gordon did a wonderful job with our wedding ceremony. He was professional, prepared, and has an amazing voice. We would highly recommend him to anyone!
Gordon Michaels-Nat King Cole, Blues, Soul & More:
Clemmie, Thank you so very much for the very kind review. It always helps to get a glowing review like this. I am pleased that you were happy with my services and talent for your very special day. It was beautiful and was glad I could be apart of making it just what you wanted. God Bless, Gordon
Community Event•Reviewed on July 11, 2017•From Randolph, MA
Mr. Michaels did a wonderful job performing for our arts in the park concert series. He was talented & very professional. We enjoyed having him perform for our town program.
Birthday Party (Adult)•Reviewed on April 15, 2017•From Scottsdale, AZ
Nursing Home Event•Reviewed on April 11, 2017•From Belmont, MA
Gordon gave a wonderful performance for our residents! Some of our residents have been asking for more "inspiring music" and they were very impressed with Gordon's performance! He has a beautiful, substantial voice, and a nice friendly personality. We will definitely have Gordon back to perform for us again soon!!
Gordon Michaels-Nat King Cole, Blues, Soul & More:
Hello, Thank you so very much for this glowing review. I so enjoyed my time singing for the residents there in Belmont. They were just a joy. I will come back anytime. Gordon
Christmas Party•Reviewed on December 21, 2016•From Methuen, MA
I would not hesitate to have Gordon back with us. He did a great job and was very well received by the crowd. The only constructive criticism from the seniors would be for a few more Christmas melodies. Other than that it was a very big success and we would have him back any time!
Church Service•Reviewed on October 2, 2016•From Hudson, MA
Gordon blew our socks off at our church service! His vocal talent surpasses what videos capture. We loved him and would highly recommend him. Watmly, Carole, Music Director, UCMH
Gordon Michaels-Nat King Cole, Blues, Soul & More:
Hello Carole, Thank you so very much for the glowing review. Feel free to call on me anytime.
Anniversary Party•Reviewed on September 17, 2016•From Boston, MA
Gordon was an excellent singer and showman.
Gordon Michaels-Nat King Cole, Blues, Soul & More:
Hello Linda, Thank you very much for the awesome rating. the more detail you give the better it helps others that find me get more booking because of what you say. So any details you would care to add is always appreciated. It was a true pleasure singing for you all last night. Feel free to call on me anytime. Gordon
Club Event•Reviewed on July 16, 2016•From Stratford, CT
He was fabulous.....150 people and they can't wait for his return engagement!!! We also enjoyed Mike's talents with the piano!! They both were professional and at ease. Gordon played to the audience and his choice of songs were great. I was so pleased with their performance.
Wedding•Reviewed on June 24, 2016•From Mystic, CT
I hired Gordon to surprise my friends during their wedding reception to sing their favorite song from the musical RENT- he was incredible and everyone LOVED him- it was one of the most special moments of the evening. Hire him!
Funeral•Reviewed on September 9, 2015•From Boston, MA
He has a very strong and amazing voice, leaving an everlasting touch on everyone that was in the room. He went an extra step to learn a special song for me and nailed it, he did a great job. My family is still talking about his amazing voice and I will highly recommend him.
Graduation Party•Reviewed on May 27, 2014•From Boston, MA
Event•Reviewed on February 7, 2013•From Lynnfield, MA
Mr. Michael's performance was wonderful! He was entertaining and his voice is incredible. We would strongly recommend him.
Fundraiser•Reviewed on May 3, 2012•From Boston, MA
Our experience with Mr. Gordon Michaels was wonderful. We had booked Mr. Michaels on short notice and he was very accommodating to our needs. Mr. Michaels arrived at the event early in order to make himself familiar with the venue and to go over his selections with the band so he could get the right key. His actions is the sign of a true professional. His voice is so rich and smooth he really feels the song. I highly recommend Mr. Gordon Michaels for any event, he has such a wide variety of songs that he can offer and I'm sure each will rendition will be superb.
School Assembly•Reviewed on February 9, 2012•From Dover, MA
Gordon Michaels is a gifted barritone with tremendous vocal power and impressive range. He performed with natural ease styles from opera to spiritual to jazz to gospel. In addition, Gordon's personality is as big and as joyful as his voice; his friendly and gregarious manner was captivating and entertaining, his enthusiasm uplifting. Gordon was a joy to have as Special Guest Performer, and I would highly recommend him for audiences of all ages.
Christmas Party•Reviewed on December 2, 2010•From Wrentham, MA
Gordon was wonderful, a truly talented professional. He is the type of entertainer I hope for each time a book a new entertainer. And Paul
Funeral•Reviewed on September 26, 2009•From Cambridge, MA
I asked Gordon to perform at a memorial service. Everyone present was in awe of the soulfulness and spirituality of his performance. His voice has incredible power, and his interpretation of the music brought tears to my eyes. In addition, he spent a considerable amount of time in advance of the event working with me to make sure the result would meet my expectations. He was fantastic, and I could have asked for nothing more.
Wedding•Reviewed on July 18, 2009•From Albany, NY
Gordon is outstanding. He sang at our wedding and blew everyone away. His voice is powerful, his presence warm, and extremely professional. It was easy to plan and communicate with him, and he kept in touch and his voice/music blessed our amazing day.