Back to profile
Feelin IRIE Reviews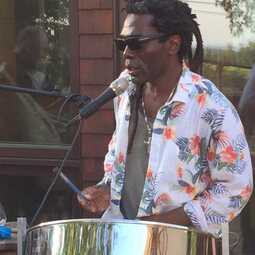 Avg 5.0 | 115 Reviews

Steel Drum Band from New York City, NY

221 Verified Bookings
Starting at $350 per event
---
115 Reviews for Feelin IRIE
Birthday Party (Adult)•Reviewed on August 6, 2011•From Albertson, NY
I had a luau-carribean themed party and Feelin Irie was the icing on the cake.They gave my party the ultimate feel that I just wanted.I would have them perform for me again in a heartbeat.They were fun,they were professional,and very talented.They are also great with requests,which is a great thing for your crowd. My guests complimented on my choice of entertainment(Feelin Irie) over and over again.I also had children at my party that a great time dancing to their music.I've already recommended them to other people.Thank you guys for making my party a hit! I can't wait to have u at my next party!!!!!! Zelia
Celebration•Reviewed on August 6, 2016•From Bethlehem, CT
The band was simply FABULOUS and really got the party going (although we do love to party!)!!! From the start of the booking process, Kahn was very flexible, accommodating and professional. On the day of the event, they arrived earlier, were warm and friendly and never needed even to be told WHAT to play. They provided an exceptional "flow" and diversity to the music played and, coming from a West Indian, that is a super compliment!! What a great and talented choice for my annual BBQ Fete! Several of my guests took the band's contact info and commented at how a simple trio could accomplish such a "big band" sound. Book them NOW before we beat you to it!!!
Private Party•Reviewed on August 19, 2017•From Brick, NJ
Both my guests and I were extremely happy with the performance, congeniality toward guests and "easy going island feel" that it lent to my party. Can't wait until next time?? ????????????????????Thank you, Khan????????????????????
Review by frozen fruit d.
Birthday Party (Adult)•Reviewed on June 4, 2016•From Quogue, NY
I was 100% satisfied with feelin irie, he was professional , on time the music was amazing and he was very easy to work with. The band leader called me the day of the party to tell me they were on the way, arrived on time, had no special needs (as most bands do when they arrive i.e. Coffee, food, drinks etc) and played until the last minute contracted My client said if he had closed his eyes during the party he would have felt he was in the Caribbean . I would definitely recommend the band and I'm sure i will be using them again
Wedding Cocktail Hour•Reviewed on March 24, 2013•From New Rochelle, NY
Feeling Irie played at my wedding and I could not be happier. He arrived before the time scheduled and was able to change the mood of all my guests to upbeat and happy. Everyone is still talking about what a great time they had listening to the steel drums. I am really pleased that I selected feeling Irie for my wedding. If you are in doubt please don't hesitate people will talk about the music for months and years to come.
Wedding Ceremony•Reviewed on August 12, 2017•From Rye, NY
Feelin IRIE elevated the entire mood of our wedding. Khan and his conga player provided the perfect vibe and ambience to make our day special. For our ceremony, we had specific song requests and all were delivered. Many of our friends and family with musical backgrounds praised Feelin Irie's technical ability and keen song selection. For some tunes, they utilized a backing track (bass, keys/guitar) that enhanced the sound and helped highlight melodies. The duo were well dressed, looked sharp and highly professional. My wife and I are still receiving compliments, most noting how unique and perfect a choice for a wedding. Thank you, Kahn!
Birthday Party (Adult)•Reviewed on June 22, 2013•From Staten Island, NY
I'm always somewhat skeptical of reviews but I'm a real person who had a real party & feelin irie were fabulous. I had a backyard hawaiian/carribean luau theme bday which these guys were perfect for but I would trust kun & crew in any setting.. Extremely professional, easy to work with, showed up early & played beautiful music throughout. Highly recommend these guys.
Graduation Party•Reviewed on June 8, 2013•From Montvale, NJ
We had a luau themed house party and Kun played for the first two hours. He was amazing! I (and all the guests) loved him, his music and his vocals. He was professional, easy going/flexible (we almost had to move the date due to the storm), and his music really set the right tone and vibe of the party. I would engage him again in a heartbeat and would highly recommend him!
Private Party•Reviewed on July 21, 2011•From Long Branch, NJ
I would recomend this group to anyone and everyone who loves this music . Kun and his bandmate were excellent musicians and very professional. THey showed up on time and played wonderfully!! The vibe was excellent. I cant wait to book them for another event. WE were very lucky to have found them!
Wedding•Reviewed on September 14, 2014•From Bayville, NJ
Everyone loved Feelin' Irie at my wedding! The music was fantastic, and they were very professional and easy to work with. The music set a great atmosphere for my outdoor wedding and I would highly recommend them! Being involved in the entertainment business myself, I was very picky when booking entertainment for my wedding, and Feelin' Irie not only lived up to my expectations, but exceeded them! Thank you so much, Feelin' Irie!
Wedding Ceremony•Reviewed on July 25, 2015•From Staten Island, NY
The experience was absolutely amazing. It was more than we expected. Kun is true professional and is extremely talented at what he does. We were 100% happy with the service he provided and our guests loved it! Anyone interested, won't be disappointed. We will definitely look for an opportunity to have him at future events.
Birthday Party (Adult)•Reviewed on May 26, 2013•From Norwalk, CT
Can't say enough about these guys. They let my guests join in and play along with them. Everyone had an absolute blast and I would totally consider them again for future events.
Bat Mitzvah•Reviewed on November 16, 2013•From Bala Cynwyd, PA
What can I add to the reviews on the website? They are indeed accurate. Kun was terrific to work with. For our party, we asked him to get everyone up and dancing, and he did just that. He even brought a DJ to work the breaks between sets. Overall, he nailed the tropical celebration theme we were looking for. A pleasure to have at a party. Would recommend to anyone who wants to set the tropical mood. One of a kind.
Birthday Party (Adult)•Reviewed on June 18, 2016•From Massapequa Park, NY
Performance was outstanding and my guests loved it! My only regret was not booking them longer! Will do so for sure next time!
Wedding•Reviewed on September 20, 2014•From Garrison, NY
Kun was the perfect addition to our wedding. We asked him to play during the cocktail hour portion of our wedding and the guests are STILL talking about how amazing the music was. He made our cocktail hour so fun, festive and left us with a taste of the tropics. He was on time, professional and a pleasure to work with. We are so glad we found him for our wedding. I would def reccommend him for any event. Thank you again Kun!!
Wedding Reception•Reviewed on August 9, 2015•From Honey Brook, PA
Khun and Feelin IRIE were so incredibly awesome. We had them play for the cocktail hour and we could've heard them for another couple hours. People were dancing and go nuts! We are already talking about booking them again for our next thing. Honestly, if you want some amazing Caribbean vibes that you can count on, then you should absolutely go with Feelin IRIE. The BEST!
Birthday Party (Adult)•Reviewed on September 11, 2015•From Babylon, NY
We hired Fellin Irie for our daughters Sweet 16 as well as a DJ. Our thought was to give the adults at the party a break in a separate area with other music than what the DJ would be playing for the teens. The funny thing is the teens were also jamming to Feelin Irie. They were awesome! Their professionalism, song selection and talent did not disappoint! We highly recommend the trio. And we look forward to hiring them for our next event.
Graduation Party•Reviewed on July 9, 2011•From Franklin Square, NY
Everyone at our party loved Feelin IRIE! They were professional, pleasant and played great music! I highly recommend them. We will definitely hire them again.
Wedding Reception•Reviewed on February 17, 2013•From New York City, NY
Kun and Feelin' Irie were outstanding. I wanted percussion based music for a wedding reception at a restaurant and they were outstanding. He contacted me to find out the details and the vibe I was going for. was entirely set up and playing music when I showed up and played the entire time except for a well deserved fifteen minute break every hour. They sing, make music, its perfect. You will without a doubt not regret hiring Feelin' Irie. I along with my guests LOVED LOVED LOVED the music. Several of them asked for the contact information to hire for their next event.
Wedding Cocktail Hour•Reviewed on June 15, 2013•From Bayville, NY
We hired Feelin Irie for our wedding cocktail hour. We were having a beach type wedding and wanted the feel of being on an tropical island even though we were on Long Island. They were great!! They showed up early and were the perfect touch for our cocktail hour, out guests loved them! We were so happy and would highly recommend them for any occasion!! :)
Wedding Cocktail Hour•Reviewed on August 16, 2013•From New Rochelle, NY
Feeling IRIE was an amazing company to work with! They were super friendly and accomodating, and their talent was absolutely wonderful. My guests could not stop raving about them for weeks! Thank you soo soo much for your beautiful performance and for adding such a personal touch to my most special day!! Every time I look at my wedding video, I'm in awe ! Thank you again Kun! You were fantastic!
Luau Party•Reviewed on July 3, 2011•From Hauppauge, NY
The band was great. Would definitely have them for another party and would highly recommend them to friends and family. Thank you Feelin Irie!!!
Picnic•Reviewed on August 25, 2012•From Bridgehampton, NY
On August 25 we had a beach party in Bridgehampton NY. I contacted GigMasters and with great luck found Feeling Irie and their founder and steel -drum- playin' leader Kun. Very pleasant and easy to talk to, Kun fashioned a play list just for our party. On the big night, Kun on steel drum and his two equally talented bandmembers on guitar and conga drum arrived right on time, set-up and proceeded to provide just the right vibe for our party. Kun had all age groups up and dancing and set the perfect tone for our group of 200 plus. Kun and his men played the whole night through, everyone enjoyed his entertainment, and we will definately hire them again!
Birthday Party (Adult)•Reviewed on June 16, 2012•From Long Island, NY
Feeilin Irie is a talented and pleasant individual that puts you at ease especially before the party when you are nervous that everyting will be OK . Guests enjoyed the rhythums of his music and we had a lovely afternoon
Cocktail Party•Reviewed on May 12, 2012•From Westbury, NY
Feelin Irie was absolutely amazing at my cocktail hour during my wedding. All my guests were so impressed. We got married on May 12, 2012 at Westbury Manor in Long Island on the most beautiful day and my cocktail hour was outside so having Feelin Irie play on the the Steel Drums was great and different. Kun is professional and talented and made me feel like everything would be perfect and it was! Thank you Feelin Irie!! Annie and Michael