Back to profile
Classern Quartet Reviews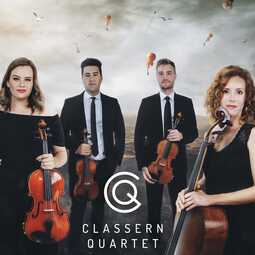 Avg 5.0 | 64 Reviews

String Quartet from Orlando, FL

130 Verified Bookings
Starting at $250 per event
---
64 Reviews for Classern Quartet
Wedding•Reviewed on December 18, 2022•From Orlando, FL
We hired the Classern Quartet to play for both our Ceremony and Reception. It was absolutely the best decision we could have made. Neither of us are much for dancing, so we were looking for a way to provide entertainment that wasn't necessarily focused on the dance floor. So many people commented on how much they enjoyed the live music and what a unique feel it gave the event. They even took a few requests on the fly that weren't part of their song list and were a huge hit! If you are looking for something a little different, I highly recommend Classern Quartet for your event!
Wedding•Reviewed on September 10, 2022•From Saint Petersburg, FL
Fantastic! We had the pleasure of having Classern Quartet play for our wedding. They were very accommodating, prompt, responsive, and sounded absolutely great. They know what they are doing and will be the least of your worries as you plan your big day! I would not hesitate to use Classern again for any function.
Christmas Party•Reviewed on December 10, 2021•From Boca Raton, FL
Looking forward to doing more business with this amazing group in the future!
Wedding•Reviewed on April 17, 2010•From Jacksonville Beach, FL
We could not have picked a better quartet for our wedding and reception. We had the quartet play for our ceremony, cocktail hour, and dinner portion of the reception, and they were great and able to accommodate our needs. During dinner, they played a mix of classical and modern music that the crowd actually got into. They were very professional, but also had a great personality as a group. It was very refreshing to find artists that are so versatile and fun! I would highly recommend them to anyone looking for a quartet that can play the classical stuff, but also look to have a little fun with some modern music.
Wedding Ceremony•Reviewed on April 3, 2010•From Tavares, FL
The two compliments I got most during the day of my wedding were - fantastic BBQ ribs and awesome string quartet. What more could a girl ask for? What a fantastic day! the Classern Quartet gave my spring wedding such a classy yet casual feeling. They were perfection. The Beatles selection they played for me, as per my request, was perfection. They made my day really great. I would highly recommend them for any venue you may be planning especially if you want to give it that personal touch feel with quality and style. THANKS!
Wedding Ceremony•Reviewed on March 14, 2010•From Orlando, FL
They were fantastic! They played for both my ceremony and reception and I received many comments from my guests about how beautiful the music was. The arrived on time and were very professional. I would definitely recommend them to another bride!
Wedding Ceremony•Reviewed on October 17, 2009•From Lake Buena Vista, FL
The musicians from Classern Quartet where so wonderful and friendly. We really enjoyed the special touch they brought to our day.We received so many compliments from my guests saying how beautiful the Classern Quartet sounded and how it added a romatic feel to the ceremony. Thank you so much for being apart of our celebration.
Wedding Ceremony•Reviewed on January 30, 2010•From Saint Petersburg, FL
i was very pleased with music for my wedding! they did a wonderful job and really set the tone for the ceremony. thanks Amber
Wedding•Reviewed on December 19, 2009•From Orlando, FL
The performance and music was beautiful. The only issue we had was with payment. They really should consider accepting paypal or something other than a check. I paid a month before my wedding, the check was then lost, I had to pay a $30 check cancellation fee, and write them a new check. I also was not informed the check had been lost until my wedding day.
Wedding Ceremony•Reviewed on April 24, 2010•From Largo, FL
The Classern Quartet turned our wedding into a beautiful ceremony. The music was just the touch we needed to make our ceremony extra special. Frank made everything very easy. The music was wonderful!!! Thank you so much for all you did to make our day extra special.
Engagement Party•Reviewed on June 5, 2021•From Waterloo, ON
Wedding•Reviewed on February 23, 2021•From Placida, FL
Expectations were far exceeded. Easy to work with. Guests were so impressed.
Wedding•Reviewed on October 11, 2019•From Clermont, FL
From the moment we connected online, they were extremly helpful! The music was fantastic! We had a black-tie wedding and Classern played for ceremony and cocktail hour. My husband and I loved it, as did our guests! Thank you!
Memorial Service•Reviewed on September 25, 2019•From Kissimmee, FL
So happy we booked Classern Quartet for our event! They were AWESOME, and Frank is a pleasure to work with. They had a wonderful playlist, and included the special requests we wanted. Their performance set a beautiful tone for the atmosphere. Our guests all enjoyed themselves and are STILL talking about the music! We would love to have them again sometime. Thanks!
Wedding•Reviewed on July 13, 2019•From Debary, FL
The Classern Quarter was great! Very professional, talented and accommodating. Would choose these guys again and again!
Corporate Function•Reviewed on November 16, 2018•From Orlando, FL
Classern was absolutely AMAZING. We had a really specific show flow which they handled with grace. Frank is super detailed and asked wonderful questions to get a better idea of our program. I would use them again anytime we have another program in the area!
Wedding•Reviewed on April 6, 2018•From Tavares, FL
Classern provided top notch service from start to finish and played beautifully for our wedding ceremony and cocktail hour. I would highly recommend them to anyone who is in need of a string quartet in the central Florida area.
Wedding•Reviewed on January 20, 2018•From Webster, FL
Classern quartet did an amazing job at our wedding. They are extremely talented, professional and made our day extra special with their beautiful music. I love that they have such a wide variety of songs and their recommended song list was very helpful when planning for the ceremony and cocktail hour. They play modern music but also traditional. I had many compliments from our wedding guest and the wedding venue owner at Windsong Ranch was also impressed and will be adding them to their venue list.
Corporate Function•Reviewed on December 8, 2017•From Tampa, FL
Great job. Wonderful music.
Wedding Ceremony•Reviewed on September 23, 2017•From Saint Petersburg, FL
Classern Quartet did an AMAZING job at my wedding. They worked with me on a couple special requests and everyone truly enjoyed them during cocktail hour. They received a standing ovation at the end of cocktail hour and were one of the most commented on pieces of our wedding. Thank you so much for your beautiful music. You all are so truly talented!
Wedding•Reviewed on October 8, 2017•From Orlando, FL
The experience was amazing! All of my guests were happy and said that the Classern quartet was one of the best parts of the night! I was so happy to have them preform during my wedding ceremony and cocktail hour. They were very well balanced and easy to work with as well as very accommodating to our musical tastes. I highly reccomend them for any upcoming event!
Wedding Reception•Reviewed on August 19, 2017•From Orlando, FL
It was not Classern Quartet's fault, but at the cocktail hour, the porch area of Leu Gardens was so hot, that the people had to stay in the foyer area. The talking overwhelmed the quartet. Maybe amplify the sound in similar situations. Other than that, the music during dinner was exactly what I was looking for. Thank you.
Wedding Ceremony•Reviewed on February 25, 2017•From Orlando, FL
I hope this helps anyone thinking of hiring Classern. We informed all vendors the ceremony began at 4:30 and required everyone in place at 4. At 4:15 our coordinator was calling frantically to see where they were and they said we never gave them the right time (we looked up previous emails, we did). They arrived late and we delayed starting for only them. LUCKILY we never amplified them. Guest told us how awful they sounded but nothing compared to listening to our wedding video later and hearing the screeching wrong notes. We had the videographer remove as much of them as possible to help. To boot, they were not professionally dressed compared to the guests. AVOID!!!
Classern Quartet:
Unfortunately, the day of this wedding there was a massive wreck on 1-4 that caused us to have a delay in our arrival time. We did arrive in time to perform everything that was requested of us so we are unsure as to why they did not start on time. We take pride in our professionalism and realized we put our client in a stressful situation so we reached out to them the next day and gave them a refund. They appreciated the gesture and said they would not write a review about Classern. Our musicians were dressed in all black which is standard professional musician attire. We played in tune and accommodated many special requests and upon our departure we received ma
Wedding•Reviewed on May 20, 2017•From Melbourne, FL
Classen quartet was very professional and they are very talented musicians and they made my daughter's wedding a beautiful and wonderful event
Wedding Ceremony•Reviewed on April 1, 2017•From Kissimmee, FL
They were amazing, very accommodating with last minute song changes. Hit every note, people were loving the mix of modern and classical songs they were able to perform. If you need a quartet in the Central Florida area... these are the ones!