Back to profile
Jazz By Two (aka) A Sparkling Planet Reviews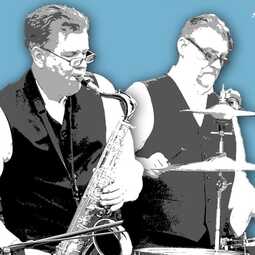 Avg 5.0 | 39 Reviews

Jazz Band from Atlanta, GA

53 Verified Bookings
Starting at $350 per event
---
39 Reviews for Jazz By Two (aka) A Sparkling Planet
Grand Opening•Reviewed on April 23, 2022•From Anniston, AL
They were the best!! We had a small area to work with and they made it work!! Our grand opening was wonderful and made even better by Jazz by Two. Our customers want to know when they are coming back.
Club Event•Reviewed on December 15, 2021•From Atlanta, GA
Great due, very professional and very talented. They were the heart of the holiday party! highly recommended and we will use them again for sure.
Corporate Function•Reviewed on December 11, 2021•From Cumming, GA
Great music and singing! Communication was excellent throughout the process. Really pleased and would recommend/ book again. Excellent value for amazing talent :)
Jazz By Two (aka) A Sparkling Planet:
Hi Heather, You've described the evening perfectly and we felt exactly the same way. Your diligence to details on venue (incredible), contractual phase, payment(s) and welcoming attitude… insured your Christmas Party to run smoothly and helped Jazz By Three play our very best!! Very successful. Thank you and what a great bunch! Have us back anytime we'd love to work with you again. A very fun & nice experience.
Birthday Party (Adult)•Reviewed on November 21, 2021•From Buford, GA
You guy's made our party 5 stars too!
Jazz By Two (aka) A Sparkling Planet:
Dear Mike, What a nice compliment! Thanks for choosing Jazz By Three. Your family & friends are beautiful and helpful to a fault with our equipment on and off the boat. We'll never forget your wife's surprise birthday on the high seas of Lake Lanier! It was a hit. A fun and extraordinary day, please have us back anytime - you are a gracious host. Thank you!
Wedding Reception•Reviewed on October 31, 2021•From Atlanta, GA
Great experience with this group. Showed up on time, really set up the mood, and communication throughout the process was great. Highly recommend!
Jazz By Two (aka) A Sparkling Planet:
Neil thanks for choosing the TRIO Jazz By Three. It was our pleasure to perform for you and your guests. When a transaction is this smooth and organized, it helps us play at our peak level. So, thank you for these kind words. Our best!
Corporate Function•Reviewed on August 28, 2021•From Woodstock, GA
Jazz by Three was absolutely amazing! We had them play for a volunteer appreciation event at our church, and they were a hit. Communication leading up to the event was always prompt, they were easy to work with throughout the night of the event, and the quality of the music was second to none. They are an excellent choice for an event band, and we look forward to working with them again in the future! I would give them six stars if I could!
Jazz By Two (aka) A Sparkling Planet:
Matt, it was our pleasure (Jazz By Three) to perform for your volunteer appreciation event. You & everyone involved were welcoming, helpful and very nice to us. It made our job run smoother and to play our best for you. Glad everyone enjoyed it so much - we did too. Wonderful & successful evening, thanks again for having us.
Review by Tom and Jane H.
Thanksgiving Celebration•Reviewed on November 22, 2017•From Blairsville, GA
Our experience with Jazz By Two was spectacular and professional!
Jazz By Two (aka) A Sparkling Planet:
Thanks for your kind words Jane. We hope you & Tom have been safe and healthy thru this very difficult past year. Our Best Jeff & Billy
Corporate Function•Reviewed on January 16, 2020•From Atlanta, GA
We contracted Jazz by Three to play for our business event, and they were absolutely wonderful. They kept in contact with us throughout the planning period, which helped everything run smoothly. I have heard nothing but rave reviews from attendees. They were easy to book through GigMasters, were very professional, personable and talented. Highly recommend!
Birthday Party (Adult)•Reviewed on July 27, 2019•From Atlanta, GA
They were wonderful in our home celebrating my wife's surprise party. They were able to meet our request of a quick setup while she was gone for the hour. Fun to talk to about music, and would love to have them again in our home.
Corporate Function•Reviewed on March 30, 2019•From Stone Mountain, GA
Very talented and professional! Easy to work with and played a great variety of music that all the guests loved! Would highly recommend!
Christmas Party•Reviewed on December 6, 2018•From Atlanta, GA
Billy and Jeff (Jazz by Two) are exceptional. The two of them sound like five. They sing great too. Music got everyone dancing. They made our Christmas party the best one we've ever had. Of the 85 people who attended, every single one complimented the music first and foremost. Bille and Jeff are not only super musicians, they're also professional. Easy to work with. Set up in a timely manner. And sincerely the two nicest guys you could ever meet. You can't go wrong with Jazz by Two. We'll be having them back for sure.
Birthday Party (Adult)•Reviewed on October 19, 2018•From Atlanta, GA
Fantastic!!!! If you don't book this band you are foolish. Extremely talented, the guests fell in love with them. Booked 'Jazz by two' for my sisters event in Atlanta, I myself live in London,England. After searching through gig masters for a few days I finally came across this amazing talent 'Jazz by two', I watched their video clip and instantly knew they were perfect for my sisters event. The event theme was 'great gatsby' and they even dressed to impress. An Extremely talented band and it's just two of them. Such a pleasure to meet them and hear them play live in person as the video didn't do them enough justice. Thank you so much for a wonderful experience!
Birthday Party (Adult)•Reviewed on October 6, 2018•From McDonough, GA
The guys were fantastic - they were a hit at the party and our guests had a fabulous time!
Jazz By Two (aka) A Sparkling Planet:
What an affectionate family & the party was a total surprise! They chose our Jazz By Three (TRIO set) which was the perfect atmosphere and song-list for the birthday girl. High praise from all on our performance and it was a pleasure to be part of this successful event. Thanks for your kind words and rating, Jamie!
Celebration•Reviewed on October 13, 2018•From Warner Robins, GA
I Really Am lost for words. These talented, professional musicians were remarkable to work with! They were charming and accommodating from the very beginning. I never hoped that I would be able to book this level of talent for my husband's promotion party. We are truly honored to have met Jazz By Three and look forward to working with them again. The sound level control and quality was perfect in our Museum Venue and they also had an amazing personality connecting people in our event from many different walks of life. The party would not have been the same without Billy, Jeff and Ned from Jazz By Three. My husband was especially thrilled to have the Saxophone!
Birthday Party (Adult)•Reviewed on August 31, 2018•From Suwanee, GA
As a grandson I was challenged with what gift to get my grandmother for her 85th birthday. It took me weeks once I starting thinking to conclude on hiring a jazz band. I really didn't know what to expect as I was booking for an event in Georgia while living and working in NYC. I can say I was beyond satisfied with my selection of Jazz By Two! They were engaging, professional and ultimately a great additional to a magically night that my grandmother is still talking about. Thank you gentleman for being the icing on the cake!
Corporate Function•Reviewed on May 7, 2018•From Athens, GA
They were on time, had to haul everything up a flight of steps (never complained), changed clothes, and specifically asked what we wanted. We asked for them to play jazz and create a great atmosphere, and that is what they did. They seemed to enjoy being there. I would highly recommend them.
Rehearsal Dinner•Reviewed on April 20, 2018•From Athens, GA
We added a third musician…Jazz By Three. The band did a terrific job! They played for our rehearsal dinner for 100 guests during the reception and seated dinner. Jazz By Three exceeded all expectations from superior musicians, playlist variety, exactly as requested in terms of music selection, tempo, sound level and quality…set the right mood and energy. Mr. Bryant was responsive without delays in answering questions and providing suggestions. I highly recommend Jazz By Three! Well done and thank you for helping to make our weekend special for the newlyweds!
Retirement Party•Reviewed on March 10, 2018•From Tucker, GA
The perfect entertainment for our retirement party celebration. Great music, super nice guys, totally recommend them for your next party
Community Event•Reviewed on August 17, 2017•From Atlanta, GA
Awesome performance
Event•Reviewed on May 11, 2017•From Newnan, GA
They were both professional and performed great. I like that they showed up with enough time to set up and not feel rushed. I will recommend anyone to use them and plan on working with them again. Thank you
Graduation Party•Reviewed on April 25, 2017•From Chattanooga, TN
They were very nice. We are very pleased with their service/performance at a great price point. The entire department was impressed by the quality and we are already discussing having them for the same event next year. They definitely did great and I would highly recommend them.
Country Club Event•Reviewed on February 14, 2017•From Hoschton, GA
When I planned our Valentines Dinner for the club, I had a certain vision in my mind. I wanted a classy, entertaining, and romantic atmosphere. I had heard Jazz By Two before, and they were fantastic. They were fantastic this evening as well. The members were blown away by the talent and the overall performance. The whole evening would not have been complete without them. I would definitely have them back. Thank you again!!
Christmas Party•Reviewed on December 17, 2016•From Social Circle, GA
"AMAZING" These guys are the definition of Professional, their communication from start to finish was A+. The guys arrived in a timely manner, set up and began to take the party to the ultimate level. Music was on point, their attire matched that of the crowd and they became one with the group. I highly recommend Jazz By Two for all you music needs. These guys were not only performers but they have now become friends. The service was A+++. See you guys at our next function.
Wedding Reception•Reviewed on November 11, 2016•From Anniston, AL
Billy and Jeff, "JazzByTwo," were consummate professionals, played wonderful music, and had everyone dancing from toddlers to great grandparents until well after the bride and groom, Tammy and I were supposed to leave for our honeymoon. Everyone was having such a wonderful time dancing and interacting with Billy and Jeff, no one wanted to leave the reception. We have already recommended "JazzByTwo" to all of our friends, business associates, and family. "JazzByTwo," was well worth the cost, which was beyond reasonable, due to the outstanding performance and professionalism the band displayed throughout the event. Superior service and music, period!
Wine Tasting Party•Reviewed on December 3, 2016•From Newnan, GA
This was the perfect live music for our wine party event. They followed my requests and specifics to a tee. And one of my party guests is going to book them for her upcoming event.