Back to profile
Doug Ferony Show Reviews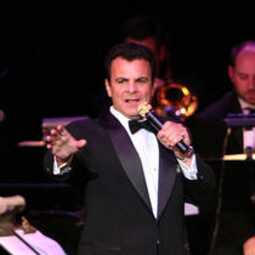 Avg 5.0 | 28 Reviews

Frank Sinatra Tribute Act from Peekskill, NY

38 Verified Bookings
Starting at $1,000 per event
---
28 Reviews for Doug Ferony Show
Sort:
Birthday Party (Adult)•Reviewed on October 26, 2019•From Wappingers Falls, NY
Couldn't ask for a better choice for my venue on 10/26/19. Doug Feroni was fantastic, & so accommodating during the whole process. He continued to keep in contact with me throughout, & made our celebration very special for my mother's 100th birthday.
Wedding•Reviewed on June 23, 2019•From Andover, MA
Doug and his band was professional entertaining and made my wedding day beautiful it was a pleasure to work with him everyone loved it
Anniversary Party•Reviewed on June 29, 2019•From Teaneck, NJ
True professional, Doug made the party! Much appreciated.
Anniversary Party•Reviewed on April 2, 2016•From Paterson, NJ
Doug Ferony and his band are outstanding ! Their talent is amazing ! They made our party an A+++. Our guests were blown away, in awe of such extraordinary entertainment, which they told us then & the next day. We got calls, emails, texts on how much they enjoyed the music as well as Doug being a pro, & fantastic MC. I can't begin to express how thrilled we are that we made the decision to go with Doug. We listened to many artists & bands before we hired him. There was no contest. This was our best party experience ever and affordable to the average person. We can't wait for our next party so we can hire Doug again. We all LOVED HIM ! Maryanne & Gene Walker : )
Birthday Party (Adult)•Reviewed on June 11, 2016•From Ocean City, NJ
First of all, I hired Doug Ferony because I found his quick response, emails and follow up phone call to be extremely polite and professional. I hired Doug Ferony to perform at my husband's 60th birthday party. Doug and his band arrived in plenty of time to set up and warm up. Once the party started, I left the entertainment to him and his band, and they did not disappoint. Our guests (over 50 people of all ages) loved them and had a blast dancing and singing along. Doug and his band are professionals and very talented. Our party was a huge success thanks to Doug Ferony!!
Anniversary Party•Reviewed on June 9, 2012•From Bethlehem, PA
We were very pleased to have Doug and his band play at our special event at The Sands Casino Hotel. The planning phase went smoothly achieved through phone conversation with Doug and follow-up e-mail exchanges. Doug was accomodating by playing all the numbers we selected from his extensive American Pop Classics song list and more. He and the band sounded amazing, and their performance was of the highest professional standard. We cannot say enough about their willingness to make an evening of entertainment a very memorable & special occasion. They were super nice too in spending time with our jazz-crazed son discussing all aspects of music. Highly recommended!
Anniversary Party•Reviewed on September 12, 2015•From Morristown, NJ
Doug did an amazing job entertaining everyone at our party. Great singer, great person! Will hire again. Thanks you Doug.
Birthday Party (Adult)•Reviewed on May 15, 2015•From New York City, NY
Doug Ferony was a spectacular Frank Sinatra for my mother's 70th Birthday! From the start of the planning, Doug was extremely professional in planning and organizing the event. We reviewed the song list, evening agenda and attention to audience detail. Doug touched base several times before the event, arrived early, sang amazingly, mingled with the guests and was absolutely marvelous! Doug has an amazing voice, wonderful personality and vast experience as he performs at top venues. We would highly recommend Doug and it was an unforgettable evening!
Birthday Party (Adult)•Reviewed on January 19, 2013•From Greenwich, NY
Incredible! Fantastic! Extremely Professional! Talented! Friendly! Great Communicator! Just PERFECT!!!! Doug performed at a special 90th birthday party to a crowd of over 100. Everyone commented how much they liked him. What I particularly liked is that, although there were many people who knew each other and were taking the time to talk to each other and catch up, throughout the party, Doug would have the group raise a glass to the birthday girl so the focus remained on the fact that is was a birthday party for somebody special. I can't wait to have another party just so we can hire him again!
Wedding Reception•Reviewed on January 8, 2012•From Greenwich, CT
Doug performed at our wedding reception with his 3 piece band. The music was fantastic and provided a lively atmosphere. He was very professional and very detail oriented. He made sure to touch base with me well in advance about performance details. He was excited to perform at our wedding, and eager to make sure things went smoothly during the reception. His performance was full of energy and fun yet very respectful and elegant. We had a great evening and enjoyed his music.
Birthday Party (Adult)•Reviewed on September 4, 2011•From Albany, NY
The Doug Ferony Show performed for my Dad's 80th Birthday celebration this past weekend. His show was fantastic, the music selection, band and vocals were incredible! Doug and his band's energy and enthusiasm for performing made our celebration complete. He played all of our music requests and even had my Dad join him in singing Sinatra's "My Way". Doug made sure everyone had fun and danced the afternoon away. The piano player for the cocktail hour played beautiful music that just rounded out our party. Everyone attending the party complemented the band. Thank you Doug and the band members! We loved you all and can't wait for our next party to hear you again!!
Birthday Party (Adult)•Reviewed on December 11, 2010•From New York City, NY
We had a surprise party and Doug gave such a wonderful performance! He was very accommodating and we would totally hire him again as well as recommend him highly! I received many compliments from our guests about how his performance really made the party special and how much they enjoyed his singing. Doug is a sure bet if you are looking for a talented performer.
Wedding Reception•Reviewed on July 10, 2010•From South Boston, VA
Doug Ferony made the wedding reception so much fun. The music was wonderful, his singing was great and the guests all had a fantastic time hearing the Frank Sinatra songs. We had listened to about 30 bands online and Doug Ferony is the BEST around. He is very willing to work with you and make the day be about YOU..... the wedding was all we could have asked for and the reception with Doug Ferony was perfect. We would highly recommend Doug Ferony for any occasion. Thanks Doug for a wonderful night and as you always say... The BEST is yet to come!
Corporate Function•Reviewed on August 21, 2015•From Riverside, CT
Anniversary Party•Reviewed on October 26, 2008•From Canton, CT
The Doug Ferony Show was awesome. They were very professional and entertaining. Our guests really enjoyed their music.
Birthday Party (Adult)•Reviewed on September 27, 2008•From Secaucus, NJ
Doug Ferony and orchestra were phenominal! They helped make my mother's 80th birthday gala truly memorable. I had several musicians in the crowd and they were all extremely delighted with Doug's talents and that of the band. I would highly recommend this swing band to anyone having a function and I would definitely go see Doug and his orchestra play in other venues. Thank you, Fred Quagliana
Corporate Function•Reviewed on December 1, 2007•From Ledyard, CT
He was great! Many of our guests came up to us afterwards and commented on how much they enjoyed his performance. He and the band were excellent!
Corporate Function•Reviewed on June 21, 2007•From New York City, NY
Doug and his band performed for my corporate event and blew everyone away. Everyone wanted to know who they were, and I think some even gave Doug business cards to arrange performances for their own parties! Doug and his band were professional, entertaining, reliable, prompt, and extremely talented. I would recommend this band to anyone looking for a great band at a great price.
Birthday Party (Adult)•Reviewed on January 13, 2007•From Moorestown, NJ
Doug was extrmemly professional and very talented. He was worth every penny!
Fundraiser•Reviewed on October 21, 2006•From Southbury, CT
The Doug Ferony Show is entertainment at it's best! Doug has a great voice, and the 10+ piece band was a real treat. The music was up-beat, lively, and fun. Everyone had a great time, and the Doug Ferony Show was a hit!
Birthday Party (Adult)•Reviewed on September 17, 2006•From Peekskill, NY
Doug was exactly what we were looking for my grandfather's birthday party. The crowd loved him and he was very professional!
Private Party•Reviewed on August 5, 2006•From Danbury, CT
I heard about Doug Ferony from some friends I found him on Gigmaster and glad I did!! He sounded fantastic he sang Sinatra songs and many classics including beautiful love songs. Doug and his band were very professional and right on time. An absolute pleasure recommended highly. Doug's songs and music helped make the party a huge success!!! People are still talking about how great it was!! Bravo Doug!! Thor A.
Anniversary Party•Reviewed on July 30, 2006•From New York City, NY
Doug Ferony was excellent!! He sang all the Sinatra favorites and sounded great! He brought back some of the great Rat Pack Vegas songs and other classic songs. His swing band was also excellent, it was a magical evening and we will all remember it for a long time! Highly recommended. Anna C.
Birthday Party (Adult)•Reviewed on July 8, 2006•From Sheffield, MA
Doug Ferony was a sensational addition to the 80th birthday Gala that we threw July 8th 2006. We had 140 people who had RSVPed and only two weeks till the party. We knew that we wanted a live band or orchestra but had trouble finding exactly the level of class and pizazz that we aspired to have as the finishing touch to the theme of on the gala. We needed it to entertain a wide spectrum of ages from 16 (great neices and nephews) to the Diva that this party was in honor of. One night we stumbled across the Doug Ferony Band. We were impressed by all that was offered but leary of not having actually heard them in person. From the inital e-mail contacting Doug and the many correspondants there after we were set at ease and anxious for the big day. Doug Ferony and his orchestra were more than eager to come to our little home town in the country. They were happy to fit into the theme of this party and even offered to wear pink bow ties. He was more than flexible and accommodating. They were friendly and energetic. Everyone was on the dance floor within minutes of the commence of the party. Having a moment to stand back we say that everyone was having a blast! The music was engaging and the perfect backdrop to our cocktail hour. Then Doug and the Band spiced it up a bit with some great dancing favorites. Throughout the night we had people coming up to us amazed at what a great band we had found. The 17 piece orchestra, the singer and the selection of songs. Since the party we have had numerous people ask how they too can get in touch with the Doug Ferony Band so that they can have them perform for Birthday parties, Anniversary parties, and town events. We would just like to thank Doug and the orchestra for making our party the most talked about event of the year. They were absolutely fabulous and made our event a memorable party that will live on. We can't wait for the next occasion where we can have Doug Ferony and the Orchestra back!
Corporate Function•Reviewed on December 6, 2013•From Pittsfield, MA