Back to profile
Sam Graham Trio Reviews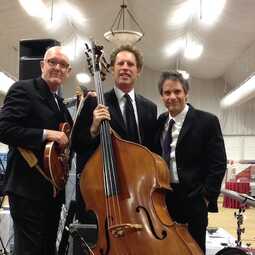 Avg 5.0 | 129 Reviews

Jazz Trio from Los Angeles, CA

221 Verified Bookings
Starting at $300 per event
---
129 Reviews for Sam Graham Trio
Event•Reviewed on March 25, 2023•From Altadena, CA
Consummate professionals! Sam and his band were absolutely fantastic. They arrived early, set up quickly and played the perfect mix of ambient background music. However, if you're a jazz fan like me, it was also great to be able to just sit and listen to their excellent work. The musicians were top notch and when they were done, they also cleared the stage quickly. They provided the music for our fundraiser auction and they were fantastic.
Community Event•Reviewed on March 18, 2023•From Beaumont, CA
Oh my! The Sam Graham Trio is just what the doctor ordered! We wanted entertainment for a chill, classy night of jazz for ur Jazz and wine mingle and the Sam Graham Trio hit the mark. They were on time, professional, and incredibly talented. My guests did not want to let them leave and insisted that I bring them back in the future for another perfect evening of jazz. Highly recommend!
Wedding•Reviewed on September 24, 2022•From Encinitas, CA
They were everything we could have wanted from a wedding jazz band. So professional and friendly not to mention beautiful and easy listening music that really elevated the space. Will absolutely be booking for any future parties.
Private Party•Reviewed on September 17, 2022•From Long Beach, CA
The trio provided a performance that my group highly enjoyed. They were the best and many now want to hire them for their functions. Very Satisfied with their outstanding show.
Private Party•Reviewed on May 19, 2022•From Los Angeles, CA
Sam was an amazing artist who came prepared and gave a great show. Highly recommended!
Mardi Gras Party•Reviewed on March 1, 2022•From Palm Springs, CA
The trio was superb! Rave reviews from customers! Would hire them anytime!
Corporate Function•Reviewed on January 14, 2022•From Long Beach, CA
Sam and his band members were outstanding, both musically, professionally, and personally. Sam was very communicative in the lead up to the event and all three members were very flexible with the schedule of the event. Excellent musicians to boot! Highly recommended and would not hesitate to hire Sam and his trio again in the future.
Christmas Party•Reviewed on December 9, 2021•From Rancho Santa Fe, CA
Sam Graham was an amazing musician. He plays beautifully, skillfully, and with great spunk! We were originally supposed to be outside; however, it was raining hard that day and we moved our cocktail hour inside. Sam was extremely flexible, brought his equipment from the event room our cocktail hour was in, to the dining room where our dinner was held. He wasn't too loud over any event, but you could hear his talent coming through the conversation. Beautiful job Sam! Would refer him over and over again!
Club Event•Reviewed on September 19, 2021•From Long Beach, CA
I could not be happier about hiring the Sam Graham Trio for my club's special outdoor event. All day long -- and even the next day -- I was getting compliments on how well their music created the perfect ambiance for a fun event. As a classical musician myself (for the last 58 years), I really appreciated their innate musicality and ensemble. Sam was very professional and accommodating to deal with, too. I'm so glad I found them here on The Bash!
Holiday Party•Reviewed on November 30, 2018•From Pasadena, CA
This trio was fantastic! Completely professional. The music choice was perfect for our event. They knew when to lay back and when to swell. Excellent variety of tunes: traditional jazz as well as contemporary songs done with cool jazz stylings. We received many compliments from our guests about our band choice. We couldn't be happier. We highly recommend the Sam Graham Trio.
Wedding•Reviewed on August 29, 2015•From Crestline, CA
We hired the Sam Graham Trio to perform at the cocktail hour and the first hour of the reception at my wedding, and we LOVED him. I'm a big jazz fan -- particularly in the style of Barney Kessel/Ray Brown/Shelley Manne -- so having them was like a dream come true for me. They played a beautiful and swinging version of "Rainbow Connection" for the father-daughter dance, and they even backed me and let me sing a song to my wife. Sam has a warm, gentle voice and a very accessible playing style on guitar. They did a great job, and I'd recommend the trio to anyone who wants a relaxed, sophisticated, non-cheesy jazz vibe to their wedding or any other event.
Wedding Cocktail Hour•Reviewed on March 6, 2010•From Rancho Palos Verdes, CA
The Sam Graham Trio was absolutely fabulous! We hired them for our wedding to play during the cocktail hour and part of the reception. The guests loved them and several asked for Sam's business card. They were professional, friendly, accommodating and prompt(despite a far drive and rainstorm). Their musical selection was perfect and I would hire them again in heartbeat. Having a live band was such an amazing way to do something different than just having a DJ. Thanks Sam, you're the best!!!
Corporate Function•Reviewed on July 26, 2017•From Los Angeles, CA
Sam Graham Trio brought their A Game to the Los Angeles Downtown News Best of Downtown Summer Soiree.They were timely, accommodating well dressed and upbeat. Most parties seem to hire DJs. so the Sam Graham Trio was an element of surprise and delight. Some brief speeches that needed to be made and they seamlessly faded so that portion could start on time. I was very happy with the playlist they put together. They are skilled musicians and confident performers. Guests commented on how much they enjoyed having live music. Load in/strike was smooth. I hope to have an occasion to hire them again. The entire experience was first rate.
Corporate Function•Reviewed on December 17, 2018•From Culver City, CA
Sam, Jon & Richard were great! They showed up on time, accommodated our requests and made our event come to life! Sam also sang a few songs and that added a nice mixture to their lineup. Very professional and easy going. I would highly recommend them for corporate events.
Corporate Function•Reviewed on November 18, 2015•From Los Angeles, CA
Super satisfied with the Sam Graham Trio. We hired SGT recently for a fancy cocktail party. They were easy, kind, prompt, an overall pleasure and sounded great. Would definitely want to work with them again.
Private Party•Reviewed on January 15, 2017•From San Pedro, CA
Sam and his trio (Sam, Richard, and John) couldn't have created a better experience for our party -- they communicated clearly in advance, arrived exactly on time, played perfect music for our party for the agreed-upon time, and were friendly and easy to chat with as a bonus. Don't hesitate to hire them for your event, they will exceed your expectations without a doubt!
Birthday Party (Adult)•Reviewed on May 26, 2018•From Pasadena, CA
Sam and his band are amazing! So many people said they were great! They even figured out a way to play a requested song for us that was not usually a part of their repertoire! This band takes real pride in their work and it shows! Hire the Sam Graham Trio, you will not be disappointed! We will be hiring them again for sure! There is just no substitute for live music! These guys are the real deal! Incredible! The party wouldn't have been the same without them!!!!
Corporate Function•Reviewed on October 17, 2017•From Los Angeles, CA
I couldn't be happier with my experience with the Sam Graham trio. Not only are they extremely talented musicians-- they are also prompt, professional, and were very responsive in the days leading up to our event. Our guests enjoyed their performance throughout the night, and they expertly put together a set list that encompassed exactly what I requested. I would highly recommend them to anyone looking for a talented & accommodating jazz trio!
Corporate Function•Reviewed on April 11, 2018•From Los Angeles, CA
I could not have been more pleased. I had to book this last minute and Sam made it very easy. The set selection was perfect for our cocktail reception followed by a sit down dinner and all of my attendees loved the trio, with many asking for information on how they too can hire them. Will certainly be booking them again.
Community Event•Reviewed on December 7, 2017•From Los Angeles, CA
Professional and Talented! We will be sure to book him again for additional events. The event was an outdoor evening for networking and everyone really had a great time as the music was appropriately selected by Sam to be enjoyable but not distracting.
Wedding Reception•Reviewed on April 28, 2018•From Redondo Beach, CA
We hired this amazing trio for our wedding reception and we had many compliments on their talent, the variety of music they played, and how they were able to read the vibe of the room. I asked for a special song request and they came through and performed it so well! Thank you, Sam & crew, for making my day extra special with your talents! 100% recommend!
Birthday Party (Adult)•Reviewed on November 14, 2008•From Long Beach, CA
I was genuinely impressed with the professionalism, the talent and the overall performance of Sam Graham Trio. I booked them from Gigmasters.com and had never done anything of the sort before. They exceeded my expectations and I would hire them again in a heartbeat. They played at a Surprise Party for my husband and did a beautiful job of not only surprising him initially, but took initiative in surprising him throughout the night. They played a beautiful song after briefly hearing of our story which topped off the night. Our guests have made comments to us at how classy and wonderful the group was. Thank you, Sam Graham Trio!!!
Wedding Reception•Reviewed on June 30, 2018•From Culver City, CA
We are so lucky to have found the Sam Graham Trio! Sam and his team were a pleasure to work with, on time, professional, and most importantly they delivered flawlessly on the music. Our guests couldn't stop talking about the classic jazz and amazing covers Sam and team brought to the event. Absolutely fantastic.
Anniversary Party•Reviewed on May 16, 2018•From Irvine, CA
Sam and his bandmates put on a show to remember for the 20th anniversary dinner I threw for my wife earlier this week (May 16, 2018). The music was excellent, the band was highly professional, and their jazz and swing made it a night for all time. Would give them 6 stars if I could. If you're on the fence about jazz bands, check out their videos -- they definitely live up to them in person.
Corporate Function•Reviewed on February 15, 2017•From Los Angeles, CA
The Sam Graham Trio was amazing! I am a coordinator and booked them for one of my clients who was holding a large corporate dinner party. The owner of the company (who is a very big Jazz fan) was so impressed he jumped on the mic to thank them and have them introduce themselves to the guests. I highly recommend them and will absolutely be using them again the next time I have a live jazz request!