Back to profile
Undercover Live Entertainment Reviews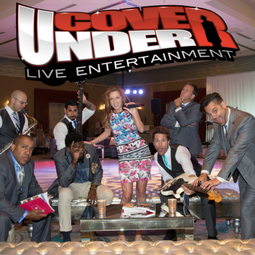 Avg 5.0 | 53 Reviews

Cover Band from Costa Mesa, CA

61 Verified Bookings
Starting at $3,500 per event
---
53 Reviews for Undercover Live Entertainment
Corporate Function•Reviewed on October 19, 2022•From El Segundo, CA
Wedding Ceremony•Reviewed on May 21, 2011•From Santa Monica, CA
You all made our wedding a dream come true! It was truly magical! You all were so amazing and EVERYONE LOVED YOU!!! Honestly our friends and family are still talking about you! They have been telling us that you guys were the best band they've ever heard at a wedding! So fantastic!! Again, thank you from the bottom of our hearts!! We will certainly keep a lookout for when you're playing and come down with our local friends to dance and sing again!!
Wedding Reception•Reviewed on April 22, 2012•From San Diego, CA
Undercover played at our wedding this past Sunday 4/22/12 and they met & exceeded all expectations on all levels. George was very accomodating of all our needs, taking into account the layout of the venue, overall timeline for setup & performance times, and our specific requests for the setlist. A very through questionnaire website link was sent to us to setup the outline of the standard wedding items to be included/not included all down to the style & colors of the clothing worn by the band. They showed up, set-up, performed & broke down on time & in a professional manner. Worth every penny. Sign them up. Now. We feel lucky to have had them.
Birthday Party (Adult)•Reviewed on June 11, 2011•From Rancho Santa Fe, CA
I cannot say enough great things about Undercover. They were extremely accommodating and flexible to help meet our needs. They had the dance floor packed the ENTIRE night and were a vital part to our party! Not only were they extremely professional but they were also fun, interactive and sound amazing. Every one of the guests commented on how much they enjoyed the band. I HIGHLY recommend Undercover and will without a doubt use them next time we throw another party.
Wedding Reception•Reviewed on October 16, 2010•From Pasadena, CA
The Undercover band was fantastic. They exceeded all of our expectations and I am a very difficult, opinionated type of person with very high standards when it comes to music. Everyone at our wedding had a blast, all of our guests, including some of our guests who are entertainers and musicians themselves had rave reviews for the band, and the bride and I both had the time of our lives. Booking the Undercover band to play our wedding reception was the single best decision we made regarding the wedding. They really made the reception incredibly fun and special.
Wedding Reception•Reviewed on July 24, 2010•From Dana Point, CA
Undercover rocked our wedding and all we can say is WOW! They learned our first dance, provided lighting, played the cocktail hour, dinner music and dancing after dinner. Carla did an amazing job as the MC. They were so good that at 11pm when the reception was supposed to end my father personally requested that they keep playing as long as the St Regis would let us go. The band agreed to continue playing and we shut it down at midnight when they finally kicked us out. Undercover was the highlight of the evening and we had the time of our lives. If you are thinking about Undercover for your event, take it from us, you won't regret it!
Wedding•Reviewed on July 11, 2009•From Marina del Rey, CA
Hiring Undercover was one of the best decisions we made when planning our wedding. We had an amazing wedding and Undercover helped in making it exceptionally special. Not only are they the best cover band I have ever seen, but they know how to accommodate the guests. They played the type of music that we requested; and they read the crowd and played what our guests wanted to hear as well. Our dancefloor was packed the entire night! Carla did a phenomenal job as our MC...she was professional, personable, fun, classy, and friendly. This band is outstanding...and I give them my highest recommendation. Thank You Undercover!
Wedding Reception•Reviewed on July 9, 2011•From Laguna Niguel, CA
Undercover was amazing! We hired them for our wedding reception and they totally made it, they were worth every penny, even more! They were very accommodating to our budget and time frame of the reception, they made it extremely easy on my husband and I. We had a younger crowd at our reception and they nailed all the current songs, they have such a wide range of music and catered to every person at the reception. When they take breaks, they play music from an ipod, so they keep the crowd going the entire time. I could not picture our wedding without them, if you need a band, Undercover is it! They have such a great energy, I honestly couldn't recommend them more!
Wedding Reception•Reviewed on August 21, 2010•From Orange, CA
Undercover provided the entertainment for our wedding this past weekend. It was a total success with much due credit to this band. We've been getting so much positive feedback for our wedding since. George was awesome throughout - he's an excellent guitarist and band leader. Carla's vocals blew the crowd away, and her stage presence as an MC is beyond outstanding. Being a drummer groom, I got a chance to sit in with the band to play a planned, but unrehearsed "Love Shack" and unplanned encore "Old Time Rock and Roll." The drummer was super nice in getting me set up and he had really tight drum kit. My wife's favorite songs were Bad Romance and the Madonna medly.
Wedding•Reviewed on February 20, 2010•From Laguna Beach, CA
We had our wedding last week and I can't believe the feedback we received on the band. They were professional, courteous, fun, and excellent musicians. Their range of music was unprecedented from 60, 70, 80, 90, and everything in between. Out of everything we had at our wedding Undercover absolutely "stole the show" in a good way :) There was never a dull moment and everyone was always dancing. We will definitely book them again for any event we throw that requires live music. These guys are the real deal.... Brian & Valerie Keets
Wedding Reception•Reviewed on September 26, 2009•From La Jolla, CA
Undercover was amazing- not just their obvious talent, but their professionalism couldn't be beat. Everyone at our wedding raved about "the band" and I told them, if I could hire them for another 2-3 hours, I would, but alas, the evening had to come to a close. I would not only use them again without question, but I would highly recommend them to anyone else looking to have a great, stress-free time. Talk about low-maintenance! These guys were so accommodating and easy to work with. The band was awesome and Carla's voice is amazing! Thanks, Undercover!!
Wedding Reception•Reviewed on June 26, 2010•From Jackson, WY
We found Undercover through Gigmasters and were skeptical at first. In the end, it was an easy process that turned out to be nothing short of incredible. George, Carla and the rest of the band were all amazing to work with and truly made our night. Every part of the process was smooth and easy and the reception was a complete blast largely in part to how solid Undercover was. They are ridiculously talented, sound amazing, and got the party started and kept it going all night. I must have had 50 people come up to me during the night to tell me how good they were. I will recommend them to everyone I know and could not endorse them any more highly.
Wedding•Reviewed on January 9, 2010•From Claremont, CA
My fiancee and I as well as our guest list of 180 were thrilled with Undercover. From start to finish, George (the bandleadeer) was accomodating and professional. I never had one doubt that they would really liven up the party. They even played a Lady Gaga song at the request of one our guests. They also changed "Jesse's Girl" to "Bobby's Girl", a very sweet detail. I would gladly recommend them for any and all events.
Wedding•Reviewed on June 6, 2009•From San Clemente, CA
WOW, WOW, WOW!! I would give them more stars if I could!! We knew Undercover was going to be incredible since we saw them perform before we booked, but they far exceeded our expectations. George & Carla were great leading up to the wedding, helping us with questions, timelines, etc. And then the day of, the setup & uplighting was awesome, Carla mc'd and knew exactly what to do even before we knew. They were awesome! We got compliments right on the dance floor about how talented they are and how much energy they all had. We only wish that they got to perform longer. We really hope to have an event to have them back at in the future. They rock!
Wedding Reception•Reviewed on May 1, 2010•From Marina del Rey, CA
They rocked the whole night,oh and by the way how many weddings have you heard of where everyone stays until the end? Thats the joy the band brought to us all evening. Were all still talking about the wedding and the reception.In the end its all about the Bride and the music isnt it? Thanks to all of you for helping making it a night to remember. Gary and Beverly Kemp
Christmas Party•Reviewed on December 14, 2009•From Irvine, CA
Christmas Corporate Awards Banquet Dec. 13 2009 Wow! What a great evening for our employees and their families. The Undercover Band was recommended to us, their professionalism and talent exceeded our expectations! We put on a Music Awards show for our staff. Our team was acknowledge for their great work and honored with their favorite songs by Undercover. Thank You George,Carla, Alex,Fred,and Brent for your unbelievable vocals, ideas, and interaction that made the presentation a great success! We highly recommend "UNDERCOVER" for any corporate event. Live Music is the only way to go! Gary and Lynn Williams Irvine, Ca.
Wedding Reception•Reviewed on December 31, 2009•From Calgary, AB
Undercover performed with 7 musicians at my daughter's Black Tie wedding function attended by over 300 people. The dance floor was jammed the entire night and people are still talking about what a great band we had. They had music for everyone. They handled all their technical arrangements themselves and they are experts. Thank you Undercover cas
Wedding•Reviewed on June 27, 2009•From Pasadena, CA
We hired Undercover for our wedding held this past June. They were professional from beginning to end. George and Carla took care of everything. They're such a talented band and I would use them time and time again. All of our guest loved their performance and are still talking about it. We wanted a band that was versatile and they exceeding our expectations. I would highly recommend them for any event. Words can't express how happy we were. Thanks again!!!
Wedding•Reviewed on August 1, 2009•From Los Angeles, CA
We highly recommend Undercover!! They're a talented group and very professional. My wife and I had a Korean wedding, which are known to end early because Korean adults tend to leave shortly after dinner. However, Undercover kept the crowd going, packing the dance floor all night long. And to top it off, the lead singer, who's can't speak Korean, memorized and sang a Korean ballad. And she sang it beautifully. Kudos Karla!
Wedding•Reviewed on May 30, 2009•From Newport Beach, CA
My son, and his new wife had a wedding of over 260 people, and Undercover was fabulous! They had every age dancing the entire evening, even to the point of keeping them overtime. We did not want it all to end! Sounded totally original! Very professional, and Carla, the female vocalist did a wonderful job in announcing and keeping the evening's activities moving right along! We loved them! The DeRusses
Wedding•Reviewed on August 10, 2008•From Pomona, CA
Wow!!! They rocked!!! This band made the wedding!!! It was great, we went through the ceremony and dinner,and then they took over; the music was so good EVERYBODY (even my 90+ year old grandpa) danced. Don't think twice to book these guys; you will NOT be disappointed. The vocals, the guitar, the bass, the drums... lots of talent all the way around. Very helpful, Very professional. A+++
Corporate Function•Reviewed on December 8, 2007•From San Diego, CA
LOOK NO FURTHER: Undercover is AWESOME!!! They are talented musicians that provided a fun-filled night for the whole company. Their knowledge of party music was deep and interaction with the crowd was phenomenal. Our company enjoyed every song they played and requested an extra hour to keep them playing. This was our best holiday party yet mostly thanks to Undercover and they have been asked back for next year's party. If you are deciding between bands then look no further, you need to hire Undercover for you party. DO IT NOW! You will not be disappointed.
Wedding•Reviewed on November 29, 2008•From La Verne, CA
Undercover...you rock!! You kept the vibe and energy up at our wedding. You set the mood for dinner and kicked it up for the dance. All night, we received nothing but compliments from our guests about how great your music and MC services were. We can't thank you enough for making our wedding reception a success!! You guys are the best!
Christmas Party•Reviewed on December 6, 2008•From Reno, NV
Our employee's absoluately loved Undercover! In fact, we've had numerous requests to bring them back next year. "The Band Undercover was awesome! Way better then a DJ who just plays hits. I'd rather have live music!"
Wedding•Reviewed on August 9, 2008•From Denver, CO
THIS IS YOUR BAND!! Undercover was the defining piece to our wedding reception!! The talent and energy they brought to our event was priceless. We had a pretty demanding crowd and the band was more than accomodating to all of our requests. Not only are they talented and professional, they are also very personable. The band members spent time talking with, not only us, but our guests and family members as well. If you want your event to be memorable book this band today!