Back to profile
Pink Cadillac (Nashville Wedding & Party Band) Reviews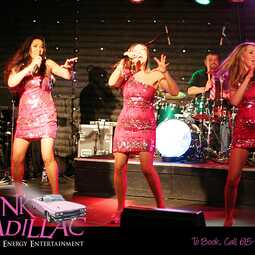 Avg 5.0 | 19 Reviews

Dance Band from Nashville, TN

22 Verified Bookings
Starting at $2,000 per event
---
19 Reviews for Pink Cadillac (Nashville Wedding & Party Band)
Wedding Reception•Reviewed on May 10, 2014•From Bolivar, TN
I didn't get a chance to see the Pink Cadillacs perform before my wedding, but I'm the luckiest bride on this earth because they were A.M.A.Z.I.N.G! The guests danced the entire night and it was a blast. So very glad I found them. Everyone was very impressed. One of my bridesmaids even booked them for her wedding later this year:) Thank you so much Pink Cadillacs!!
Holiday Party•Reviewed on December 7, 2013•From Nashville, TN
The Pink Cadillac's were fantastic for our company holiday party. They played so many different genere's - there was definitely something for everyone. The Pink Cadillac's engaged the audiance throughout the night and accomodated to every single need. They were so much fun and awesome musicians!!! We will definitely use them again in the future!!!
Corporate Function•Reviewed on December 14, 2013•From Evansville, IN
I am very pleased with the Pink Cadilliac Band performance, and I expect to bring them back next year for our Corporate employee Christmas party. Music was great, and enjoyed by all in attendance.
Hotel Event•Reviewed on January 18, 2014•From Nashville, TN
Exactly what we wanted They were a great crowd pleaser They were very receptive to our needs We needed a party band with a lots of variety in dance music I gave Mark Miller very brief instuctions and told him to go with the flow of the crowd and he was right on with his choices I will and already have gave references for Pink Cadillac Thank You - Stephen Potter 2013 Tenn Association of Fairs President
Wedding Reception•Reviewed on July 14, 2012•From Huntsville, AL
The band was wonderful and everyone loved the music! They were open to my requests and were very easy to work with. They were prompt and very talented. I would highly recommend Pink Cadillac!!! Thank you Mark and all the other band members for a great time! :)
Awards Night Party•Reviewed on August 27, 2011•From Nashville, TN
Mark and Pink Cadillac were awesome. Our function was such that we had singers and musicians in the audience who wanted to perform with the band. Mark and gang were accommodating and welcoming to all. I wouldn't think of our group as a dancing crowd, but the band had them up in no time. They were prompt in setting up, fast in breaking down, and flexible in terms of our schedule. A more accommodating and approachable group of musicians I have never met. We've already booked them again for next year's conference. You will not be disappointed. - Clay Stafford, Killer Nashville founder & president http://www.KillerNashville.com http://www.ClayStafford.com
Wedding Reception•Reviewed on June 22, 2012•From Nashville, TN
Band was amazing! We had never even heard them in person and were nervous because of that. But the band was just perfect for our wedding. They learned the two songs we asked them to learn and sounded great all night. I would recommend this band to anyone.
Wedding Reception•Reviewed on October 8, 2011•From Oxford, MS
This band was a delight to deal with and accomodated our every request. All of our guests were very complimentary of how good they were and we had a blast. Great party band and excellent wedding reception band. I so recommend them to anyone and would use them again in an instant!!
Wedding Reception•Reviewed on April 21, 2012•From Dyersburg, TN
We give Pink Cadillac 5 stars for everything. They were great. I would highly reccommend them for any event especially a wedding reception! They were very accomodating and professional. My son has his own band, but obviously could not play at his own wedding reception. They let him sit in with them on a couple of songs and it was great! Love these guys!!
Fundraiser•Reviewed on October 15, 2010•From Nashville, TN
They were wonderful and GREAT to work with!!! Really fabulous band!!!!
Wedding Reception•Reviewed on June 25, 2011•From Harrisburg, IL
Mark Miller and the rest of Pink Cadillac were truly a pleasure to work with. Very professional and very available throughout the planning process. Our wedding reception was a blast thanks to the fun show and great talent displayed. Thanks, guys!
Wedding Reception•Reviewed on November 10, 2012•From Memphis, TN
We had a great time with Pink Cadillac at our wedding reception. They played a variety of music and had everyone on the dance floor. They were able to fulfill all of our requests and were very easy to work with. We highly reccomend them for any party or function.
New Year's Eve Party•Reviewed on December 31, 2011•From Cadiz, KY
Great band, easy to work with. Keep everyone dancing and entertained. We will hire them back for future events and you should too.
Community Event•Reviewed on April 23, 2011•From Cleveland, TN
Pink Cadillac performed for the first time in the 10 years of our event and became an instant crowd favorite. The mix of music covered the '60's-'80's and was enjoyed by the 4000+/- participants and spectators regardless of their age.The band communicated well with our DJ allowing seamless sound checks and transitions between sets. Their set-up & take-down was done in a timely manner adding to the professionalism exhibited throughout the day. Of the many acts that have performed on our event stage over the years Pink Cadillac rates up there with the best.If you are looking for a class act with outstanding musical skills you need to look no further than Pink Cadillac
Club Event•Reviewed on June 11, 2011•From Franklin, TN
We thought that the band was great. They played a lot of great music that the crowd enjoyed, and many danced to. Some issues arose when the band initially arrived, concerning singing/playing in the hot weather. Since we had no control of the weather or position of the stage area, they did continue with their set-up and put on a great show for our guests.
Convention•Reviewed on June 3, 2011•From Franklin, TN
This event turned out to be better than expected. I had heard Pink Cadillac at a local venue , but one of their key members was sick that night. His presence at our event really improved the overall show. We were well pleased.. They play a good variety of of music from different era's that fit our crowd. Our audience seems to really enjoy they show.
Wedding Reception•Reviewed on October 22, 2011•From Auburn, KY
Fortunate we had a DJ, too. We pushed the time up for dinner but they were smoking/drinking wine; therefore, not ready/flexible. They were paid $1100 to play for appr 45 mins. At booking in June, I gave song lists. They ignored. Month prior to wedding, they asked if I had song requests?? I could see they weren't listening - tried to cancel but contract did not allow. Disappointing performance after choosing songs from their list they still ignored/played their choices:it was their concert. Requested traditional jazz--got fleetwood mac, etc. It took my friend asking them to play a request from the bride to hear any of my choices. Would not recommend hiring.
Pink Cadillac (Nashville Wedding & Party Band):
It's unfortunate that the party felt the need to write this negative review after it was clear that they were unhappy because they could not cancel (for free) the band in an email one week prior to their wedding. We tried very hard to accommodate their needs, selections, and we even offered a cancellation rate at a much lower cost. Their initial desire was to cancel the band one week prior to just utilize the DJ, but when that was not an option for free, they decided to only use the band for dinner hour music. The timing of the ceremony vs. the dinner hour was unorganized and we were approached rather sharply by someone that we would not be able to sound check (ever)
Event•Reviewed on May 20, 2017•From Crossville, TN
They were the closing act of three bands at our Fairfield Glade Music Festival. After a day of Americana and country-rock music, they had everyone jumping out of their chairs and dancing. We had their 8-piece group with two horns and when they walked off stage into the crowd, everyone went crazy. The two lady lead singers were sexy and interacted so well with the crowd. At times, they and the horn players left the stage and walked among the crowd while still performing. Very fun group! Their song list has someone for everyone. We are having them back for another event in the Fall and already looking forward to them.
Wedding Reception•Reviewed on June 6, 2015•From Clinton, KY
We were very pleased with the band's entertainment for our wedding reception! They were most accommodating - even announcing some "couples trivia" answers that we put on the back of the program. They performed wonderfully, including our two special requests. I loved the way they worked the crowd and got the guests involved. They had to travel to a very small town for our wedding, but everything worked out great. Some guests commented that we probably had to pay a fortune, and then when they went home and looked them online, they were surprised how affordable the band is compared to other bands. I would highly recommend them and I appreciate what they provided for us!