Back to profile
Saffire Express Band Reviews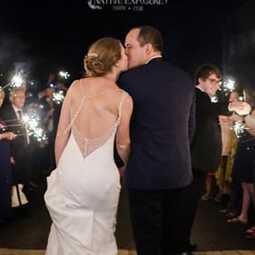 Avg 5.0 | 26 Reviews

Cover Band from Cincinnati, OH

38 Verified Bookings
Starting at $1,100 per event
---
26 Reviews for Saffire Express Band
Community Event•Reviewed on September 6, 2022•From Cincinnati, OH
We invited Saffire Express to Xavier Dining's End of Summer BBQ. The band was an incredibly amazing and are they are incredible performers! Working with them was amazing, communication was great, and all the members were so friendly. The energy they brought to campus had all of our students incredibly happy, and raving about how much life they brought to campus during their performance. We would love to host them again, I am so thankful we found them on The Bash. 1,000,000/10 recommend them for your next event!
Sorority Function•Reviewed on October 22, 2021•From Cincinnati, OH
There are not enough words to describe how great this band was. I hired them for my sorority semi formal, and they were phenomenal. They brought so much energy and made our event so fun and so special. They even brought tons of props like blow up guitars and beach balls with our sorority's logo on them. They went above and beyond. Not only were they amazing the night of, they were so easy to work with and had great communication. If you are looking for a fun and exciting band for your event, look so further, Saffire Express is the band for you.
Saffire Express Band:
Thank you Bella! It was a pleasure working with you. Your group was so fun and amazing- It made it a blast for us to play! Thank you for having us and hope to see you again!
Wedding•Reviewed on August 15, 2009•From Springfield, OH
Absolutely incredible! Saffire Express exceeded ANY expectations we had for keeping our guests dancing at our wedding! From the beginning, they were attentive - quickly responding to emails and phone calls. As the date drew closer, they were extremely prepared - anticipating issues BEFORE they could arise. They set up a day early, ensuring that the day would go smoothly. Furthermore, they took only one break, keeping our guests dancing, dancing, dancing. You should see the pictures! Of the compliments I received for our wedding - Saffire Express got by far the most! I HIGHLY recommend Saffire Express! I would hire them in second for any other event!
Wedding Reception•Reviewed on August 29, 2015•From Piqua, OH
I had not heard them in person before our wedding & was a tiny nervous. I had no reason to be! We didn't have alcohol and still everyone was up and dancing all night. They added props like tambourines and hats for the guests to use. One of the kids even was up "playing" an inflatable guitar with them. Sam & Dana are so sweet and professional. They drove up before the event to scope it out even though it is a 1.5-2 hour drive. I was having a problem with my emails going through so we texted instead. They were accommodating and welcoming and made our day so special. I can't believe the service and talent we got for the price! THANK YOU! - Hanna & Dan
Wedding Reception•Reviewed on June 4, 2016•From Cincinnati, OH
Saffire Express Band was the perfect choice for our wedding. They were professional and kept in contact with us making sure all our requests were fulfilled, they even learned our first dance song! At the wedding they took control and not only acted as MC to keep the night moving but once the dancing started they really kept the party going! They have a ton of talent and were the played the perfect mix! They came out into the crowd and brought props to share which was so much fun for everyone! This band is amazing and we would highly recommend them to anyone looking for a fantastic wedding band!!
Festival•Reviewed on June 11, 2016•From Cincinnati, OH
I'm SO happy that I was able to book Saffire Express for our Church festival! They are such an amazingly fun band! The kids loved it, especially with all the 'swag' that was given out. The adults enjoyed it just as much. The dance floor was packed with everyone having a total blast. Thank you Saffire Express! See you next year!!
Wedding Reception•Reviewed on October 10, 2010•From Cincinnati, OH
Best band ever! Everyone tells us "That band rocked!" They took our reception to the next level and our guests will remember it forever. We thought they sounded good in recordings, but WOW they sound even better in person! Great stage presence! Tons of variety! Several great vocalists! Awesome horn section! Rockin drummer! We were blown away. We worried a band might not MC as well as a DJ, but Saffire did this better than we've ever seen a DJ do it. If you can't decide who to hire, choose them for that alone. They went over the top by learning new songs, allowing the bride's father and groom to sing with them and by inviting us to rehearsals. Hire them!
Wedding Ceremony•Reviewed on October 1, 2016•From Middletown, OH
We are so happy we went with Saffire Express for my daughters wedding! Ashley and Mike loved them and so did we-as well as our guest. Sam & Dana were so amazing to work with, we couldn't have found a more personable, fun, talented band to work with. I recommend Saffire Express to everyone- A++
Wedding Reception•Reviewed on July 16, 2016•From Covington, KY
The band went well beyond expectations. We actually have people asking for the bands contact information because they were that amazing. I recommend them to anyone and everyone that is looking for a live band. Thank you for helping create an unforGettable wedding. I did not a voice the next day. Saffire express is amazing!
Graduation Party•Reviewed on May 9, 2015•From Springboro, OH
We hired the Saffire Express band to play for our daughter's grad party. Sam, Dana, and the whole band were so great all night. Everyone enjoyed their music so much. They sang all our favorites from their list and Dana interacted with the crowd in such a fun and entertaining way. She had people sing with her and passed out cute gifts to the audience and kids! Everyone had a great time dancing! Overall it was a fun-filled night! Mary
Event•Reviewed on November 23, 2012•From Cincinnati, OH
Saffire Express was awesome! They catered their music sets to fit our Reunion and everyone raved about the band! They interacted a lot with the audience and were so much fun! They had a huge variety of music with great vocals! They were very professional and attentive to detail-met with us several times to help organize the event and everything was ready to go when we walked in the door-I had to get some of their cards to hand out because everyone wanted to know who they were!They made our Reunion the best one yet-I would highly recommend them!
Wedding Reception•Reviewed on October 15, 2016•From Loveland, OH
I couldn't be more pleased with this band! They were so much fun with all of their props and even gave me and my husband a gift, which was so sweet! I would recommend them to anyone!
Event•Reviewed on May 5, 2012•From Dayton, OH
Saffire Express was a blast to work with from the get go! We gave them short notice, but they pulled off an amazing show! Sam drove up to check out the venue even though there was no stage or tent up yet for our outdoor event. The band asked us what we were looking for and showed up prompt and prepared well before the show. The audience at our event loved how engaging the band was in providing trivia and handing out free stuff to make the audience participate more and more in each and every song! Thanks for a great show!
Wedding Reception•Reviewed on November 6, 2010•From Sidney, OH
We cannot say enough wonderful things about this band! From the moment we booked them, they continually were in contact with us helping to choose music and plan our reception. They even came up a week before to check out the site and stage set-up. Additionally, they learned several songs just for our reception! Not only are their vocal talents amazing, but the horn section was absolutely unbelievable! Our guests couldn't stop talking about what an outstanding band we had booked, and are still talking about it several weeks later! If you're looking for a band that keeps your guests entertained and the party hopping until closing time, these are your guys!
Wedding Ceremony•Reviewed on September 3, 2011•From Columbus, OH
We hired the Saffire Express band for our 2011 wedding reception. The band could not have done a better job and everyone at the wedding loved the music. They were incredibly accomodating with my specific taste in music, are talented and so much fun!! They interacted with our guests and were the life of the party. Thank you so much Saffire Express, we loved every minute of entertainment!!!
Wedding Ceremony•Reviewed on September 4, 2011•From Cincinnati, OH
Saphire Express was a fantastic addition to our son's wedding reception. Since we did not use a wedding planner, they helped keep the special events like cake cutting, throwing the garter & bouquet, etc, on time. They interacted with the guests, and kept everyone entertained (even those who didn't want to dance). They took requests, and played with such talent that some thought it was a CD they were listening to while the band took a break. It rained all night, and we had such a great time that even the bride and groom were dancing in the rain till the last song was played. I would highly recommend this band to anyone! Thanks again Saphire Express!
Wedding•Reviewed on April 26, 2008•From Dayton, OH
Sam and Dana, the band leaders, were incredibly easy to work with. Sam made a trip to the venue a month before our wedding to determine where/how to set up the band. The band arrived early and was completely set up even before the guests arrived for dinner. Sam MC'd all the reception events - announcing the bridal party, cake cutting, first dance, etc. The band got the dancing going after dinner and kept people dancing for hours. The music is great for all ages, is upbeat, energetic and fun. They even learned 3 of our special songs. Everyone was impressed! With 9 pieces including horns, they have a great sound!
Resort Event•Reviewed on July 15, 2011•From Lebanon, OH
They were extremely professional, fun, had audience participation, played great music and sounded wonderful, played overtime with no charge and didn't take a break. We were so impressed we are seaching for another date to bring them back!
Event•Reviewed on October 9, 2010•From Cincinnati, OH
Saffire Express couldn't have been more talented and wonderful! The music was stellar, as was the way they interacted with our group. They even brought cute and patriotic themed things to give out to the crowd of our Military Reunion. I saw folks wearing red white and blue mardi gras beads all weekend! Very professional and a lot of fun... I'd love to hear them again, anytime! - Jackie Lewis
Wedding•Reviewed on November 7, 2009•From Cincinnati, OH
The Saffire Express was top notch, considerate, professional and had the entire wedding up and dancing. We would definitely hire them again. They were just fabulous. Everyone talked about them all night and continue to talk about them days after the event.
Wedding•Reviewed on April 4, 2009•From Lexington, KY
Saffire Express was great! They kept our dance floor full all evening and everyone had a great time! They played a perfect mix of songs from different decades. Additionally, they were very accommodating of our special requests.
Community Event•Reviewed on May 31, 2008•From Brownstown, IN
Saffire Express was fantastic, and a great fit to the Back-N-Time cruz-in in Brownstown, IN. The crew was great to work with, and made you fill like part of the family. Their style of music pleased everyone of all ages. I'll have the back for sure! Thank you Saffire Express, and keep on rockin.
Wedding Reception•Reviewed on April 23, 2016•From Batesville, IN
Awesome band. Professional performers. People couldn't get enough of the music. The perfect party band!
Corporate Function•Reviewed on December 6, 2014•From Columbus, OH
They are a great band! Very professional and accommodating. We received several great comments from all of our employees and guests. We will definitely use them again for future events!
Wedding Reception•Reviewed on August 17, 2013•From Cross Plains, IN
Amazing band. Kept us dancing all night. Would have them at our next party.