26 Festive Holiday Cocktail Recipes
If your cheeks aren't already rosy, get comfy and cozy with these delicious holiday cocktails.
Brittany Barber
Contributor
If you're on the hunt for festive holiday cocktail recipes, look no further. I mean, other than a visit from Santa, what could bring more cheer to the holiday season than a delicious cocktail?
We've combed through some of the best holiday cocktails on the internet to make sure you really do have a holly jolly Christmas this year. So whether you're having a holiday Zoom celebration or hosting a small Christmas party IRL, cozy up by the fire (or laptop) with a proper holiday drink this December. 
READ MORE:
Pro Tip: Hiring a bartender for your holiday party? Find some inspiration on this list to help decide on what signature cocktail to serve.
Here are 26 festive cocktail recipes to make this holiday season: 
Sparkling Winter Berry Cocktail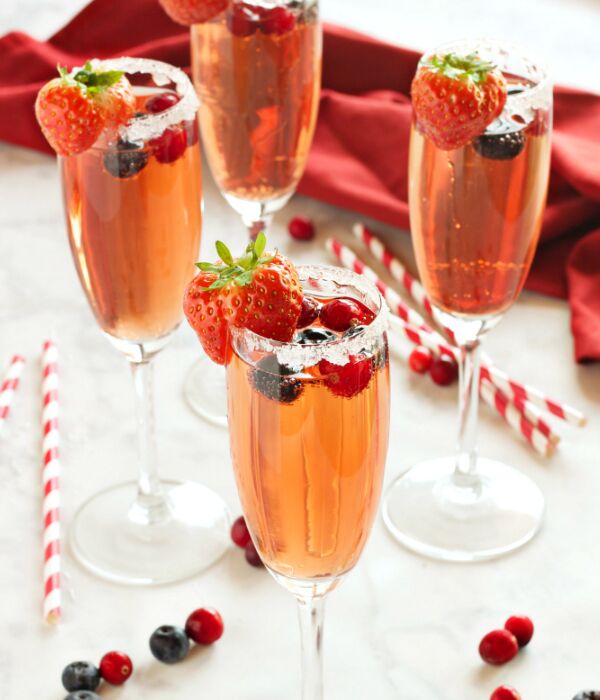 Photo: Thebusybaker.com
Adding fresh fruit and cranberry juice to prosecco makes for an easy (and tasty!) holiday beverage. This particular cocktail is easy to serve as a mocktail as well — just swap the bubbly for soda water! Check out The Busy Baker for the full recipe.
Holiday Eggnog Brandy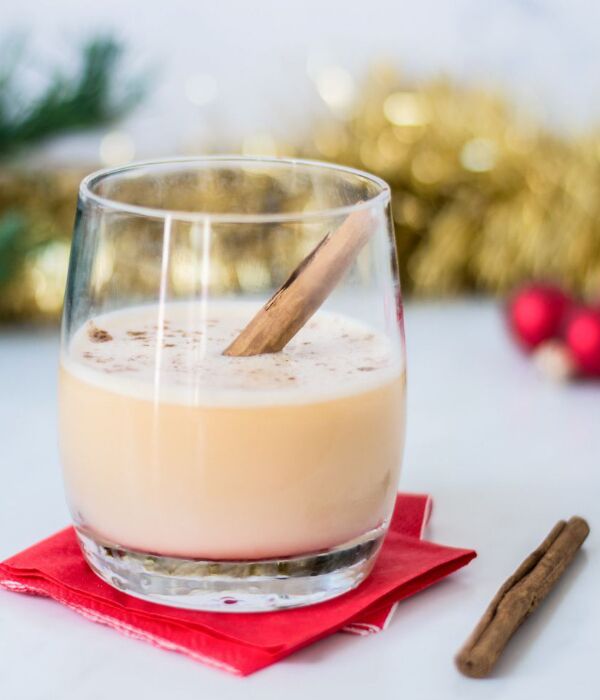 Photo: Thespruceeats.com
This simple eggnog and brandy is a holiday cocktail classic. With just a few ingredients, enjoy this decadent cocktail as a nightcap after dinner. Visit The Spruce Eats for the recipe!
Pro Tip: Before making a cocktail with raw egg, we recommend testing it first. Just place your egg in a glass of water. If it sinks to the bottom, it's fresh — but if it floats, don't use it. 
Christmas Aperol Spritz With Sloe Gin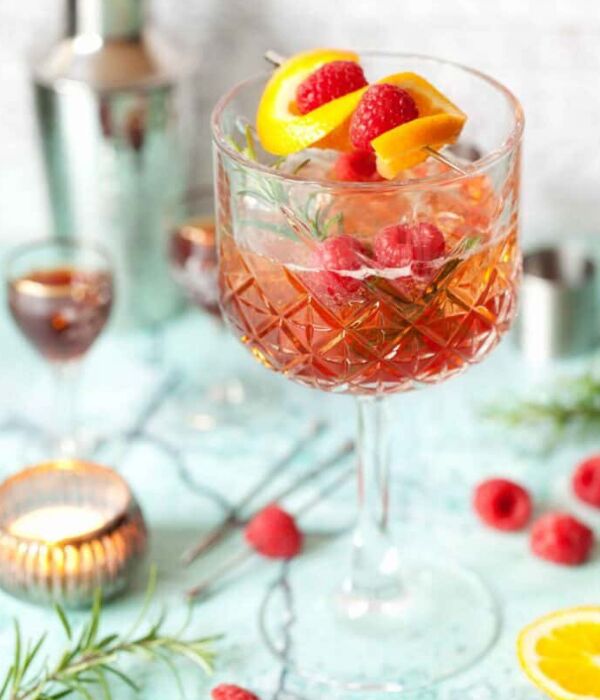 Photo: Littlesugarsnaps.com
You might think an Aperol spritz is more of a summery beverage than a holiday cocktail — but the addition of sloe gin and a sprig of rosemary surprisingly changes the game. Check out Little Sugar Snaps for the full recipe, as well as the lowdown on sloe gin and how it's not actually gin!  
Mulled Wine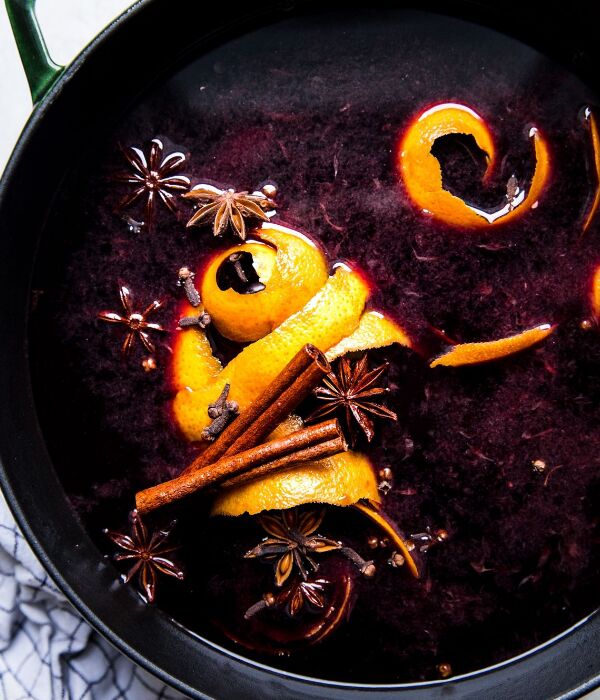 Photo: Themodernproper.com
The best thing about making mulled wine? Well aside from drinking it, it's the heavenly aroma that'll make your whole house smell like Christmas. With fresh winter spices, orange, and a rich syrah — you've got all you need for the perfect batch. Find the recipe on The Modern Proper. 
Sugar Plum Bubbly Cocktail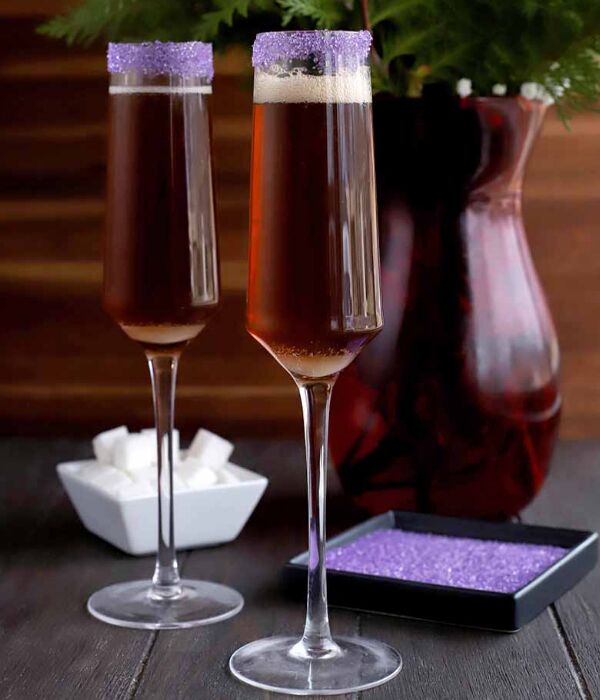 Photo: Foodal.com
Even if you can't go out to see the Nutcracker ballet this holiday season, tap into the festivities with this sugar plum cocktail from Foodal. It's the perfect cocktail to make if you plan on streaming a previous performance from home, or even during your holiday Zoom celebration!
Rudolph's Tipsy Spritzer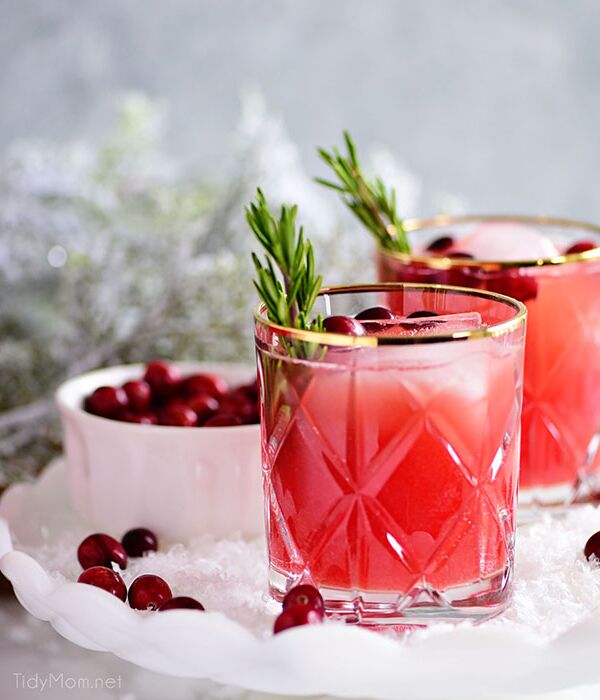 Photo: Tidymom.net
Think of this festive cocktail as a wintery spin-off of the classic sex on the beach. Simply trade the peach schnapps in for maraschino cherries and rosemary — and there you have it! Check out Tidy Mom for the full recipe.
Mrs. Claus Cranberry Whiskey Cocktail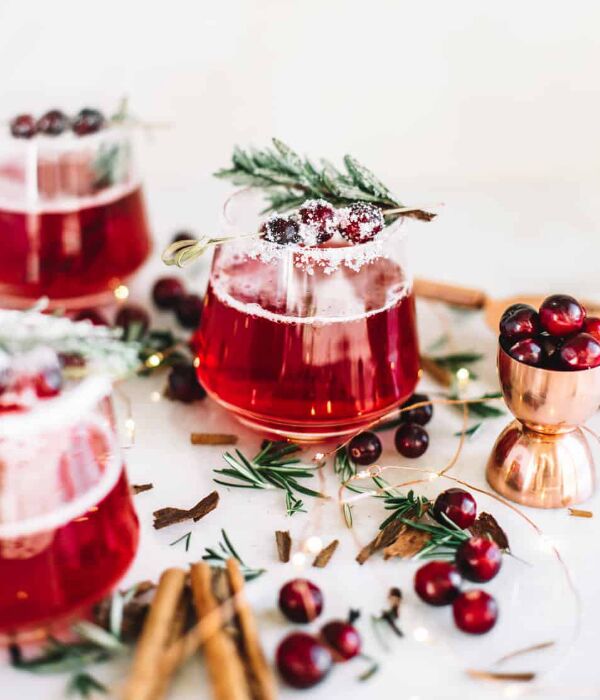 Photo: Thecollegehousewife.com
How beautiful are those sugared cranberries? This delicious holiday cocktail lets you get creative with its lovely garnish and a rosemary syrup. Check out The College Housewife's recipe for a breakdown of the ingredients and steps.
Pro Tip: Make sure to use real, unsweetened cranberry juice, and not cranberry cocktail mix. The latter will make this cocktail too sweet! 
Rosemary-Smoked Negroni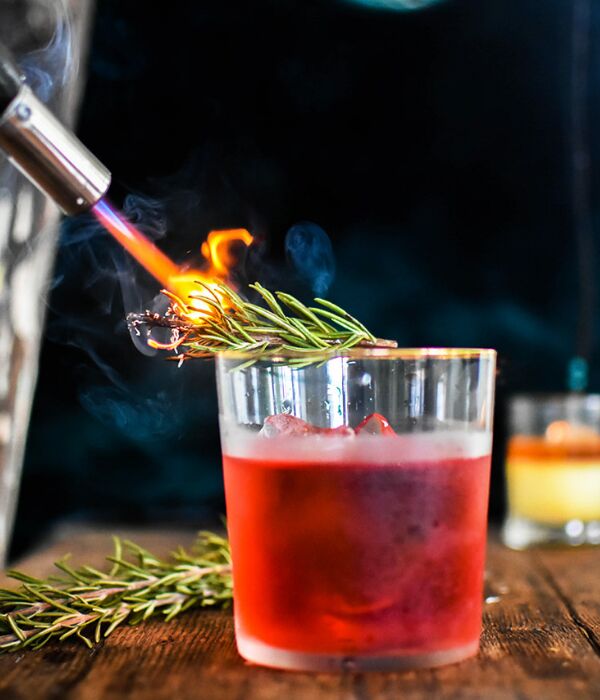 Photo: Vinepair.com
Rosemary really is the herb of the holidays, isn't it? This rosemary-smoked negroni is a must-try for seasoned imbibers and cocktail lovers alike. Simply torch (or light) a sprig of rosemary over your negroni for an added element of herbaceous smoke. Check out Vine Pair for the full recipe! 
Holiday Pomegranate Smash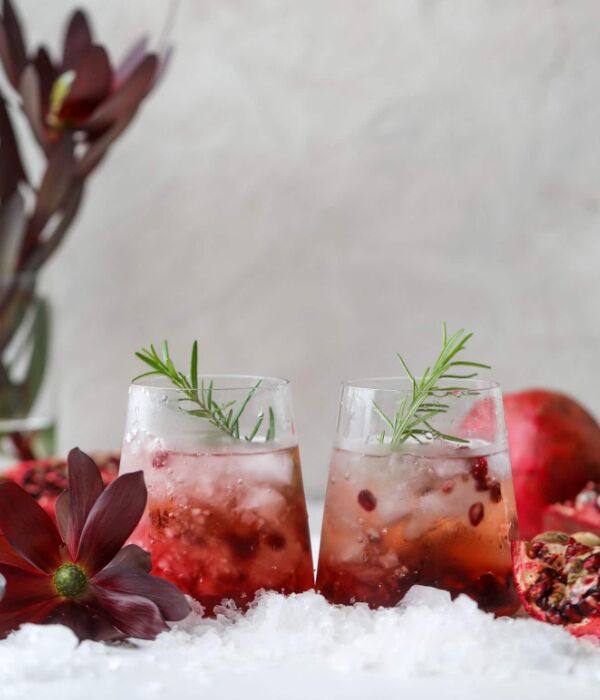 Photo: Howsweeteats.com
Home Sweet Eats truly nails this pomegranate smash recipe! Pomegranate juice, vodka, and a touch of maple syrup topped with bubbly? Yes, please. 
Gingersnap Scotch Cocktail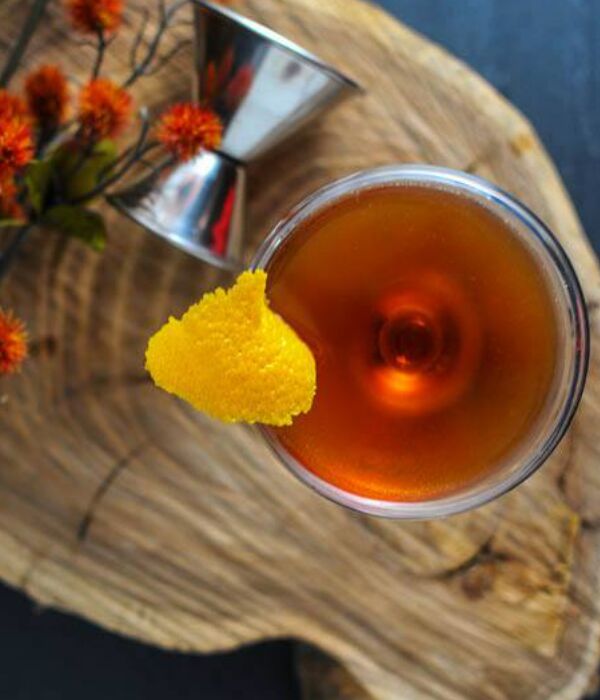 Photo: Gastronomblog.com
This dark and spicy scotch-based cocktail is the quintessential holiday cocktail. With ginger, amaretto, and amaro, you'll be sipping on the closest thing to a gingersnap cookie — ahem, a seriously boozy gingersnap cookie — in no time. 
Mistletoe Kiss Cocktail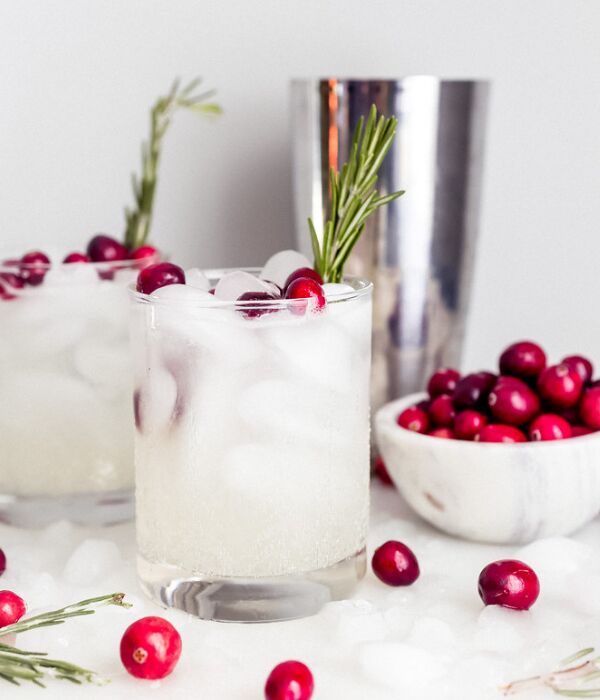 Photo: Smells-like-home.com
The mistletoe kiss cocktail recipe from Smells Like Home is essentially a more delicious (and festive) version of a vodka lemonade. As far as Christmas cocktails are concerned, this one is super refreshing! 
Spiked Butterscotch Hot Chocolate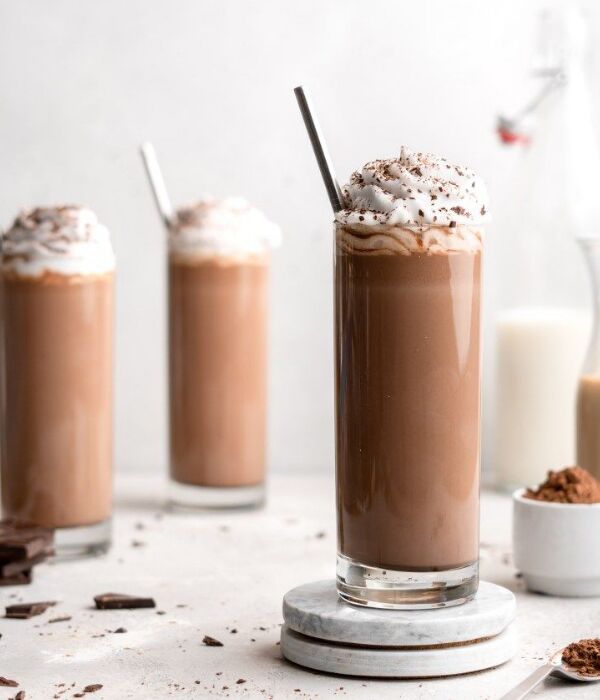 Photo: Thefeedfeed.com
This! Cocktail! Is! Everything! It's everything you could ever want in a spiked hot chocolate! Whipped cream? Check. Butterscotch liqueur? Check! Decadent, creamy hot chocolate? With a kick? Check, check, check. Oh, and ~check~ out The House And Hive for the full recipe! 
Pro Tip: The recipe doesn't call for it, but if you're looking for an extra kick — swap out some of the milk and throw in an ounce of Baileys!  
Hot Buttered Rum Cider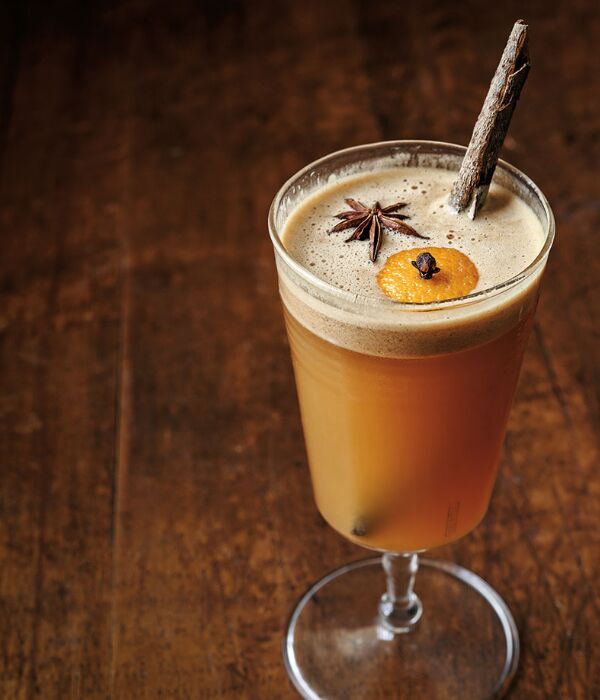 Photo: Ed Anderson/Punchdrink.com
If you've never tried hot buttered rum cider, you need to stop what you're doing, and head over to Punch Drink for the recipe right now. Go on! 
Holiday Mule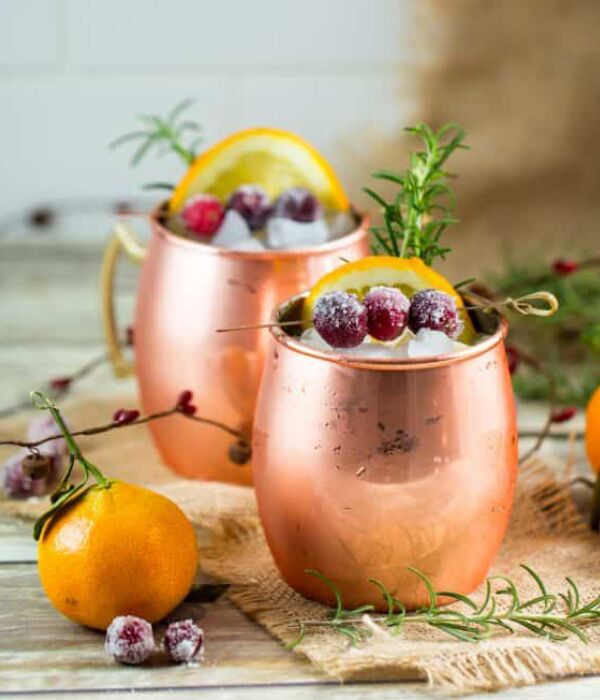 Photo: Homesweetjones.com
Although they're pretty, you don't actually need a copper mule mug set to make this holiday cocktail. Any glass will do! Go to Home Sweet Jones to check out the recipe for their festive take on the classic Moscow mule cocktail. 
Pro Tip: Keep some extra ginger beer and cranberry juice on hand for anyone who might prefer a non-alcoholic mocktail!
Gingerbread Martini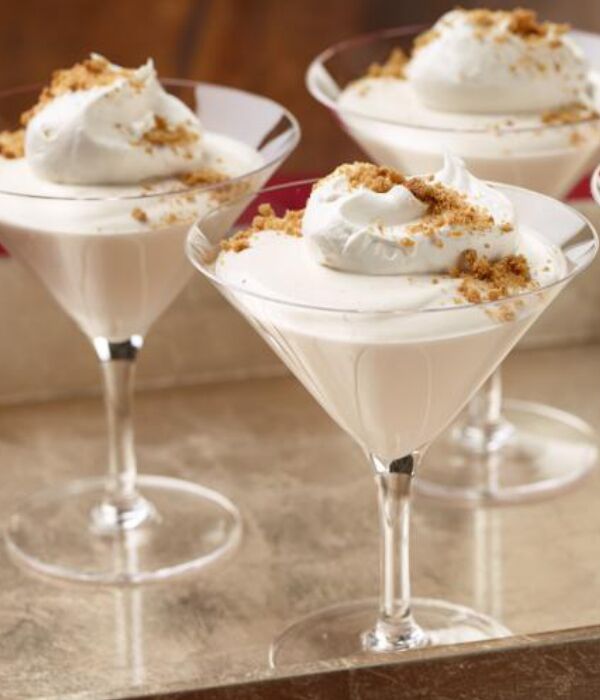 Photo: Foodnetwork.com
This festive cocktail recipe from Food Network has quite a few steps — but we promise, the effort is worthwhile. If you've ever dreamt of a creamy, melt in your mouth, gingerbread martini, then this drink is just for you. You won't even need to bother with dessert if you're serving these! 
Poinsettia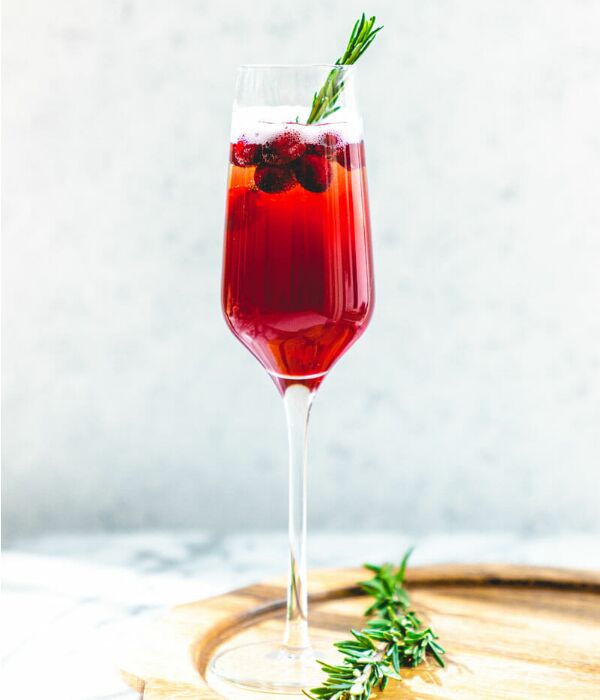 Photo: Acouplecooks.com
The poinsettia cocktail, named after the vibrant holiday plant, is basically a Christmas mimosa. Instead of orange juice, you mix cranberry juice and Cointreau with champagne or sparkling wine, and voilà! You've got yourself a festive, bubbly cocktail. Visit A Couple Cooks for the full recipe! 
Classic Hot Toddy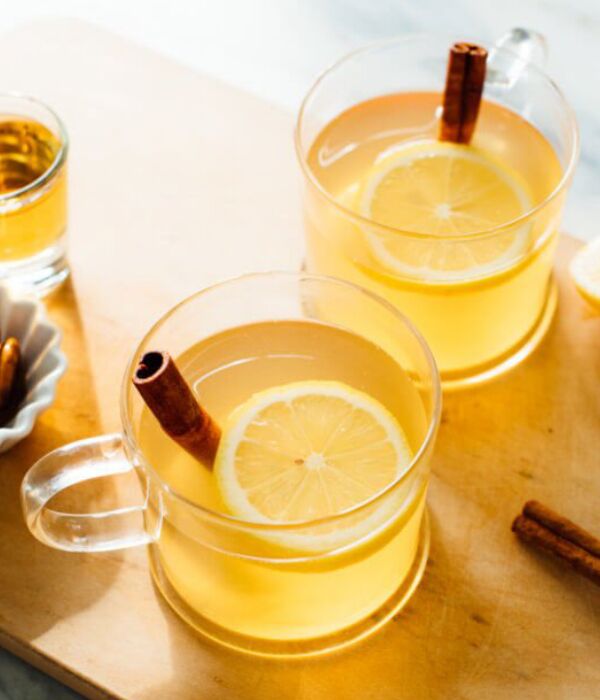 Photo: Cookieandkate.com
With whiskey, honey, lemon, and cinnamon sticks, hot toddies are a must during the winter months — whether you have the sniffles or not. Cookie And Kate have a great recipe to use if you've never made one before!
Coconut-Based Coquito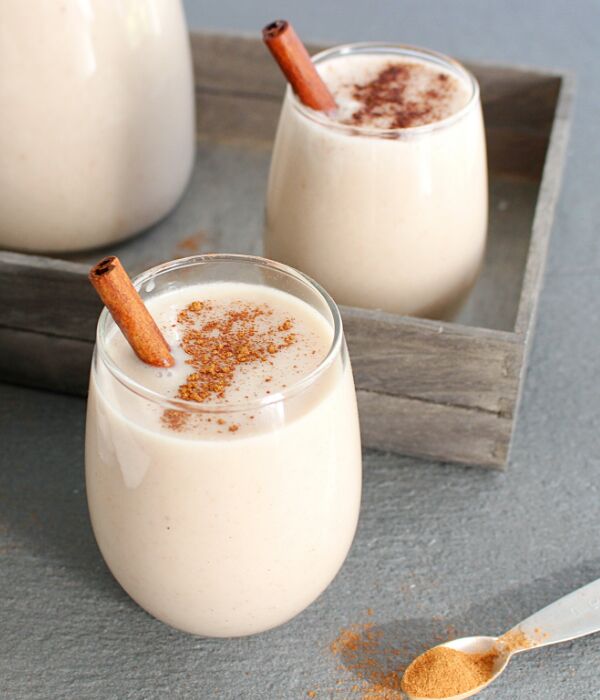 Photo: Babemadeblog.com
This coquito recipe is reminiscent of spiked holiday eggnog, minus the egg. With coconut cream instead of dairy, this holiday cocktail is particularly great if you are serving a loved one with dietary restrictions. For the recipe, check out Babe Made Blog!
Christmas Punch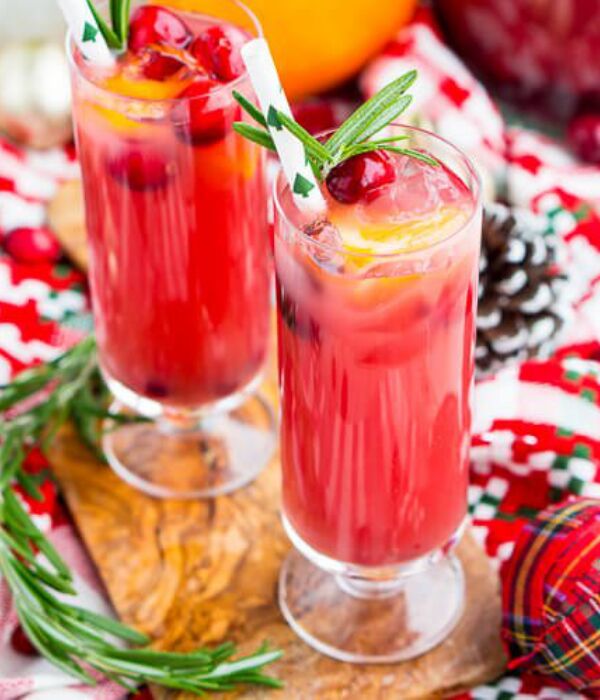 Photo: Sugarandsoul.co 
An easy alternative to making a ton of intricate signature cocktails? A great punch! Besides being foolproof, Sugar And Soul's Christmas punch recipe is so delicious it's sure to please the masses at Christmas dinner. 
Pro Tip: If you like your punch on the sweeter side, swap a cup of orange juice for pineapple juice! 
Chocolate Peppermint Martini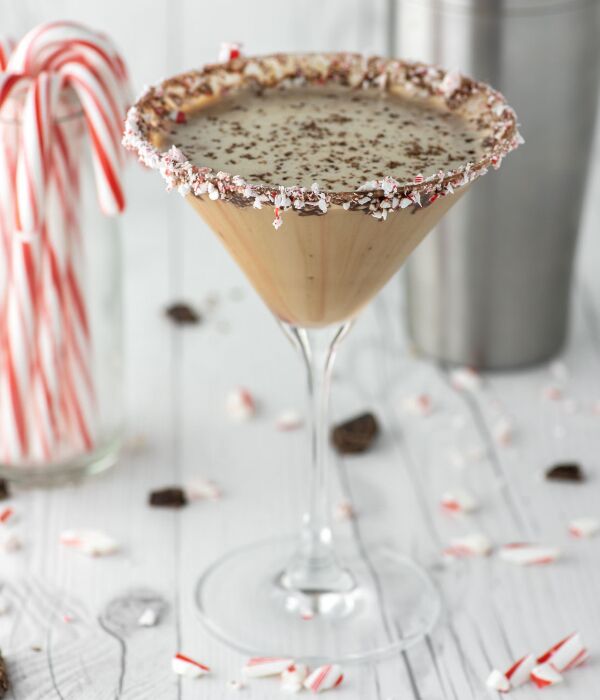 Photo: Chiselandfork.com
If you're a mint-chocolate kind of person, then you should seriously look at this decadent holiday cocktail recipe. 
Homemade Baileys Irish Cream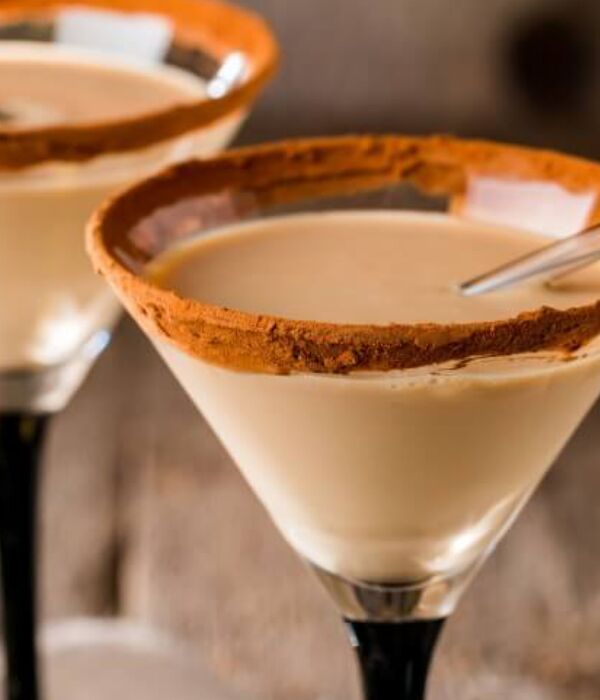 Photo: Cdkitchen.com
If you've ever wanted to make your own Irish cream, this recipe from CD Kitchen is a great place to start! It's great served in coffee, mixed with eggnog, or simply on its own over ice. 
Spiced Apple Margaritas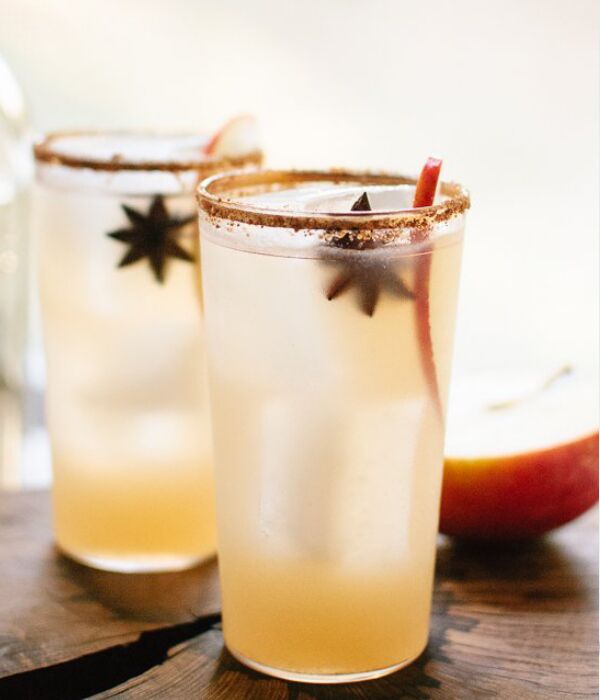 Photo: Cookieandkate.com
If you're into tequila, you've got to try Cookie And Kate's spiced apple margarita recipe. Make sure to use a reposado, or even an añejo tequila. Doing so will add subtle vanilla notes and oakiness, which complement the cider and cinnamon used in this recipe!
Apple Cider Bourbon Holiday Cocktail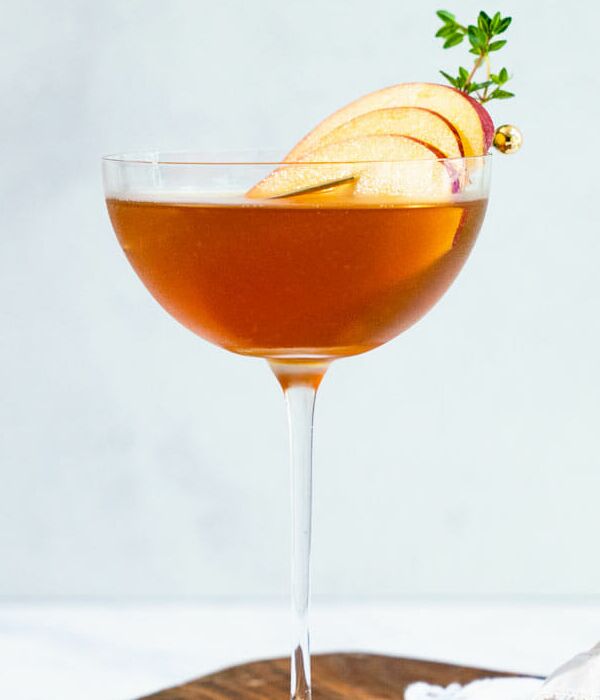 Photo: Acouplecooks.com
Bourbon? Apple cider? What more could you need to warm you up this winter? Check out A Couple Cooks for their delicious holiday cocktail recipe! 
Peppermint Martini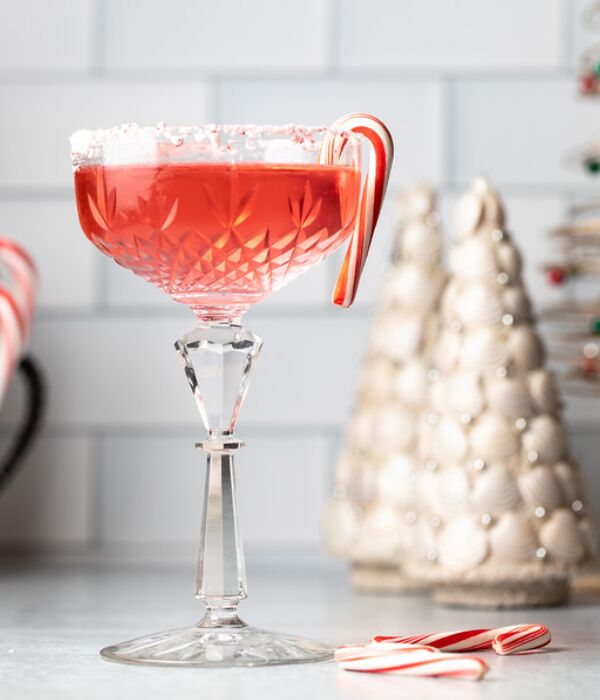 Photo: Sidewalkshoes.com
If your holiday cocktail is rimmed with crushed candy cane, you've reached maximum festive-ness. And if that's what you're looking for, look no further. Check out Sidewalk Shoes for the recipe! 
Pecan Pie Martini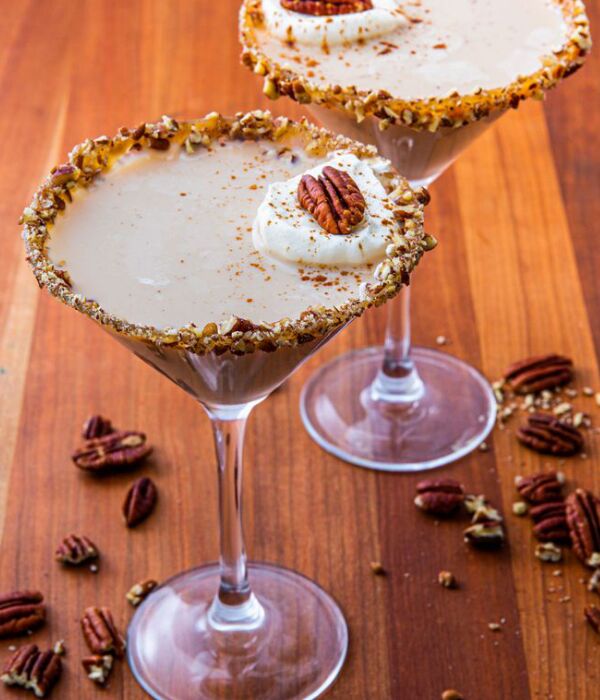 Photo: Emily Hlavac Green/Delish.com
This wildly delicious pecan pie martini recipe will replace dessert at your next holiday dinner, or at least, it should. 
Smoked Vanilla Old Fashioned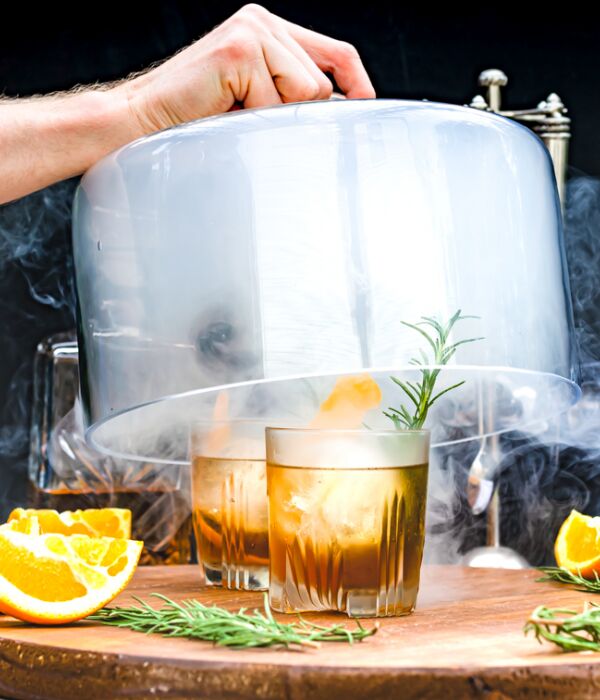 Photo: Phenomenalphoods.com
For all of you aspiring mixologists out there: this holiday cocktail recipe from Phenomenal Phoods is one you should definitely check out. Vanilla, rosemary, and orange zest come together for a glorious celebration of warm winter aromas that you'll absolutely love if you're a fan of the Old Fashioned. 
And that's that, folks! If you're looking for more festive inspiration, check out The Bash for fun holiday tips and ideas! 
Remember to drink responsibly, and have a safe and happy holiday season! 
About Brittany Barber
Brittany Barber, lover of books, dogs and romance, graduated from Bishop's University with a Communications and Theatre degree. After spending some time working abroad in the theatre world, she is now a freelance writer covering a range of lifestyle topics including wedding and event planning for The Bash, WeddingWire, 2life and Fluttr.