26 Christmas & Holiday Cocktail Recipes for the Festive Season
If your cheeks aren't already rosy, get comfy and cozy with these delicious holiday cocktails.
Brittany Barber
Contributor
If you're on the hunt for festive Christmas cocktails and holiday party cocktail recipes, look no further. I mean, other than a visit from Santa, what could bring more cheer to the holiday season than a delicious cocktail?
We've combed through some of the best Christmas and holiday cocktails on the internet to make sure you really do have a holly jolly Christmas this year. So whether you're hosting a Christmas party IRL or having a holiday Zoom celebration, cozy up by the fire (or laptop) with a proper holiday drink this December. 
READ MORE:
Pro Tip: Hiring a bartender for your holiday party? Find some inspiration on this list to help decide on what signature cocktail to serve.
Here are 26 festive cocktail recipes to make this holiday season: 
Note: recipes are for one serving unless there is a different yield listed.
Sparkling Winter Berry Cocktail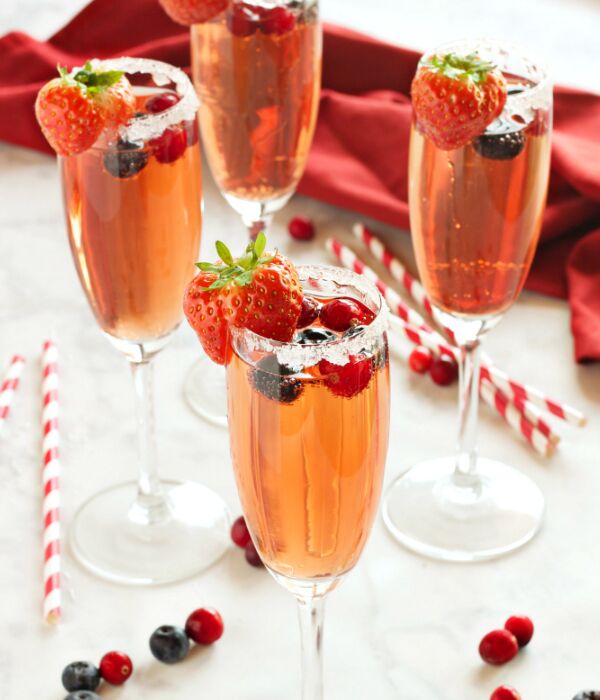 Photo: Thebusybaker.com
Adding fresh fruit and cranberry juice to prosecco makes for an easy (and tasty!) holiday beverage. This particular cocktail is easy to serve as a mocktail as well — just swap the bubbly for soda water! Check out this recipe from The Busy Baker.
Yield: 8 servings
Ingredients
4 cups cranberry juice
2 cups apple juice
1/3 cup strawberry-flavoured syrup (grenadine bar syrup also works)
3/4 to 1 liter sparkling water or champagne (or your favourite sparkling wine, 7up, ginger ale, or any other sparkling beverage works here)
Water and sugar for rimming the glasses (optional)
Garnish: fresh or frozen cranberries, fresh blueberries, fresh strawberries
Instructions
Add the cranberry juice, apple juice, and strawberry syrup to a large pitcher and stir well until combined.
Rim glasses with sugar by moistening the rim of the glass with water and then dipping the rim of the glass in sugar (place some sugar on a plate).
Fill each glass half full with the juice mixture and add a few berries to each glass as well, placing a strawberry on the rim of each glass.
Top it up with the sparkling water, champagne or other sparkling beverage of your choice.
Holiday Eggnog Brandy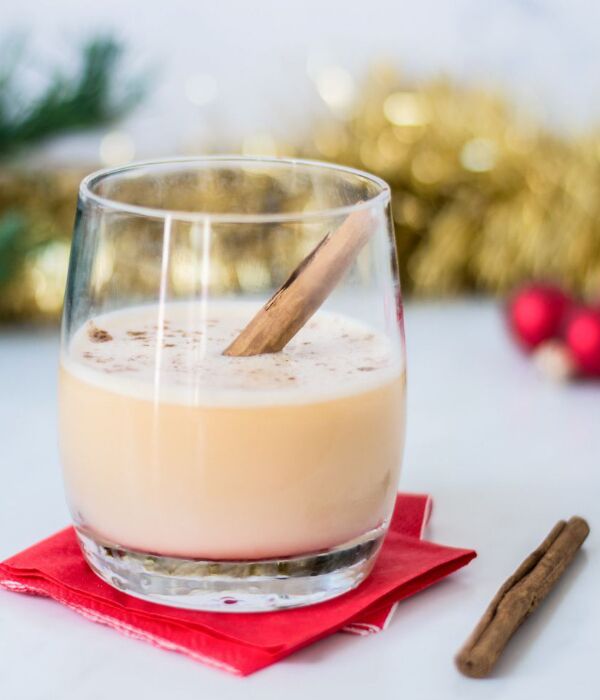 Photo: Thespruceeats.com
This simple eggnog and brandy is a holiday cocktail classic. With just a few ingredients, enjoy this decadent cocktail as a nightcap after dinner. Try this recipe by The Spruce Eats!
Ingredients
1 ounce brandy
1 ¼ ounces milk
1/2 ounce simple syrup
1 large egg yolk
Garnish: Grated nutmeg, or cinnamon
Instructions
In a cocktail shaker, combine the brandy, milk, simple syrup, and egg yolk. Dry shake without ice.
Fill the shaker with ice, then shake vigorously for about 30 seconds to ensure the egg is well mixed.
Strain into an old-fashioned or cocktail glass.
Add a dash of grated nutmeg or cinnamon as a garnish. Serve and enjoy.
Pro Tip: Before making a cocktail with raw egg, we recommend testing it first. Just place your egg in a glass of water. If it sinks to the bottom, it's fresh — but if it floats, don't use it. 
Christmas Aperol Spritz With Sloe Gin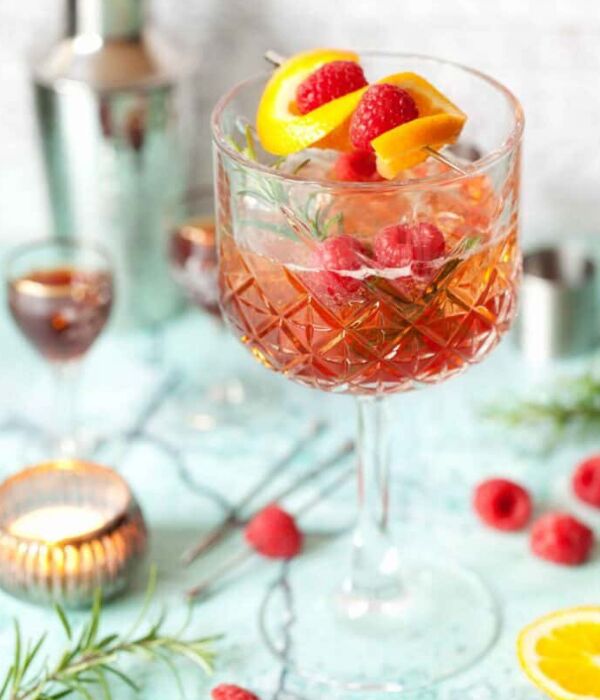 Photo: Littlesugarsnaps.com
You might think an Aperol spritz is more of a summery beverage than a holiday cocktail — but the addition of sloe gin and a sprig of rosemary surprisingly changes the game. Check out Little Sugar Snaps for the full recipe, as well as the lowdown on sloe gin and how it's not actually gin! 
Ingredients
1 ½ ounces Aperol
3/4 ounces Sloe Gin
2 ¼ ounces soda water (club soda)
2 ¼ ounces prosecco
Garnish: Ice, 1 rosemary sprig, 5 raspberries and 1 orange slice
Instructions
Put the ice into a large glass - a balloon wine glass or a Copa glass is ideal
Pour in the Aperol and sloe gin
Top with the soda water and Prosecco
Put the rosemary sprig in the palm of one hand and clap the other hand down sharply on it. This helps release the aroma. Drop into the glass
Add the orange slice and raspberries
Serve immediately
Mulled Wine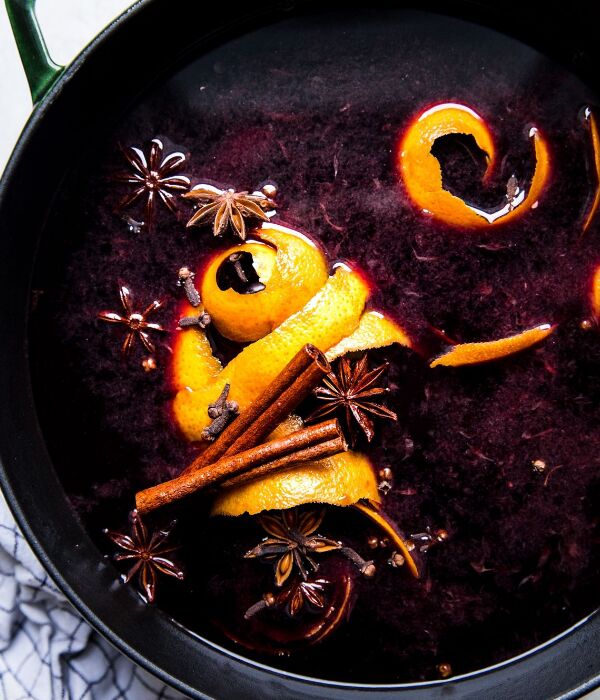 Photo: Themodernproper.com
The best thing about making mulled wine? Well aside from drinking it, it's the heavenly aroma that'll make your whole house smell like Christmas. With fresh winter spices, orange, and a rich syrah — you've got all you need for the perfect batch. Find the full recipe on The Modern Proper. 
Yield: 6 servings
Ingredients
1 (750 ml) bottle red wine
2 oranges
3 cinnamon sticks
5 star anise
10 whole cloves
3/4 cup brown sugar
Instructions
Place all ingredients except the oranges into a medium-sized pot.
Using a sharp knife or peeler, peel half of one orange. Avoid peeling as much pith (white part) as possible, as it has a bitter taste.
Juice the oranges and add to the pot along with the orange peel.
Over medium heat, warm the mixture until just steaming. Reduce the heat to a low simmer. Heat for 30 minutes to let the spices infuse.
Sugar Plum Bubbly Cocktail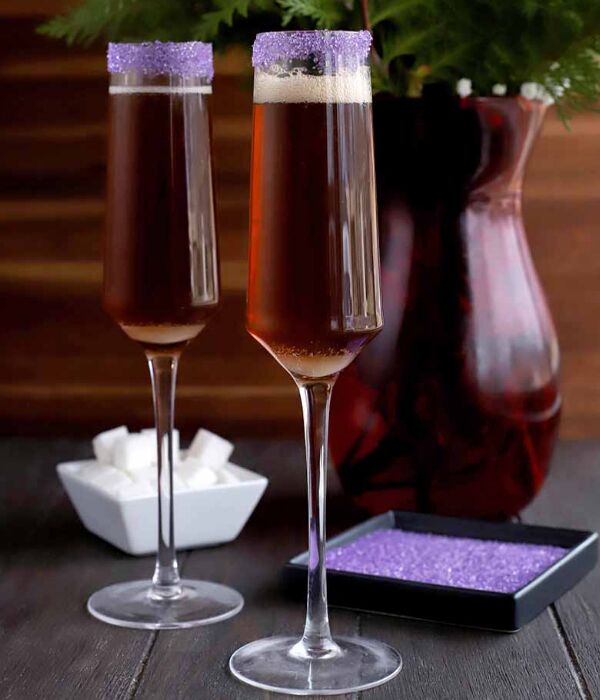 Photo: Foodal.com
Even if you can't go out to see the Nutcracker ballet this holiday season, tap into the festivities with this sugar plum cocktail from Foodal. It's the perfect cocktail to make if you plan on streaming a previous performance from home, or even during your holiday Zoom celebration!
Yield: 2 servings
Ingredients
1 ounce espresso, chilled
1 cup champagne
1 ounce plum brandy
2 sugar cubes
Purple sanding sugar
Instructions
Wet the edges of two champagne flutes with water. Rim with purple sanding sugar and set aside.
Pour the brandy and espresso into another glass or pitcher-style measuring cup, and stir to combine.
Add a sugar cube to each champagne flute. Divide brandy mixture evenly between the two glasses.
Divide champagne evenly between the two champagne flutes, making sure to pour slowly as the drink will fizz up when combined.
Serve immediately.
Rudolph's Tipsy Spritzer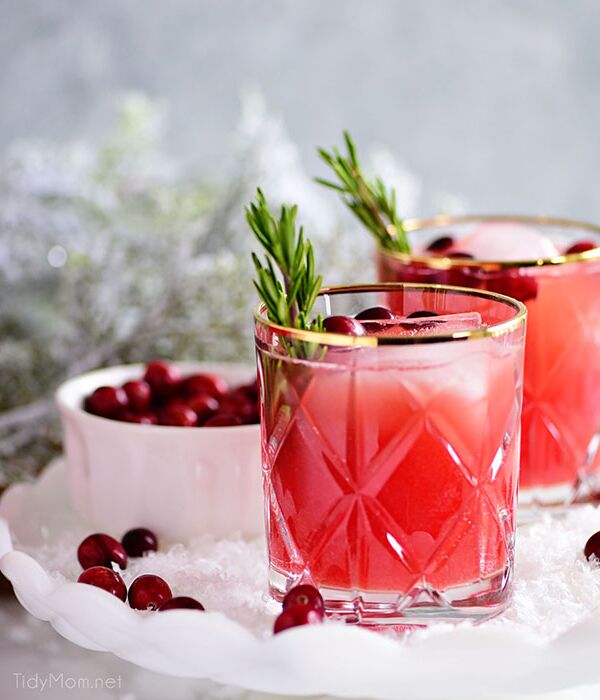 Photo: Tidymom.net
Think of this festive cocktail as a wintery spin-off of the classic sex on the beach. Simply trade the peach schnapps in for maraschino cherries and rosemary — and there you have it! Check out Tidy Mom for the full recipe.
Yield: 10 cups
Ingredients
2 ½ cups orange juice, chilled
2 ½ cups cranberry juice, chilled
2 cups ginger ale, 7UP or Sprite, chilled
2 cups vodka (chilled)
1/2 cup maraschino cherry juice, chilled
Juice of one large lemon (about 1/4 cup)
Garnish: Cranberries or maraschino cherries and rosemary sprigs
Instructions
In a larger pitcher or punch bowl combine all of the ingredients (leave out vodka if you want non-alcoholic version)
Stir well.
Serve over ice and garnish with cranberries or maraschino cherries and a rosemary sprig. 
Mrs. Claus Cranberry Whiskey Cocktail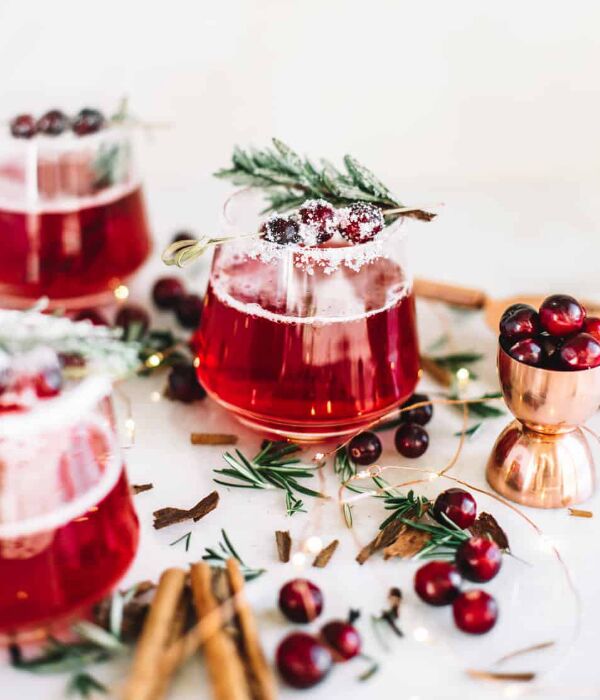 Photo: Thecollegehousewife.com
How beautiful are those sugared cranberries? This delicious holiday cocktail lets you get creative with its lovely garnish and a rosemary syrup. Check out The College Housewife's recipe for more recipe tips.
Ingredients
1 ounce of cranberry juice
Cinnamon Sticks or 1/4 teaspoon of ground cinnamon
1 ounce whiskey or bourbon
1 tablespoon of rosemary simple syrup
Garnish: rosemary sprig and sugared cranberries
Instructions
Break the cinnamon stick in half or add in 1/4 teaspoon of ground cinnamon to shaker. Fill shaker with cranberry juice, whiskey, rosemary simple syrup and ice.
Shake for 30 seconds. Pour into glass. Serve with rosemary sprig and sugared cranberries. (Dip cranberries + rosemary sprigs into water and sprinkle with sugar. Let dry for a holiday sugared look!)
*Note: to make rosemary simple syrup, bring 1 cup of water and 1 cup of sugar to a simmer. Remove from heat and add in three 5-inch rosemary sprigs. Steep for 20 minutes and strain mixture into a jar.
Pro Tip: Make sure to use real, unsweetened cranberry juice, and not cranberry cocktail mix. The latter will make this cocktail too sweet! 
Rosemary-Smoked Negroni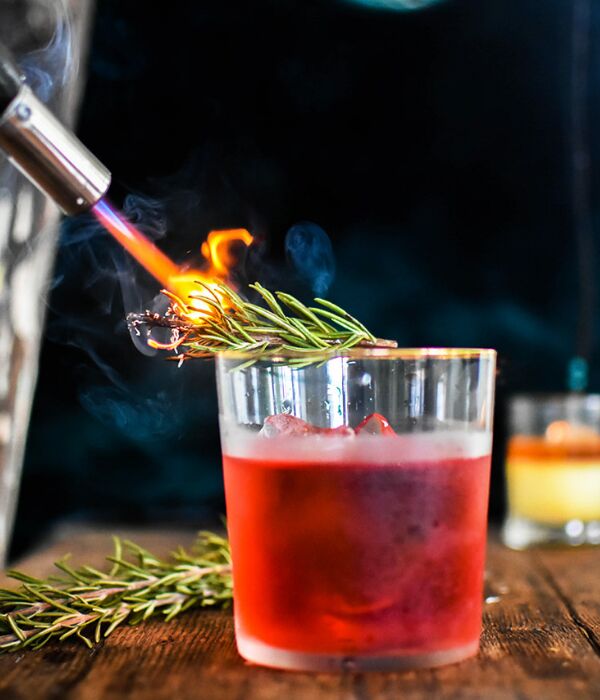 Photo: Vinepair.com
Rosemary really is the herb of the holidays, isn't it? This rosemary-smoked negroni is a must-try for seasoned imbibers and cocktail lovers alike. Simply torch (or light) a sprig of rosemary over your negroni for an added element of herbaceous smoke. Check out Vine Pair for the full recipe! 
Ingredients
1 ounce Campari
1 ounce sweet vermouth
1 ounce London Dry gin
Garnish: sprig of rosemary
Instructions
Combine all ingredients in a mixing glass with ice.
Stir gently to chill and combine.
Strain into a rocks glass over fresh ice.
Garnish with rosemary sprig. Enjoy!
Holiday Pomegranate Smash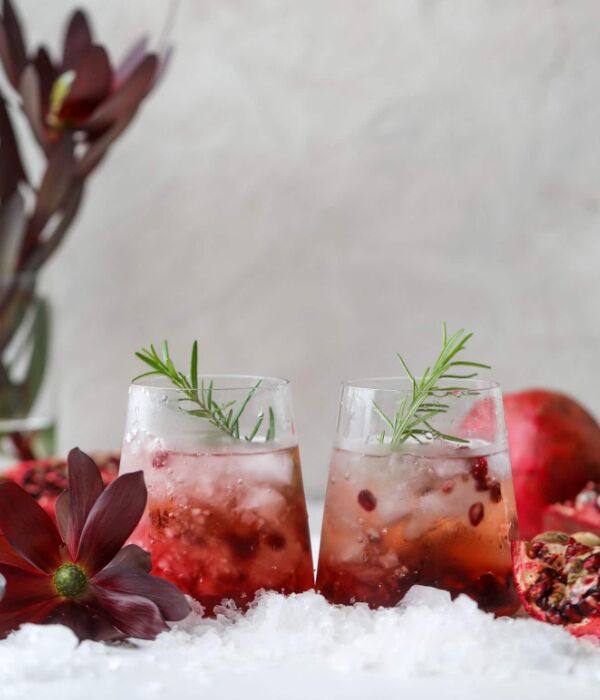 Photo: Howsweeteats.com
Home Sweet Eats truly nails this pomegranate smash recipe! Pomegranate juice, vodka, and a touch of maple syrup topped with bubbly? Yes, please. 
Ingredients
Crushed ice
1 tablespoon pomegranate arils
2 ounces pomegranate juice
1 teaspoon maple syrup
1 ounce vodka
4 to 6 ounces prosecco
1 tablespoon pomegranate arils
Garnish: sprig of rosemary
Instructions
Fill a glass with crushed ice.
Add the pomegranate juice, maple syrup, vodka and stir.
Top it off with the prosecco.
Add in the arils and garnish with a sprig of rosemary!
Gingersnap Scotch Cocktail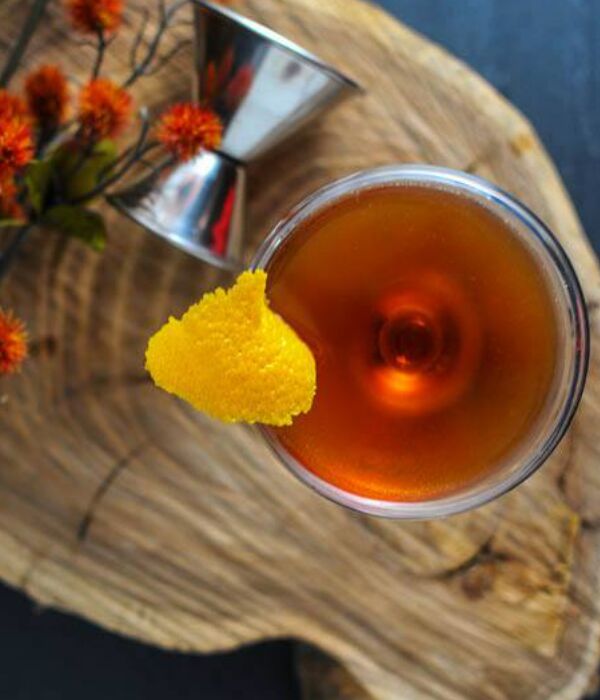 Photo: Gastronomblog.com
This dark and spicy scotch-based cocktail is the quintessential holiday cocktail. With ginger, amaretto, and amaro, you'll be sipping on the closest thing to a gingersnap cookie — ahem, a seriously boozy gingersnap cookie — in no time. 
Ingredients
1 ounce Scotch
1/2 ounce Amaretto
3/4 ounce Amaro di Angostura
1/4 ounce ginger liqueur
2 dashes lemon juice
Instructions
Add all ingredients into a mixing glass.
Add ice. Stir until chilled.
Strain into cocktail coupe.
Mistletoe Kiss Cocktail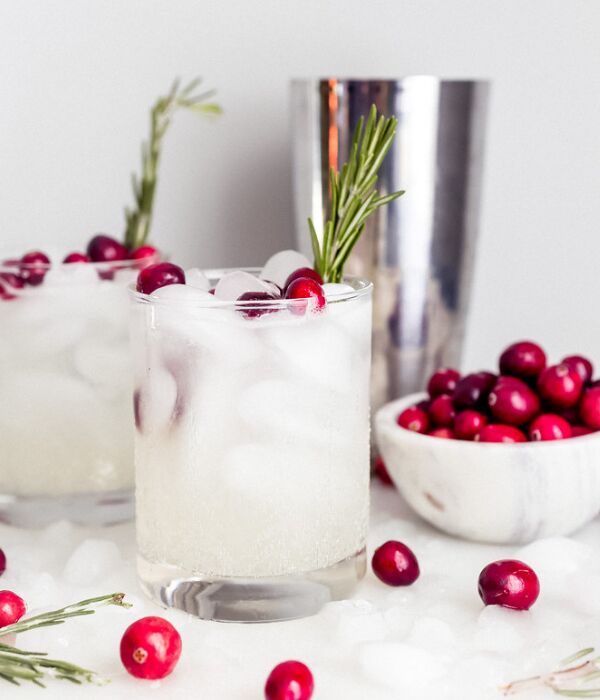 Photo: Smells-like-home.com
The mistletoe kiss cocktail recipe from Smells Like Home is essentially a more delicious (and festive) version of a vodka lemonade. As far as Christmas cocktails are concerned, this one is super refreshing! 
Ingredients
3 ounce vodka
1/2 ounce freshly squeezed lemon juice
1 ounce rosemary simple syrup
Club soda
Garnish: Handful of fresh cranberries (whole frozen berries are ok) and sprigs of rosemary
Instructions
Pour vodka, lemon juice, and simple syrup into a drink shaker filled with ice.
Cover and shake well to blend. Strain and pour into a rock glass filled with ice
Top with club soda and a few cranberries for garnish. Add a sprig of rosemary to use as a stirrer.
Spiked Butterscotch Hot Chocolate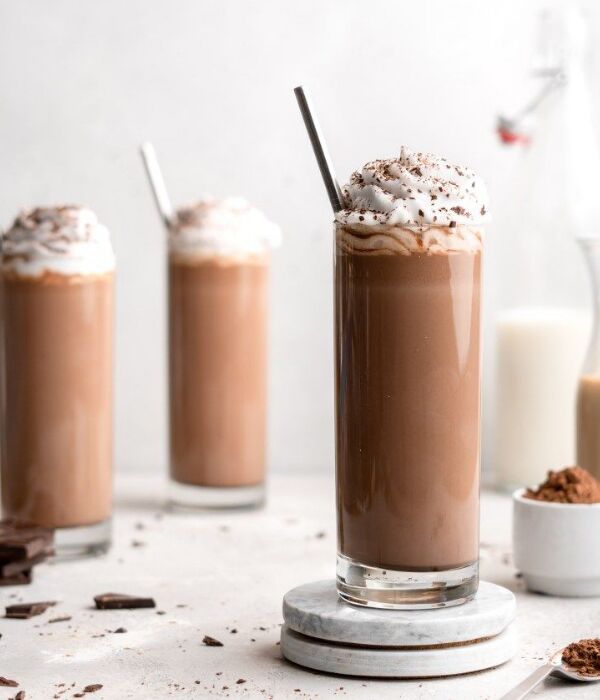 Photo: Thefeedfeed.com
This! Cocktail! Is! Everything! It's everything you could ever want in a spiked hot chocolate! Whipped cream? Check. Butterscotch liqueur? Check! Decadent, creamy hot chocolate? With a kick? Check, check, check. Oh, and ~check~ out The House And Hive for the full recipe! 
Ingredients
Your favorite hot chocolate mix
2% milk
Dekuyper Butterscotch Liqueur
Whipped cream
Shaved chocolate
Marshmallows (optional)
Instructions
Heat milk. Add hot chocolate mix and stir until dissolved. Add butterscotch liqueur and mix.
Top with whipped cream and shaved chocolate. Marshmallows optional.
Pro Tip: The recipe doesn't call for it, but if you're looking for an extra kick — swap out some of the milk and throw in an ounce of Baileys!  
Hot Buttered Rum Cider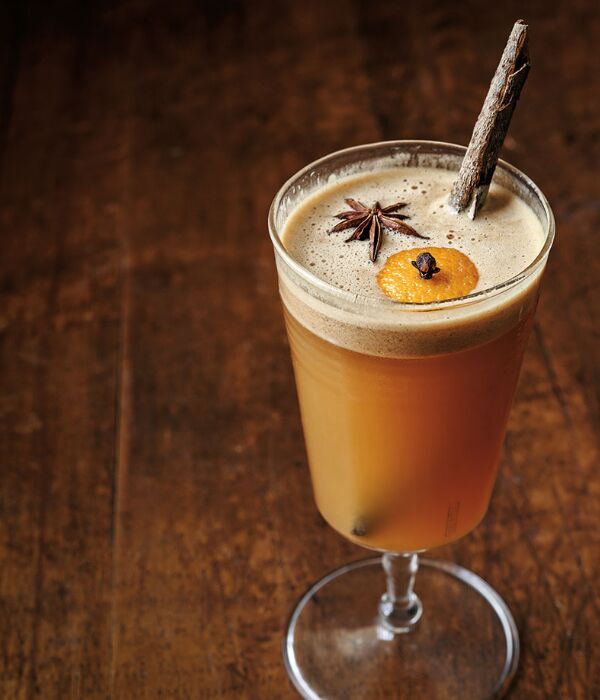 Photo: Ed Anderson/Punchdrink.com
If you've never tried hot buttered rum cider, you need to stop what you're doing, and head over to Punch Drink for the recipe right now. Go on! 
Ingredients
1 ½ ounce aged Haitian rum (preferably Barbancourt 8 year)
1 tablespoon spiced compound butter
6 ounces mulled apple cider
Garnish: cinnamon stick, star anise and an orange peel studded with a clove
Instructions
Add rum, mulled cider and compound butter into a saucepan and heat until the butter has dissolved and the liquid is steaming.
Pour into a heat-proof mug.
Garnish with a cinnamon stick, star anise and a disc of orange peel studded with a clove.
Holiday Mule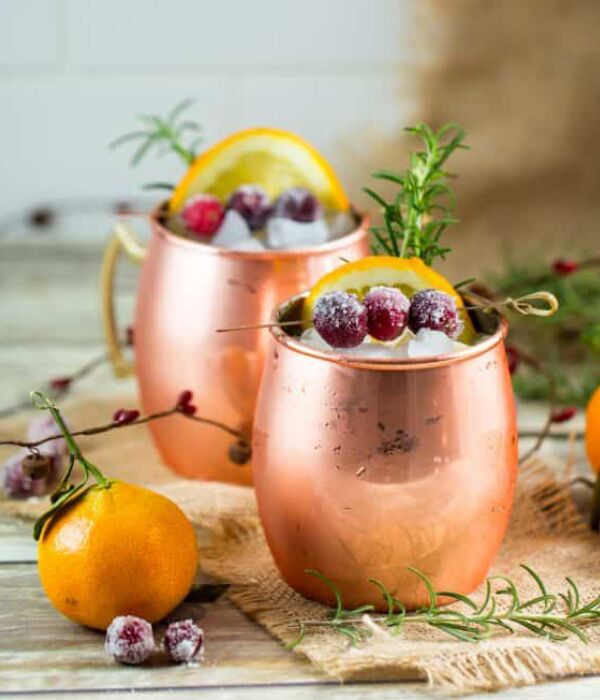 Photo: Homesweetjones.com
Although they're pretty, you don't actually need a copper mule mug set to make this holiday cocktail. Any glass will do! Go to Home Sweet Jones to check out the recipe for their festive take on the classic Moscow mule cocktail. 
Ingredients
1/2 ounce simple syrup
1/2 ounce unsweetened cranberry juice
1 ½ ounce gin or vodka
2 ounce chilled ginger beer
1 rosemary sprig
Garnish: orange slice and sugared cranberries
Instructions
Combine simple syrup, cranberry juice, and gin.
Pour over ice and top with ginger beer.
Serve garnished with rosemary, orange wedge and sugared cranberries, if desired.
Pro Tip: Keep some extra ginger beer and cranberry juice on hand for anyone who might prefer a non-alcoholic mocktail!
Gingerbread Martini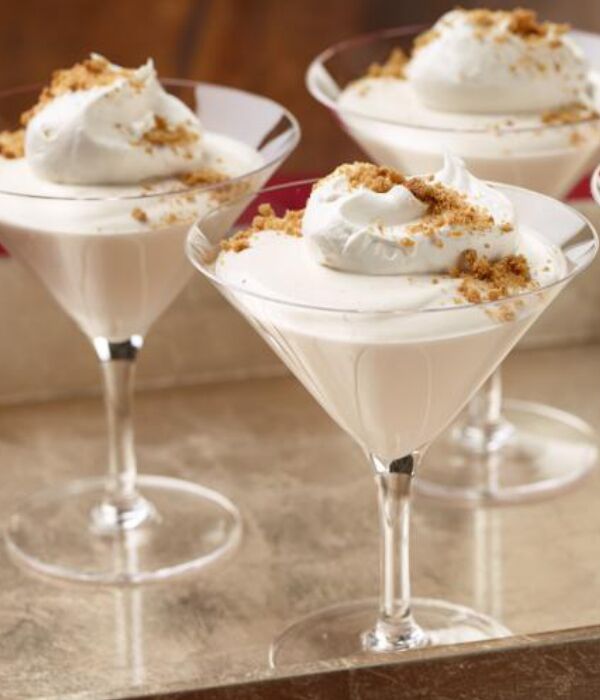 Photo: Foodnetwork.com
This festive cocktail recipe from Food Network has quite a few steps — but we promise, the effort is worthwhile. If you've ever dreamt of a creamy, melt in your mouth, gingerbread martini, then this drink is just for you. You won't even need to bother with dessert if you're serving these! 
Ingredients
1 ounce Irish cream liqueur, such as Baileys
1 ounce vodka
1/2 ounce coffee liqueur, such as Kahlua 
1/2 ounce Gingerbread Syrup, recipe follows
Scoop vanilla ice cream, softened 
Whipped cream, for topping 
Small handful gingerbread cookies, crushed 
Instructions
Combine the Irish cream liqueur, vodka, coffee liqueur, Gingerbread Syrup and ice cream in a cocktail shaker.
Add ice and shake well.
Pour into four chilled martini glasses.
Top each with a generous dollop of whipped cream and a sprinkling of gingerbread cookie crumbs.
Gingerbread Syrup:
Yield: 1 1/2 cups
1 cup sugar
1 cup water 
5 cloves 
2 cinnamon sticks 
One 2-inch piece fresh ginger, cut into rounds 
Add the sugar, water, cloves, cinnamon and ginger to a small saucepan. Bring to a boil over medium-high heat, stirring until the sugar has dissolved. Lower the heat and simmer for 5 minutes. Remove from the heat and let cool to room temperature before using, about 20 minutes. Cover and refrigerate for up to 2 weeks.
Poinsettia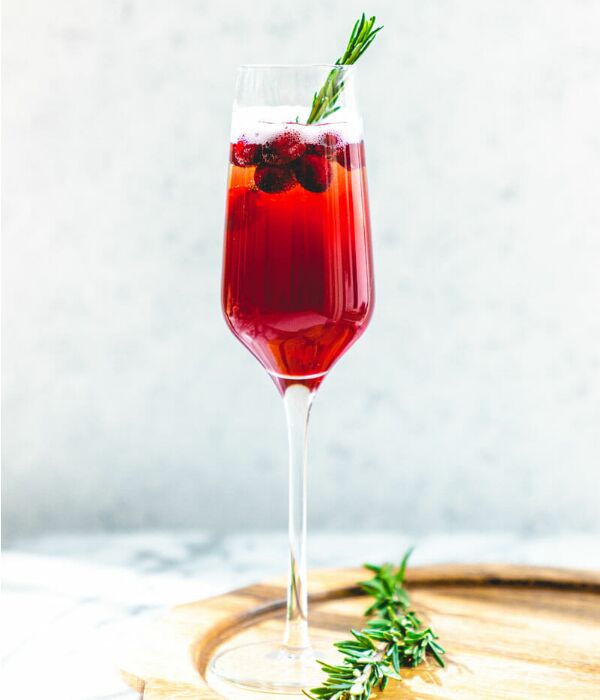 Photo: Acouplecooks.com
The poinsettia cocktail, named after the vibrant holiday plant, is basically a Christmas mimosa. Instead of orange juice, you mix cranberry juice and Cointreau with champagne or sparkling wine, and voilà! You've got yourself a festive, bubbly cocktail. Visit A Couple Cooks for the full recipe! 
Ingredients
2 tablespoons Cointreau, or other orange liqueur
4 tablespoons 100% cranberry juice (unsweetened)
1/2 glass champagne (6 tablespoons)
Garnish: 1 rosemary sprig, whole cranberries
Instructions
Place the cointreau and cranberry juice in a cocktail shaker with ice. Shake 15 seconds until cold. Strain the liquid into a champagne flute. (You can skip this step if the cranberry juice is well chilled.)
Top off the glass with champagne (no need to measure). Garnish and serve. (Note: You can also make a large batch of cointreau and cranberry juice ahead if desired, then measure out 6 tablespoons per glass.)
Classic Hot Toddy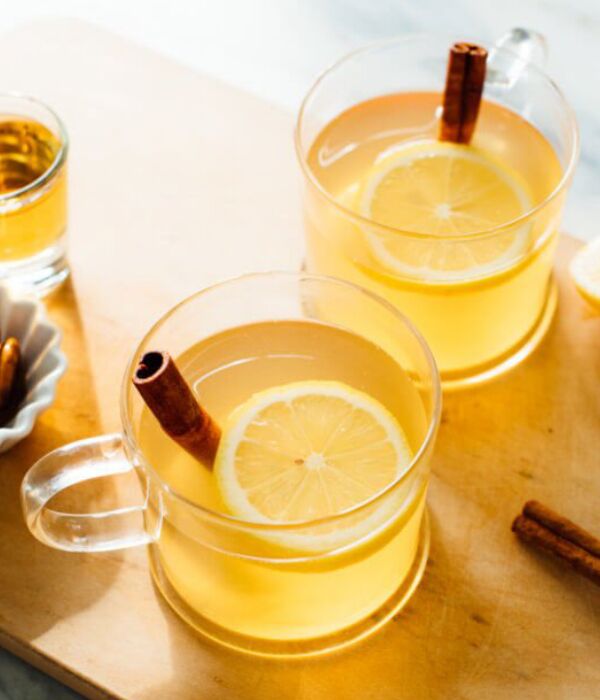 Photo: Cookieandkate.com
With whiskey, honey, lemon, and cinnamon sticks, hot toddies are a must during the winter months — whether you have the sniffles or not. Cookie And Kate have a great recipe to use if you've never made one before!
Ingredients
3/4 cup water
1 ½ ounces whiskey
2 to 3 teaspoons honey, to taste
2 to 3 teaspoons lemon juice, to taste
Garnish: 1 lemon round and 1 cinnamon stick (optional)
Instructions
In a teapot or saucepan, bring the water to a simmer. Pour the hot water into a mug.
Add the whiskey, 2 teaspoons honey and 2 teaspoon lemon juice. Stir until the honey has disappeared into the hot water. Taste, and add 1 teaspoon honey for more sweetness, and/or 1 teaspoon more lemon juice for more zing.
Garnish with a lemon round and cinnamon stick (if using). Enjoy!
Coconut-Based Coquito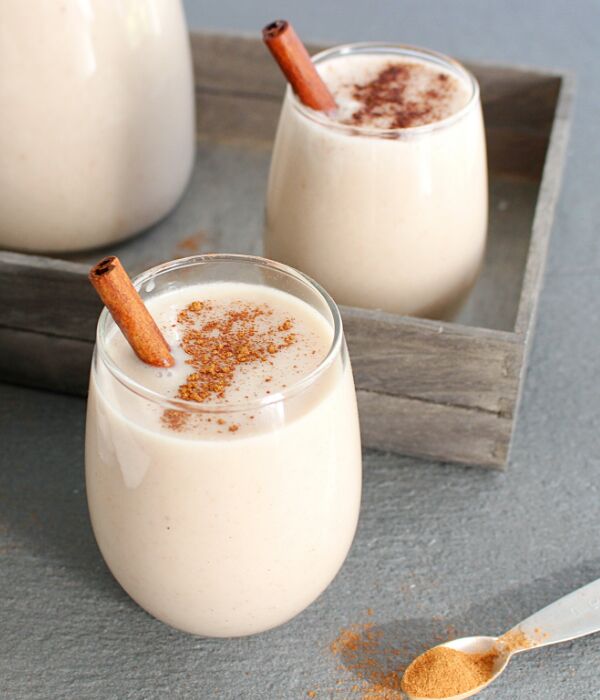 Photo: Babemadeblog.com
This coquito recipe is reminiscent of spiked holiday eggnog, minus the egg. With coconut cream instead of dairy, this holiday cocktail is particularly great if you are serving a loved one with dietary restrictions. For the full recipe, check out Babe Made Blog!
Yield: 6 ½ cups
Ingredients
1 12.2 ounce can of evaporated coconut milk
1 15 ounce can of coconut cream
2 7.4 ounce cans of coconut condensed milk (14.8 ounces total)
1 ½  cup of white rum*
1/2 cup plain unsweetened plant milk
1 teaspoon vanilla extract
1/2 teaspoon cinnamon
1/4 teaspoon nutmeg
Garnish: 1 cinnamon stick and sprinkle of cinnamon
Instructions
Add all the ingredients to a blender and blend at a high speed until completely combined (about 1-2 minutes). You want to make sure the coconut cream is totally incorporated.
Place in the refrigerator and chill for at least an hour before serving. It will thicken as it chills. Serve with a cinnamon stick for a garnish and a sprinkle of cinnamon.
Christmas Punch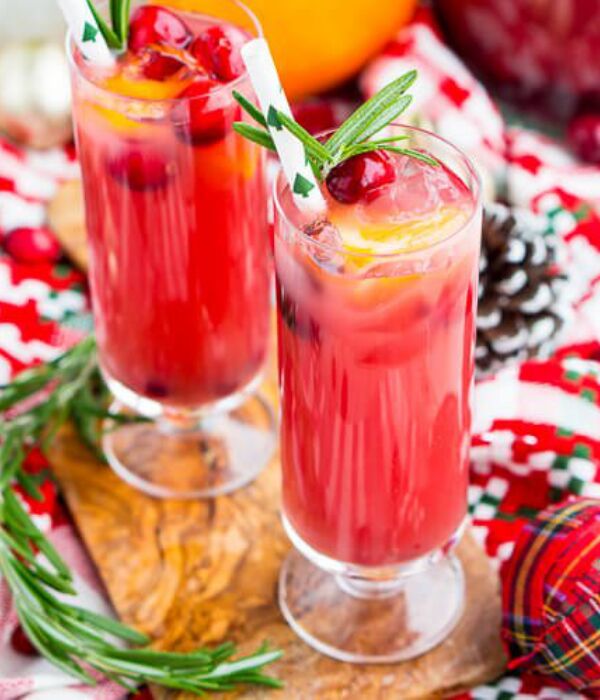 Photo: Sugarandsoul.co 
An easy alternative to making a ton of intricate signature cocktails? A great punch! Besides being foolproof, Sugar And Soul's Christmas punch recipe is so delicious it's sure to please the masses at Christmas dinner. 
Yield: 8 cups
Ingredients
1 orange sliced
1 cup cranberries
1/2 cup pomegranate seeds
2 cup cranberry juice
2 cups orange juice
1 cup pomegranate juice
2 cups Sierra Mist or Sprite
1 cup white rum optional
Ice
Garnish: sprigs of rosemary
Instructions
Combine all ingredients in a large pitcher or punch bowl over ice. If using a really large punch bowl, you can double the recipe.
Pro Tip: If you like your punch on the sweeter side, swap a cup of orange juice for pineapple juice! 
Chocolate Peppermint Martini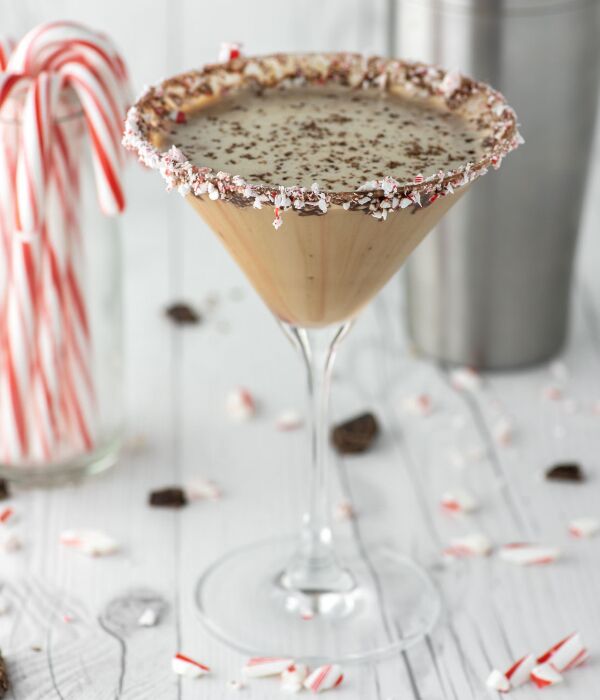 Photo: Chiselandfork.com
If you're a mint-chocolate kind of person, then you should seriously look at this decadent holiday cocktail recipe from  Chisel and Fork. 
Ingredients
2 ounces chocolate liqueur
2 ounces Creme de Cacao
1 ½ ounces half-and-half
1/2 ounce peppermint schnapps
Garnish: sprinkle of shaved chocolate
Instructions
Mix chocolate liqueur, Creme de Cacao, half-and-half, peppermint schnapps and some ice cubes in martini shaker. Shake for 20 seconds and strain into a chilled martini glass. Garnish with shaved chocolate.
Homemade Baileys Irish Cream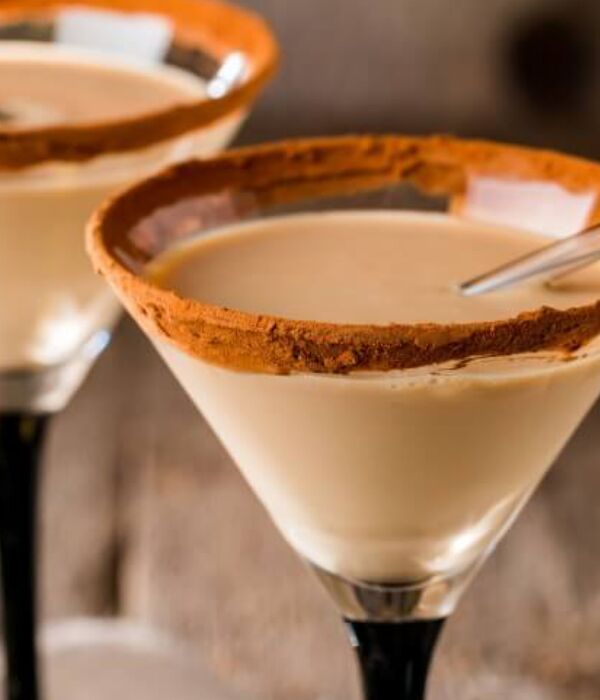 Photo: Cdkitchen.com
If you've ever wanted to make your own Irish cream, this recipe from CD Kitchen is a great place to start! It's great served in coffee, mixed with eggnog, or simply on its own over ice. 
Ingredients
1/4 cup light cream
1/4 can (14 ounce size) sweetened condensed milk
1 ½ ounces  Irish whiskey
1/4 teaspoon instant coffee granules
1/2 tablespoon chocolate syrup
1/4 teaspoon vanilla extract
1/4 teaspoon almond extract
Instructions
Combine all ingredients in a blender and blend at high speed for 30 seconds. Place in a tightly sealed bottle and store in the refrigerator.
Shake well before serving.
Spiced Apple Margaritas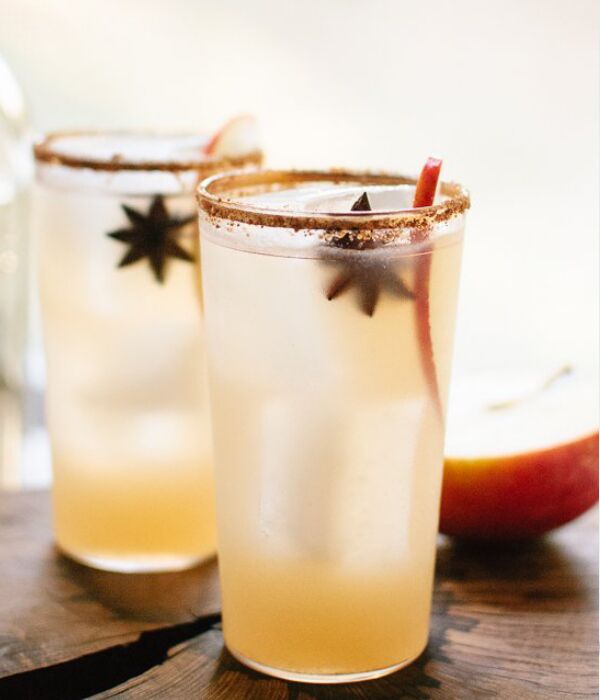 Photo: Cookieandkate.com
If you're into tequila, you've got to try Cookie And Kate's spiced apple margarita recipe. Make sure to use a reposado, or even an añejo tequila. Doing so will add subtle vanilla notes and oakiness, which complement the cider and cinnamon used in this recipe!
Ingredients
2 ounce reposado tequila
1 ½ to 2 ounces apple juice or cider, preferably organic
3/4 ounce fresh lime juice (about 1 medium lime, juiced)
1 teaspoon honey simple syrup (recipe below) or ¾ teaspoon agave nectar
Dash ground cinnamon
Optional garnish: 1 star of anise per drink
Honey simple syrup:
1/4 cup honey
1/4 cup water
Cinnamon/sugar/salt rim blend and garnish:
1 teaspoon sugar (I used coconut sugar, but cane sugar or turbinado sugar will also do)
1 teaspoon kosher salt or sea salt
1/3 teaspoon ground cinnamon
Lime wedges
Instructions
First, prepare the honey simple syrup by combining the water and honey in a small saucepan. Warm over medium heat, stirring frequently, just until the honey is dissolved in the water. Remove pan from heat and set aside.
On a small plate, use a fork to blend the sugar, salt and cinnamon. Run a wedge of lime around the top of each drinking glass, then turn the glass down at a 45-degree angle and roll the top of the glass through the cinnamon, sugar and salt blend. Fill the glasses with ice and set them aside.
Fill a cocktail shaker with ice. Feel free to make 2 to 3 drinks at once. Pour in the tequila, apple juice or cider, lime juice, honey simple syrup and cinnamon. Put on the lid and shake the cocktail for about 20 seconds. Strain the cocktail into the prepared glass(es) and add a star of anise if you'd like. Cheers!
Apple Cider Bourbon Holiday Cocktail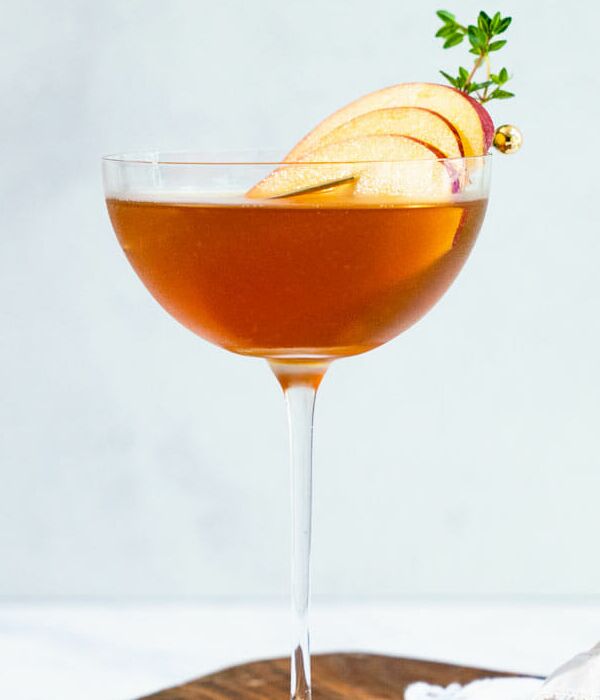 Photo: Acouplecooks.com
Bourbon? Apple cider? What more could you need to warm you up this winter? Check out A Couple Cooks for their delicious holiday cocktail recipe!
Ingredients
2 ounces bourbon
1 ounce apple cider
1 ounce sweet vermouth
1/2 ounce lemon juice
1 dash orange bitters
Garnish: apple slices (optional), sprig of thyme
Instructions
Combine the bourbon, cider, sweet vermouth and lemon juice in mixing glass and stir with ice. Strain it into cocktail glass.
Add a dash of orange bitters and garnish with apple slices (if desired, spritz them with a little lemon juice to prevent browning).
Peppermint Martini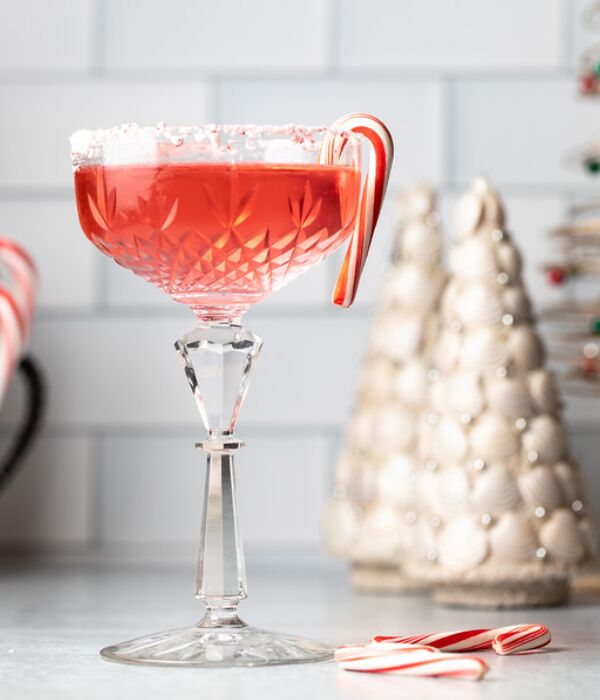 Photo: Sidewalkshoes.com
If your holiday cocktail is rimmed with crushed candy cane, you've reached maximum festive-ness. And if that's what you're looking for, look no further. Check out Sidewalk Shoes for the full recipe!
Ingredients
1 ½ ounce peppermint vodka
1 ½ ounce vanilla vodka
1 ounce Creme de Menthe
Garnish: candy canes or peppermints for garnish and rimming the glass
Instructions
Fill a martini glass with ice.
Optional - crush a few candy canes or peppermints in a zip loc bag to use to rim the glass.
Add peppermint vodka, vanilla vodka and creme de menthe to a cocktail shaker.
Fill shaker 3/4 full of ice. Place on the cap and shake for 15-30 seconds.
Dump ice out of the glass and if desired, rub a little of the peppermint vodka on the rim and dip the glass in the crushed peppermint.
Strain cocktail into glass. Garnish with a candy cane or a piece of peppermint candy.
Pecan Pie Martini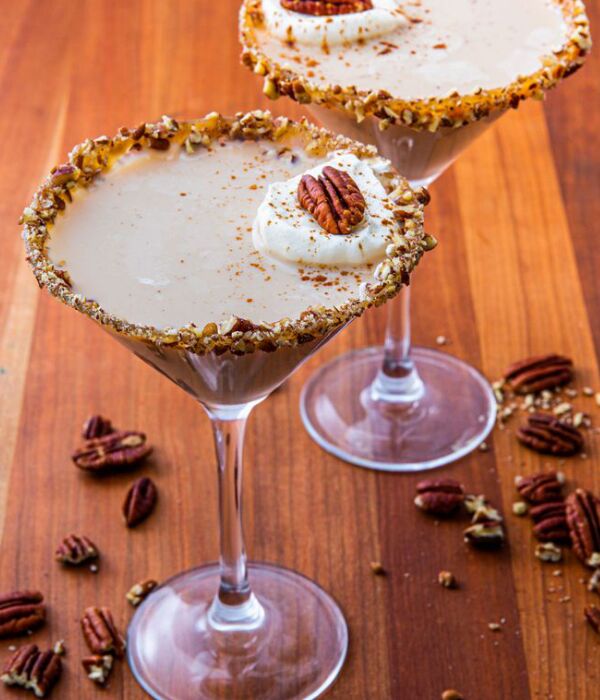 Photo: Emily Hlavac Green/Delish.com
This wildly delicious pecan pie martini recipe from Delish will replace dessert at your next holiday dinner, or at least, it should.
Yield: 3 servings
Ingredients
6 oz. rumchata
6 oz. creme de cocoa
3 oz. bourbon
Ice
Garnish:
3 tbsp. caramel, microwaved until pourable
1/4 c. toasted chopped pecans
Cool Whip, for garnish
3 whole pecans, for garnish
Sprinkle of cinnamon, for garnish
Instructions
Place caramel and toasted chopped pecans on separate small shallow plates. Dip the rim of each glass first into caramel and then into chopped pecans to coat.
Combine rumchata, creme de cocoa, and bourbon in a large cocktail shaker. Fill with ice and shake until cold, 30 seconds. Pour into martini glasses and top with a dollop of whipped cream, a whole pecan, and a sprinkle of cinnamon.
Smoked Vanilla Old Fashioned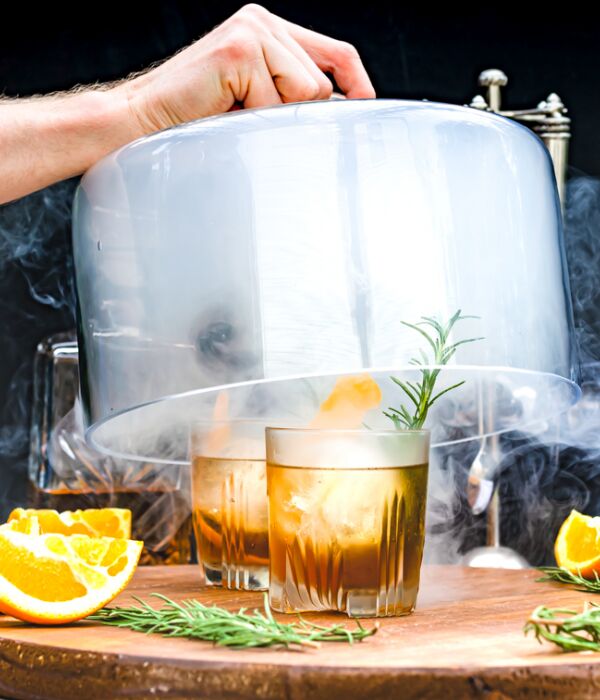 Photo: Phenomenalphoods.com
For all of you aspiring mixologists out there: this holiday cocktail recipe from Phenomenal Phoods is one you should definitely check out. Vanilla, rosemary, and orange zest come together for a glorious celebration of warm winter aromas that you'll absolutely love if you're a fan of the Old Fashioned. 
Ingredients
1/2 ounce vanilla bean simple syrup (recipe below)
2 ounces bourbon
2–3 drops angostura (traditional), orange or cardamom bitters
Ice for stirring
1 large ice cube for drinking
Garnish: orange slice and 2 sprigs dried rosemary
Instructions
Combine the simple syrup, bourbon and bitters in a shaker or large glass.
Add a couple scoops of ice and use a cocktail stirring spoon to stir around the outside of the glass, keeping the ice together.
Strain the mixture into a smaller cocktail glass over 1 large ice cube.
Add and orange slice and a sprig of rosemary.
Use a cocktail smoker and some dried rosemary to smoke the cocktail under something like a cake dome for 15 seconds.
Vanilla simple syrup:
1 cup sugar
1 cup water
2 teaspoons Taylor & Colledge vanilla bean paste
Combine all ingredients in a small saucepan and bring to a boil over medium-low heat. Reduce to a simmer for 5 minutes. Let cool before making your cocktail. Store in a sealed container in the fridge for up to 2 weeks.
And that's that, folks! If you're looking for more festive inspiration, check out The Bash for fun holiday tips and ideas! 
Remember to drink responsibly, and have a safe and happy holiday season! 
About Brittany Barber
Brittany Barber, lover of books, dogs, and romance, graduated from Bishop's University with a Communications and Theatre degree. After spending some time working abroad in the theatre world, she is now a freelance writer covering a range of lifestyle topics including event planning for The Bash, WeddingWire, 2life and Fluttr, and shopping for BuzzFeed and Narcity.