12 Party Venues in Chicago for a Holiday Celebration
Lauren Miolene
Contributor
From the holiday market in Daley Plaza to the tree lighting and ice skating in Millenium Park, winter time in Chicago is a magical experience. Get into the holly jolly spirit and start planning your seasonal get-together with one of these holiday party venues in Chicago.
First things first when starting the event planning process; book a venue. You'll want to find the perfect space to bring your vision to life. Celebrate the most wonderful time of the year with one of these memorable event venues in Chicago.
READ MORE:
Here are 12 of the best party venues in the Chicago area to host your holiday celebration.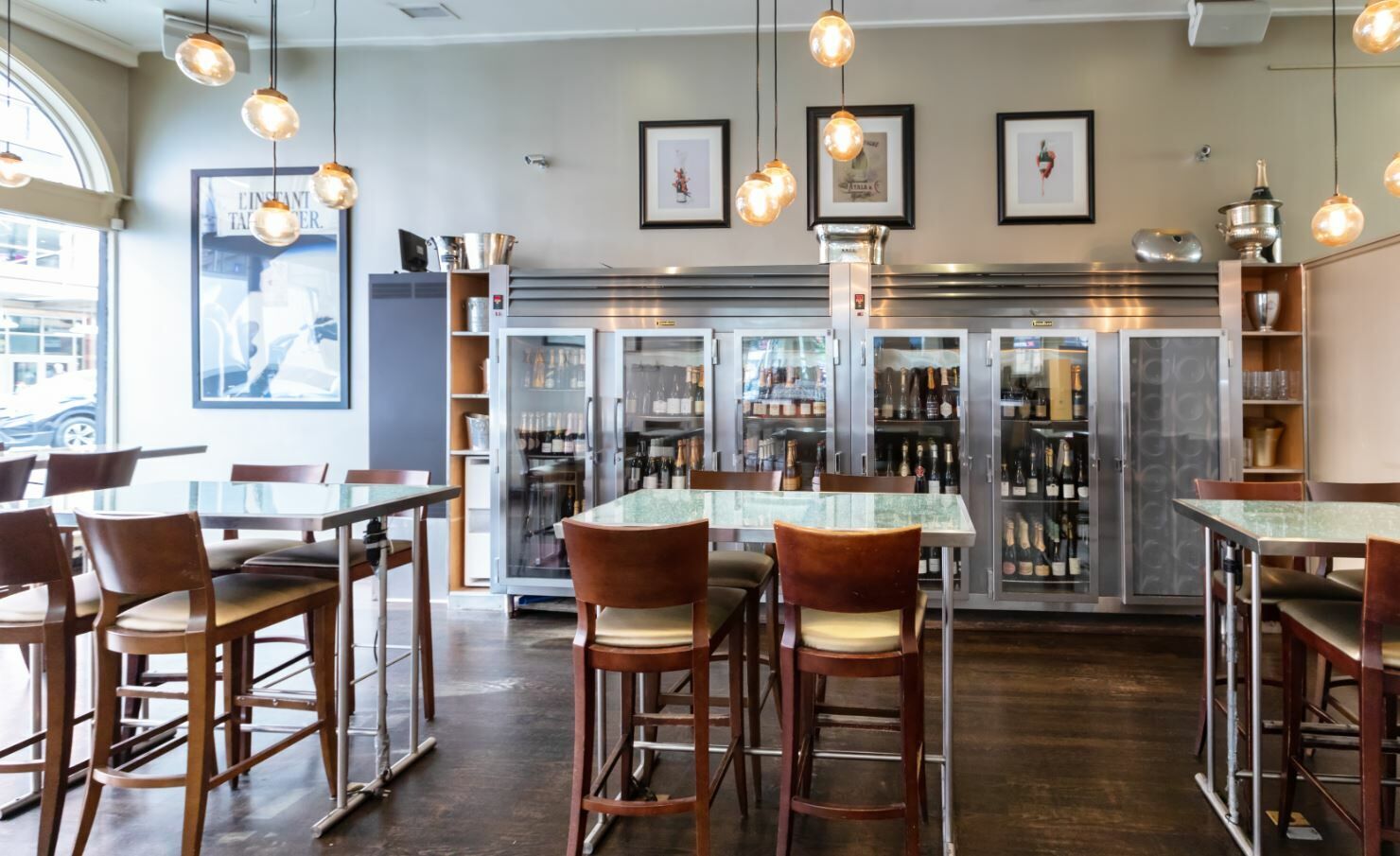 Pops For Champagne - Tasting Room, 601 N State St
Celebrate the holiday season with an elegant champagne tasting experience at Pops For Champagne. As one of the very few dedicated champagne and sparkling wine bars in the country, this is a unique location you will want to consider booking soon. Host up to 75 guests in the small 450 square foot space for an intimate celebration no one will forget.
The bright and airy space provides a stylish interior with high-top tables so guests can mingle and converse during the event. Pops For Champagne's culinary team provides a menu so you can pair a delicious meal perfectly with your sparkling cocktail. From options including Petrossian caviar, oysters, and bourbon chocolate cookies, there is something for everyone to enjoy.
Pro Tip: Book a harpist or pianist to add to the ambiance of this classy holiday soiree.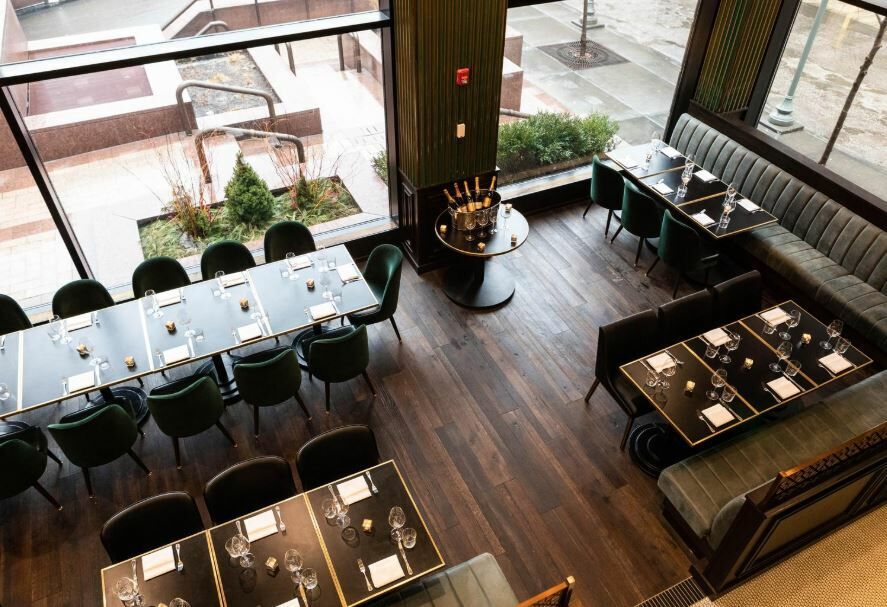 Taureaux Tavern - Main Dining Room, 155 W Van Buren St
For a classy French-inspired holiday celebration, consider booking the Main Dining Room at Taureaux Tavern. The upscale environment features floor to ceiling windows, hardwood floors including mosaic tiles, and has a soft glow from opulent chandeliers above to create a contemporary and luxurious aesthetic.
Host up to 100 guests at Taureaux Tavern for a delicious meal selected from an impressive menu and extensive wine list. Choose between prime hanger steak and bordelaise, duck a l'orange, or grilled salmon that will take your holiday celebration to the next level.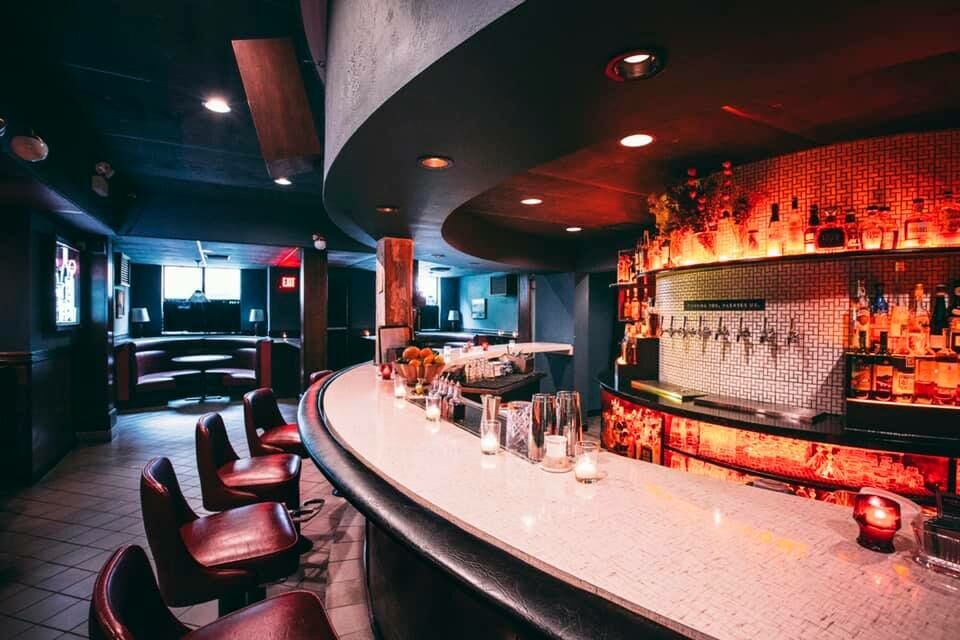 Moneygun, 660 W Lake St, 660 W Lake St
Whether you're hosting a small get together or large gathering this holiday season, Moneygun can accommodate it all. Invite between 75 and 800 guests to this bar venue and celebrate the holidays in its modern and intriguing atmosphere. The interior is sleek featuring dark furnishings, white tile flooring, and an impressive premium spirit collection displayed behind the bar.
This unique Chicago event venue offers a wide range of food and drinks prepared by the talented culinary and bar teams. Satisfy guests with classic American bar food including wings and burgers, but also oysters, charcuterie boards, and even ramen.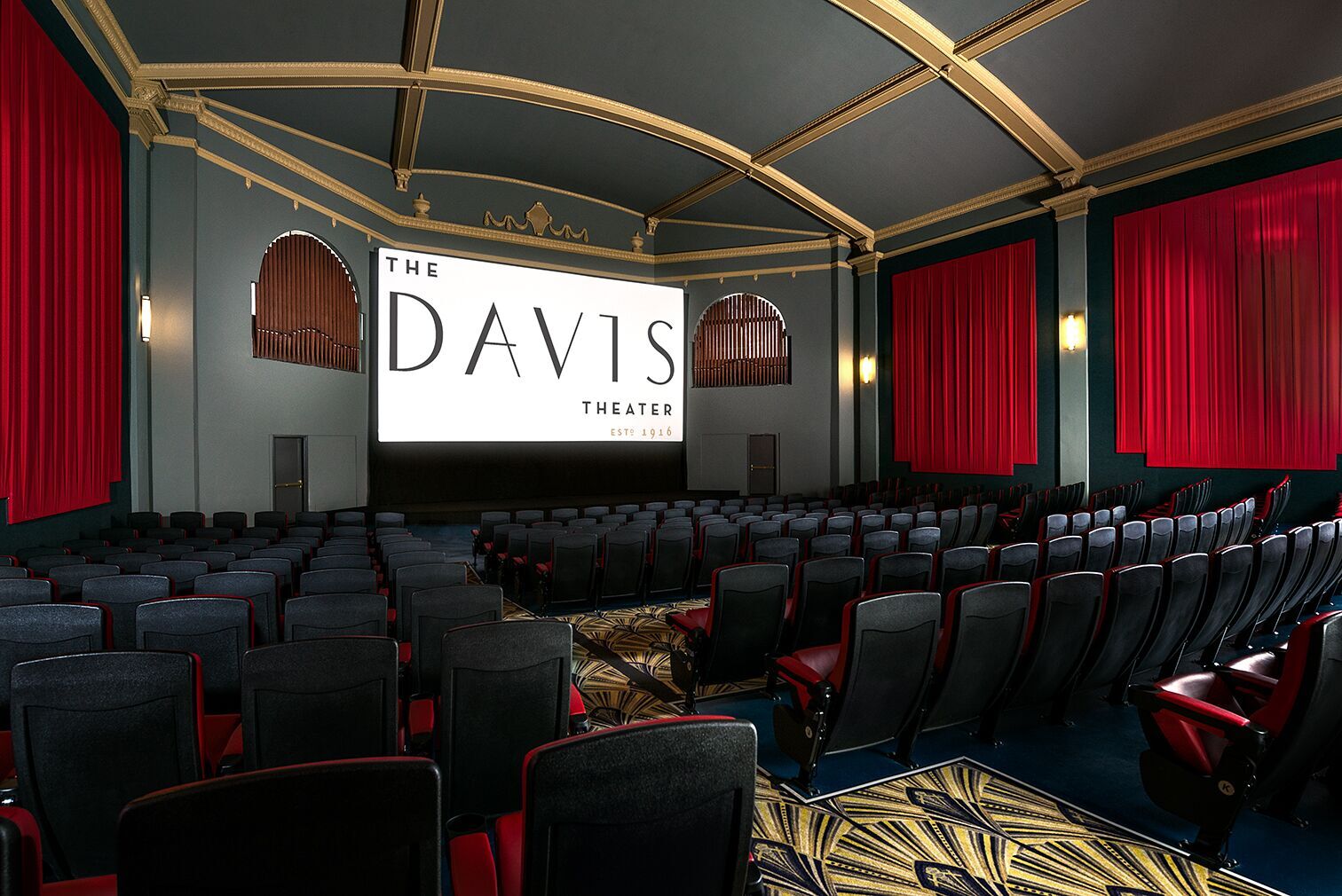 The Davis Theater - Theater 2, 4614 N Lincoln Ave
There is no better way to celebrate the winter season than by having a holiday movie marathon with friends and family. The Davis Theater offers a screen, lighting, and sound system so you can host a movie night that is larger than life!
Invite up to 276 guests in this private viewing space that will give everyone the VIP cinema experience. The cozy Chicago venue features classic red movie theater seats, art deco details, and even in-house catering services so you can sit back and relax. Book this space as soon as possible to start planning your winter movie night.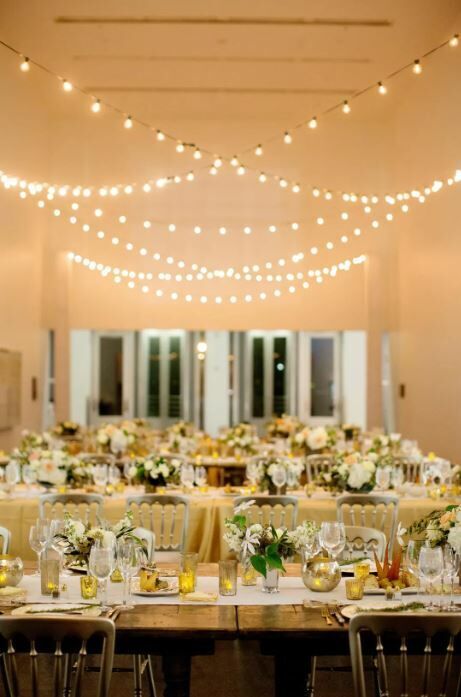 MCA - Kovler Atrium & Kern Terrace, 220 E Chicago Ave
If planning a holiday soiree rather than a typical Christmas party, you need to consider booking Kovler Atrium, & Kern Terrace at the Museum of Contemporary Art Chicago. With plenty of space, this venue can host up to 1,000 for the ultimate winter ball.
The minimal white walls, high ceilings, and countless windows provide a simple backdrop to use as your event's blank canvas. Take advantage of the venue's services that include lighting, a sound system, and tables and chairs to customize to your liking. Work with the provided event manager, staffing, and food services so they can help create a sophisticated and glamorous winter time event.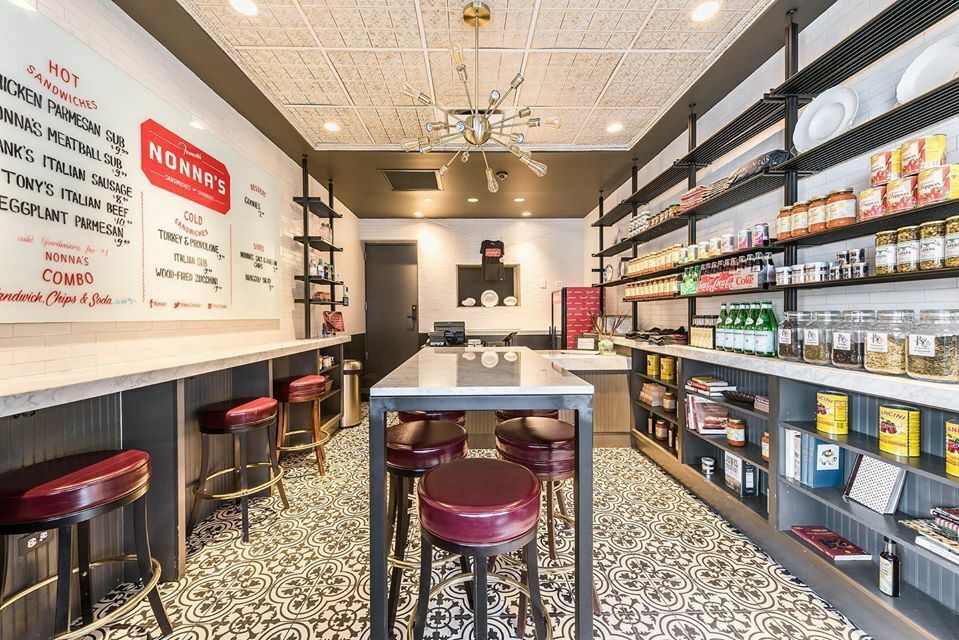 Formento's - Nonna's, 925 W Randolph St
You can never go wrong with a comforting Italian meal to celebrate the holiday season. Gather friends and family at Formento's - Nonna's to dine on authentic and mouth watering dishes featuring chicken parmigiana, wood-grilled branzino, and of course Nonna's meatballs.
Keep the gathering small with 15 guests for an intimate dinner party in the 120 square foot dining space. The restaurant features marble countertops, contemporary light fixtures, and an elegant bar area that creates an artsy and vibrant space that is perfect to mix, mingle, eat, and drink.
Pro Tip: Don't forget to book a visit from Santa for this family affair at this classic Chicago venue.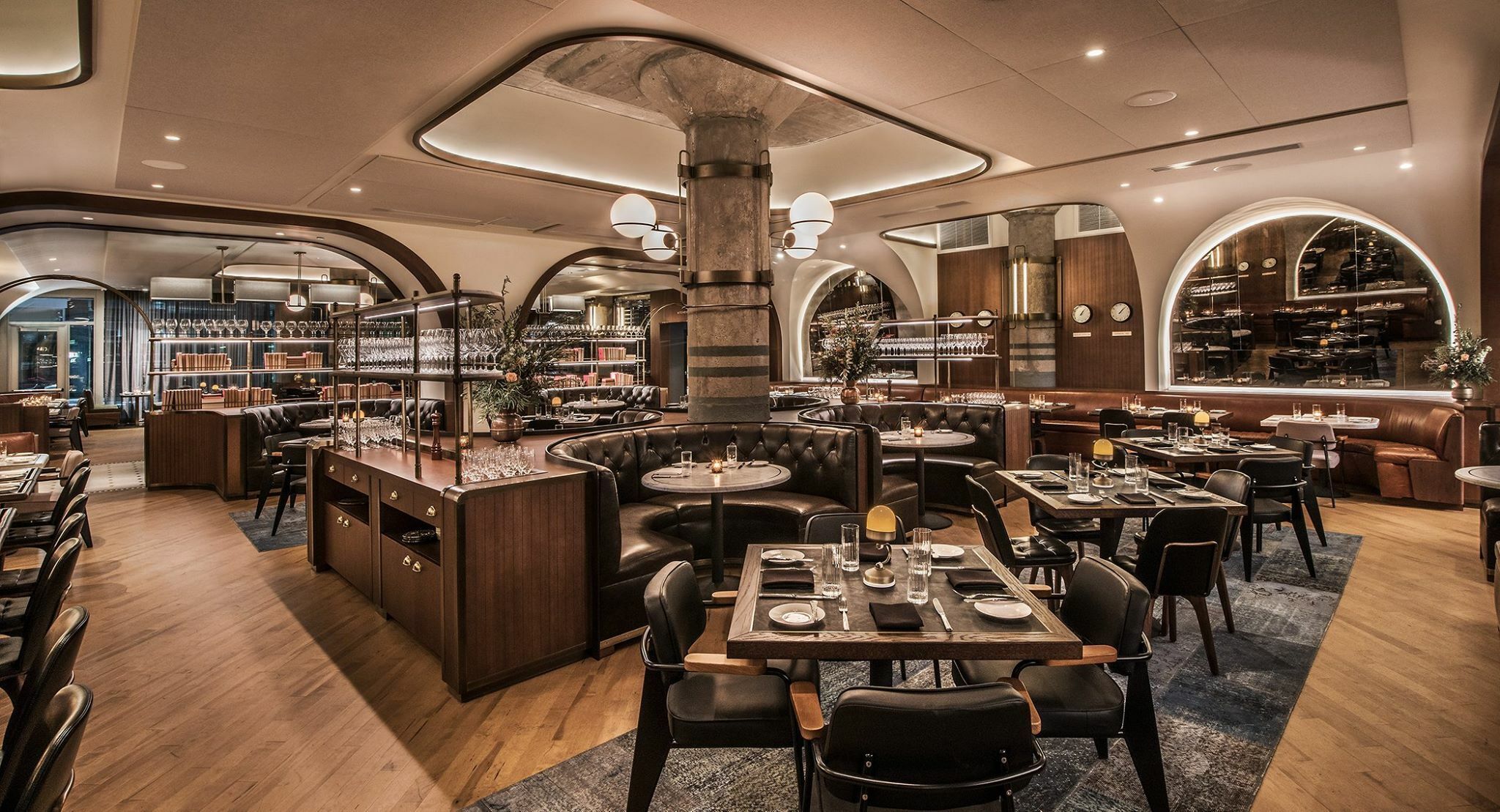 Swift & Sons - Courtyard, 1000 W Fulton Market
The Courtyard at Swift & Sons is a stylish steakhouse with an inviting atmosphere, perfect for a holiday party! The venue exudes a vintage aesthetic with its wood paneling, soft lighting, and plush leather seating that makes it ideal to celebrate the holiday season.
The Courtyard Dining Room can accommodate up to 150 guests in its semi-private event space and host a sophisticated dinner party. Enjoy the arrangement of succulent prime steaks, seafood dishes, and the bar's craft cocktails that pair perfectly with any meal. With help from the restaurant's attentive staff, you are guaranteed a luxurious dining experience.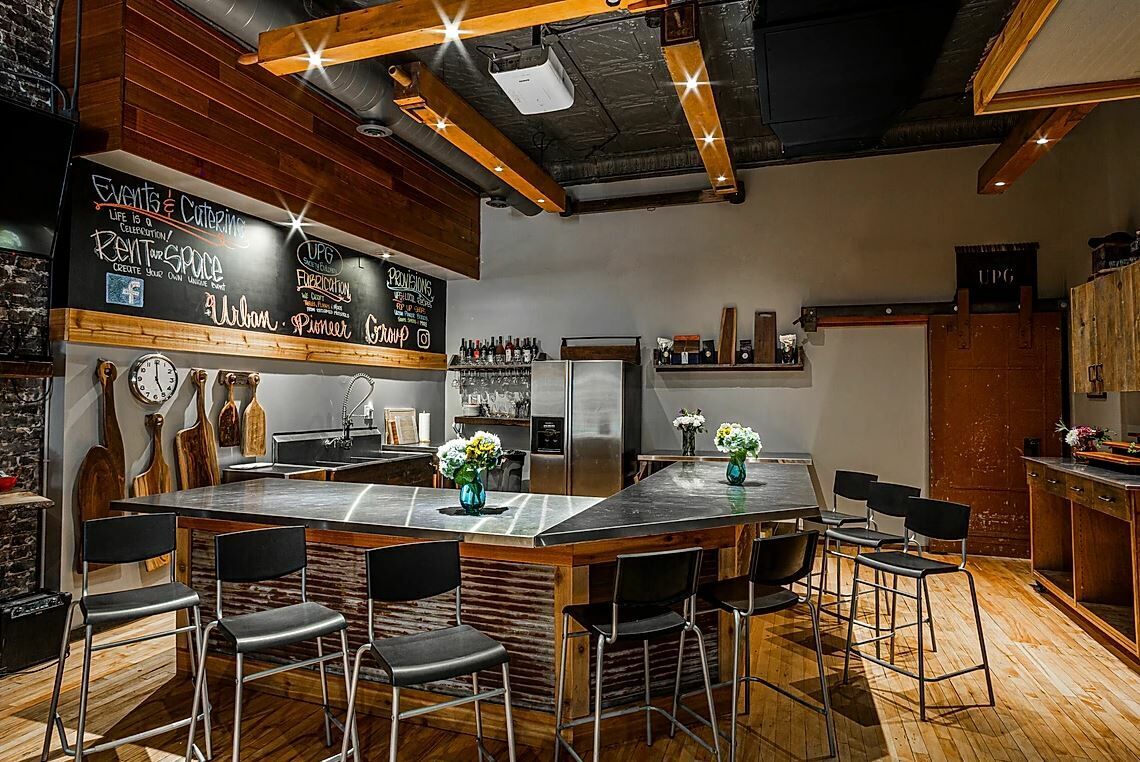 Urban Pioneer Group, 7503 Madison St, Forest Park
For a rustic event space to celebrate the holiday season, consider booking Urban Pioneer Group located in Forest Park. Reminiscent of a cozy country cottage, this venue includes both modern and vintage details that creates a one of a kind atmosphere. Exposed brick walls, crystal chandeliers, and embossed metal ceilings offer an Old World aesthetic in this rooftop space, which also boasts panoramic views of the Chicago skyline.
The 1,800 square foot space can host up to 120 guests and offers catering amenities to serve your holiday event. Dine on artisanal dishes and work with the wait staff and bartenders that offer high quality services to make your event extra special.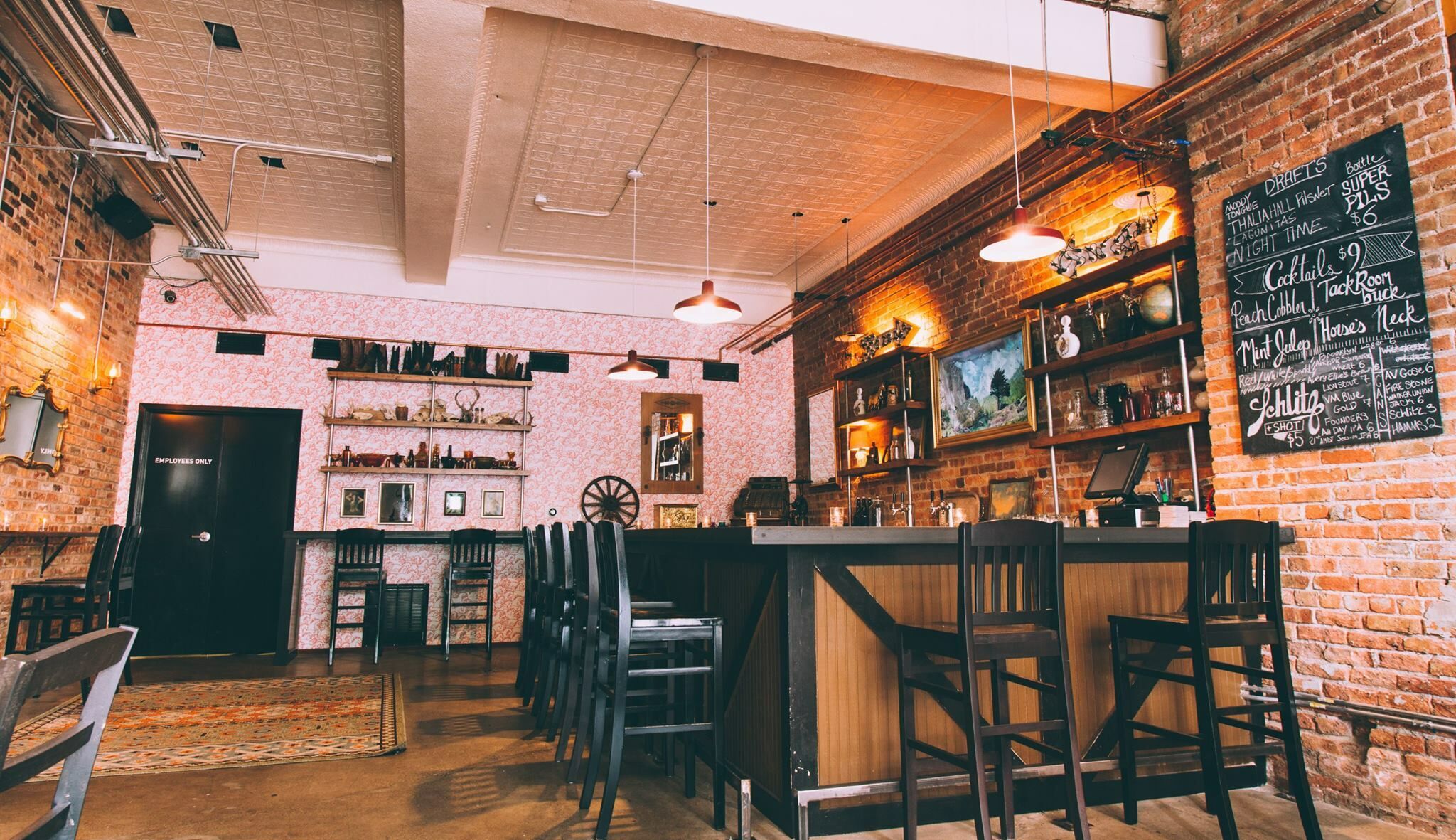 Tack Room, 1807 S Allport St
Keep things casual and fun for an upcoming holiday party when hosting at Tack Room in Chicago. This cocktail bar venue is located in a former horse stable that still offers a vintage farm feel through its architecture and decor. With wood furnishings, galloping horse wallpaper, and decorative animal skulls, you will be transported to Texas in this cozy space.
Invite up to 75 guests in this unique location to celebrate the holiday season. Sit down for a delicious plated meal with options including cheeseburgers, oysters, roasted cauliflower, and more. Pair your American cuisine with a signature cocktail or selection from their impressive beer or wine list.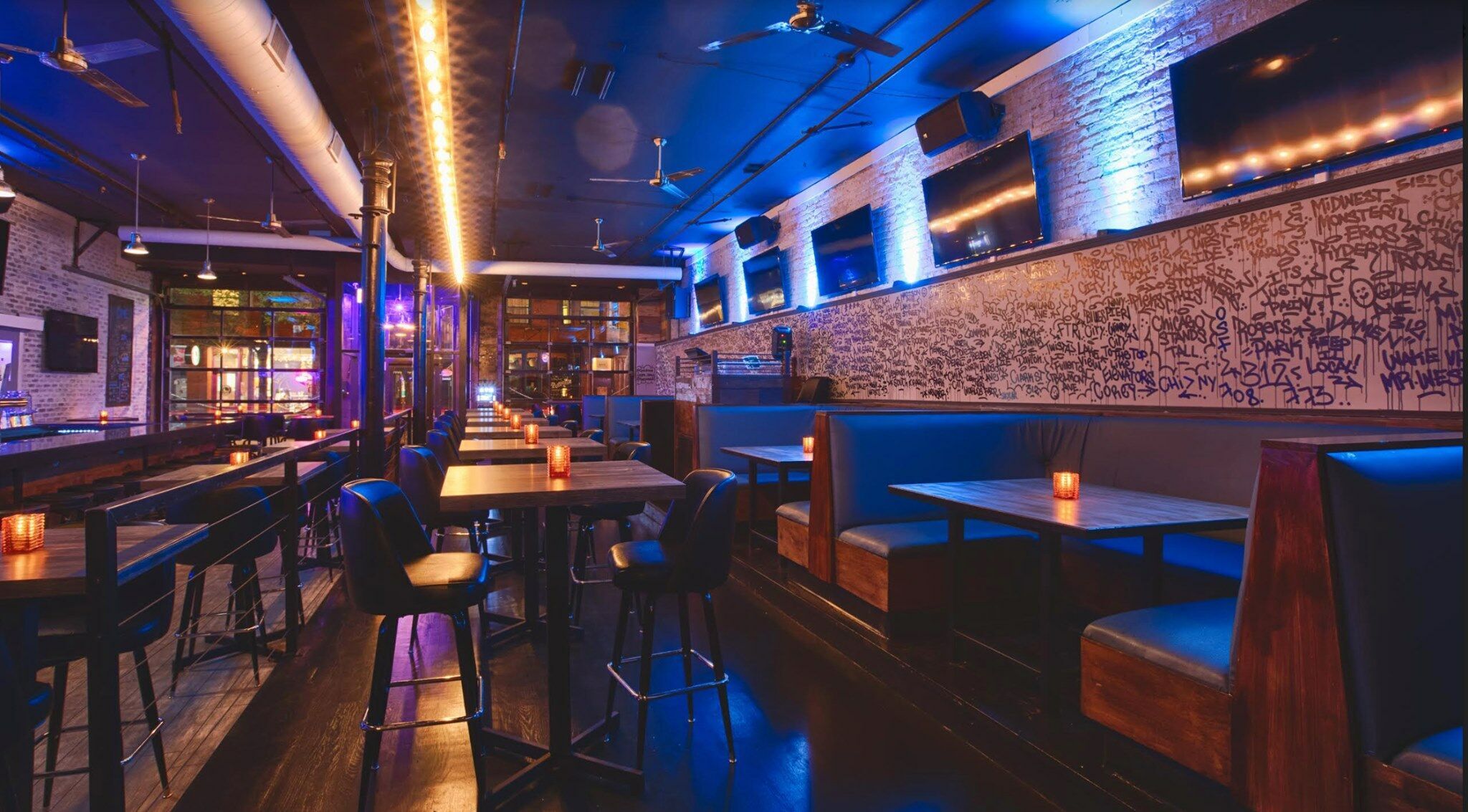 The Dime - Dining Room, 2263 N Lincoln Ave
This lively bar and restaurant is an upscale and edgy party venue in Chicago that creates a unique atmosphere for an upcoming holiday celebration. The Dime - Dining Room is a dynamic location with an industrial-chic aesthetic that offers a laid-back and casual event space.
Invite up to 120 guests to this Chicago nightspot to enjoy a winter time celebration featuring the restaurant's signature American cuisine. Enjoy their selection of plated meals and platters that include crowd favorites such as gourmet flatbreads, burgers, and even beer-battered fried pickles. Work with the catering services that can create a menu with dietary accommodations ranging from vegan to gluten-free.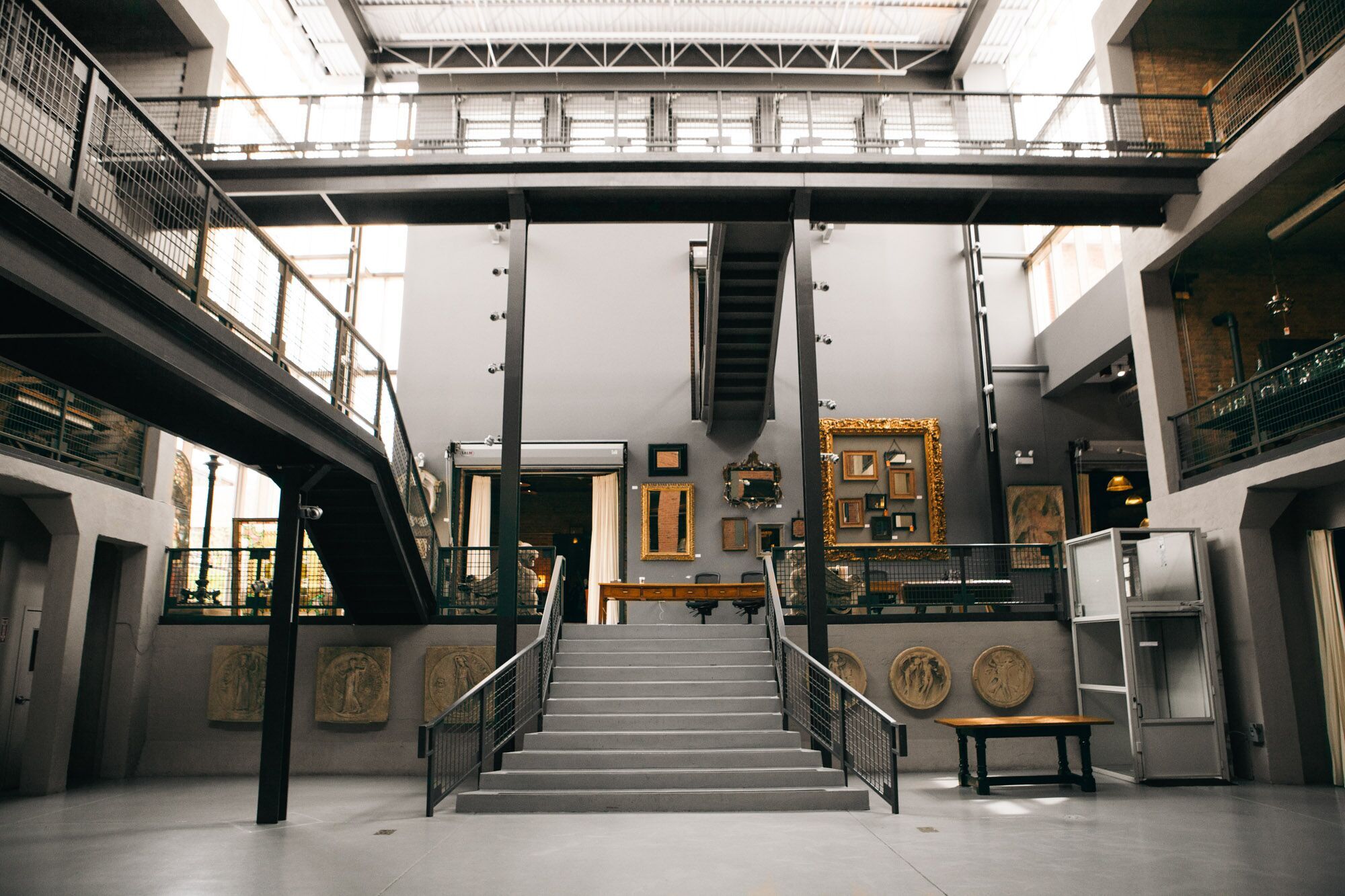 Artifact Events - North Atrium, 4325 N Ravenswood Ave
Suitable for larger events, the North Atrium at Artifact Events is a perfect location for a grand holiday celebration. The 13,000 square foot loft space can accommodate up to 600 guests so you can invite friends, family, coworkers, and neighbors—there's room for everyone here!
This unique event space effortlessly merges an urban atmosphere with contemporary elements to create a one of a kind venue. The North Atrium features exposed brick walls, an industrial steel staircase, and hanging string lights that create a blank canvas for any holiday decor. Customize the layout to your liking with available lounge seating, cabaret tables, as well as large dining tables.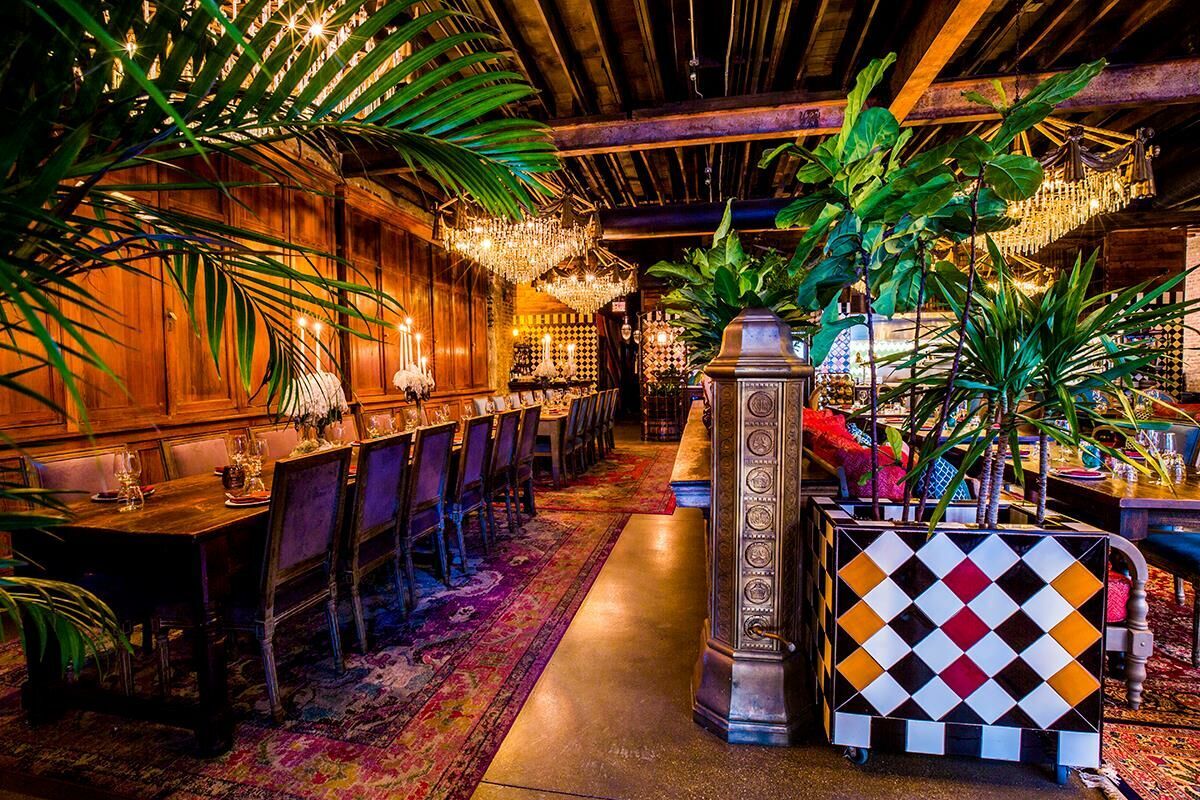 Beatnik West Town - Family Tables, 1604 W Chicago Ave
Host an elegant dinner party without messing up your kitchen this holiday season! Beatnik West Town - Family Tables is a delicious restaurant serving Mediterranean and Middle Eastern cuisine that provides an excellent backdrop for a meal with friends and family.
The 500 square foot space can host up to 26 guests for an intimate and sophisticated dinner party. Featuring art deco chandeliers, exotic plants, and old-world furniture, this venue promises a unique celebration location. Work with the event manager and food and beverage services to help ensure your event runs smoothly. Choose from an array of delicious appetizers, entrees, and desserts to serve guests during the party that everyone will enjoy.
Find more holiday party venues in Chicago here on The Bash.