13 Best Outdoor Venues in NYC to Host a Party
From rooftop bars to chic patios, we've got the best outdoor venues in NYC to host a party outside.
Alice Prendergast
Contributor
So, you've got a milestone event on the horizon and want to plan an epic party to celebrate? We're here to help! Of course, the first thing you need to do is find the perfect outdoor venue in New York, NY, for your get-together. Luckily, NYC is home to plenty of gorgeous event spaces, and many of them are open air!
We've rounded up our favorite outdoor venues in NYC to host your party to make your job just a little bit easier. From petite cafe terraces to rooftop bars to trendy patios, this list has something for everyone. These spots are great for birthday parties, baby showers, anniversaries, bachelorettes, and any other private party.
Here are the best outdoor party venues in NYC to host your event.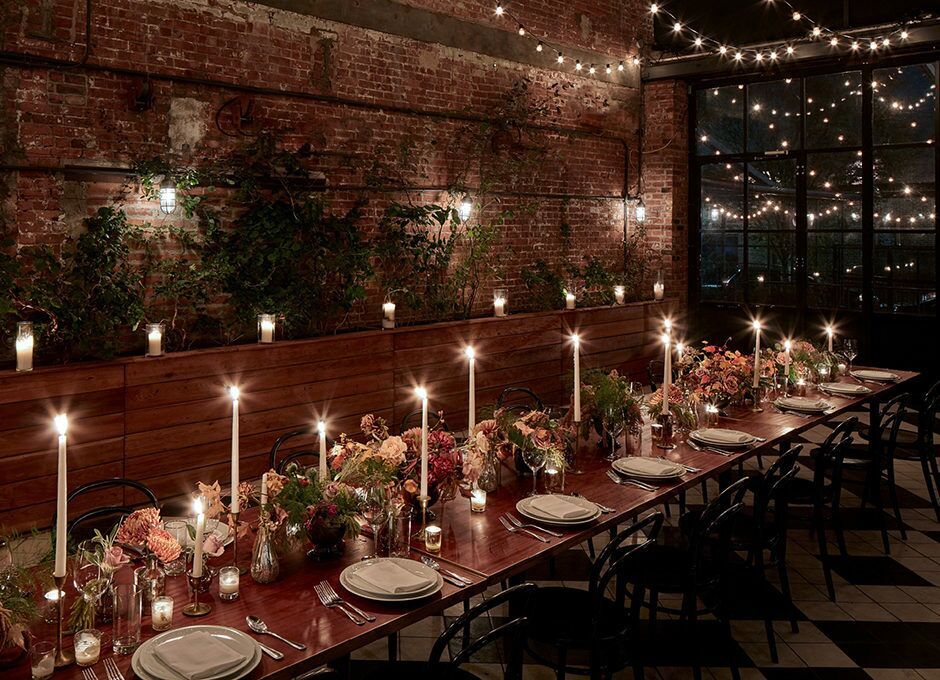 Wythe Hotel, 80 Wythe Ave, Brooklyn
Head to Williamsburg and you'll find the Wythe Hotel, an iconic independent Brooklyn hotel located inside a 1901 factory building and still has that warehouse-style charm. While the inside event venue with floor to ceiling windows is, without a doubt, stunning, the Garden Terrace is where it's at, if you want a bit more natural light.
It's surrounded by exposed brick walls and has chic black and white tiled floors and a retractable roof (so it works, rain or shine!). It's large enough to accommodate up to 150 guests, plus, there's ample street parking and parking garages nearby.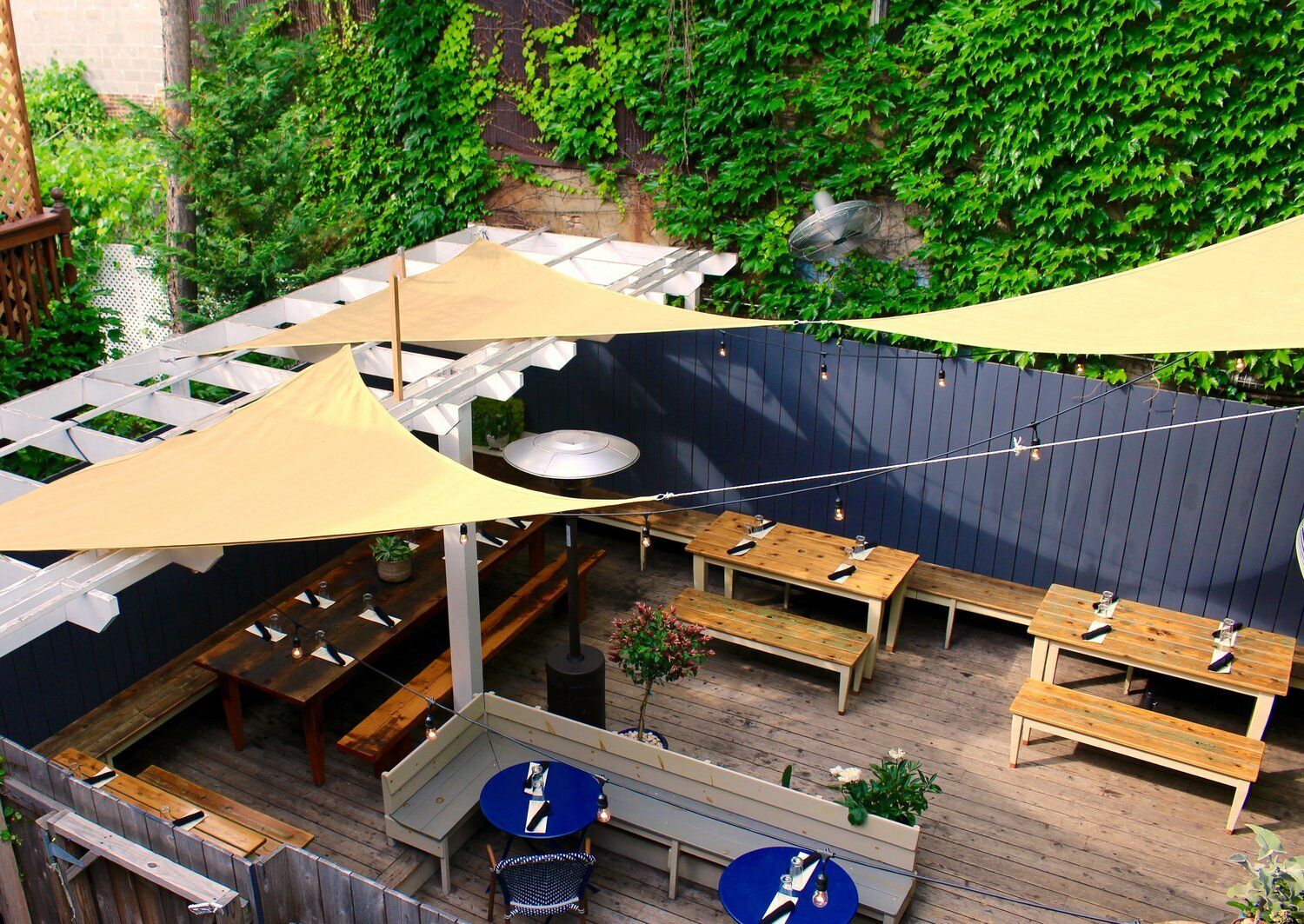 Midnights, 149 N 6th St, Brooklyn
Midnights is a Brooklyn gem with a simple, yet stylish, back patio. The entire restaurant covers 5,000 square feet and its outdoor area boasts a wood-heavy design with picnic table seating and string lights.
It's a bit more casual than what you'd find on the Upper East Side, which is what makes it so great. As for furnishings, it's pretty much a blank canvas, offering minimalist decor, so you can really make it your own. It's large enough to squeeze in 65 guests.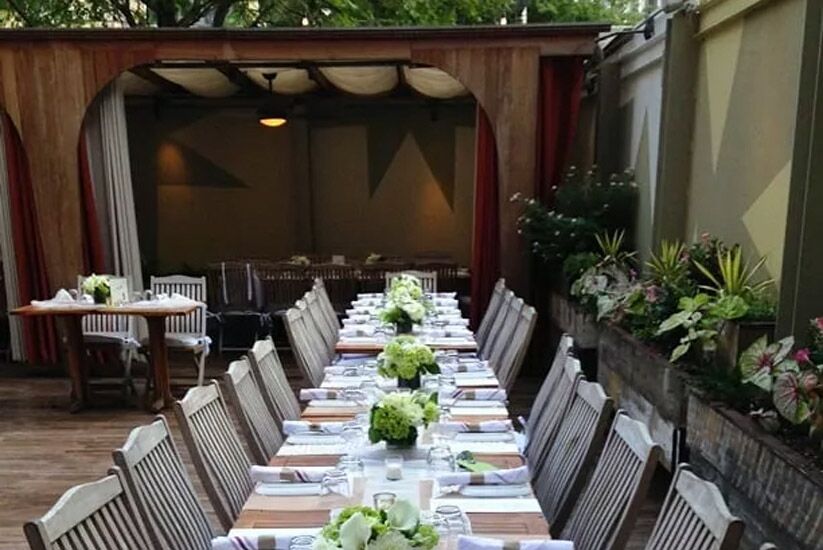 Pera Soho, 54 Thompson St, New York
Pera Soho is a gorgeous eatery located in the heart of Soho. While the restaurant has a beautiful interior, we suggest looking past the main dining room and hosting an al fresco party on its patio.
The petite 240 square foot terrace flaunts floral decor and rustic furniture, perfect for a cool, low-key celebration. It can fit between 10 and 40 guests, so it's best suited for smaller events.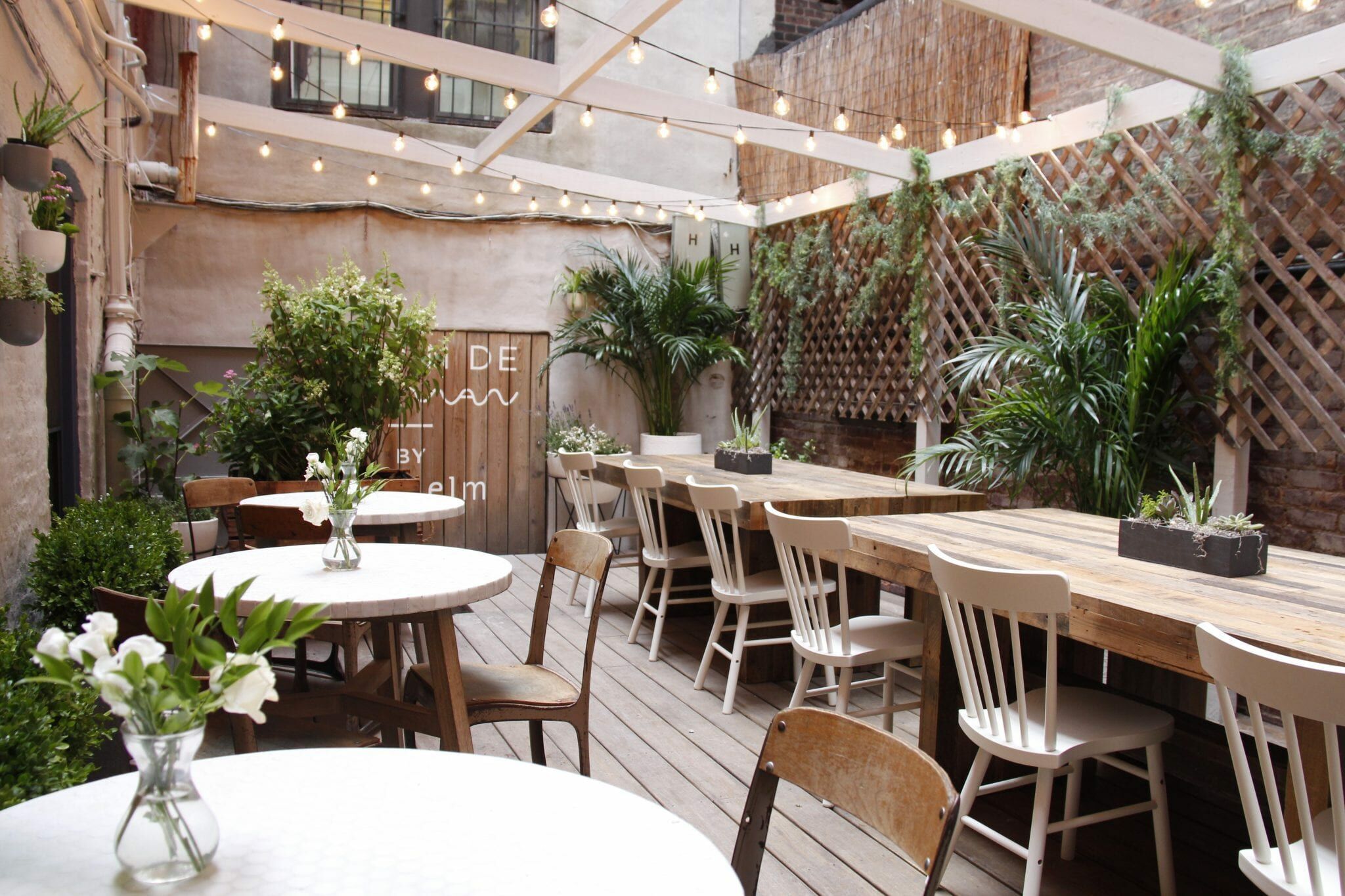 Marche Maman, 237 Centre St, New York
Marche Maman is an adorable French-inspired spot in Lower Manhattan that'll give your celebration a dash of Parisian flavor. Not only does it specialize in delicious sweet treats and cocktails (essentials for any private party), but it also looks pretty darn great.
Its cozy outdoor terrace is sandwiched between brick buildings, giving you and your guests a bit of privacy. It's decorated with string lights, flowers, and rustic wooden furniture, and is so pretty you won't need to purchase any extra bells and whistles. It's large enough to fit up to 75 guests.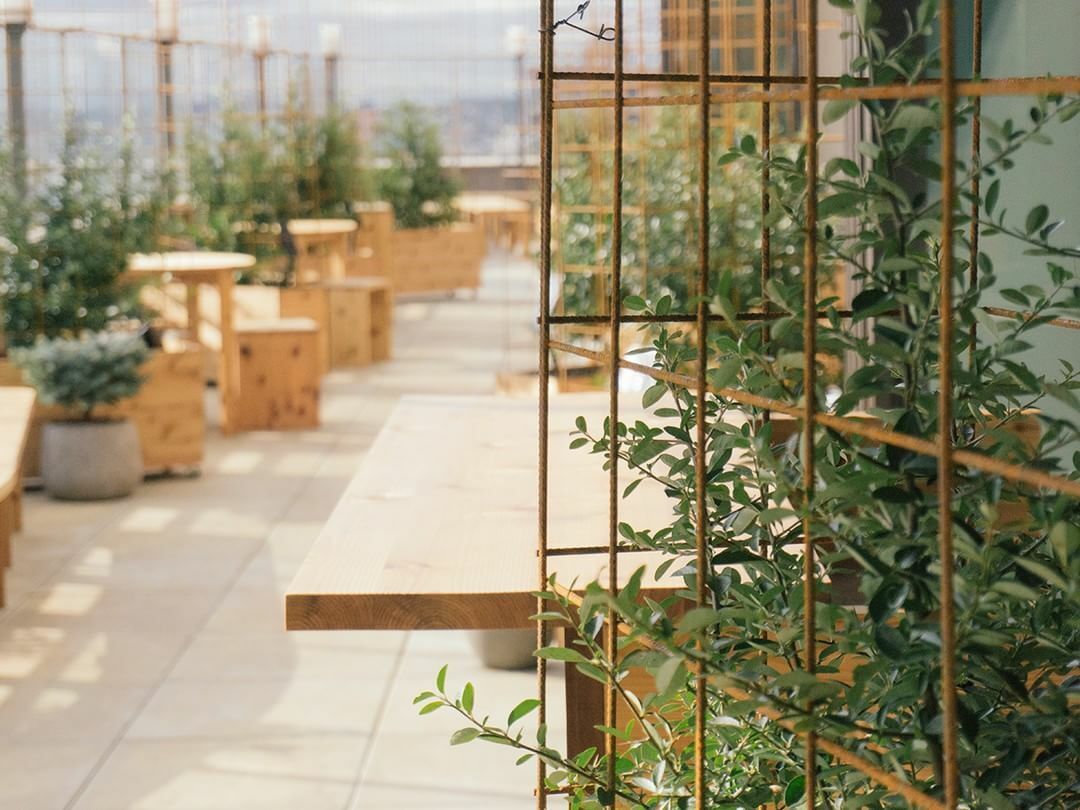 Kimoto Rooftop Garden Lounge, Aloft Hotel, 216 Duffield St, Brooklyn
The Kimoto Rooftop Garden Lounge is a tranquil terrace with a modern, spa-like feel located above the Aloft Hotel in Brooklyn. The event space boasts contemporary bench seating, wooden tables, and plenty of greenery. It's definitely on the more minimalist side of things, so far as decor is concerned, but that's what makes it so unique.
It really doesn't need any extra frills to make it a fantastic party venue. It can accommodate between 5 and 30 guests, making it ideal for smaller social celebrations.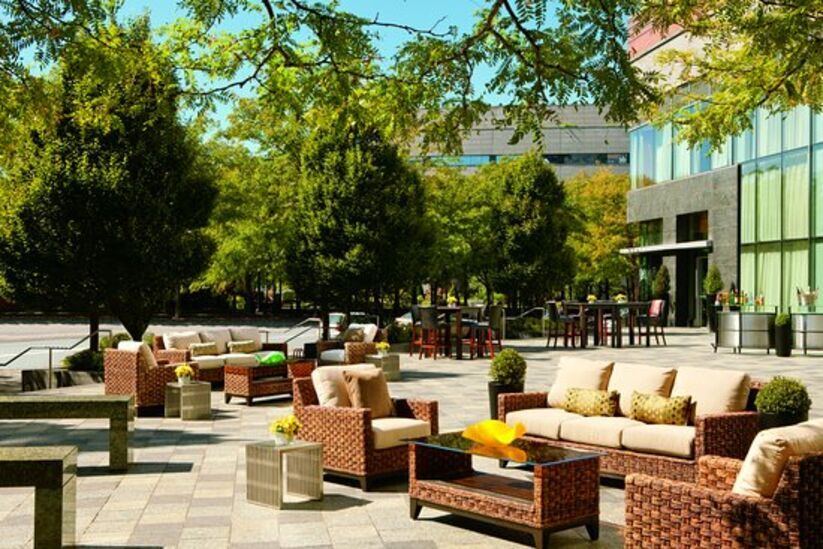 The Wagner at the Battery, 2 West St, New York
The Wagner at the Battery is a luxury hotel in Lower Manhattan with riverside views. It offers awesome accommodations as well as killer party venues, including a gorgeous outdoor patio overlooking Battery Park and the waterfront.
It's equipped with high tables, lounge furniture, and a grassy area that you can pack with lawn games for your guests. It's also large enough to pitch a tent if the weather isn't in your favor when party time rolls around. It's large enough for 280 guests, so it's perfect for massive milestone parties.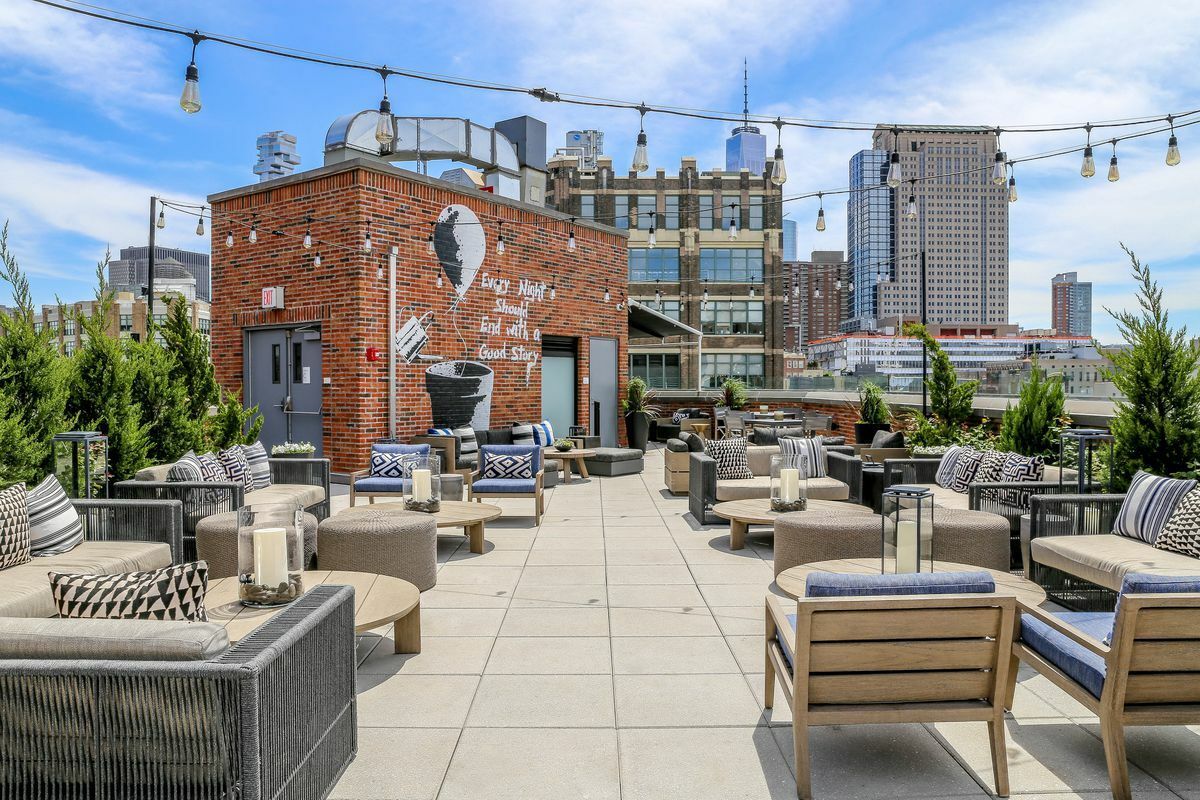 Arlo Soho, 231 Hudson St, New York
If you're looking for an artsy outdoor space, look no further than the rooftop terrace at Arlo Soho. The indoor-outdoor rooftop bar offers panoramic views of the city, exposed brick accents, picnic tables, and a sleek indoor lounge (so it ticks pretty much every box). It covers 3,000 square feet and can fit between 100 and 250 guests.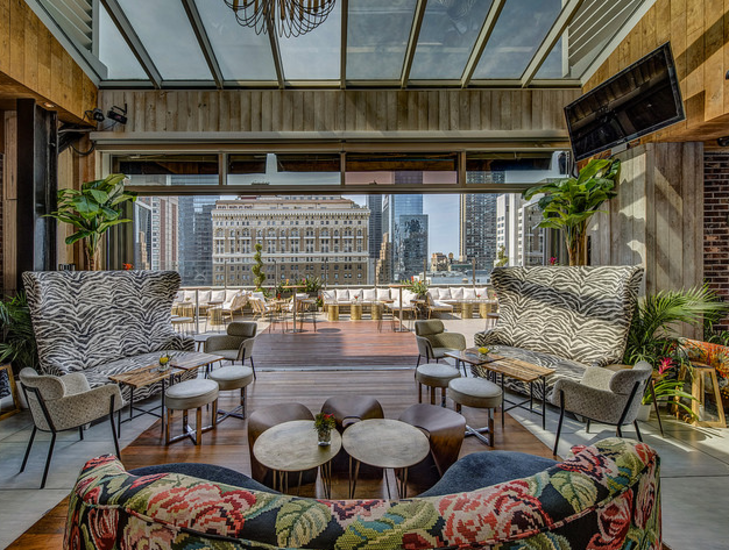 Monarch Rooftop, 71 W 35th St, New York
Monarch Rooftop, located in the Midtown South area, is a luxurious and trendy bar that'll make all your party dreams come true. The indoor-outdoor space is 18 floors above street level and offers unobstructed views of the Empire State Building and Manhattan's most iconic skyscrapers.
As for decor, it's outfitted with eclectic furniture pieces and tropical plants (perfect for those who want something a little different). It spans 5,000 square feet of space and can accommodate up to 300 guests.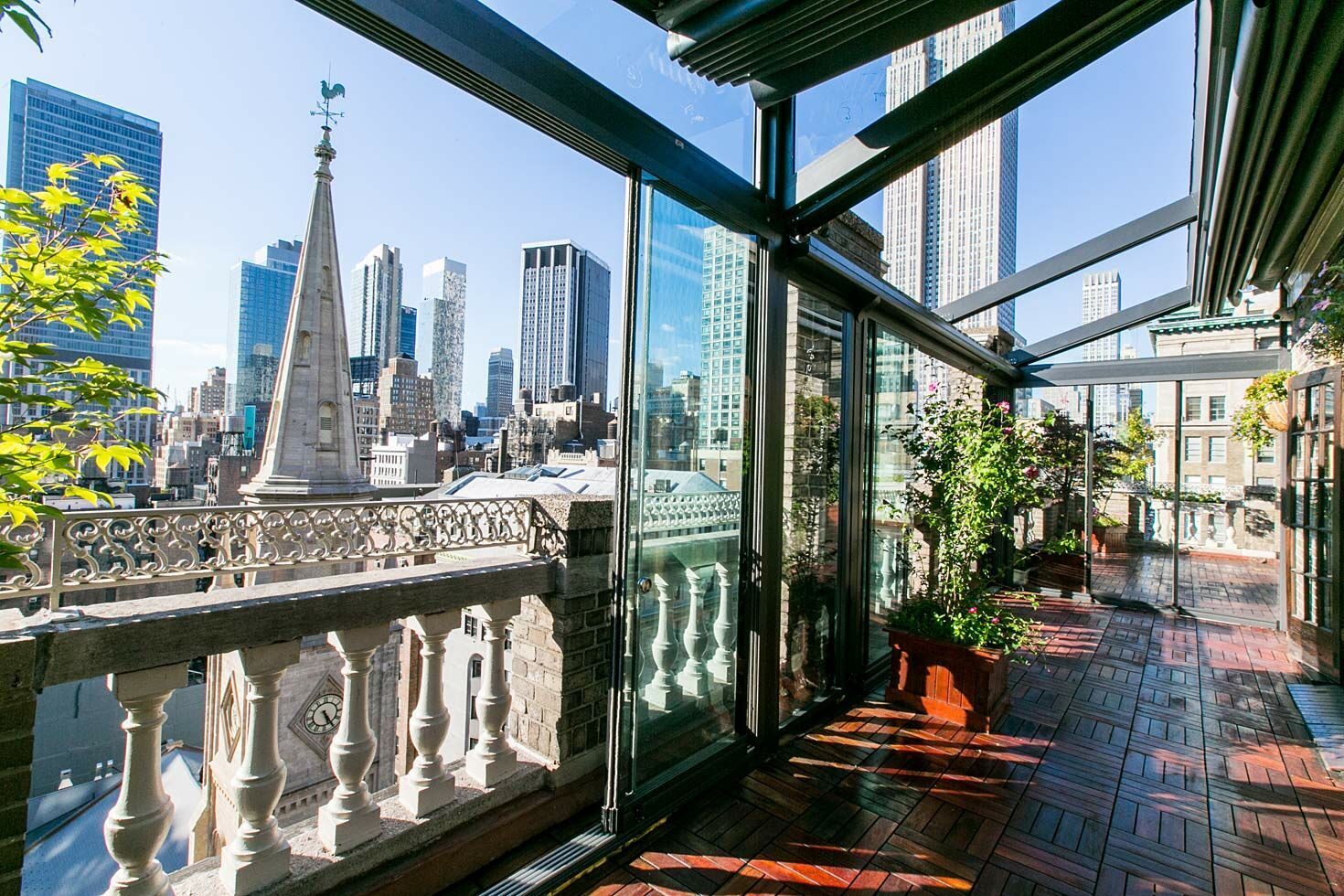 Midtown Loft & Terrace, 267 5th Ave
Located right in the heart of New York City, you can host your upcoming event at Midtown Loft & Terrace. This classic yet modern space is 4,000 square feet and has a 360 degree view of the gorgeous Manhattan skyline. Invite up to 150 guests for an unforgettable birthday celebration, cocktail hour, or engagement party that will leave everyone amazed with the views of the city.
Celebrate at this outdoor party venue all year long with the option of a retractable roof during the winter months. The space is decked out with an illuminated skybar, lounge furniture, and a photo booth so you can capture every moment.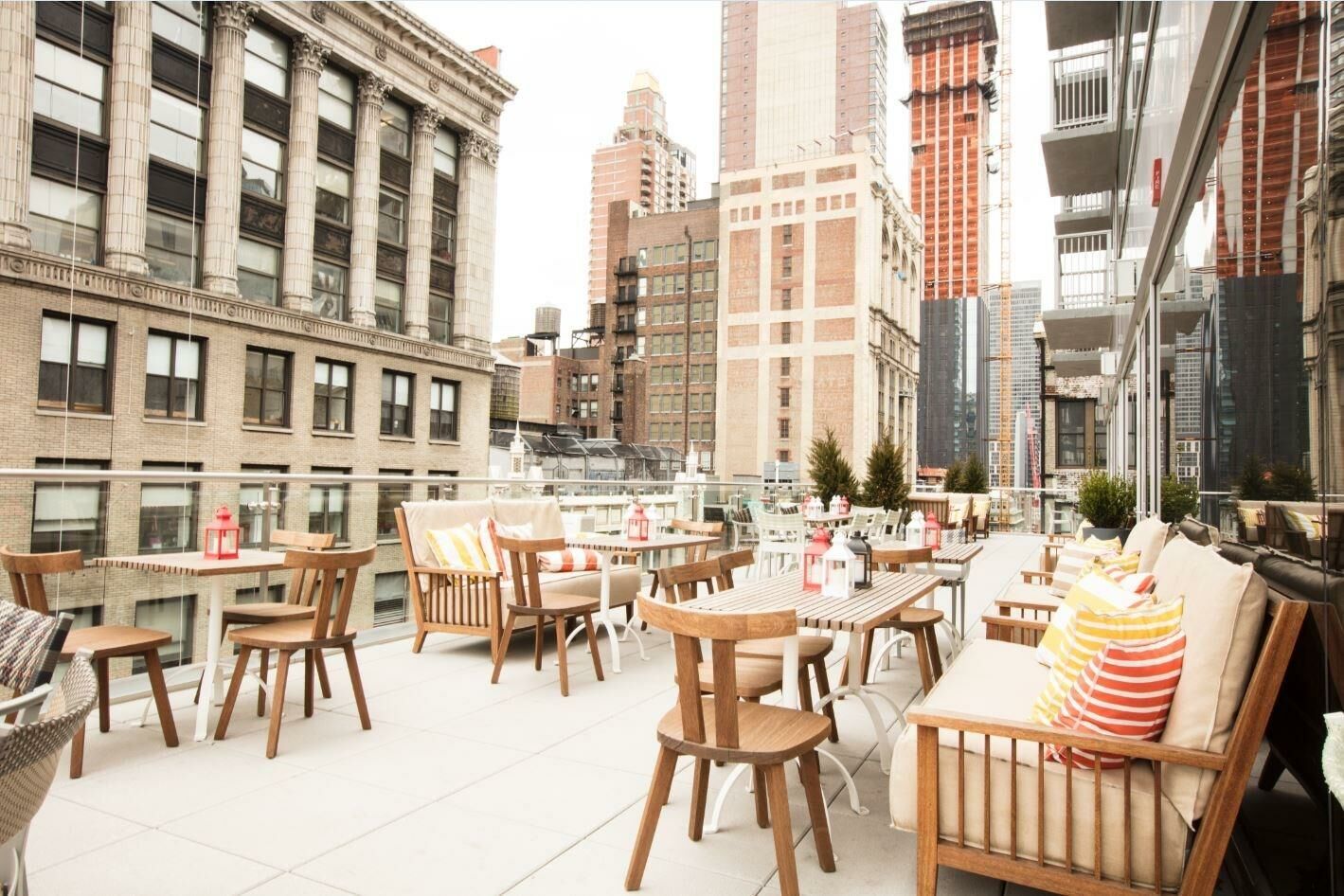 Mondrian Park Avenue - Mondrian Terrace, 444 Park Avenue South @, E 30th St.
This chic rooftop bar, located in the NoMad area, boasts a breathtaking view of the New York City skyline. This 2,900 square foot venue is known for its eclectic vibe and sophisticated decor that all guests will enjoy. Lounge on the comfortable patio furniture, take in views of the city streets, and sip on delicious drinks and cocktails. 
Whether you are hosting a summer party, birthday celebration, cocktail hour or corporate event, the Mondrian Terrace at Mondrian Park Avenue will make a beautiful backdrop. Accommodating up to 150 guests, this venue will make a large party still feel cozy and intimate.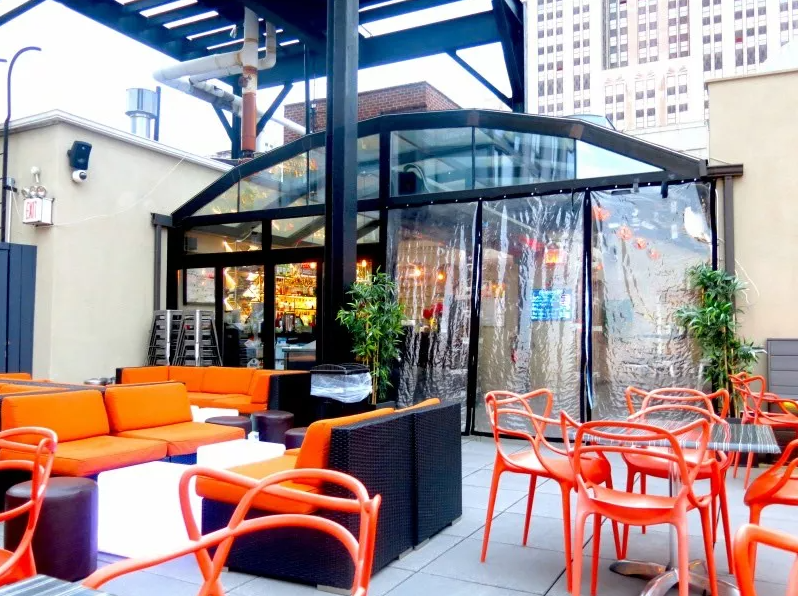 Cloud Social Rooftop Bar, 6 W 32nd St
If you're looking for an outdoor party venue in New York City with plenty of photo opportunities, Cloud Social Rooftop Bar is for you. Enjoy direct views of the Empire State Building and downtown that will make the perfect backdrop for your celebration and pictures. 
The 2,000 square foot space can accommodate up to 150 guests that promises an exciting and memorable time. Get ready for a laid-back beer garden inspired experience with small plates, meat and cheese boards, and an expansive drink and cocktail menu. This modern rooftop bar is vibrant, eclectic, and perfect for your next event.
Roberta's Pizza, 230 Park Ave
Who doesn't love a pizza party? Roberta's Pizza located in Brooklyn is the ultimate location to host a fun and exciting pizza night with friends and family. Known for the industrial-chic aesthetic in their open-air garden, this is an outdoor venue you'll definitely want to consider for your next celebration, no matter how big or small.
Invite between 35 and 180 guests to dine on mouth-watering pizza, seasonal specials, and the restaurant's extensive bar menu that features a variety of cocktails, wine, and draft beers. Enjoy the inviting ambience and cozy vibe during your next celebration when you host at Roberta's Pizza.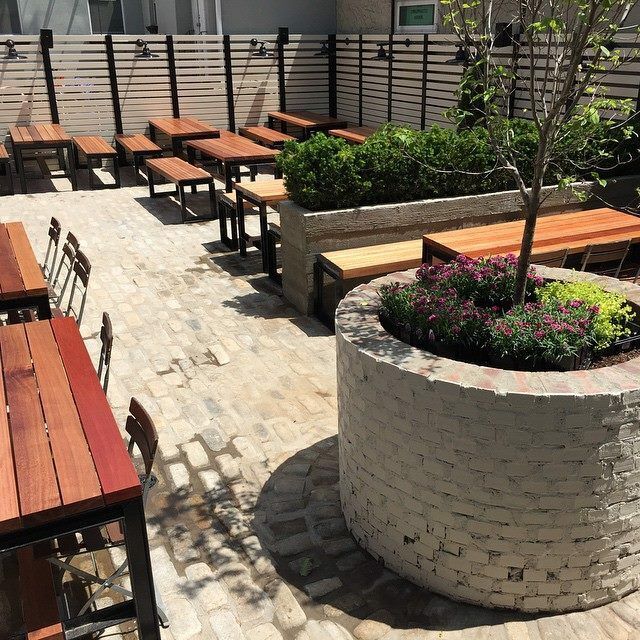 The Bonnie - The Bar Garden, 29-12 23rd Ave, Queens
Known as one of Queens' most sought after summer event spaces is The Bar Garden at The Bonnie. This tranquil outdoor bar can host up to 115 guests for a large or intimate celebration and boasts a variety of menus to accommodate everyone. From gluten free to vegan options, the culinary team can make it all.
The charming space includes authentic cobblestone, greenery, wooden seating, and bright yellow parasols to create a bright and happy atmosphere. Enjoy the nighttime aesthetic when the outdoor space is illuminated with fairy lights and stylish lamps so you can celebrate under the stars.
Bonus: Check out these adult birthday party venues in NYC to book..
Find more party venues in NYC on The Bash.