20 Perfectly Magical Princess Party Ideas
These princess party ideas are truly the fairest of them all.
Meabh McCrossan
Contributor
Who doesn't want to feel like royalty every now and then? The dream of becoming a prince, princess, or noble person is one shared by many. With these princess party ideas, you'll have the power bestowed upon you to make your little one's dreams come. Follow these tips to throw a princess party fit for a queen.
Whether you're inspired by princesses of literature, film, or even those in real-life, a princess party is sure to be a magical experience. With the help of decorations, delicious food, refreshing drinks, and entertainment, you can host a gathering that will be the talk of the kingdom for years to come. 
These princess party ideas are sure to spark your imagination and help you and your little ones live your royal fantasies.
Here is everything you need to throw a princess themed party:
A Royal Venue
Backyard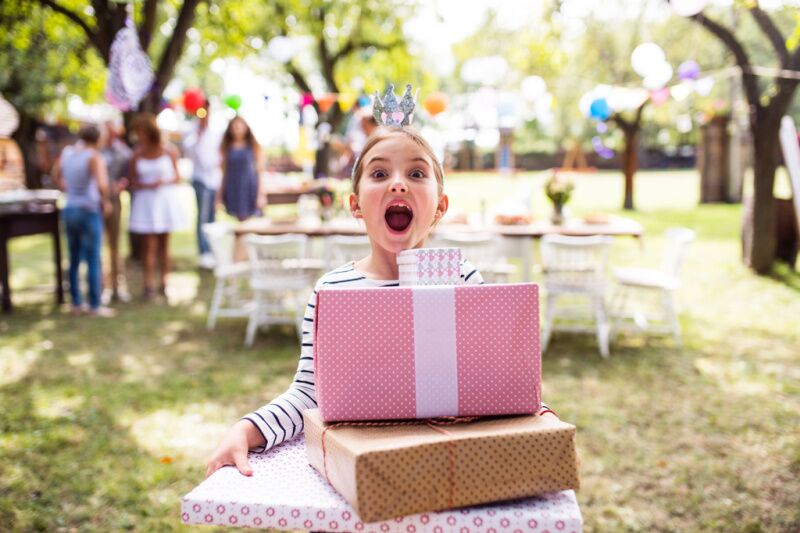 Photo: Halfpoint/shutterstock.com
In the comfort of your own backyard, you can transform your space to fit your exact needs for a perfect princess party. For those planning to serve food and have kiddos take part in events, it will be ideal to have everything needed in the convenience of your own home. 
If you're lucky enough to have some tall trees on your property, you can hang delicate fairy lights, streamers, and other decorations from branches for a mystical forest effect. It's also the perfect place to set up a castle-theme bounce house… what more could you wish upon a star for?
Library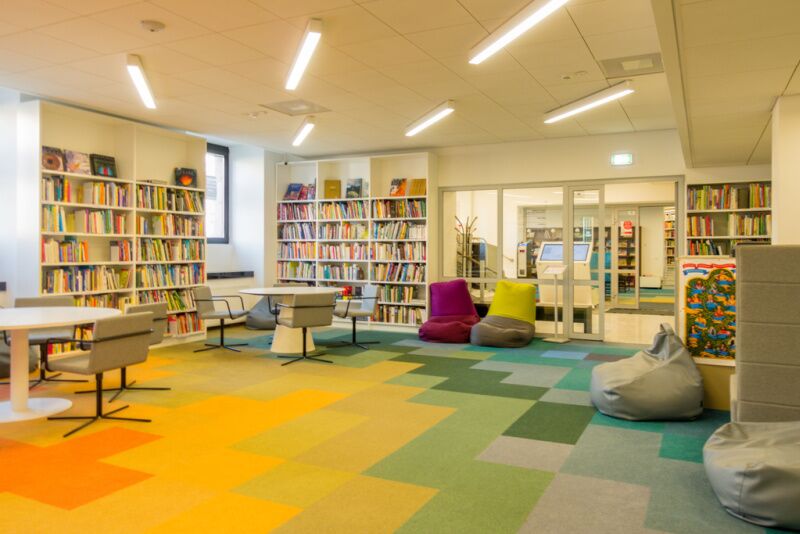 Photo: Veja/shutterstock.com
Contact your local library or bookstore today to see if they can add a little magic to their day! Surrounded by countless publications filled with whimsical fairy tales and stories of princesses, you can inspire your guests to crack open a book or two. Host a storytime session and have everyone gather 'round to hear tales of dragons, towering castles, fire, and brimstone… who said princess stories aren't full of action?!
Princess Party Entertainment
Face Painting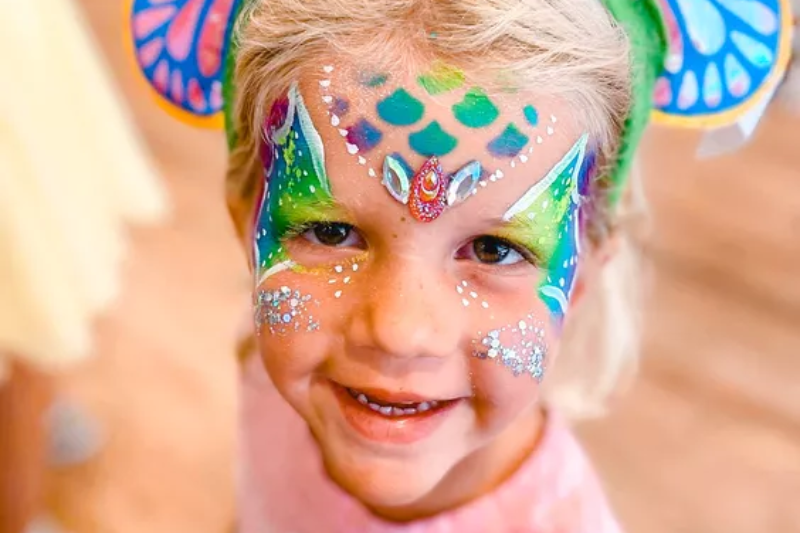 Photo: WonderWolf Entertainment
Guests young and old will be delighted to see a professional face painter in attendance at your event. Transform yourself into a magical woodland creature, a glamorous snow queen, or a beloved film character. 
Princess Character
Photo: Dream Entertainers
Did your little one send a party invitation to their favorite princess of Far Far Away? Why not have a trained character actor playing a well-known princess of your choosing 'RSVP' yes? These actors will come dressed up head-to-toe as Belle, Cinderella, Snow White, or Aurora and will stay in character during the entire party.
Magician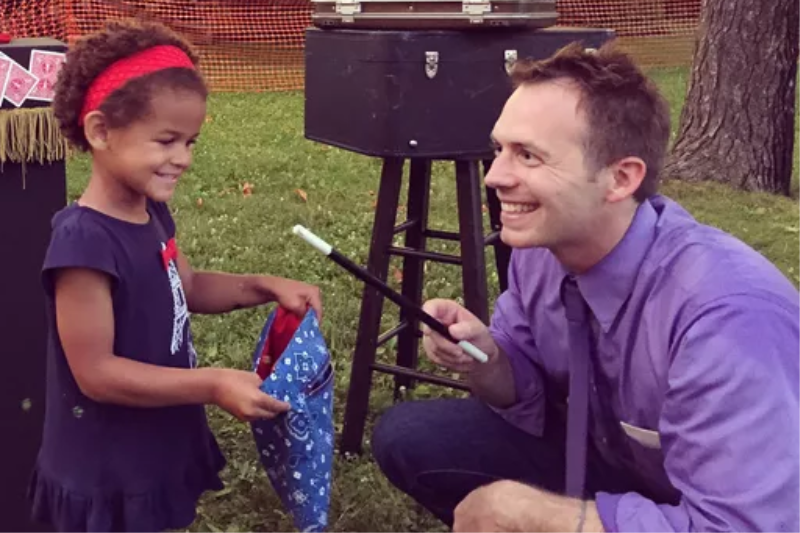 Photo: Magic of Scott Piner
Every princess story has a little bit of magic - why not add some to your event? Magicians and illusionists are a great way to bring joy, wonder, and excitement to your party. Some magicians can even dress up to match your party theme, so you can make a special request for a fairy godmother and have them present each trick with a bippity-boppity-boo.
Photo Booth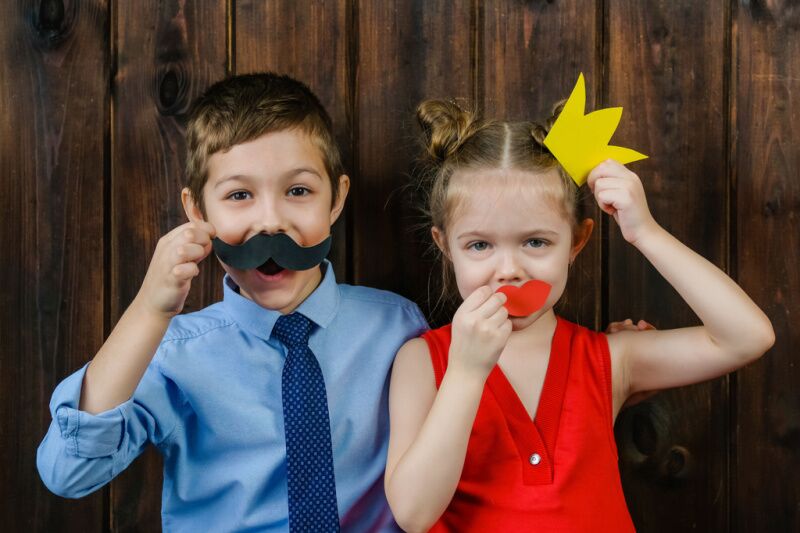 Photo: atsurkan/shutterstock.com
Royal portraits are a time-honored tradition and a great way to create charming keepsakes for your party guests. Book a photo booth vendor that can offer instant printing services so guests can bring their special pictures home for a perfect princess party favor. Either digitally or by using arts and crafts, you can also add a beautiful gold frame for a final flourish.
Princess Party Games & Activities
Musical Thrones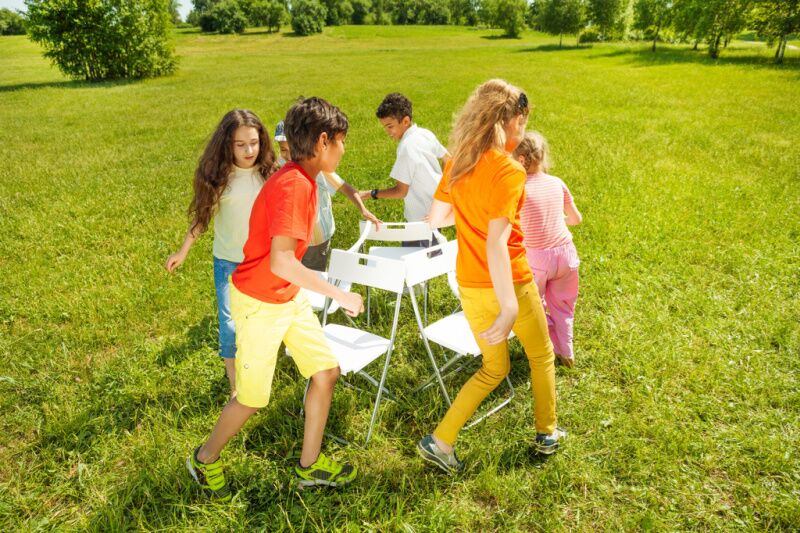 Photo: Sergey Novikov/shutterstock.com
It's the party game that's sweeping the kingdom - you've heard of musical chairs, now make way for musical thrones! While playing your favorite princess tracks, party goers will patrol a circle of chairs and fight for a seat at every round. The royal subject who claims the very last seat is the winner - long live the Musical Thrones victor!
Design Your Own Crown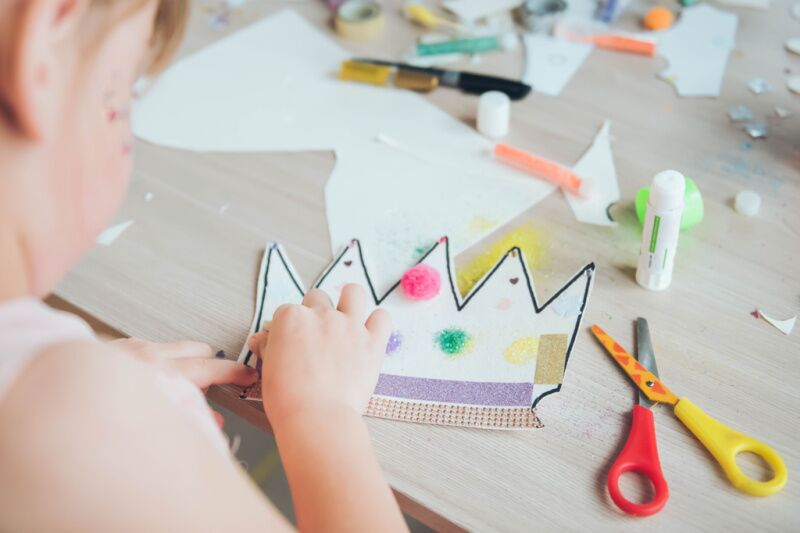 Photo: Nigmatulina Aleksandra/shutterstock.com
This idea is perfect for little party-goers who love to get creative. Gather glitter, sequins, buttons, markers, paints, you name it, from your local craft store, and have everyone decorate their own princess crowns. Not only will everyone finally have the perfect addition to their outfit, but they'll also get to take home a meaningful memento of the day.
Bestow The Crown Upon the Princess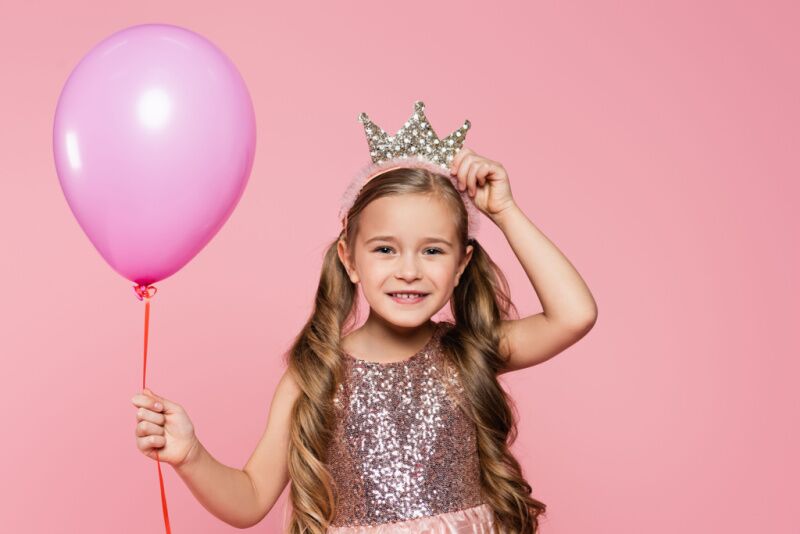 Photo: LightField Studios/shutterstock.com
An adorable spin on 'Pin The Tail On the Donkey!' Print out a picture of your favorite princess, blindfold your contestant, and have them try to pin a cut-out crown on their head. It sounds easy, but give them a spin to make them dizzy before setting them off on their quest to make it a little more challenging.
Cake Decorating with Flora, Fauna, and Merryweather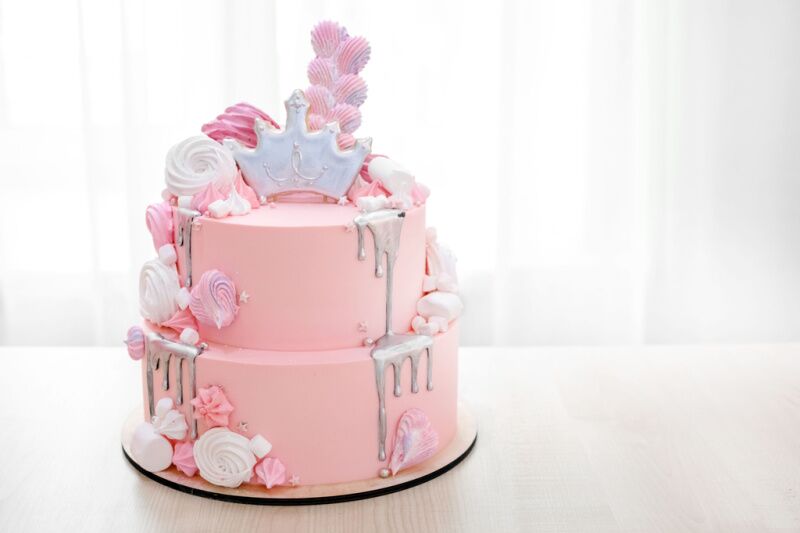 Photo: Demkat/shuteerstock.com
Whether your creations tend to look more like picture-perfect treats or dripping towers of cake (á la Flora, Fauna, and Merryweather of Sleeping Beauty), we know you've got what it takes to ace this class. Set up stations with icing and sprinkles and allow your guests to customize their own sweet treats.
Princess Fashion Show
Photo: Yuganov Konstantin/shutterstock.com
Everybody in the land knows that princesses love their fashion. The gowns, the hairstyles, the tiaras - the glamor knows no limits. Create a catwalk for your royal guests and invite them to show off their looks. Who will be The Magical Kingdom's Next Top Model? You decide.
Extra Creative Details
Disney Princess Theme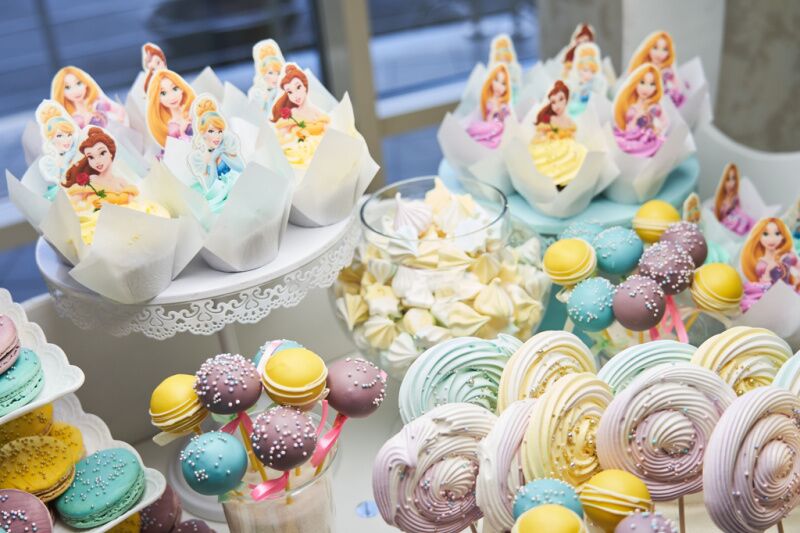 Photo: Elena_Nik/shutterstock.com
This one is a great idea for Disney fans that want to share their love of the franchise with their nearest and dearest. You can pick your favorite princess and bring their world to life, or ask your guests to all pick a princess to dress up as for a tea party to remember! 
With so many beautiful characters to choose from, you're in for a colorful and vibrant soirée. A Disney princess birthday party will be the perfect theme fit for your princess.
Scroll Invitations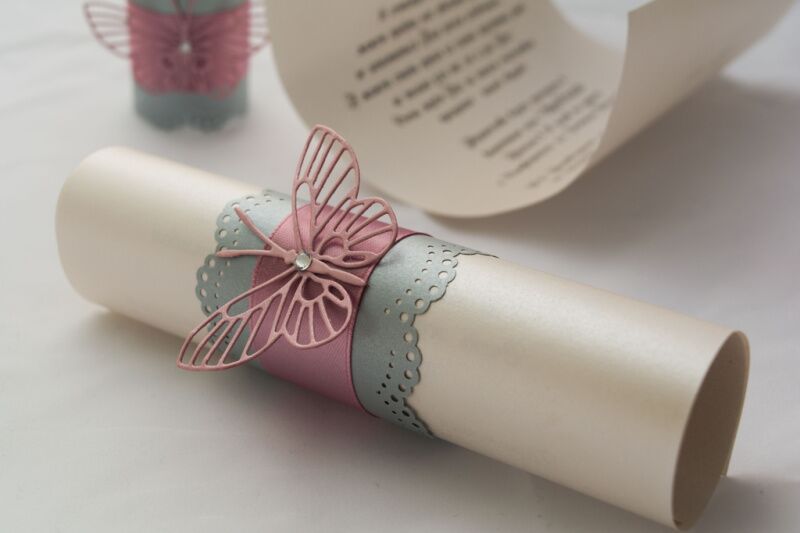 Photo: Grabovskiy Andrey/shutterstock.com
Here ye, here ye - I hereby declare that you are invited to my princess party! This is a fun way to issue your decree stating that your loved ones'  presence has been requested by royalty at your abode for a grand soirée. Grab your quill and ink to show off your calligraphy skills for an impressive invitation suite.
Floral Arrangements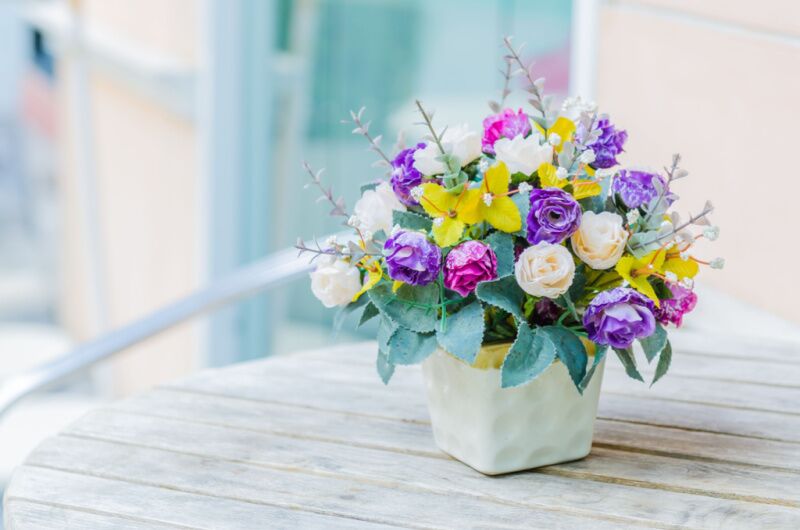 Photo: Lifestyle Travel Photo/shutterstock.com
Whilst it's not something many think of when hosting a children's party, floral decor can make any special occasion that bit more precious. Yes it's a boujie investment for a princess party, but it might just work perfectly! Think elegant table centerpieces, captivating flower arches, and even a picture-perfect flower wall.
Princess Party Food
Poison Candy Apples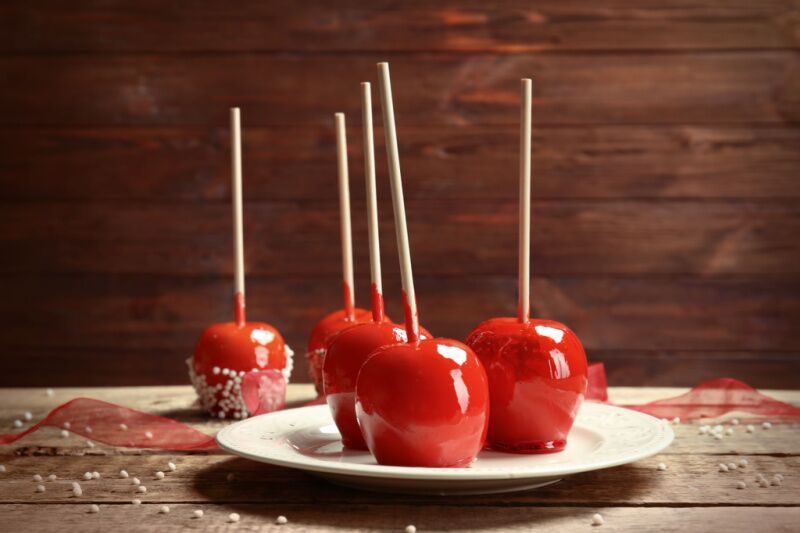 Photo: Africa Studio/shutterstock.com
Don't worry; these poisoned candy apples won't cause any harm to a princess. To a standard caramel concoction, add a drop or two of a blue or red food dye to create a tempting glaze for a sweet apple treat. 
Rapunzel's Donut Tower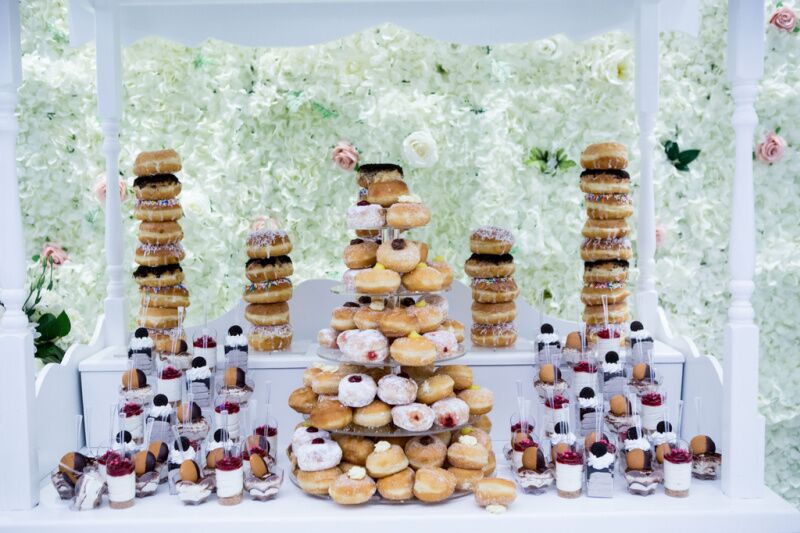 Photo: Johnathan Ball/shutterstock.com
Rapunzel would never want to come down from her tower if it were made of sweet, delicious donuts. Stack a baker's dozen of hot donuts, glazed, iced, or powdered, and a decorative paper cone on top to create Rapunzel's iconic tower. 
Afternoon Tea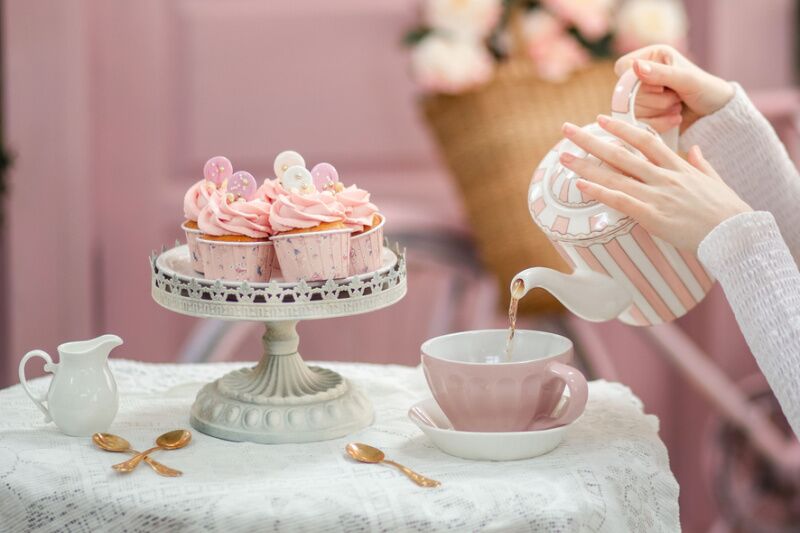 Photo: Marina Tynik/shutterstock.com
A spot of tea, madam? Perhaps a scone or a crumpet? Dine like a real princess and enjoy a delicious spread of sweet and savory treats alongside a cup of Earl Grey tea. Think cupcakes, finger sandwiches, pastries, and more. When served on a tiered plate, similar to those one might find in a royal palace, your afternoon tea will be of the utmost quality and caliber. Indeed!
Princess Party Drinks
Princess Punch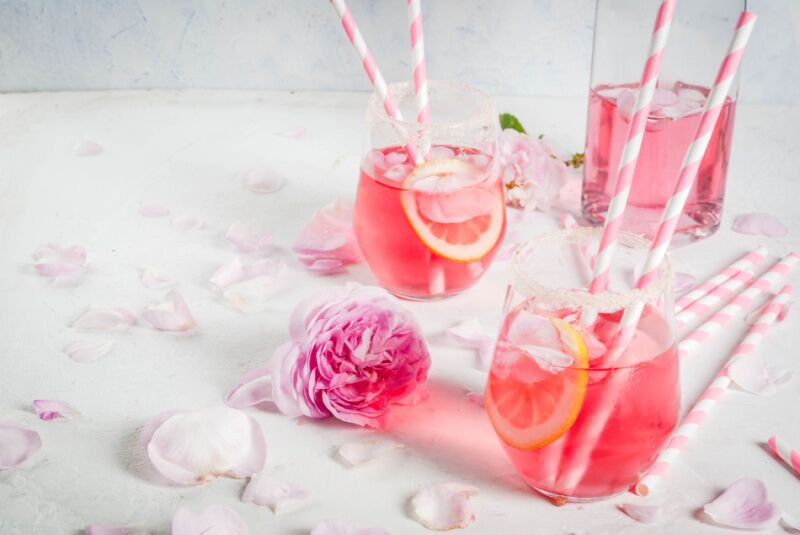 Photo: Rimma Bondarenko/shutterstock.com
Throw together a bowl of punch to quench the thirst of all the subjects in the land! In a pitcher, add your favorite fresh fruits (bonus points if they're pink) to some lemonade for an easy party beverage. The secret ingredient to princess punch? Edible glitter!
Magic Milkshakes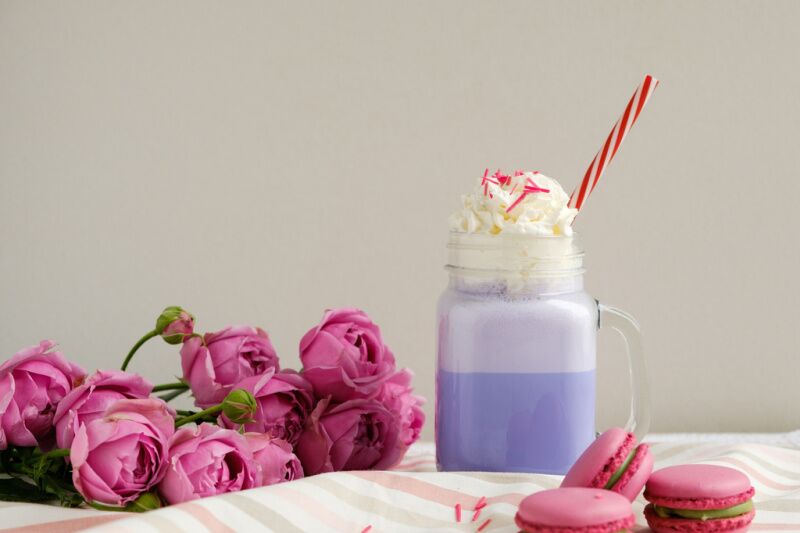 Photo: skvalval/shutterstock.com
Bananas from a tropical island, milk straight from a fresh coconut, and sweet blueberries for color - blend them all together, and you have yourself a magical milkshake. This recipe is great for those hoping to offer plant-based options at their shindig.
Frozen Slushies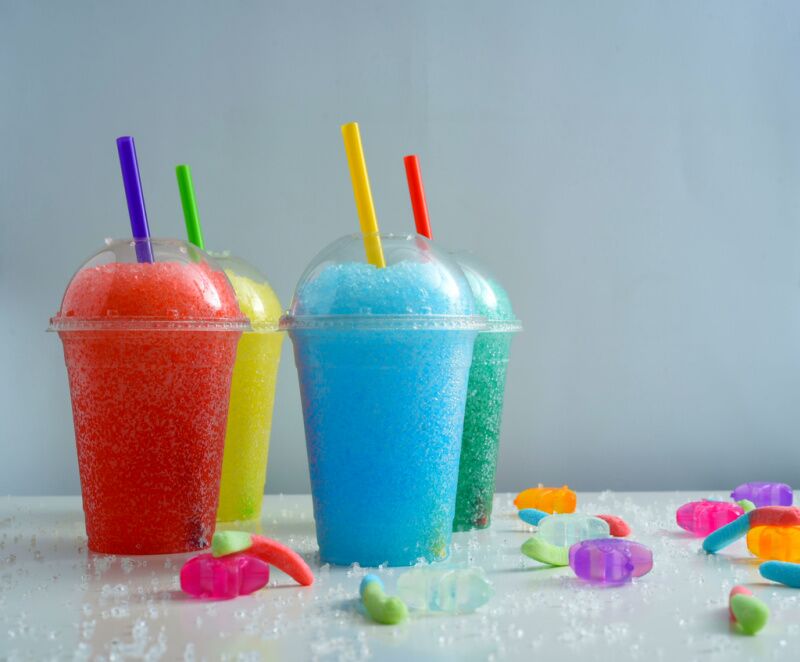 Photo: adriana.roman2/shutterstock.com
Word on the cobblestone streets of Arendelle is that Anna and Elsa love frozen slushies. You can even rent a slushy machine for your celebration from a local party supply company and make it a real event. Suitable garnishes might include fresh fruit or a sprinkle of (edible) glitter if you're feeling fancy.

Find more kids party ideas here on The Bash.