6 Thanksgiving Activities for Kids to be Thankful For
Children can celebrate a season of giving thanks with these fun activities.
Lilly Blomquist
Contributor
Can you believe that Thanksgiving is right around the corner? Once the spooky Halloween season has ended, we can prepare ourselves for endless amounts of stuffing, cranberry sauce, pumpkin pie and turkey. But before we indulge in all of our favorite dishes on that delectable day, we can celebrate with the children in our social circle in the weeks leading up to the feast. We've put together a list of fun Thanksgiving activities for kids that families will be thankful for this year.
Here are 6 Thanksgiving activities for kids and parents to be thankful for.
1. Charlie Brown Celebration
Throw A Charlie Brown Thanksgiving viewing party! Depending on the social distancing rules in your area, this can be held IRL or be a virtual Thanksgiving event. Kids can come to the get-together as their favorite movie characters, such as Snoopy or Linus, to watch the film and eat a delicious potluck dinner of popcorn, buttered toast, pretzels and more. During the party, play a Peanuts quiz or have the youngsters color a Peanuts character. To take the party to the next level, invite Snoopy as a special guest by hiring a costumed character to attend (or make an appearance via Zoom).
2. Countryside Crafts
If you want to throw a Thanksgiving party that both kids and adults can enjoy together, plan a rustic Thanksgiving celebration. Have the kids decorate your home with pumpkins, pinecones, white candles, sunflowers and gold accents. The simplicity and elegance of fall crafts and decorations will provide a beautiful aesthetic and an easy cleanup. Serve a fresh, simple and comforting country-style Thanksgiving dinner with dishes, such as a roasted turkey, green beans, mashed sweet potatoes and apple pie. To really set the scene, hire a folk singer or acoustic guitarist for kids and adults to dance to.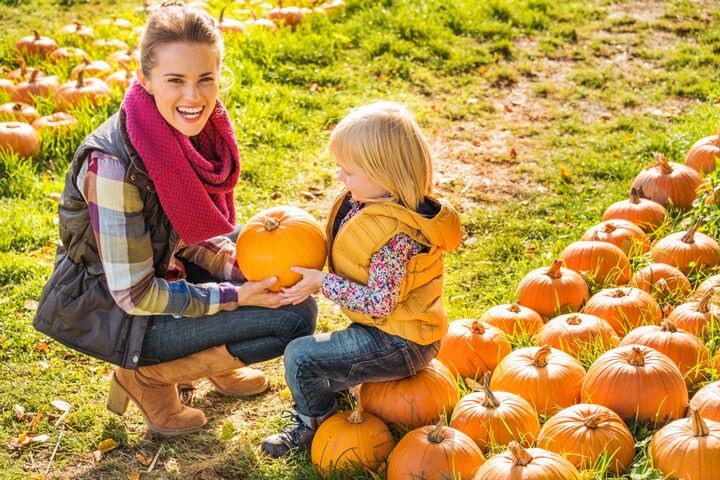 Photo: Alliance Images/Shutterstock.com
3. Pumpkin Patch Party
Autumn means an annual trip to the pumpkin patch, so why not replicate this festive experience with a pumpkin picking party at home? Arrange bales of hay, gold flowers, straw and mini pumpkins around your yard to make a pumpkin patch. Set up kids tables with washable tablecloths and art supplies, like markers, glitter glue and stickers. Kids can pick their own pumpkin, decorate it and keep it as a party favor. For more of a farm feel, give kids a hayride around the outdoor area.
4. Football Fest
Organizing a Turkey Bowl to play with family or friends and watching pros throw around the football on TV are essential Thanksgiving Day traditions. For some fresh air and exercise, host a tag football party for kids (if it's safe to do so in your area). Divide the group into two teams, and have two adults, either one of the kids' parents or a member of your own family, volunteer as captains or coaches to make sure things are running smoothly. Remind the kids that the game is touch football, not tackle. The winning team will get to help themselves to a piece of a football-shaped cake first.
5. An Apple a Day
This adorable theme idea is from Melissa Johnson, founder of Best Friends for Frosting. Johnson says an apple-themed event will give kids a taste of fall while having fun things to do, too. "Do crafts by cutting apples and using paint and paper for stamping, and incorporate apples into the snack menu, like apple cinnamon yogurt parfaits with cute candles for dessert," suggests Johnson. Don't feel like baking? No problem. You can also set up a caramel apple bar. All you have to do is cut up apple slices and fill jars with caramel and other crunchy toppings, such as sprinkles, candy corn and peanuts. Bobbing for apples is another party activity that fits the fruity theme.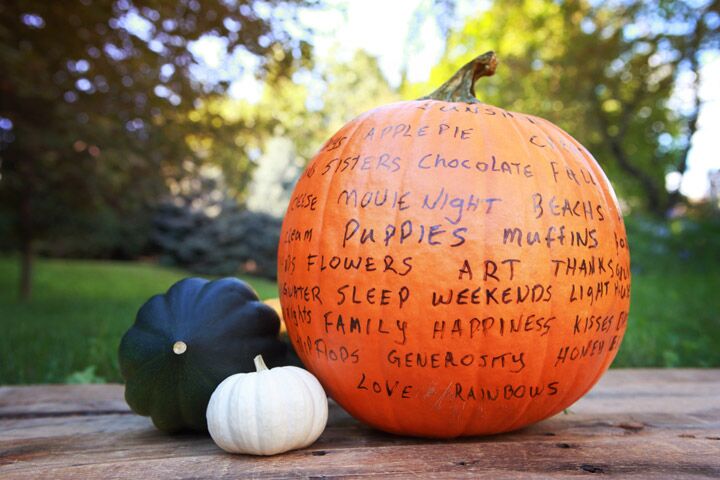 Photo: Suzanne Tucker/Shutterstock.com
6. Giving Thanks Party
For a more mindful approach, Johnson has another Thanksgiving activity that's fully focused on gratitude. "This is all about teaching the kids to say thank you and to think about what they're thankful for," says Johnson. After all, gratitude is more than just a buzz-worthy self-care trend on Instagram. This reminds kids—and adults too!—to count their blessings. For a kid-friendly Thanksgiving craft activity, set up a thank-you card station. "Let the kids make handwritten thank-you notes for their family, friends and everyone at the party." Alternatively, you could scribe a thankful pumpkin with all the things your family is thankful for. If you want to add a little show and tell action, ask everyone to go around the table and share one thing they are thankful for this holiday season.
You can find even more Thanksgiving celebration ideas on The Bash.